Moving sucks. There. We said it. It's a lot of work, it can be expensive, and it can be psychologically daunting. But it can also be one of the most fun and exciting opportunities for a fresh start! With our ultimate new apartment checklist we'll help you with the difficult part of the move so that you can start enjoying the fun part!
New Apartment Checklist: Moving Day
You've packed all your boxes, you've made the drive, and now you're ready to actually move in. Follow this checklist for everything you'll need (and need to do) on moving day!
Take pictures BEFORE moving anything inside. If you want to get your security deposit back then you'll need as much photographic evidence as possible. Do this before you do anything else!
Move the big furniture inside first. Moving heavy items in at the end of the day isn't fun. You'll also appreciate having furniture to set boxes down on. And you'll have somewhere to sit when you need a quick break!
Portable speaker. Using your phone's speakers (even if you put it inside a cup) isn't going to cut it. You're going to want to blast music all day. It'll keep your spirits up!
Cleaning supplies. Moving is messy. At the end of the day you'll want to do some basic cleaning. Especially the floors.
Shower curtain. If you have an open shower then this is a must. You'll want to take a shower after a full day of moving. And it's extremely easy to forget that you might need one.
Snacks. Great for keeping your energy high during the day. And then have some wine and beer to celebrate at night!
First aid kit. Just have one handy! You never know.
BONUS: Reserve the parking spots in front of your house with the city. Most big cities will block off the parking spots in front of your apartment complex for a small fee. But you need to do this several weeks before your move-in date.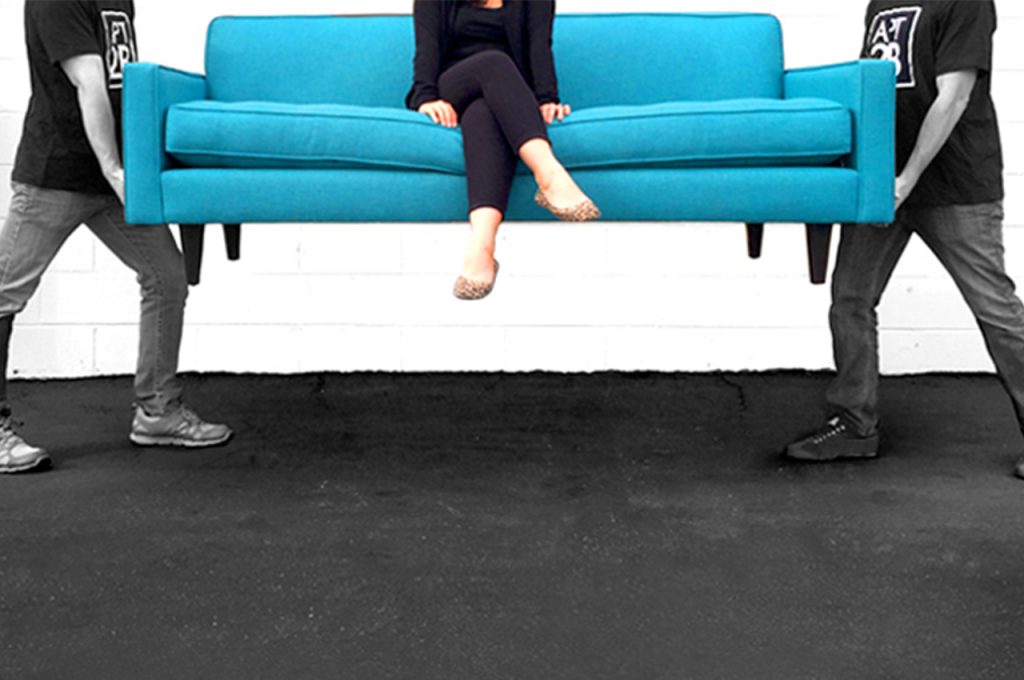 Monroe Apartment Size Sofa in Ocean Blue
Getting Set Up
All your furniture is inside, the moving truck is returned, and now you have an apartment that looks like a storage unit. What now? Here's what you'll want to tackle next and what you'll need to do it.
Basic tool kit & drill. You'll want several screwdrivers, a hammer, measuring tape, and a power drill. You can accomplish almost all your basic needs with these tools. And, let's be honest, most of your furniture will likely need to be assembled with these tools!
Nails, screws, and picture hanging supplies. Don't let your art sit on your floor for months! Have nails, screws, and picture hanging supplies handy so you can get your art and wall sculptures on the wall ASAP.
Get your Internet and wireless network set up. You'll be glad you did this early. Nothing worse than wanting to relax after unpacking and not being able to stream Netflix to your TV.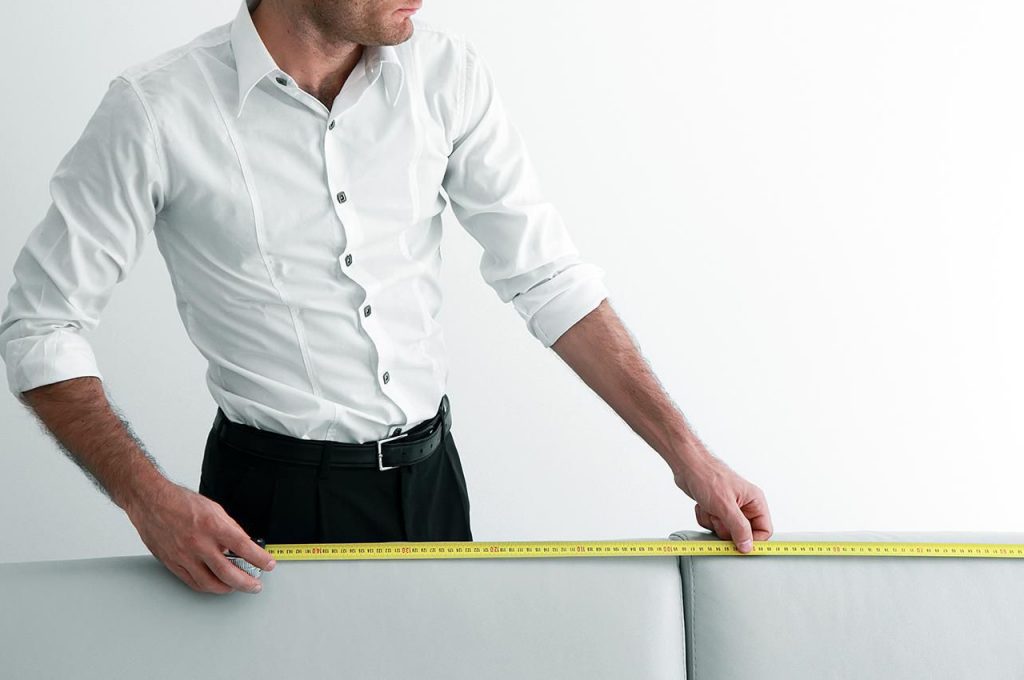 The Fun Stuff
You've done it. The hard part of the move is over. Now it's time for the fun stuff! Here's the full list of the furniture, decor, and accessories you'll need to go from new apartment to new home.
Mattress. If it's been more than 5 years since you got a new mattress then it's usually in your best interest to buy a new mattress instead of moving your old one. Mattresses are bulky and hard to move. Try one of our beds in a box! Ships right to your new place and expands once you remove it from the box. Plus, they're incredibly comfortable!
Sofa. Really want your new apartment to feel like a new apartment? A new sofa is the answer. It's the place where you'll spend the most time, it takes up a big visual presence in an apartment, and it offers up so much personality potential. Plus, just like a mattress, it's much easier to have a new sofa ship right to your new place than to move with one. Get one with a sleeper mattress so that your living room can transform into a guest bedroom! Tight budget? Check out our Outlet!
Dining table/chairs. If you have room for these in your new apartment then they will help keep you from eating all of your meals on the sofa! It's also important if you ever plan on having guests. Tight on space? Let your dining table function as your desk, too.
Plants. Nothing brings warmth to a new apartment like plants. It will also make the space feel more lived in! New apartments always feel very bare right when you move in. Plants can combat this feeling.
New lighting scheme. Apartments are notorious for terrible built-in lighting. If you want your small space to feel like your home then take some time to adjust your lighting. Replace garish bulbs with warm lamps. The sooner you can stop using the built-in lighting the sooner you'll feel like the master of your domain.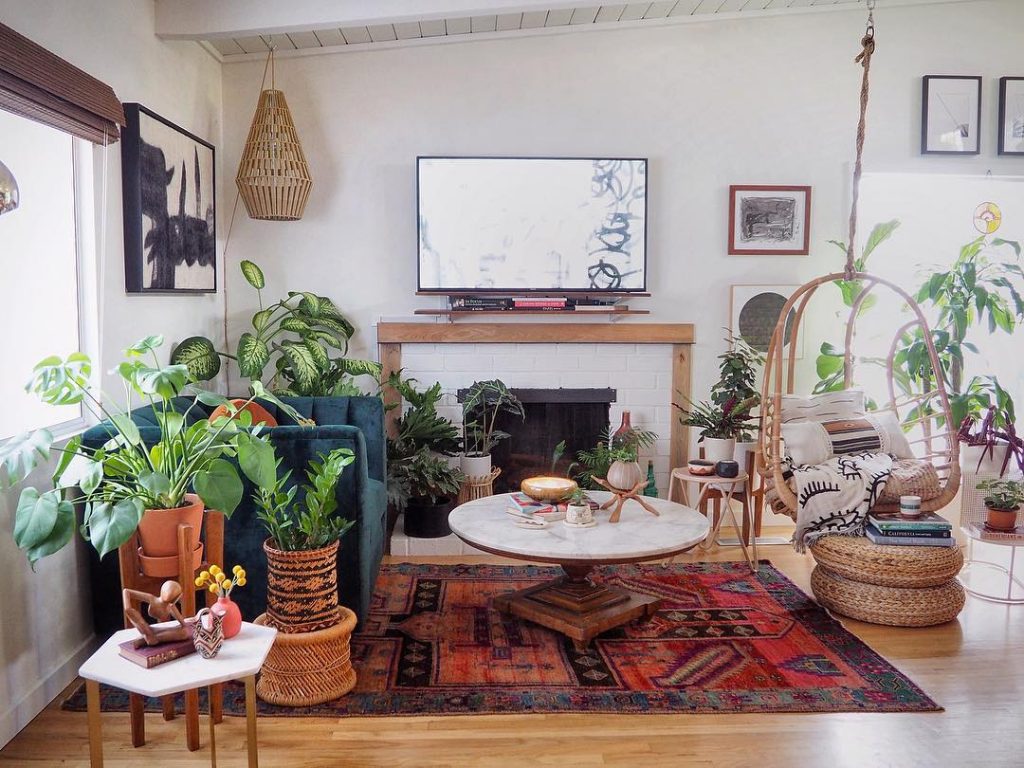 Nora Swivel Chair in Evergreen Velvet
The Future
Everything on the new apartment checklist above will help get you moved in and set up in your new apartment. But after a few weeks you'll be ready to start expanding. These next items aren't crucial for moving in, but they will help you feel completely moved in.
Curtains. It's amazing the difference a window treatment makes in an apartment. Venetian blinds are a real eye sore.
New artwork. Your new apartment won't be a 1:1 match with your old place in terms of wall space. You'll likely have some huge blank spaces where you'll need new artwork or a wall sculpture. Also, don't forget about clocks!
Dressers and chests. Stacking your clothes will get old fast. And a naked bedroom will also get old fast. A dresser and chest will really feel like a major upgrade for your new apartment!
Media stand/TV stand. Again, you can get away with placing your TV on a box for a while, but a new media stand or TV stand will help put the finishing touches on your new small space apartment.
Area rug. Once you have one you won't know why it took you so long to get one. A great addition to your new home!
Last Looks
If you follow every bullet point on our ultimate new apartment checklist then you're going to be in great shape! You'll be moved in and feeling right at home in no time. If you need more design and decor advice then check out some of our other blogs! We've got some fun DIY projects and guides that will make your new apartment feel like your new home.
How To Design An Instagram Worthy Room
Low Maintenance House Plants Even You Can Keep Alive
DIY: Hide Ugly Outlets & Thermostats With Art #2BHacks
DIY: Learn How-To Make the Perfect Gallery Wall In Just 2 Minutes!
---