First there was the sofa. Then came the loveseat. Then Americans decided they needed bigger homes so the sectional was born. But if you browse around the available sofas on Apt2B you might notice a different type of sofa entirely – the apartment size sofa. You might be wondering, "what exactly is an apartment size sofa?" or "why not just call it a loveseat?" or "why would I buy an apartment size sofa if I live in a house?" These are all valid questions. The truth is that the apartment size sofa is a necessary member of the interior design family. And in some cases it might be exactly what you need.
Apartment Size Sofa Vs. Regular-Size Sofa
At first glance you might not be able to tell the difference between an apartment size sofa and a regular-size sofa. That's because there isn't much of a difference at all. Literally. The difference is that an apartment size sofa is about 20"-30" narrower than a full-size sofa. This might not seem like a dramatic difference, but it can often have a massive impact on the design of a space. Think of the apartment size sofa as the Goldilocks of sofas: not too big, not too small, but just right.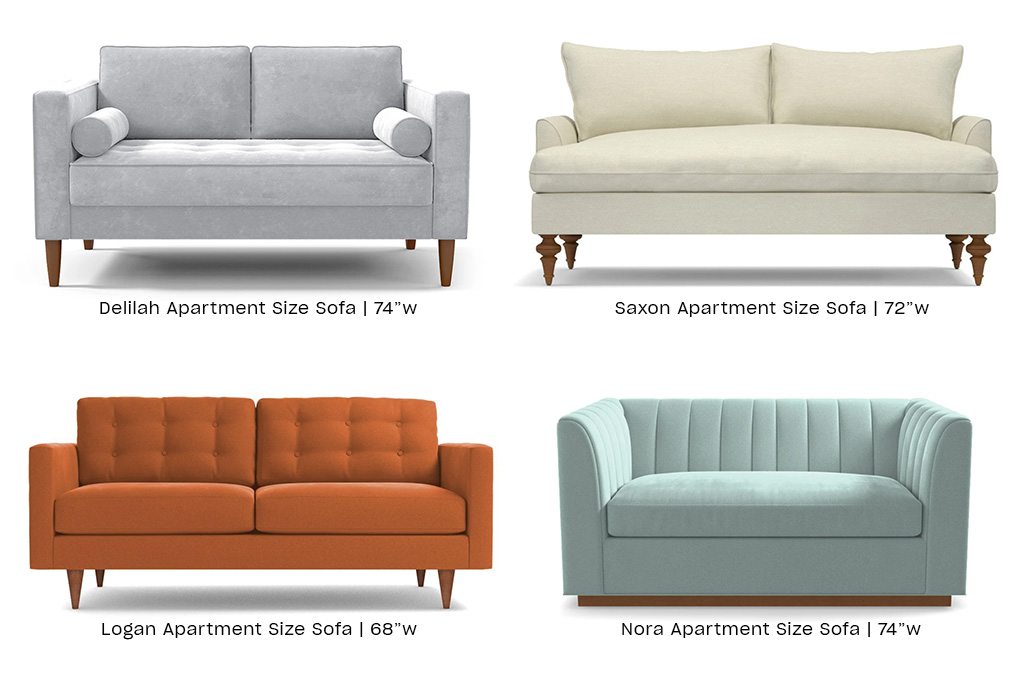 Delilah Apartment Size Sofa in Stone/Pecan | Saxon Apartment Size Sofa in Cream/Pecan
Logan Apartment Size Sofa in Clementine/Pecan | Nora Apartment Size Sofa in Sky/Pecan
It's All About Scale
Americans are trained to think that bigger is better. But anyone who's ever tried to parallel park their car in LA knows that this isn't always the case. Scale matters, especially when it comes to the design of a home. A full-size sofa might offer you all the room that you need, but if it overwhelms your space then it might not be a worthwhile sacrifice. On the other hand, if you have a massive wall then your apartment size sofa is going to look extremely tiny in the middle of it. If you match all of the elements in your room to the scale of the room then you're already well on your way to creating a space that looks and feels great.
How Will You Use Your Space?
Remember how Americans are trained to think that bigger is better? There's nothing that proves this point more than the average size of an American TV set. The TV is such a critical element to most living rooms that the entire layout of the living room is in service of the TV. When this is the case, it's often wise to have a big sofa or even a 2 or 3pc sectional. However, another extremely popular living room layout is the "conversational" style. This layout usually consists of two sofas facing one another with a coffee table in the middle. The apartment size sofa is the perfect choice for this layout. It's big enough for multiple people and it won't stifle the space.
Outside the Living Room
Sofas aren't only relegated to the living room. In recent years people have been realizing that sofas are a great addition to many different types of rooms. The apartment size sofa really shines in these situations. The regular-size sofa is often the best choice for the majority of living rooms, but it's often too big for any other room in the house. The apartment size sofa is great for bedrooms, play rooms, nurseries, offices and sitting rooms – and if you live in a studio apartment then all of those rooms are already one-in-the-same! As the sofa expands to more rooms in the home, the apartment size sofa is becoming a true necessity. (Level up that apartment-sized sofa into a compact sleeper and you've got an instant bedroom.)
Apt2B has known about the importance of the apartment size sofa for years – look no further than the name of our company! As homes change, as more people start living in apartments, and as consumer habits change, the apartment size sofa has become an essential option for furniture shoppers.
Looking for the perfect apartment size sofa for your space? Check out Apt2B's entire lineup!
---