Take a moment and envision with us: when we say the words "sleeper sofa," what comes to mind? Lumpy and back-breaking. College futon. Dingy basement furniture. Any of those are fair game. But furniture friends, these terms couldn't be more inaccurate with the sleeper sofas of today…particularly Apt2B sleeper sofas and sleeper sectionals. We're proud to say we make some of the best dang pull-out sofas on the market right now (keep reading for some real reviews from real customers to back us up).
And while the idea of a sofa with a built-in bed is pretty straight-forward, there are still some FAQ (frequently asked questions) we get, so let's clear some things up, show you what people are saying about our sleepers, give you some ideas for how to make one work best in your home and do a little shopping. Got it? Great! Let's go.
First off, here's a quick video with resident designer Kyle Schuneman to give you a visual of how our sleeper sofas work (featuring our Harper Queen Size Sleeper Sofa in Cobalt Velvet/Pecan).
Sleeper Sofa FAQs
Time for some fast facts, folks. And be sure to leave any other questions you might have in the comments below. We're here to answer those for you.
What makes your sleepers special?
Where do we start? The foundation for a great sleeper is a great sofa, and that's where we shine. All our sleepers are custom made to order right here in downtown Los Angeles and we're so sure you'll love it for the long haul that we back them with a lifetime guarantee on the frame and workmanship. You won't find better for the price. Apart from that, our sleepers are equipped with a high-quality mechanism that makes it easy to pull out and put back in, so there's less fussing and grunting along the way.
What kind of mattresses do you offer?
We offer two mattress options: our sleepers come standard with a 5.5″ thick innerspring mattress with pillow top with the option to upgrade to our 4.5″ thick memory foam mattress.
Is a queen sleeper mattress the same size as a standard queen?
A lot of people aren't aware of this, but a queen sleeper is actually 8 inches shorter than a standard queen, which means your sheet set will be a bit longer than your mattress. You can definitely buy sheets made specifically for sleepers, or just tuck your regularly sized sheets tightly around the mattress for a clean, tailored look.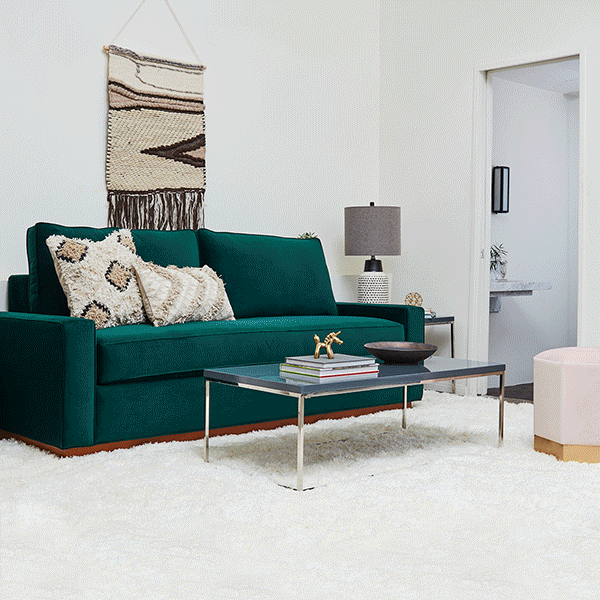 What should I do if I have trouble with putting my mattress back into the sofa?
We get this one a lot! When closing, you might feel like you're forcing it down, but you have to push on the bar until it locks (you'll know what that happens because it'll snap down), then grab the handle and simply glide it back in.
Do I need to take bedding off the mattress to put the sleeper away?
We recommend you always take off all bedding before putting your mattress away to make sure you're not ruining the mechanism. If you have a guest staying just a few nights, it's okay to leave sheets on (just make sure they're on tight and there is not lose bedding). Otherwise, make sure to strip the bed entirely.
Any suggestions for how to make up a sleeper to look nice?
Treat it like you would any bed! Designer Kyle Schuneman, who you see in the video above, says he likes to pick bedding that coordinates with the sofa as well as the rest of the room so the set up doesn't feel like an afterthought. A little attention to detail goes a long way to make guests feel comfortable! To really recreate the guest room vibe, don't be afraid to grab a throw for the foot of the bed and add some toss pillows. For some sofas (like our Harper Queen Size Sleeper Sofa in the video), you can even use the seat or back cushions to double as a headboard, though if that doesn't work, just neatly stack them to the side out of the way.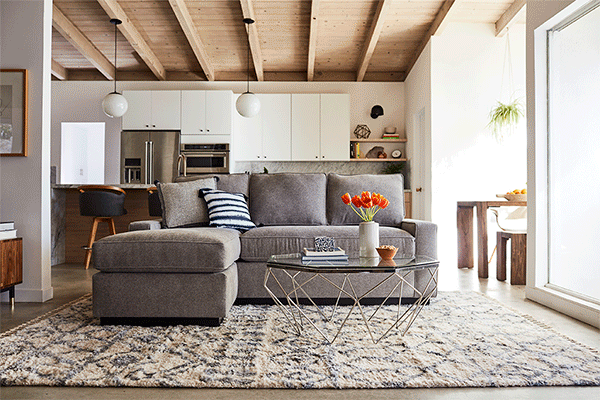 Featured: Harper Reversible Chaise Sleeper Sofa in Ash/Espresso
Real Customers, Real Reviews
"I have had multiple guests tell me it is one of the most comfortable sleeper sofas they have ever slept on." — David O., Catalina Reversible Chaise Sleeper Sofa
"We live in an open floor plan, one-bedroom condo. Having a sleeper sofa for guests to stay over was a must. We're also tall people and wanted a piece of furniture that felt big but didn't take over the space. This piece is perfect." — Erica W., La Brea Reversible Chaise Sleeper Sofa
"I'm in love with my Monroe twin sleeper sofa. It's just the right size to fit in my home office to use when an extra guest arrives…This couch is so well made." — Robin J., Monroe Twin Sleeper Sofa
"The memory foam mattress is so comfy! All my guests have loved it." — Andreea B., Olivia Queen Size Sleeper Sofa
"Very comfortable pull-out mattress that is easy to set up and sturdy. Much better than other sleeper sofas I've used in the past." — Tyler B., Harper Apartment Size Sleeper Sofa
Best-Selling Apt2B Sleeper Sofas & Sectionals
We rounded up our best-selling sleeper sofas and sleeper sectionals, many of which are available in other sizes, including twin and full.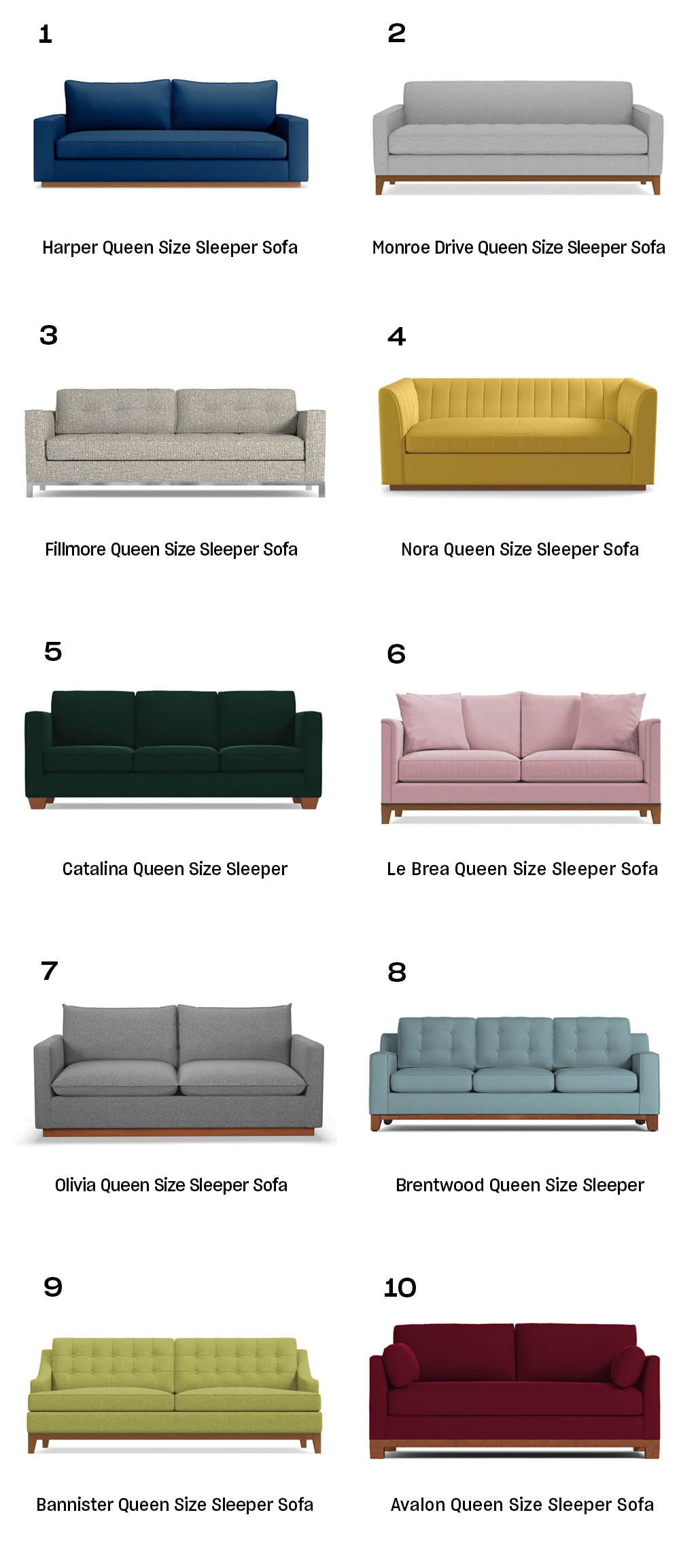 1. Harper Queen Size Sleeper Sofa | 2. Monroe Drive Queen Size Sleeper Sofa | 3. Fillmore Queen Size Sleeper Sofa | 4. Nora Queen Size Sleeper Sofa | 5. Catalina Queen Size Sleeper Sofa | 6. La Brea Queen Size Sleeper Sofa | 7. Olivia Queen Size Sleeper Sofa | 8. Brentwood Queen Size Sleeper Sofa | 9. Bannister Queen Size Sleeper Sofa | 10. Avalon Queen Size Sleeper Sofa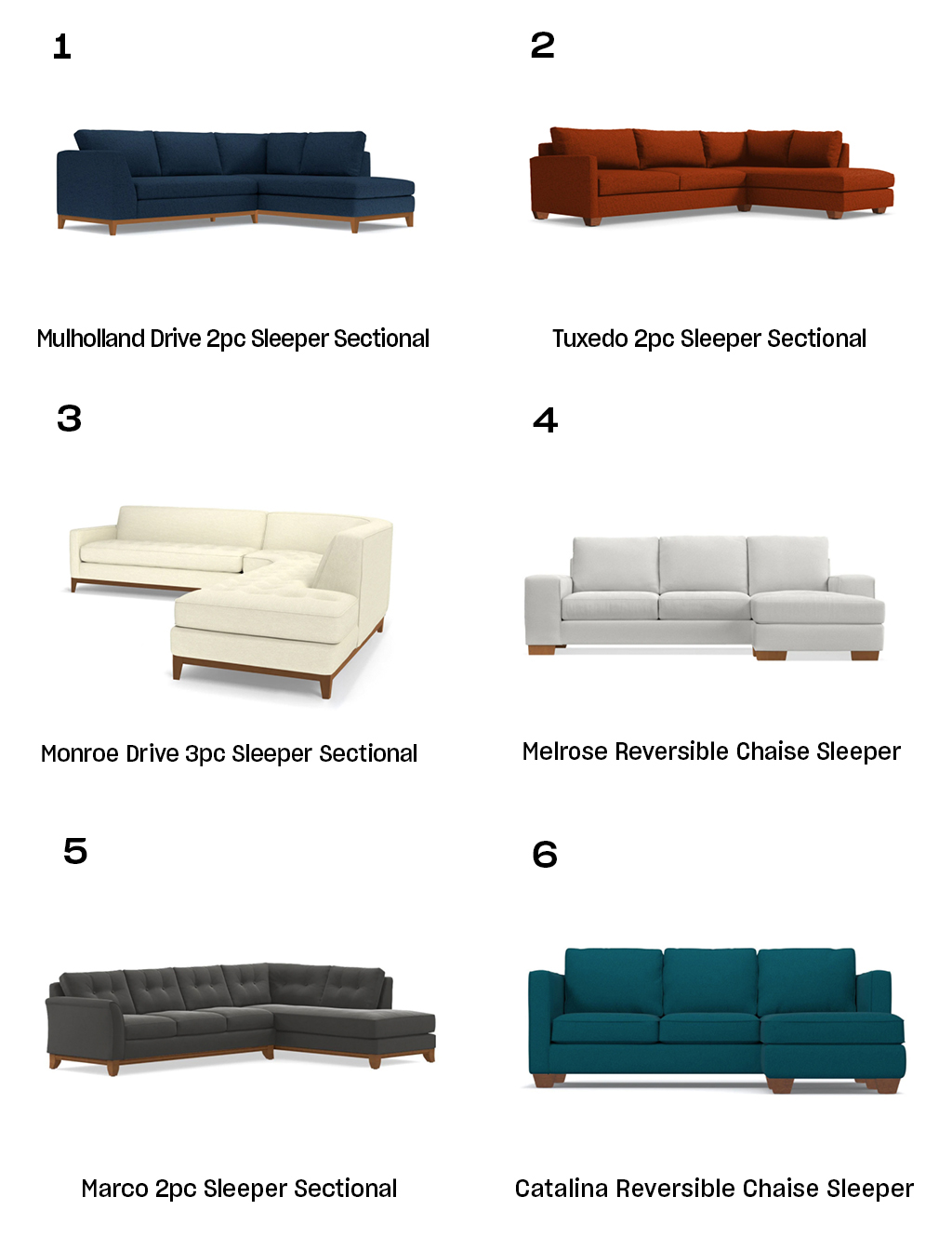 1. Mulholland Drive 2pc Sleeper Sectional | 2. Tuxedo 2pc Sleeper Sectional | 3. Monroe Drive 3pc Sleeper Sectional | 4. Melrose Reversible Chaise Sleeper | 5. Marco 2pc Sleeper Sectional | 6. Catalina Reversible Chaise Sleeper
Looking for more sleeper sofa articles? Check them out here:
This post is part of our Furniture Fundamentals series. Head here to see all of our Furniture Fundamentals videos so that you can pick the best sofa for your small space, apartment, or home!
---