Fun fact: Velvet fabrics are known for elevating the look of a space, taking it from average to luxe, but a lesser-known tidbit about this glam textile is how practical it is for every home and every lifestyle thanks to its high-performance, low-maintenance capabilities. You heard that right: velvet is great for EVERYONE. Sure, it's not synonymous with being an "everyday" fabric, but hear us out, because it should be. In high-traffic homes with kids, pets, messy owners and #allthingthings, you can still have the chic look of velvet while also reaping all of the benefits of the fabric's durability.
So why don't more people bridge the gap between sophistication and practicality? Why are people reluctant to invest in velvet upholstery? More often than not, it's because of the lack of education, the belief that if you have an active household that you won't be able to maintain the beauty of your velvet pieces. Truth is, no matter your living arrangements or day-to-day routines, velvet is a practical option worth exploring.
Performance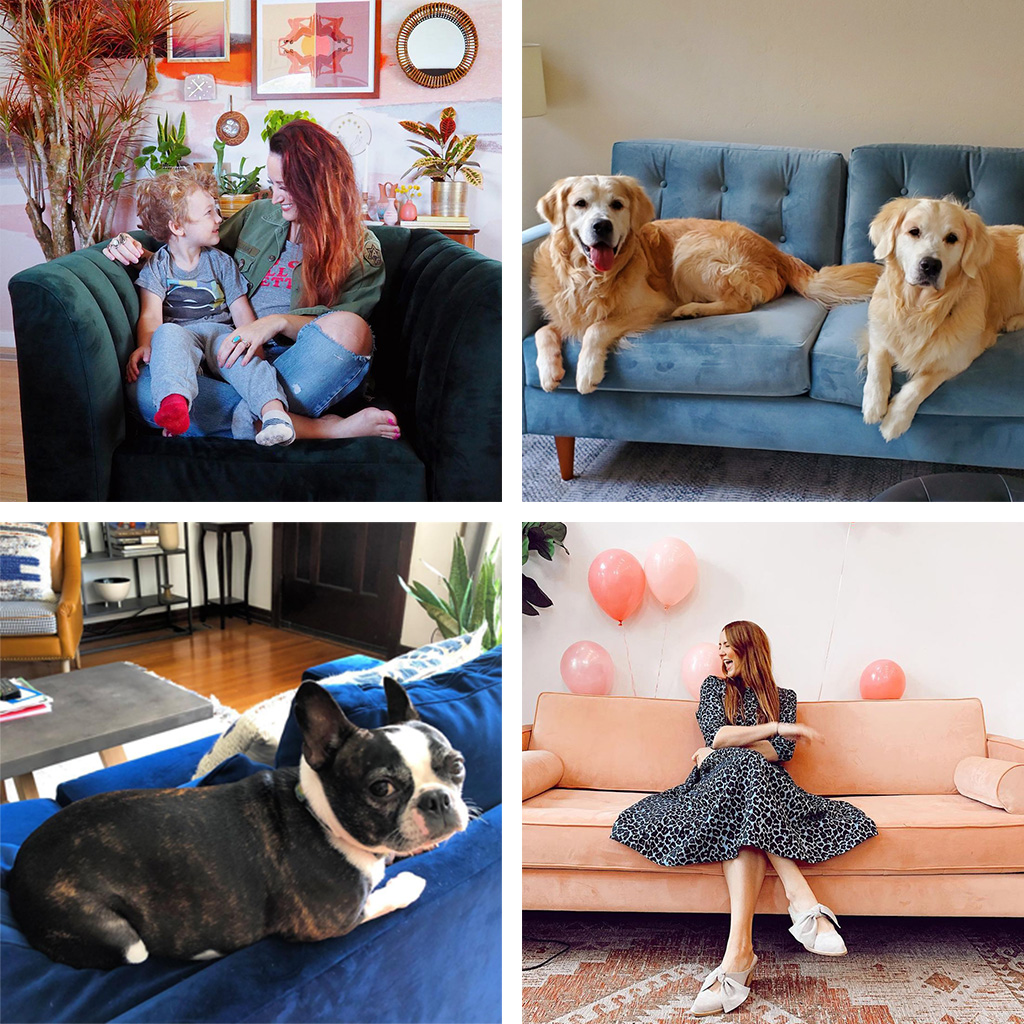 Featured, clockwise from top left: Nora Swivel Chair in Evergreen Velvet, @candycoloredhome | Logan Apartment Size Sofa in Cloud Velvet/Pecan | Delilah Sofa in Blush Velvet, @madelinebecker | Melrose 2pc Sectional in Cobalt Velvet, @littlemisskoa
While most known for its softness and luxurious appeal, velvet is, in short, a highly durable fabric. Because of its low pile—translation: no high weaving or loops—it is actually an ideal fabric option for home upholstery. With no chance of snagging, velvet becomes fairly easy to maintain and even easier to clean should an accident happen (because who are we kidding…they do happen!).
Maintaining the softness and sheen of your velvet piece is literally as simple as brushing and/or steaming it regularly. In many (if not most) instances, your everyday spills can be spot cleaned and left to air dry without the fear of leaving behind water stains (or, you know, actual stains).
Here's some more good news: Apt2B offers velvet options for all made in the USA custom upholstery. The performance velvet assortment is stain-resistant and has a double rub count of 100,000 on the Martindale rub count scale. This means, before it even starts to show any signs of wear, it would have to be "rubbed" 100,000 times! In short, it can take whatever you, your kids, your pets or your life can dish out, including actual food from dishes!
Microfiber vs. Velvet
What's the difference between microfiber and velvet? This is a common question. From afar, it's pretty tricky to tell one from the other, and that's because certain velvets are a type of microfiber. When a textile is labeled as a microfiber, it has a bit of a lower pile than velvet. That gives it less sheen and less of that "movement" that velvets can have. Though if it's a polyester velvet (like ours) as opposed to a cotton or silk velvet, it's technically microfiber!
Color Assortment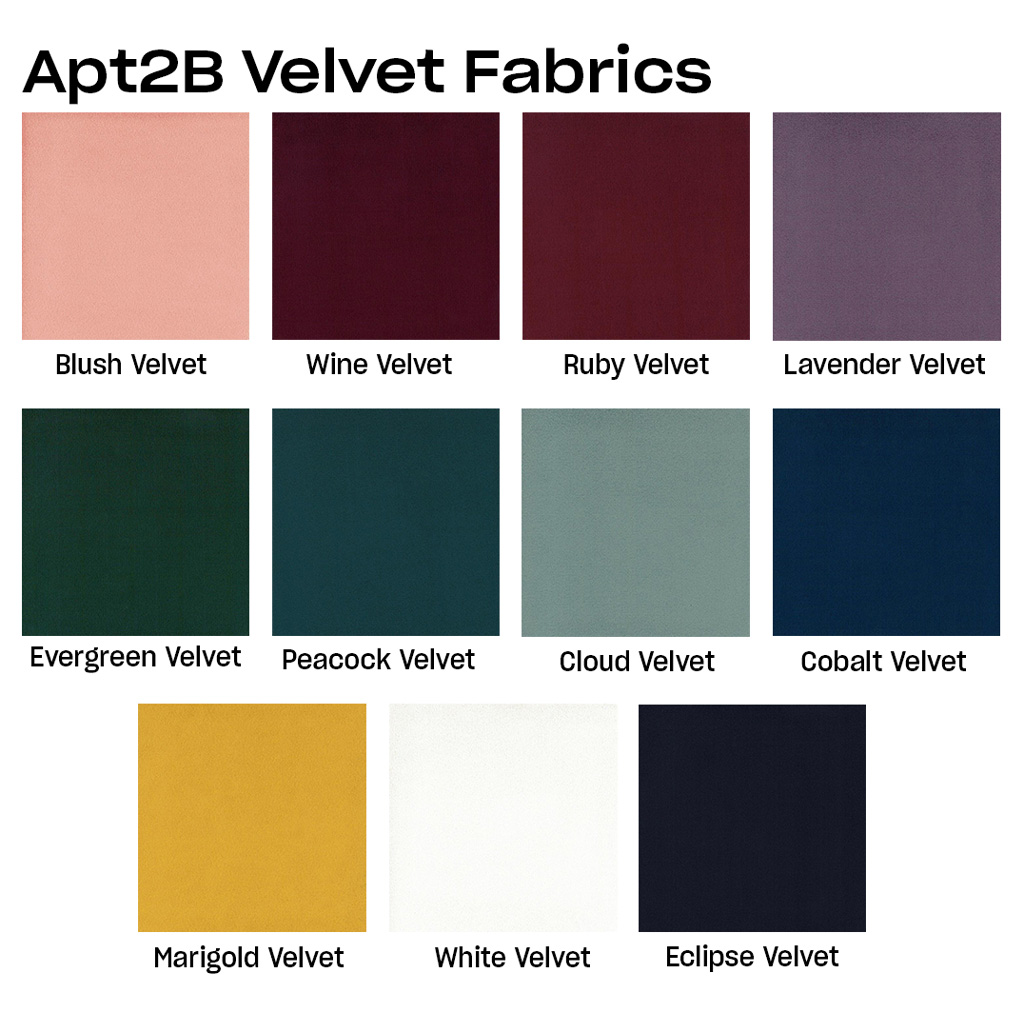 Now that you know that velvet is a totally practical option for any home—whether it's the sofa in the family room, lounge chairs in the living room or even your bed—the question becomes, "what are my choices?" Answer: what aren't your choices. The assortment of colors available in velvet is almost as impressive as the performance of the fabric itself, from rich jewel tones to fun and unexpected hues.
When we think of "practical" options for the home, it's relative, and yet the misconception is that it must be neutral and sturdy so that it can be all things to all people. We've got the sturdy aspect covered, knowing that velvet isn't as delicate as many people believe, but it doesn't have to be neutral to be practical. Nope! The versatility of the fabric is part of its appeal.
Being able to choose from essentially a ROYGBIV of options means you can truly infuse your personal style into your space via color. This can be great for rentals where you might not have as much flexibility with painting walls, etc.! Go bold with Marigold Velvet, set a regal tone with Evergreen Velvet, and get a clean crisp look with White Velvet…all whilst still taking advantage of the high-performance, low-maintenance capabilities.
Try Before You Buy With Free Swatches
Apt2B offers up to 10 free swatches shipped right to your door in just a few days, so be sure to pick a handful of your favorite colors that you're considering for your new custom upholstery and test them out at home (go ahead: put them through the wringer...you'll be surprised how well they hold up).
Thank you to Albie K. Buabeng for contributing this article. You can read more from Albie on her blog, Albie Knows, follow her on Instagram for all things design and pre-order her newest book on Amazon, "Curate The Home You're In: Effortlessly Create Your Everyday Dreamscape."
More to read on fabric care:
---