Anyone who has ever used the Internet can tell you that people are obsessed with their pets. You could almost argue that instagram was invented explicitly for pet owners to show off every adorable moment in their furry friends' lives. But as much as we love our pets, we also love our furniture. And sometimes it's hard for those two worlds to play together amicably. The great news is that pet owners don't have to settle for a second-rate sofa. There are plenty of ways to let pets, their owners, and their sofas live together in harmony.
Choose The Right Fabric For You AND Your Pet
Choosing the right fabric for your pet-loving lifestyle is absolutely essential to your long-term happiness. Some fabrics, even though they might look beautiful, are simply not designed to hold up against fur, claws, and... territorial marking. Here are the fabrics that you should consider if you have pets:
Performance Velvets: While most known for its softness and luxurious appeal, velvet is, in short, a highly durable fabric. Because of its low pile—translation: no high weaving or loops—it is actually an ideal fabric option for home upholstery. With no chance of snagging, velvet becomes fairly easy to maintain and even easier to clean should an accident happen (because who are we kidding...they do happen!). Maintaining the softness and sheen of your velvet piece is literally as simple as brushing and/or steaming it regularly. In many (if not most) instances, your everyday spills can be spot cleaned and left to air dry without the fear of leaving behind water stains (or, you know, actual stains). When it comes to basic wear and tear durability there's a simple rating system called a "double rub count" (or the Martindale Test if you want to be a nerd about it). The higher the double rub count, the higher the durability! Anything over 20,000 double rubs is considered "commercial grade/heavy duty". Our Performance Velvet fabrics feature a 100,000 double rub count! This is the highest durability rating that we offer at Apt2B and it is more than enough for anything you (or your pets) throw at it.
Microfiber: Microfiber is typically 100% Polyester and has a suede-like feel and appearance. It features a plush pile that will be quite soft to the touch. Microfiber makes the most sense for a pet owner because animal hair cannot penetrate the ultra-dense material. In fact, you can wipe pet hair right off of microfiber. The fur will even clump as you brush it off, making it even easier to collect each individual strand. Not only does it deflect pet hair, it's also resistant to cat claws. No more loose threads or puncture wounds from your cat's vicious-yet-adorable attacks. Microfiber is a great option for both cat and dog owners.
Poly-Nylon: Microfiber isn't for everyone. That's where Poly-Nylon comes into play. It's a 95% Polyester and 5% Nylon blend. It also features an ultra-dense weave that prohibits the penetration of pet hair, but it doesn't have the suede-like finish of microfiber. Poly-Nylon fabric exists right in the middle between a standard upholstery fabric and microfiber. It's still soft to the touch but it doesn't have a high, plush pile. Animal fur can be brushed right off of Poly-Nylon fabric, though it's not as tough against cat claws as microfiber. This is a great choice if you primarily have dogs as opposed to cats.
Put Your Fabric Swatches To The Test
Once your FREE fabric swatches arrive in the mail (order them HERE), we highly encourage you to go ahead and rub those swatches right on your pets' bodies. How does their fur look on the fabric? Is your black lab's fur super visible on that light beige linen you're looking at? How much does it bug you? This is the time to be honest with yourself. You'll also want to see how easily you can clean the fur off, maybe even how your dog or cat's nails snag the fabric.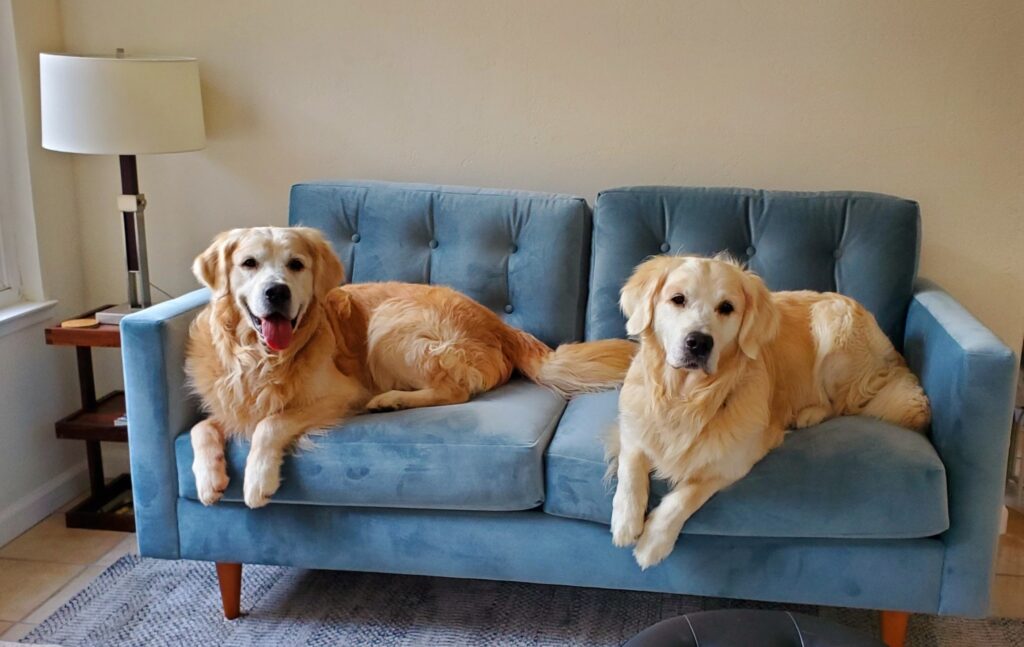 Keeping Your Sofa Clean
Just like the healthcare advice that you ignore, the best way for pet owners to keep their sofas clean is to practice preventative care. Restricting your sofas to human-only use will mean that you can avoid most pet hazards. But who are we kidding? No one can resist letting their favorite snuggle-buddy up on the sofa. Now that your pet has become a couch potato it's time to learn how to best clean your fabric.
Vacuum & Spot Clean: Vacuuming and spot cleaning are your best every day options for keeping your sofa clean. Invest in a good vacuum that has an extendable hose and a brush attachment. Make a habit out of vacuuming your couch at least once a week. For small stains from muddy paws you can use 70% Isopropyl Alcohol (aka rubbing alcohol) and a microfiber cloth to lift these stains. Simply apply some of the rubbing alcohol to your microfiber cloth and then gently rub the stain. Pat dry with another cloth and repeat until the stain is gone! It's best to get these stains as soon as you notice them so that they don't have as much time to set. A nice perk of Apt2B sofas is that most of them feature detachable and flippable seat cushions. You can always flip the cushions if you haven't been keeping up with the cleaning!
Dry Cleaning: OK so you didn't keep up with your cleaning like we recommended. We get it. Life is hectic! But now your sofa is looking a little worse for wear. Thankfully Apt2B sofas feature zipper-removable cushion covers. Your cushion covers can actually be taken to the dry cleaners to receive a thorough and professional cleaning. Dry cleaning your cushion covers will help you remove some of the absolute toughest stains. This is a great way to get your cushions looking exactly like they did when your Apt2B sofa first arrived! (Note: cushions with button tufting will require the help of an upholsterer to remove and reattach)
Steam Cleaning: OK so you waited way too long to really tackle any sort of cleaning whatsoever and now your sofa is looking a bit shabby. It happens! This simply means that you might have to spring for the "nuclear option" and hire a professional steam-cleaning service to come by your home and clean your sofa. Most pet owners will never have to use this as an option, but it's good to know that it exists as a last-ditch measure. The benefit of a steam cleaning is that you'll be able to have the entire sofa cleaned and not just the cushion covers. This can help if you have a cat or a small dog who loves sleeping on the top of the sofa. After a good steam cleaning your sofa will look brand new!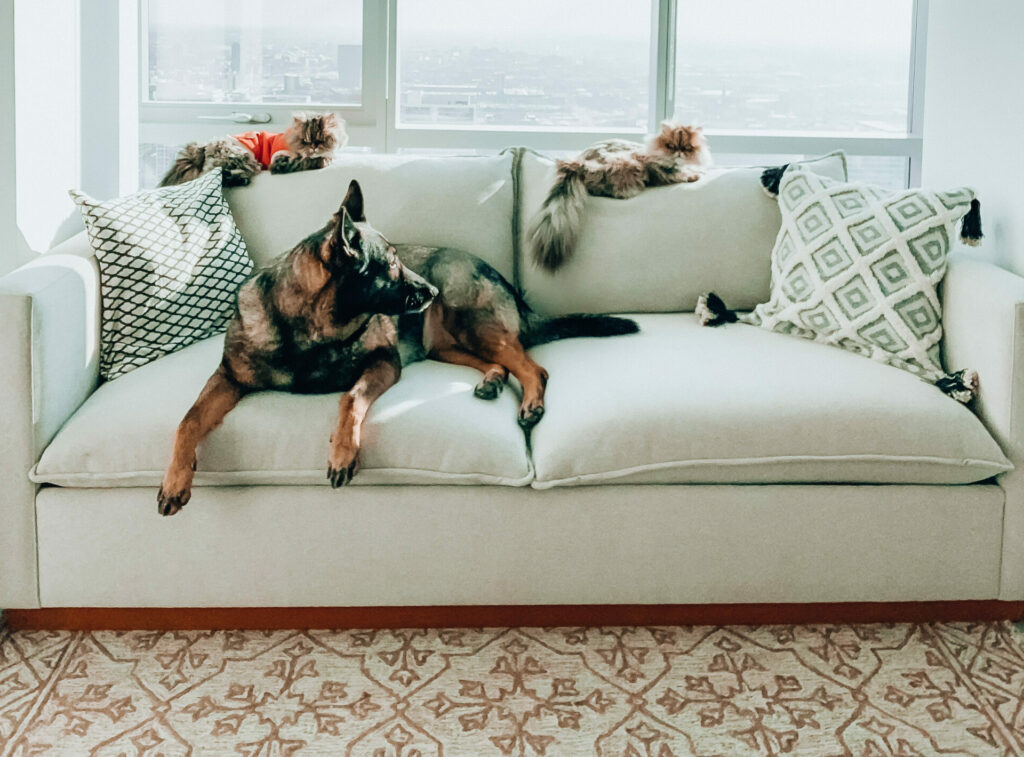 Olivia Queen Size Sleeper Sofa in Beige with Pecan Base / Photo by @aandreeagaul
Loving your pet and loving your sofa no longer need to be at odds. Choose the right fabric and the best cleaning methods and you'll be prepared for anything. Check out Apt2B's full lineup of fabrics and order swatches TODAY!
Featured photo by @morganausterweil
---