Taking stock of what's to come in terms of trends is standard practice for those in the home realm. But it's not just any new year…2020 is a new decade folks which means new-decade worthy interior design trends, right? Well, for anyone looking for tumultuous '20s-era flips in the home, we're here to report that it's not quite so roaring.
We've certainly seen a shift away from minimal, barely-lived-in spaces to rooms with some real personality and IGAF attitudes, and yes, the dream of the '90s is alive not just in fashion but also in your furniture (even if just subtly), but overall, the "moments" happening right now in modern homes are far more palatable and an easy transition for those looking to keep things fresh. Read on for our eight 2020 decor trends you'll start noticing everywhere now that we've said something. ;)
1. Warm Neutrals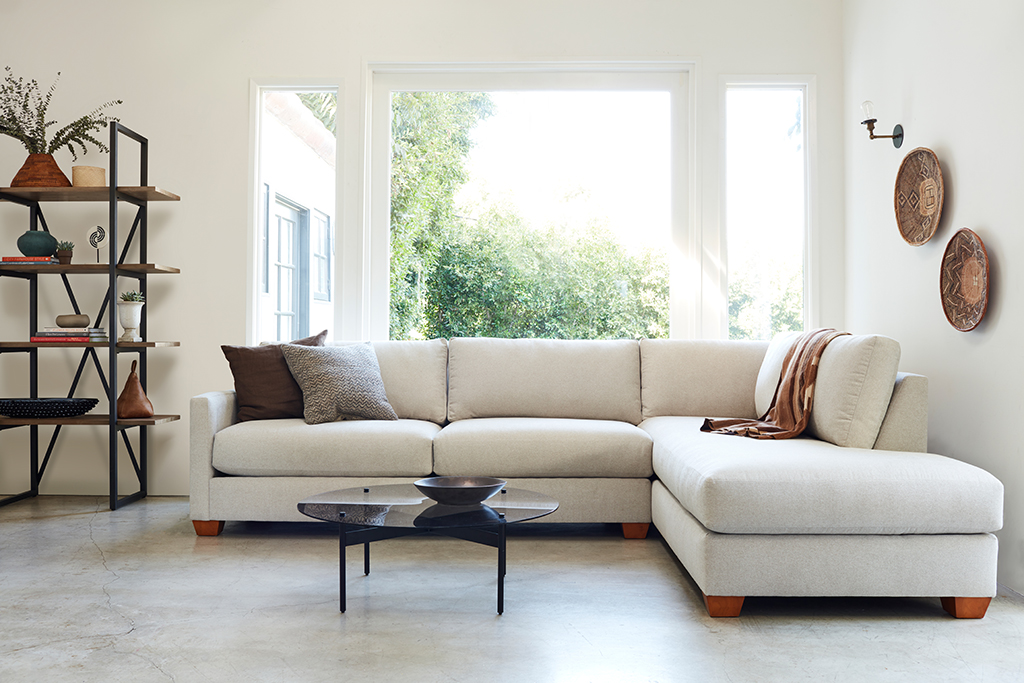 Tuxedo 2pc Sectional Sofa in BEIGE | Perkins Small Bookshelf 
There was a point in the design zeitgeist where all-grey-everything was the look du jour. That came off the heels of the very beige '90s, and cranking that temperature dial to the cooler side of things took off faster than the Tamagotchi. Grey came in nearly every shade, and almost nothing in home decor was left untouched by it. But every dynasty has to end sometime, and grey's reign is over. So…what's next for neutrals? Well, more beige.
But this is not the one-note, character-less cream of decades past. Think camel, oatmeal, putty and stone…better yet, put them all together in a variety of nubby and natural textures for a room plucked straight from Sarah Sherman Samuel's Instagram feed.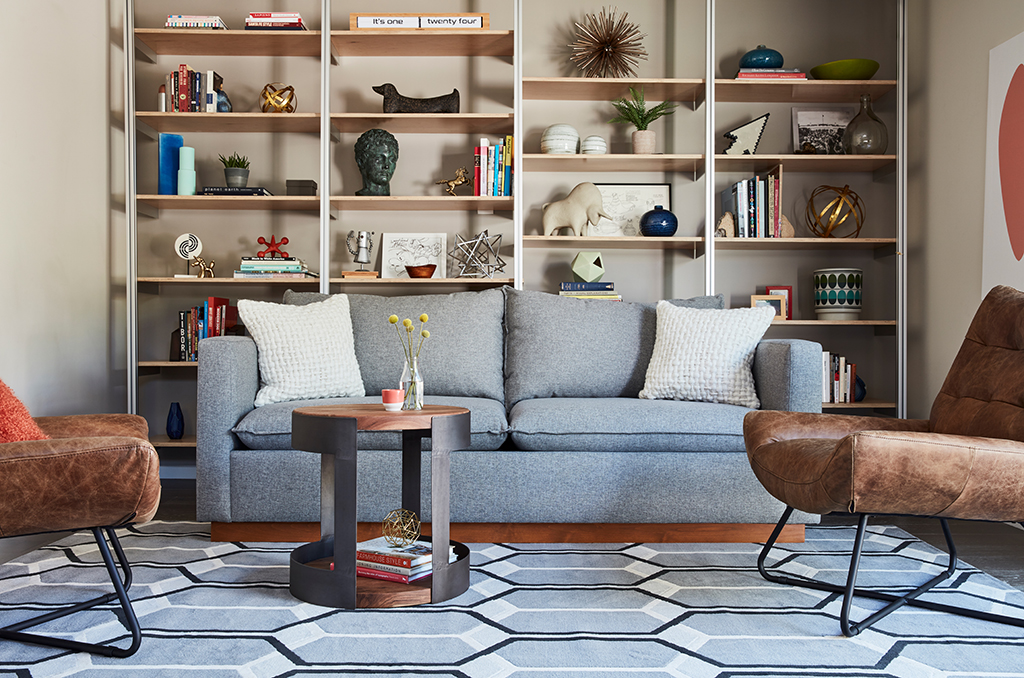 Olivia Sofa in MOUNTAIN GREY | Aubrey Club Chair | Chain Link Area Rug | Ludgate Side Table
If you bought hard into the grey movement and aren't exactly looking to swap your whole living room or home for the sake of "trendiness," a good way to work around it if you're looking to warm things up a little is to bring in rich leathers and woods. Here, a grey Olivia Sofa and Chain Link Area Rug would have leaned a bit cold without the lift of the Aubrey Club Chair. Even swapping soft goods such as pillows, throws and drapery would go a long way to grounding a once cool-toned neutral space.
2. Cleaned Up Maximalism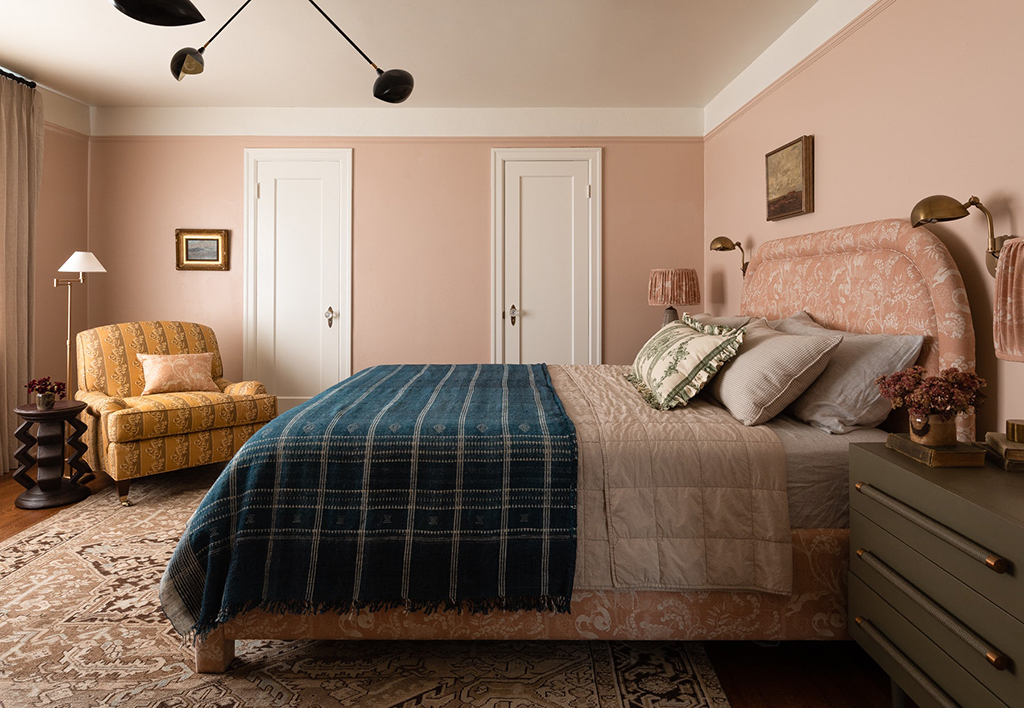 Design by Heidi Caillier Design via Elle Decor
On the other side of the street—heck, in a far away zip code—is another 2020 design trend that was birthed in years past but is currently crying loud for attention: maximalism…but make it tidy. It's grown up, cleaned itself up a little bit, moved schools and quickly become the popular new kid.
The key to this new form of everything-and-anything-goes is self-editing. Where the maximalism of the last decade was all about more-is-more, its 2020 makeover leans hard into pattern splashing controlled by tight color palettes. Take the above bedroom from designer Heidi Caillier (found via Elle Decor). We count five varied prints as well as a mix of traditional and nouveau furniture and decor, but she pumped the breaks by sticking to predominantly pink, olive and mustard shades. This is crucial to a layered, personality-filled room that won't make your head spin.
3. The Unwavering Power of Velvet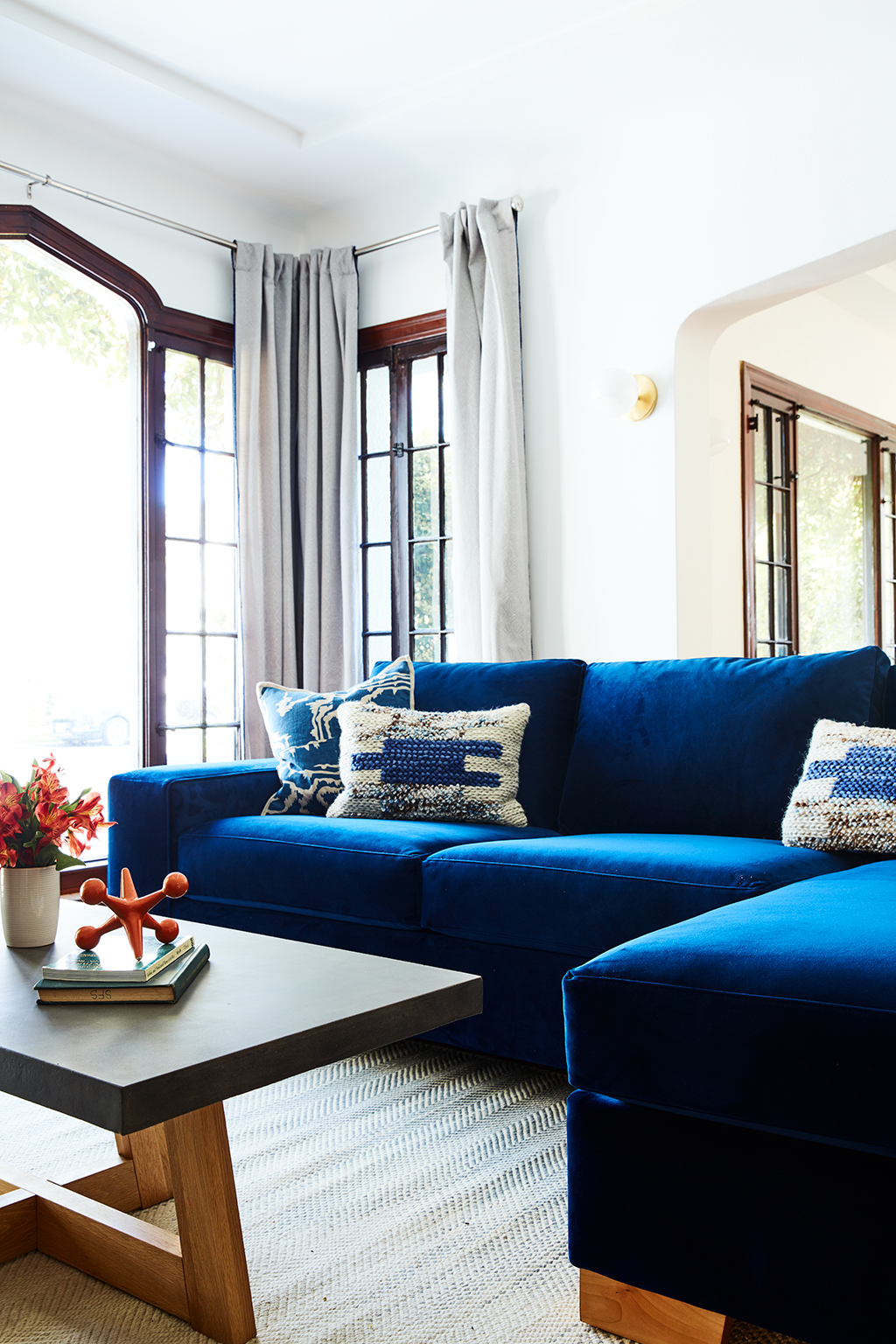 Melrose 2pc Sectional Sofa in COBALT VELVET
We're not saying velvet is only now trending…it's been the darling of furniture upholstery for a few years running, but we're happy to report that the cushy, luxe (and low-maintenance, FYI) fabric is still going very strong…herculean, actually. It doesn't hurt that the textile tends to come in bold, vibrant colors, which play the role of statement piece very well. For renters who might not be able to paint walls or put up wallpaper, sometimes, that bold sofa moment is all you have to make an impact. All hail velvet.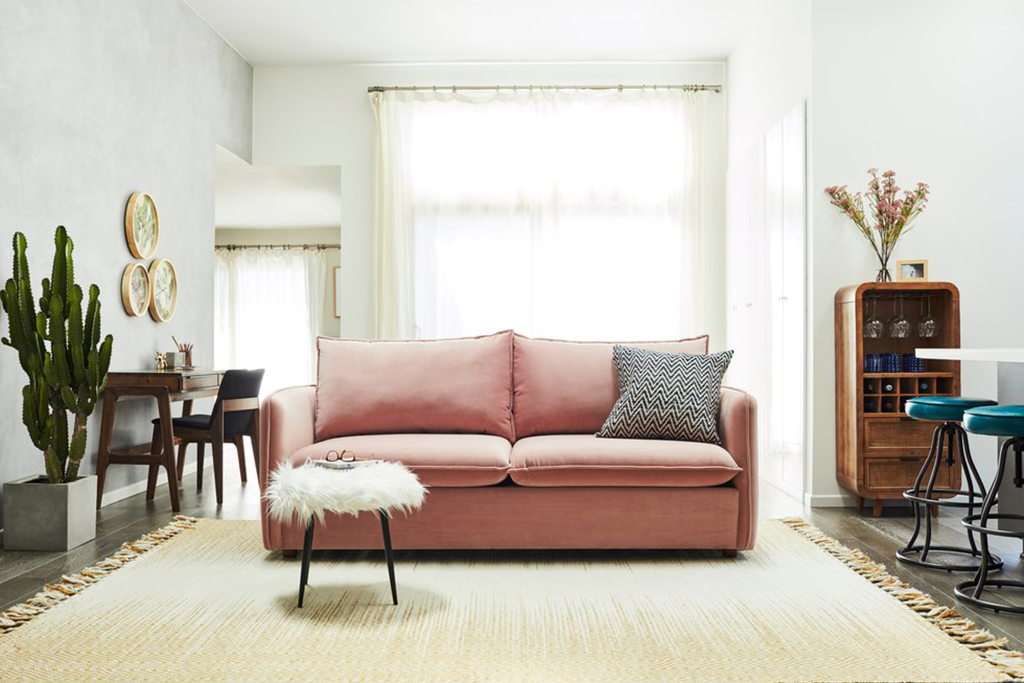 Hailey Sofa in BLUSH VELVET | Mendes Area Rug COPPER/WHITE | Levett Adjustable Bar Stool PEACOCK BLUE
Velvet can also dress up simple silhouettes. Take our Hailey Sofa, for instance. An unfussy, modern form gets leveled up in sumptuous blush (also, peep that great knife-edge seam). Sticking with an understated shape is a safer bet in terms of style longevity, of course, but our bets are on velvet for the long-haul…live a little.
4. "Fluted" Furniture Detailing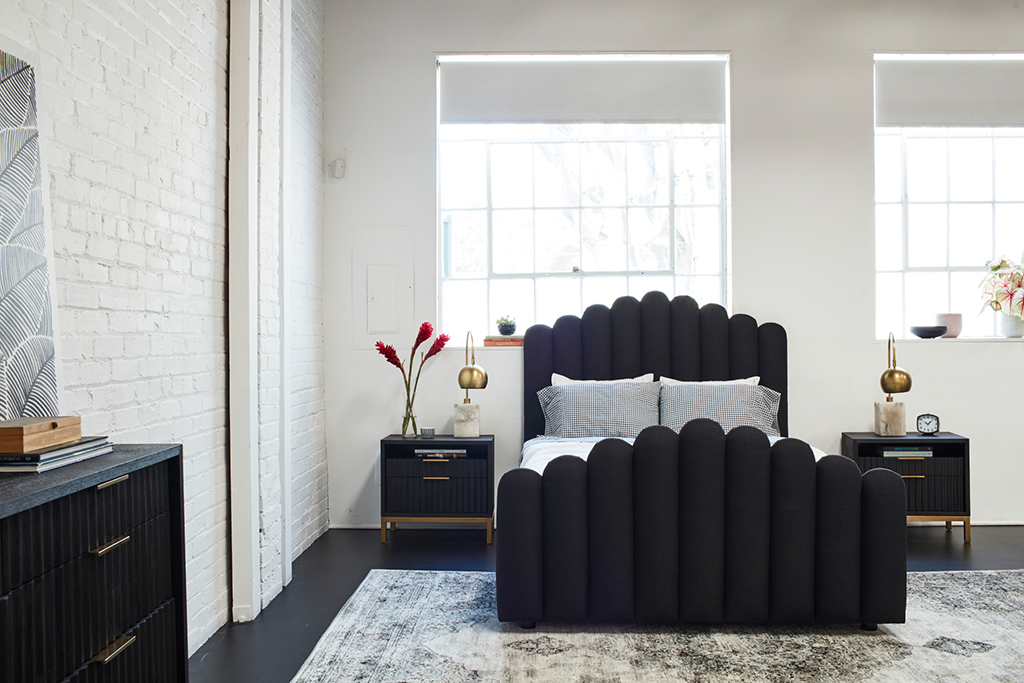 Westmont Nightstand BLACK/BRUSHED STEEL | Westmont Dresser BLACK/BRUSHED STEEL | Coco Upholstered Bed From Kyle Schuneman in BLACK | Julius Area Rug SILVER
Lizzo may have singlehandedly revolutionized the music industry this past year, but she's not the only one well-versed in the allure of the flute. It was really the rebound of Post Modernism that blew these ribbed and channeled details back into our homes.
We're not going to call it out as a firm 2020 design trend here but, in general, softer more rounded shapes, even on a smaller scale such as the delicate fluting on the fronts of our Westmont Collection, are quickly superseding the sleek, boxy lines you'll mostly find in modern and contemporary furnishings.
5. Chunky Shapes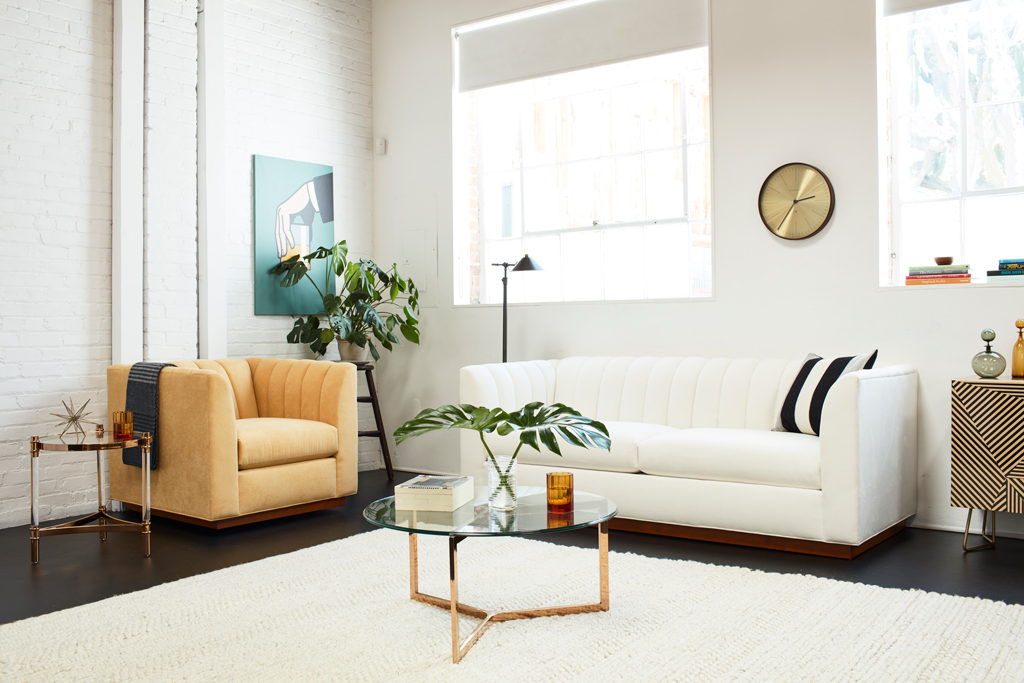 Nora Sofa From Kyle Schuneman in WHITE VELVET | Nora Swivel Chair From Kyle Schuneman in MARIGOLD VELVET | Mines Area Rug IVORY | Trusty Wall Clock by Cloudnola GOLD | Credenza by Three of the Possessed DAZZLE APARTMENT
A nod to the post-modernism love affair that was happening late last year, it's all about the "chunk factor" right now in furniture. Chunky wood frames, plinth bases, full arms, blocky shapes…all the details we are seeing pop up on the showroom floor. If you dig this sturdier silhouette, make sure to pepper in some lighter pieces to avoid things getting too heavy, especially if you're working with a smaller space. Find accent furniture with some delicate detailing or slender legs, for example. It'll go a long way to creating a balanced room with presence.
6. "Grandma" Style…With a Twist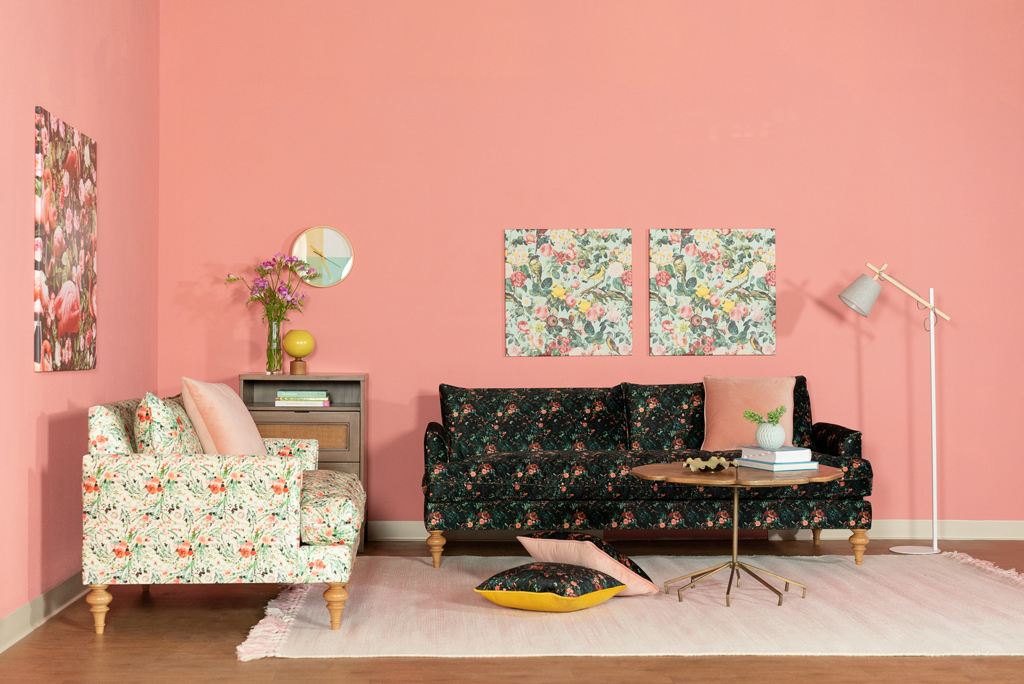 Saxon Sofa | Saxon King Chair | Francisco Rattan Panel Side Table NATURAL
We're not big fans around here of ageism (you hear that HR department?). However, for better or for worse, "granny" style is synonymous with lots of florals, fussy details and, maybe a cat or two. Similar to maximalism, the heavy-handed look has gotten a facelift and as a result is getting the attention of far younger onlookers. You're sure to be seeing more of the floral-upholstered thing happening on your feeds for months (maybe even years) to come.
7. Leather Sofas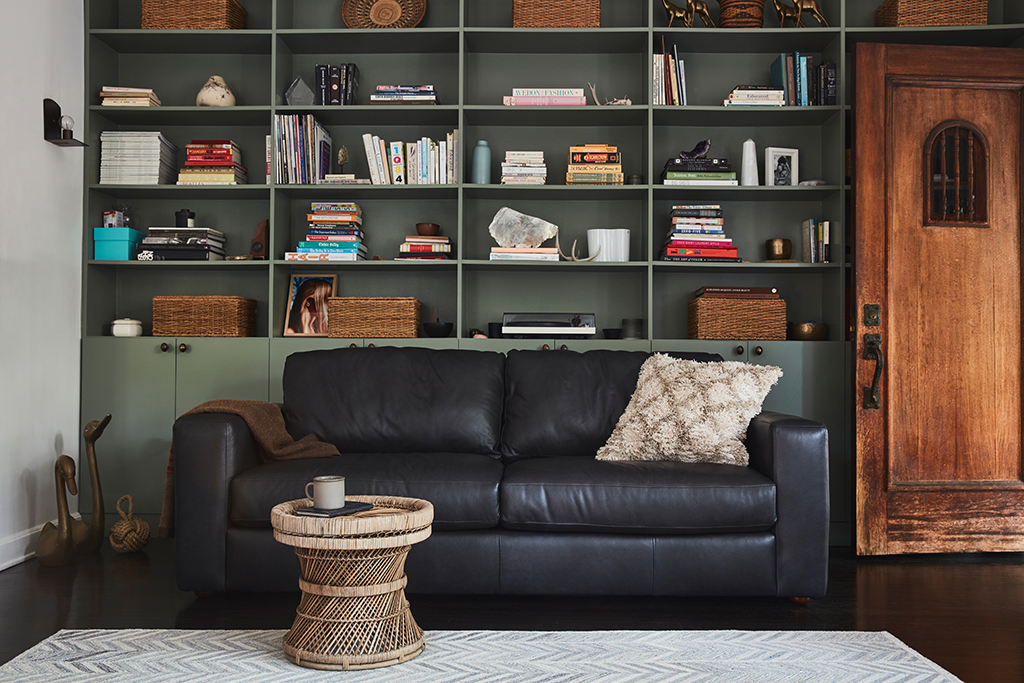 Culver Leather Sofa in ONYX | Calero Rattan Round Stool GREY (similar)
Sorry velvet, but you're not the only textile worthy of praise right now. Thanks in part to the onslaught of "California casual" design, leather is very much having a moment and for good reason. They age beautifully and are great for families with pets (buh bye lint roller). Plus, because of their ruggedness, they can take a beating. Just be sure to bring in enough warmth and personality via other decor and even paint color choices to avoid bad "bachelor pad" vibes.
8. Contrasting Trim and Doors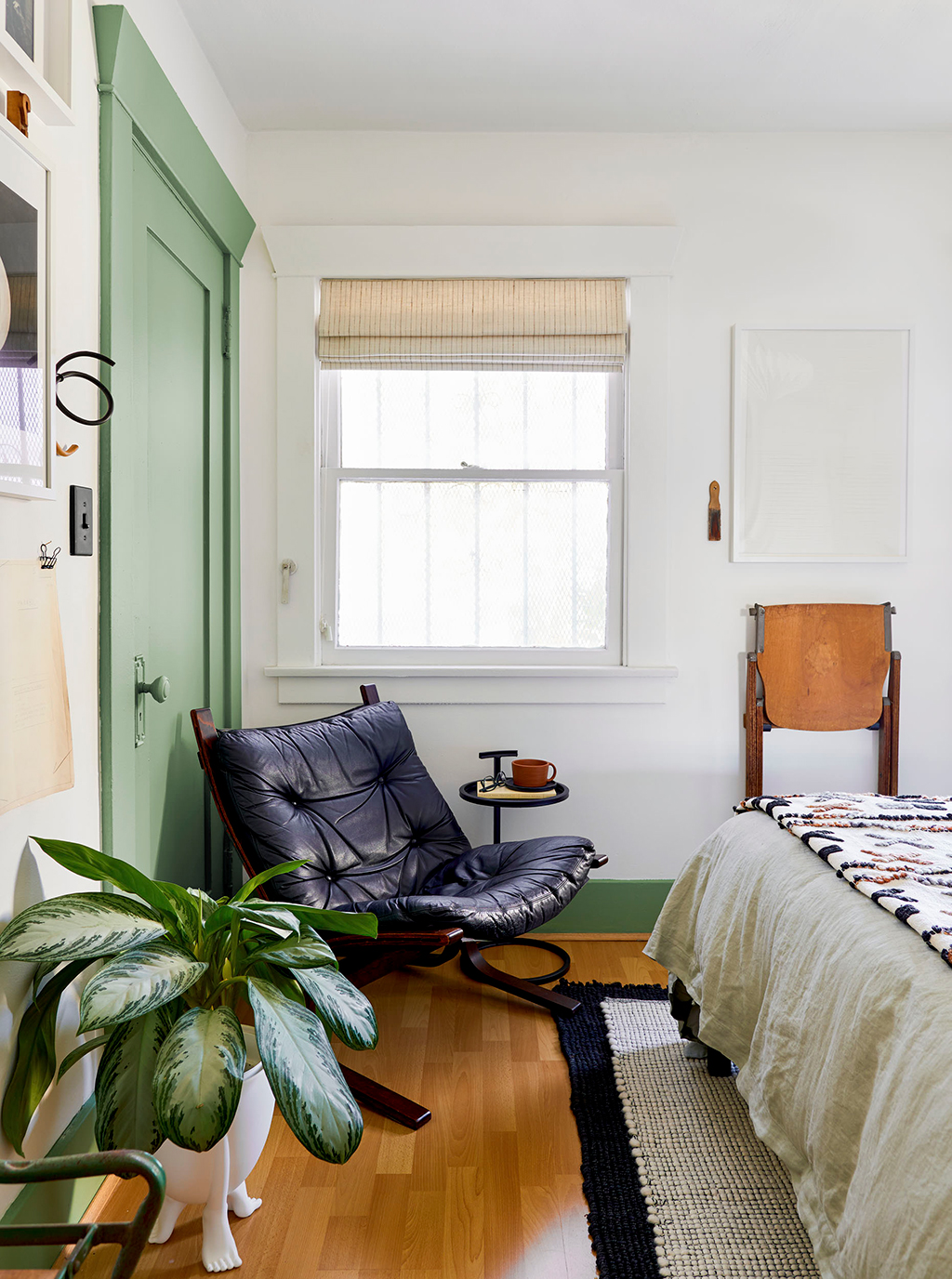 Design by Julie Rose via Style by Emily Henderson | Photo by Sara Ligorria-Tramp
We see your painted wall and raise you painted doors and moldings. This trend seems to have hitched a ride over from Europe and delivers heavy Parisian vibes (i.e. chic, lived-in and unexpected). And while we might not see this look reach a design fever pitch, that's actually what makes it so special. For anyone who's looking to break up from the same-same, think about adding some contrast to your window and door trims, baseboards and molding.
So…thoughts? Are you into any of these? Could you see them finding their way into your home? We'd love to hear from you.
Need a little more inspo to get your home just right? Don't miss these helpful posts:
---