Anyone who has ever lived in New York City can tell you that decorating a small space is one of the greatest interior design challenges. Cramped apartments, a lack of natural light, and difficult layouts can all make a space seem claustrophobic. But you don't have to live in the Big Apple to know that the small space struggle is real. Every apartment, studio, or "bonus room" poses its own unique decorating dilemmas. Luckily there are some tried and true tips that will help make your small space look bigger!
Scale Furniture Down
Scaling down doesn't simply mean choosing smaller furniture. It also means choosing furniture and decor that have an airier, lighter quality to them. For instance, a coffee table with thin legs and a slim surface will make a space look bigger than a Mission style coffee table with chunky wooden legs and a thick surface. Choose furniture and decor that all feel like they belong in the same proportional size category and it will help the space feel balanced and inviting.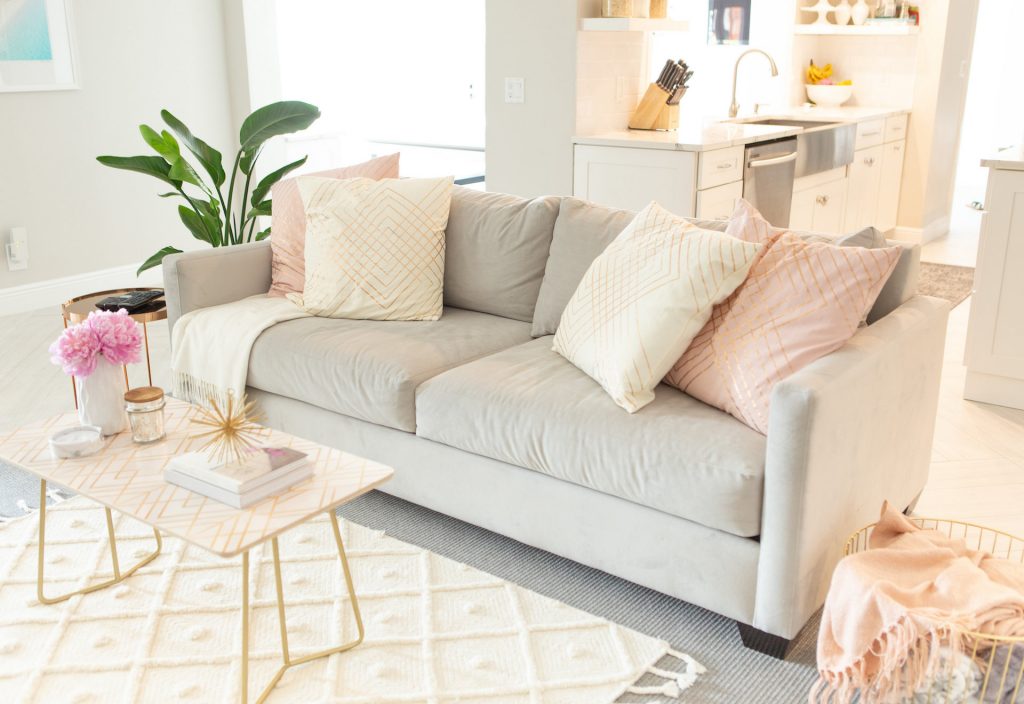 @celebrationstylist uses our hairpin-legged GOLDEN GEO Coffee Table by Elisabeth Fredriksson and our Valentine Side Table COPPER to keep things feeling light. Also featured is our Tuxedo Sofa in STONE with Espresso Legs
Use White Walls & Decor
We know it's after Labor Day, but we're going to recommend that you deck out your small space in white! White walls, white furniture, and white decor have a light visual footprint. The reason that white works so well in small spaces is because it limits the number of hard edges, corners, shadows, and shapes that you see as you scan the room. These visual distractions tend to disappear when the the items in your space, including the walls, are white. The result is a room with lots of room to breathe.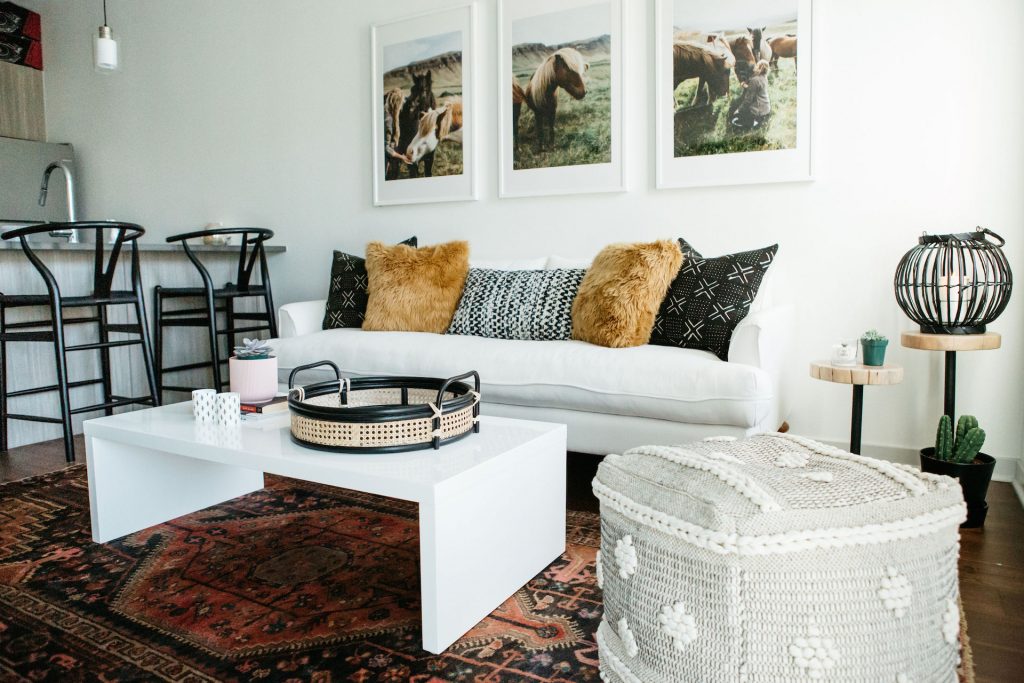 @brandicyrus uses our Saxon Apartment Size Sofa in WHITE VELVET with Pecan Legs and our Cloverdale Coffee Table WHITE LACQUER to keep the space feeling open. She pairs these with white walls and white picture frames to enhance the effect. As you can see, a little bit of black or extra colors are perfectly acceptable if the foundation is white.
Add Mirrors
Adding mirrors to a small room will have an immediate and massive impact on the visual landscape. They can, quite literally, double the visible space you have. It's an easy way to trick your brain into thinking that you're in a much bigger space. Another benefit to mirrors is that they keep the light moving in the room. More reflected light makes a space brighter, which helps soften those hard edges that we talked about earlier. Plus, mirrors are just a really fun accessory that deserve to be in every room!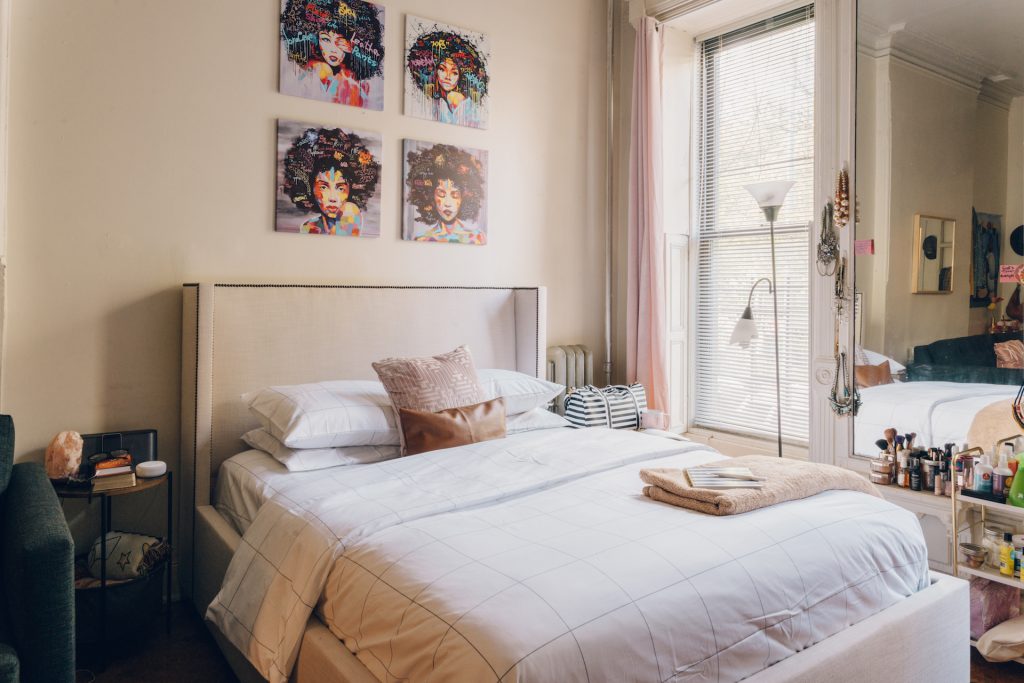 @albieknows needed to maximize every square inch of this NYC studio. Note the large mirror on the right hand side of the image – this feature is a lifesaver in this tiny apartment. Featuring our Everett Upholstered Bed in CREAM and (visible thanks to the mirror) our Logan Loveseat in CHARCOAL.
Sheer Curtains Work Best
More light = the feeling of more space. We know that we're starting to sound like a broken record, but that really is the key to making a small space feel bigger. Sheer curtains achieve this task by allowing as much natural light through your windows as possible. If you have pretty windows and don't have any privacy issues, then you can even ditch the curtains altogether. But most people need a little buffer from the outside world. Sheer curtains are the best way to keep your space from feeling like a claustrophobic cave.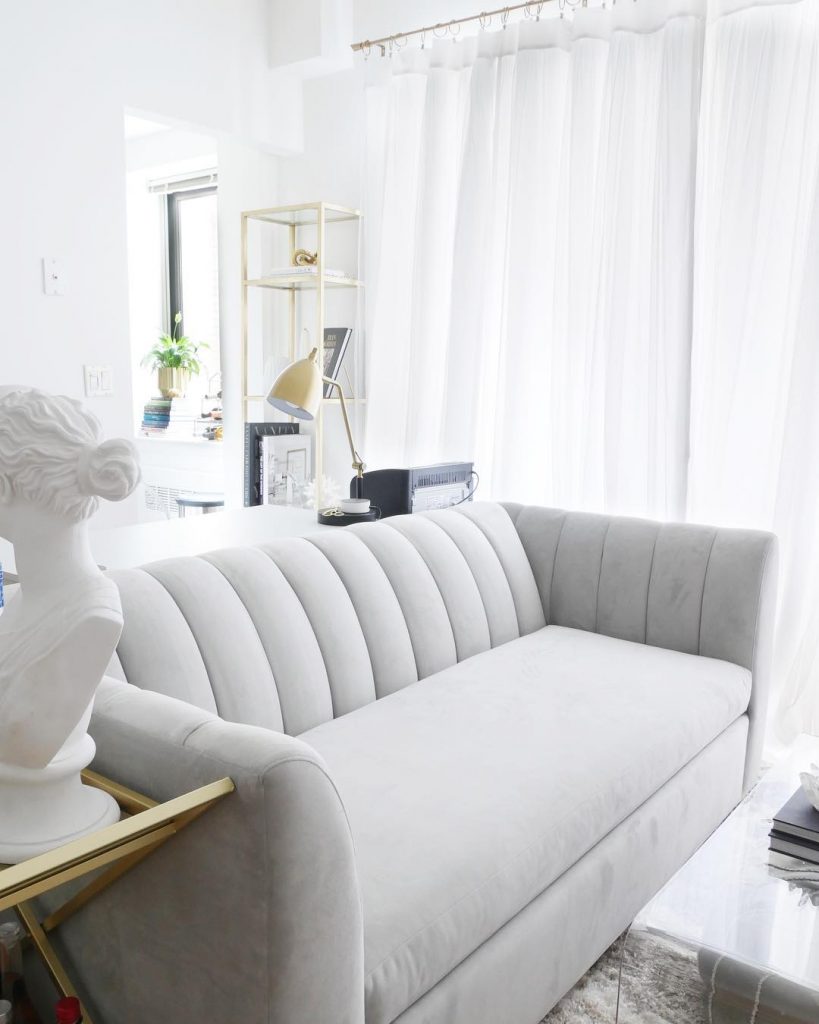 @citychicdecor shows off just how great sheer curtains can work in a small space. They provide plenty of light while matching the white walls for an unobstructed visual landscape. Our Nora Apartment Size Sleeper Sofa in STONE helps, too.
Don't Overcrowd The Space
In a small space, less is definitely more. If the objects in your space have room to breathe, then so will your entire room. Overcrowding is the number one reason why spaces feel smaller. The problem is that most people have a lot of stuff and it all needs to go somewhere! We recommend using the famous KonMari Method to remove any items from your space that do not spark joy for you. Reducing the number of items is a simple – and obvious – way to increase space. Do you really need a side table on either end of your sofa? Probably not! You can also create more space by hanging items that might usually live on the floor. The goal is to never have pieces of furniture so close that they're touching.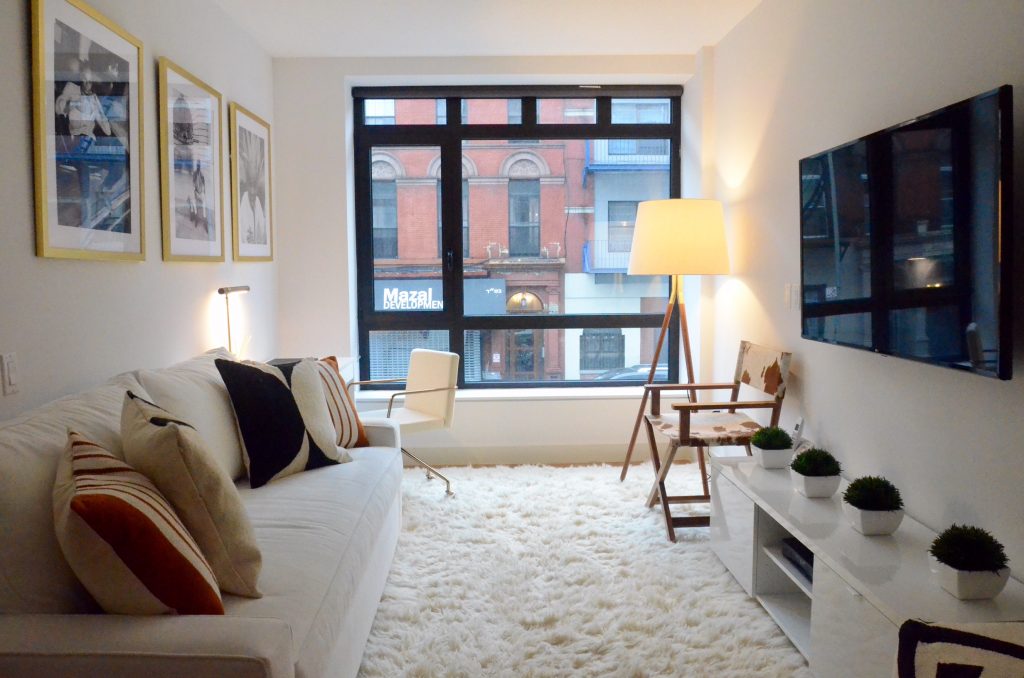 @travislondon has as much furniture as he needs in this small apartment living area. Note the lack of coffee table, the use of white, and the thin legs on the cowhide chair, the lamp, and the office chair. Our Harper Queen Size Sleeper Sofa in WHITE VELVET helps transform this area into a guest bedroom as needed.
Final Thoughts On How To Make Your Small Space Look Bigger
All of these tips can really help you open up your otherwise cramped space. However, you don't need to incorporate every single one of these methods to see great results! Start out by making at least one of these changes and then evaluate the space to see how much more you need to do. We think you'll be pretty amazed by the results!
---