A small living room might feel like a design death sentence, but we promise you it's not! In fact, consider it a fun challenge. In a previous post, we touched on why storage furniture is the not-enough-square-footage key to squeezing out more from your home but there's even more you can do to streettcchh your living footprint (or at the very least, trick the eye to make things look larger). Read on for five super simple swaps and hacks to try in your compact living room.
Think beyond the coffee table.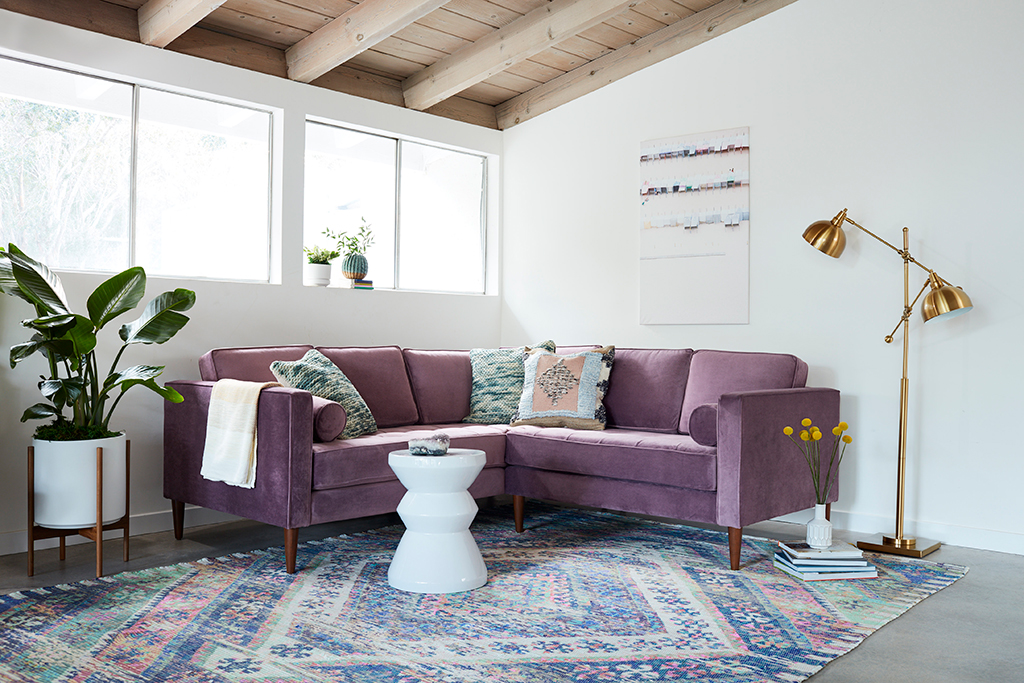 Shop the room: Delilah 2pc L-Sectional in Lavender Velvet/Pecan | Lakshmi Area Rug | Mojave Vase MINI | Ingrid Beddoes BEACH LIFE
Photo: Joe Schmelzer | Styling: Kyle Schuneman
The living room "formula" is pretty standard, give or take a few pieces: sofa, side tables, side chairs, coffee table. But we're about to shake up your world here because guess what? You might not actually need a coffee table. And by that, we mean there are smaller more modular options that work best in pint-sized rooms. A few things to try:
Poufs: Grab one or two, depending on how much space you have, and throw a tray on top if you want a solid surface to place a beverage. Bonus points: you can use them as extra seating (the poufs, not the tray, obvs).
Ottomans: Really just a larger pouf. Ottomans come in a range of sizes and styles, some specifically to be used in place of a coffee table, some even with hidden storage.
Garden stools: Just like a pouf, but a bit more solid!
Slender bench: Benches and coffee tables tend to fall around the same height (roughly 18″ from floor to surface) so don't overlook using a backless bench that is a bit more slender than a table. This move works particularly well in a really narrow space.
Nothing at all: Furniture formulas are a great starting point for any room, but really think about how you use your living space. Do you typically put your stuff on the side table? Is the coffee table just a place to hold decor with no other real purpose besides getting in your way and obstructing flow? Just ditch it if it's not serving you or your room.
–> Shop poufs, ottomans, benches & garden stools on Apt2B.com <–
While we're at it, think beyond the standard side table.
Similar to the coffee table, if a side table is just taking up space without any practical use, say buh-bye. While we're not against decorative objects or pieces at all (it's called character, okay?!?), when floor space is at a premium, it's time to get cutthroat. You might find that a coffee table (if you didn't immediately list yours on Craigslist while reading that last tip) is the only perch you need.
Apartment-sized sofas to the rescue.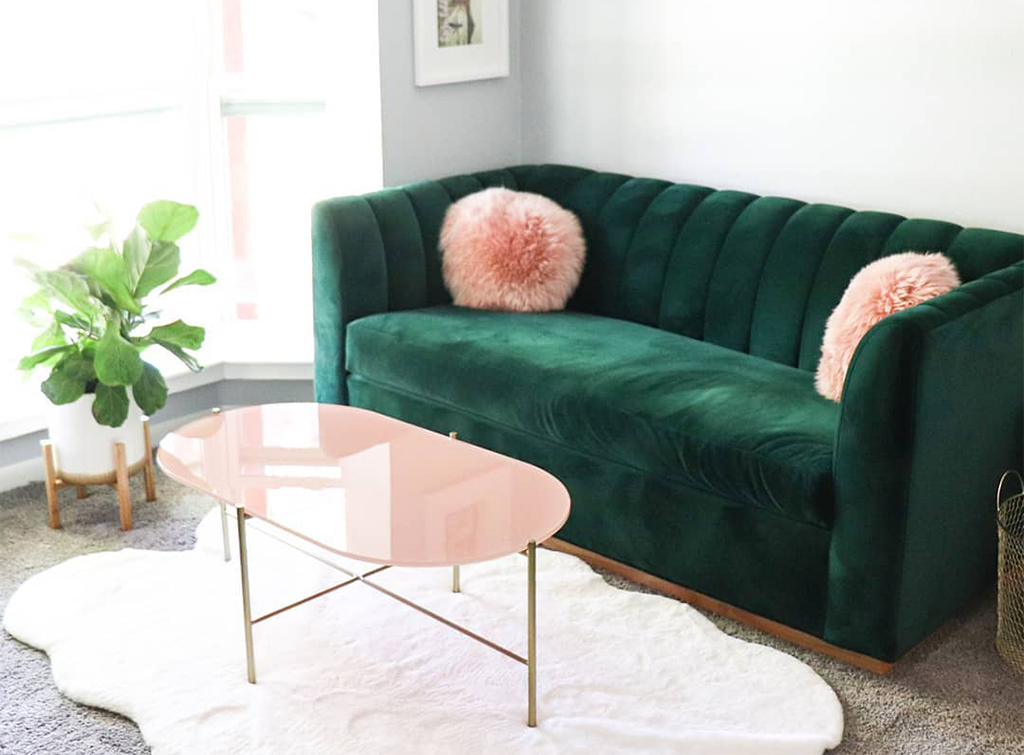 Shop the Piece: Nora Apartment Size Sofa in Evergreen Velvet/Pecan
Design & Photo: @magserita
Ohhh this is a good one. A category made precisely for smaller spaces. If you've ever felt like your only seating option was a loveseat due to a lack of space, think again! Enter the apartment size sofa (and hey, we sell those!). A full-size sofa typically runs between 78″ to 96″ (though, of course, they can be much larger, this is just a general range). Loveseats start at about 48″, so this special "apartment" categorization fills in that gap. She's basically the Goldilocks of compact upholstery. If you need that sweet spot between 68″ to 74″, this is where it's at.
–> Shop apartment size sofas on Apt2B.com <–
Always aim for double-duty pieces.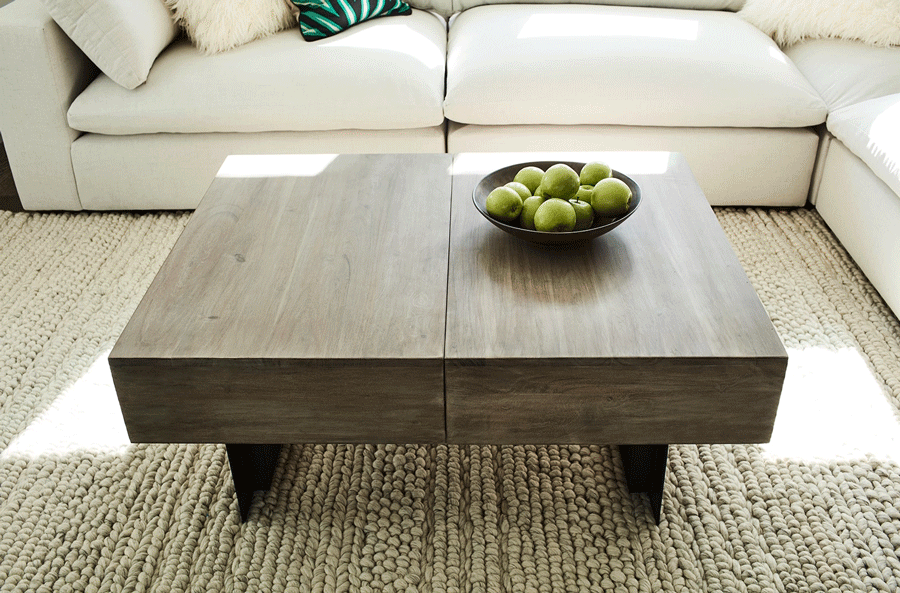 Shop the piece: Bodie Storage Coffee Table
Remember that article we referenced in the first paragraph here? That's got all you need if you're interested in learning more about storage furniture (which btw is ideal when you need places to stash things due to lack of closets or square footage). Here are the CliffsNotes: storage side tables, storage coffee tables, sleeper sofas (we even offer apartment size sleepers ?), vertical bookcases (always store "up" instead of wide in those smaller rooms).
Go bigger than you think with rugs.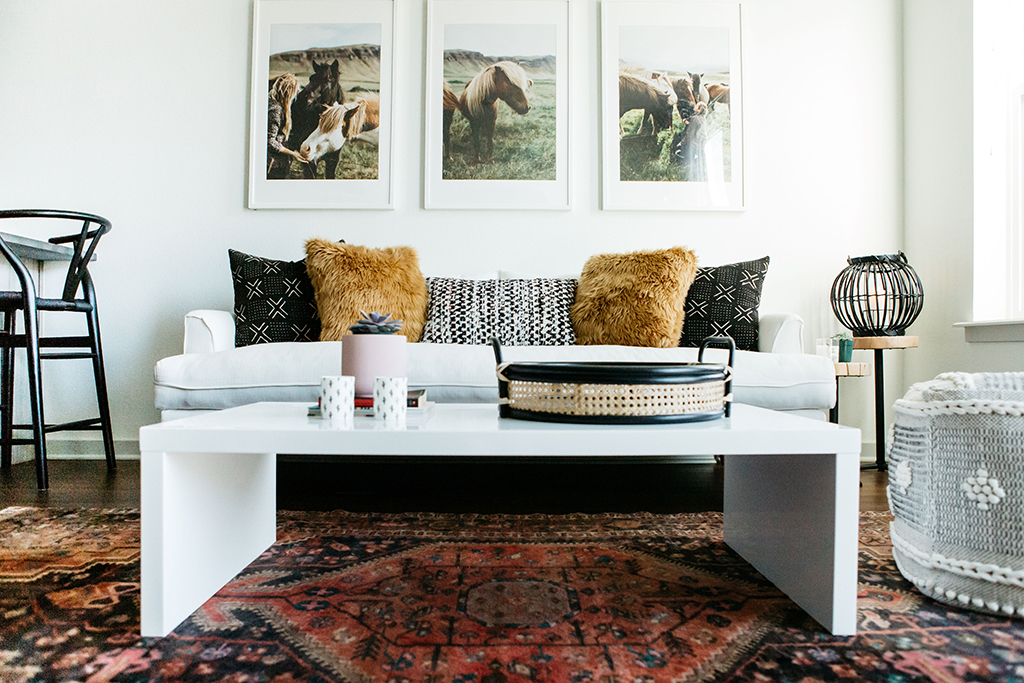 See more of this studio apartment: Tour Brandi Cyrus' modern boho living room!
This is one of the most common mistakes we see time and again with living rooms, regardless of size tbh. Even when you think you can only fit in a 5×8, you're probably underestimating how large that rug should and can be. When you put small things in a small room, your eye just thinks "small!" But when you balance a space with a few key larger pieces, in this case, a rug, you trick your eye into thinking there's more space than there really is. Size up to an 8×10 so that most of your seating sits on the rug, even if it takes up the greater majority of your floor space. We promise this is the right move, but if you need proof, head here and swipe.
–> Shop rugs on Apt2B.com <–
Looking for more small-space tips? You don't even have to ask twice:
---