"Room Goals" is a blog series where interior designer Kyle Schuneman shows you how to get magazine-worthy vibes using all Apt2B furniture and decor. Shop the look now!
You are likely hunkered down in your home, getting used to the new normal of rolling out of bed to your new "home office," logging your little ones into virtual classrooms…what a time we're all living in. With no commute and canceled everything, you might find yourself with more free hours to look around your abode. Is it more "humble" than "haven"? Here's an idea that works for me if you want to look beyond your Instagram feed for inspiration: turn to photos of cool new restaurants or a local boutique hotel. These are ripe with bold ideas.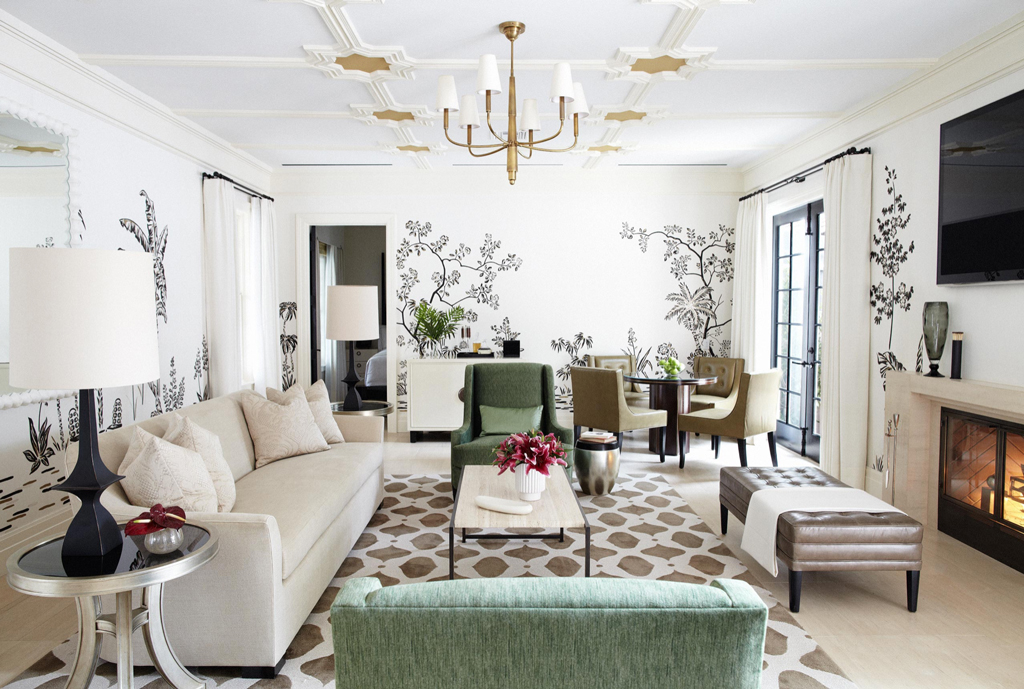 Photo by Joe Schmelzer | Room Design by Champalimaud Design | Styling by Kyle Schuneman
When I was updating my website this week (can't use "I've got no time" excuses anymore I suppose), I came across an image from the luxe Hotel Bel-Air shot by Joe Schmelzer that I styled and was wowed all over again. I love how this room, designed by Champalimaud Design, has a quiet confidence. Layers of textures in a soft palette that complement one another make you instantly feel both comfortable and glamorous.
In another installment of our Room Goals series, I gave myself the task of recreating this elegant room but with all things Apt2B! Let's see how I did.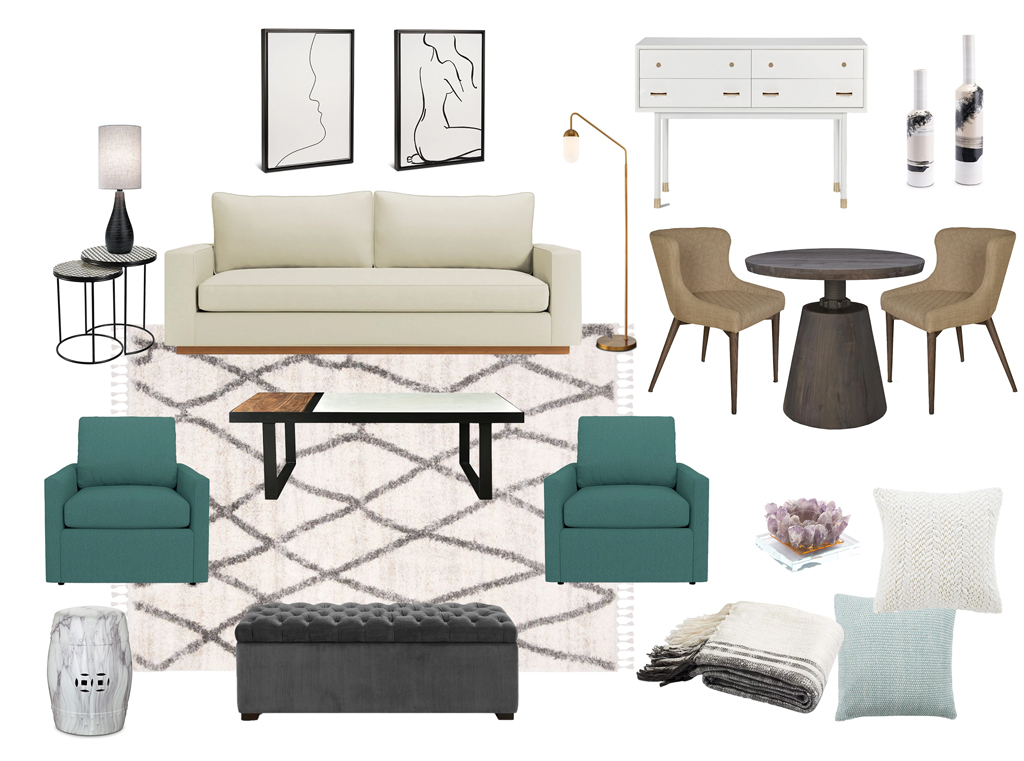 Click the "shopping cart" icon in the above photo to instantly browse the collection. Or click here to visit the main collection page!
While the Hotel Bel-Air room feels grand and aspirational, there are takeaways for more down-to-earth spaces. Lean into luxurious textiles such as velvet, linen, shag, even tufted and quilted detailing. Rich wood tones, marble, crystal accents and even intricate inlay surfaces really skyrocket a room's "chic" factor.
Because the photo showcases both a seating space and a dining area, let's break down one sector at a time.
The Luxe Life Living Room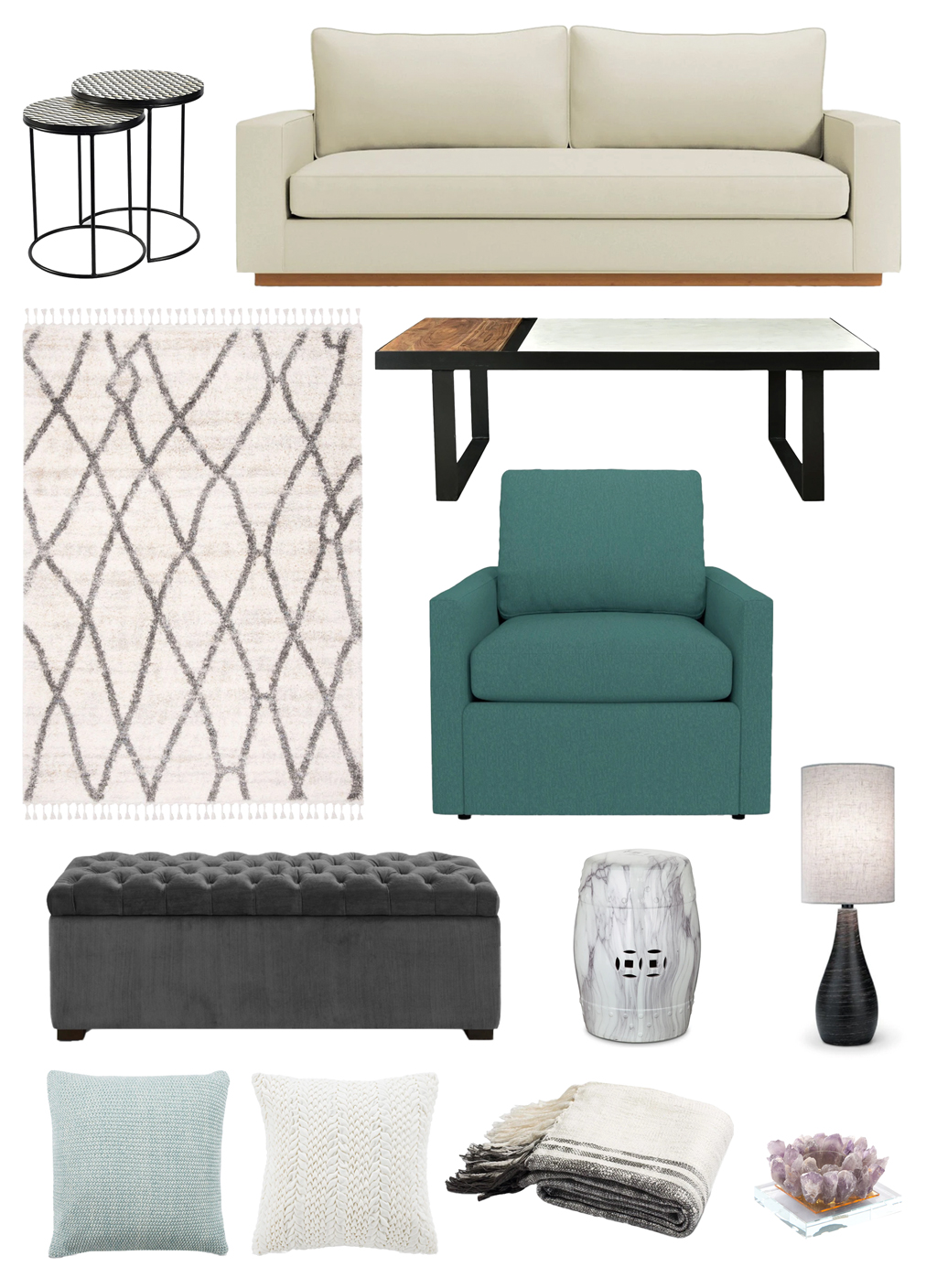 Shop the Look: Harper Sofa in Buckwheat/Pecan | Quinn Nesting Tables | Banswara Coffee Table | Diana Fringe Shag Area Rug CREAM | Fabian Chair in Seafoam | Spaulding Storage Ottoman in Slate | Arkley Garden Stool | Fair Oak Table Lamp | Katerina Toss Pillow | Vilona Toss Pillow CREAM | Rayleigh Shimmer Throw | Shenessa Candle Holder
To anchor the room, I went with a geometric rug in neutral tones just like in the inspiration picture. I think grounding this calm space with something bold is part of what makes the room's design so successful. It feels alive! Then adding a crisp, clean-lined sofa like the Harper in Buckwheat helps to complement the rug but still lets it be the star.
Adding accent chairs in a serene color is another great takeaway. It breaks up all the neutral tones but the modern silhouettes keep it in line with the other furniture. While all the other pieces are subdued, every item still has an interesting construction and texture to it. This is what really makes this room feel luxurious. Pieces like the Banswara Coffee Table and Spaulding Storage Ottoman in Slate really replicate that refined texture and detailing.
A Dining Room Fit For Hospitality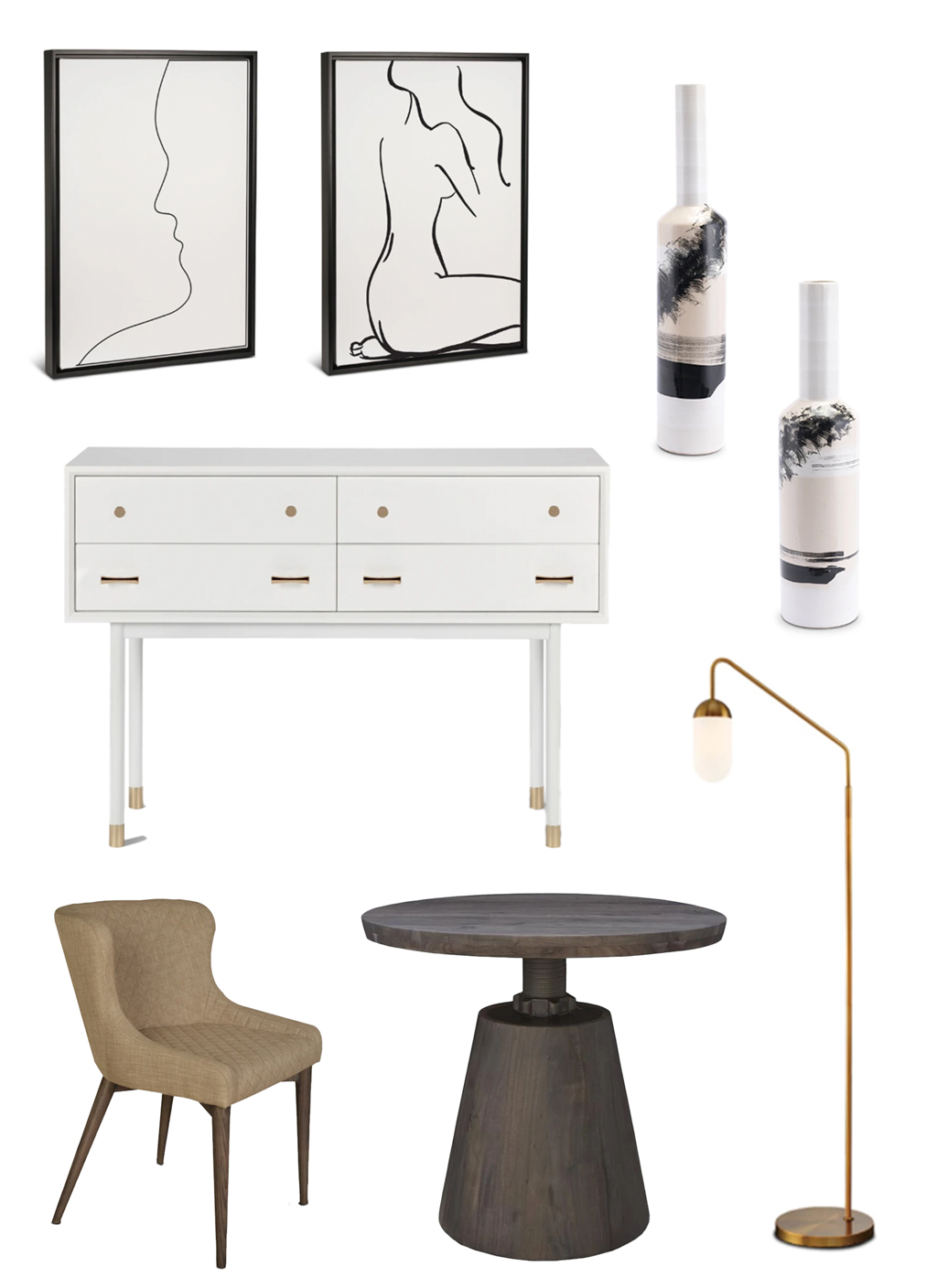 Shop the Look: Perfect Pecks by Honeymoon Hotel FRAMED CANVAS | Mermaid Hair by Honeymoon Hotel FRAMED CANVAS | Chloe Console Table | Song Bottle LARGE | Song Bottle SMALL | Leigh Dining Chair BEIGE – SET OF 2 | Levett Adjustable Bistro Table | Serenity Floor Lamp GOLD
The other bold design feature here is, of course, the hand-painted murals on the walls. While they're beautiful (who wants to give those a go on their own walls?!?), another way to achieve this black and white design is to choose wall art that mimics the idea. I love these ink silhouettes (Perfect Pecks and Mermaid Hair) framed in black wood as a way to get this look for less.
You'll also see in the background of this little dining area that there's a buffet set up. Adding a larger piece like that further marks out that space from the living section. (I pulled the Chloe Console here because it's white and "blends in," helping to not overwhelm the eye or steal attention from other star pieces.) Speaking of dining, I wanted to draw attention briefly to the actual table and chairs. The quilted fabric on the Leigh Dining Chair adds a subtle high-end look to a simple chair silhouette, while the earthy beige color works really well, without blending in, with the living room set up. OH, and that Levett Bistro Table…it's adjustable. Leave it at dining level (30″) or raise it up to 42″ to use as a high-top for impromptu at-home happy hour.
Finish the room off with some knit pillows, wool throws, and ceramics. Voila, you now have a luxe room for less that brings that #hotellife to your own home!
See more Room Goals:
---