"Room Goals" is a blog series where our resident interior designer Kyle Schuneman shows you how to achieve a high-end design for a fraction of the cost. Shop the new collection now!
Written by Kyle Schuneman
Sometimes a room just oozes cool. A laid back, not-trying-too-hard cool that just grabs you. That's immediately what I thought when I saw this space in photographer Joe Schmelzer's beautiful portfolio.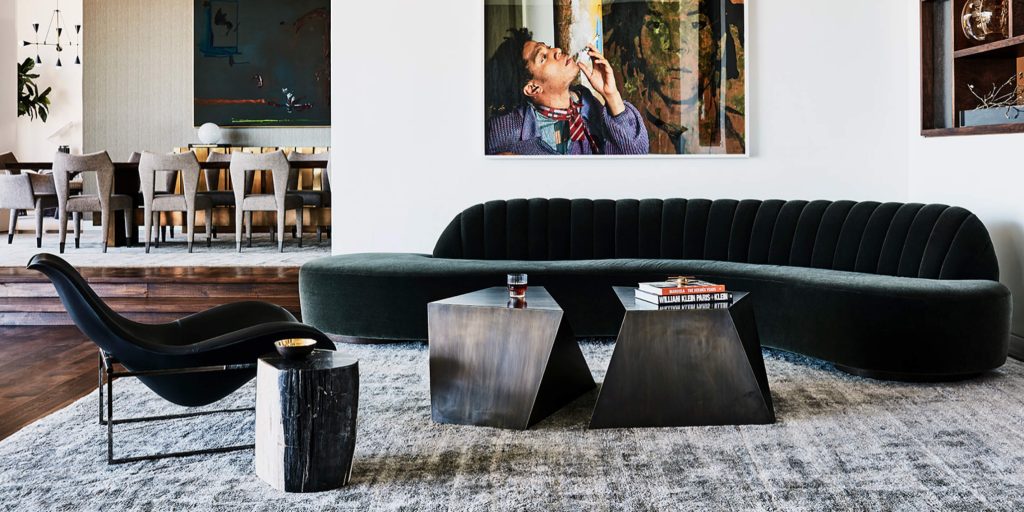 What I love about this room is that it proves that you don't need to use a ton of color to achieve a layered and interesting space. People often feel that they need to start the design process with a color palette. This room shows that a collection of varied textures can be just as strong of a statement.
All About That Shape
The real star of the space is all of the uniquely-shaped furniture. The sexy rounded sofa, the dining chairs with cut-out backs, and the sculptural accent tables all add visual interest to the space. The entire vibe has an art museum quality to it, which means that your eyes are never bored. Although the shapes are different, they fit together without clashing. The result is a space that's always alluring no matter where you're sitting.
Get This Look For Less!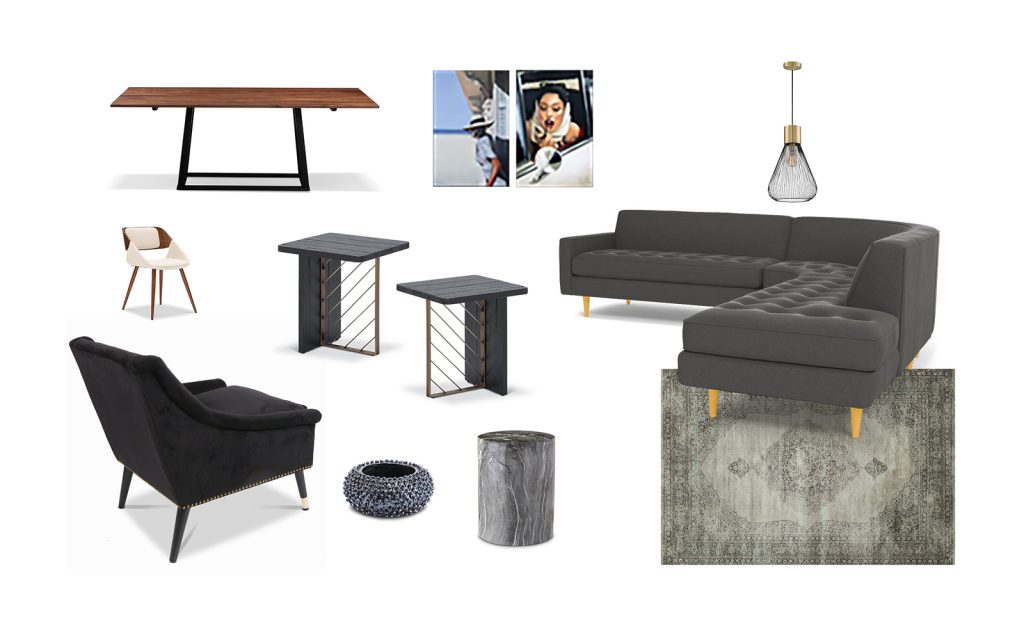 Click the "shopping cart" icon in the above photo to instantly browse the collection. Or click here to visit the main collection page!
When recreating this room I immediately thought of Apt2B's curved Monroe 3pc Sectional. It has a beautiful rounded look that can really anchor a large room. After settling on the Monroe as the focal point, the next step was all about choosing interesting, masculine pieces to help reinforce the cool style throughout the room. The Crawford Accent Chair and the Griffith Side Table are perfect choices. One major benefit of this style is that it gives you the freedom to choose any type of wall art that you like. Strong wall art is an amazing way to showcase your personality, especially in a gallery style space like this. And when it comes to art, the bigger the better!
The Living Area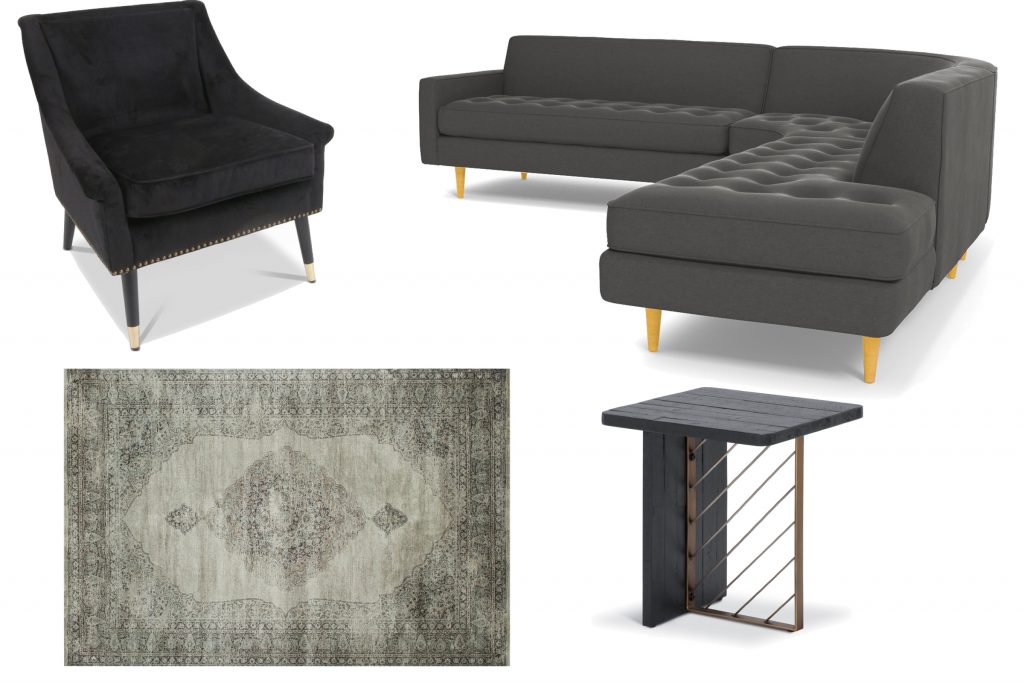 Crawford Accent Chair GLAM BLACK | Monroe 3pc Sectional RAF in THUNDER w/ Natural Legs | Julius Area Rug SILVER | Griffith Side Table
The Dining Area + Accents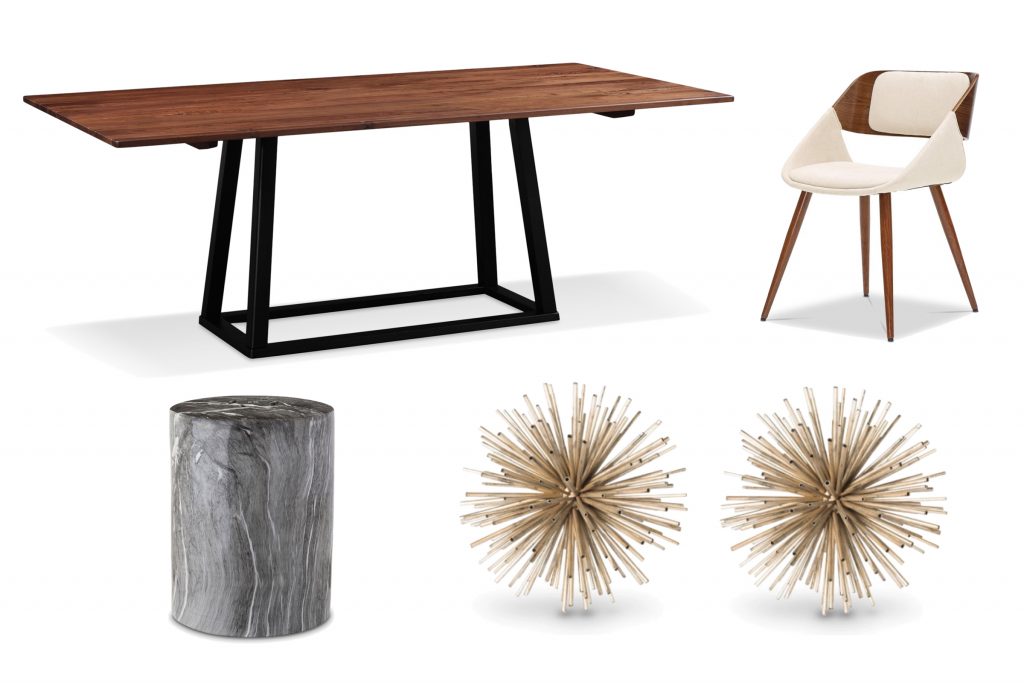 Irvine Dining Table | Mirabell Accent Chair SANTORINI SAND | Loara Marble Garden Stool | Supernova Sculpture SET OF 2
Wall Art + Lighting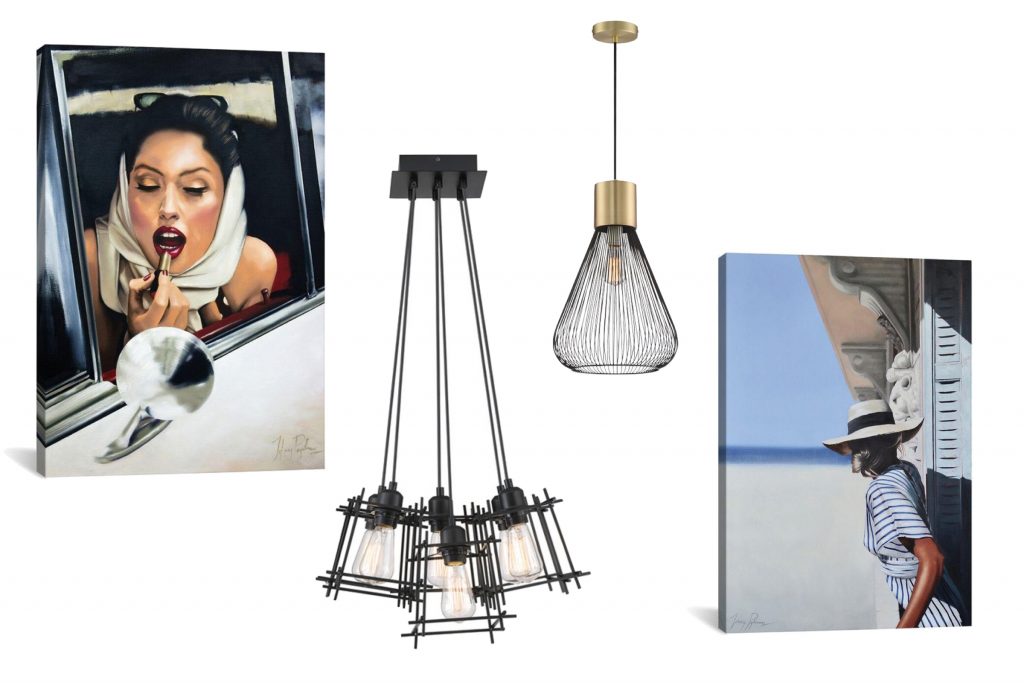 Johnny Popkess FINAL ADJUSTMENTS | Anna Creek 6 Bulb Pendant Lamp | Jensen Pendant Lamp | Johnny Popkess ROOM WITH A VIEW
Want to achieve this same look in your own home? Shop the full collection now! And don't forget to check out Kyle Schuneman's website for more interior design tips!
Want even more Room Goals? Check out the first entry in the series!
Kyle's Room Goals Series: High-End Design Without the High-End Prices!
---