"Room Goals" is a blog series where interior designer Kyle Schuneman shows you how to get magazine-worthy vibes using all Apt2B furniture and decor. Shop the look now!
Welcome to January, a.k.a. a (very long) month full of shiny and bright intentions dampened by a holiday hangover that can take weeks to shake off. Part of this new year slump comes from finding—and keeping—routines again. Other reasons? Just look around your house…without the lights and the decorations, it really can feel so empty and flat. It's cold outside…and inside, at least visually. But the silver lining here? You can resolve (ha) to turn it around. I think I found a great jumping-off point to revive your flat-lined living room without busting your 2020 "spend less" pledge.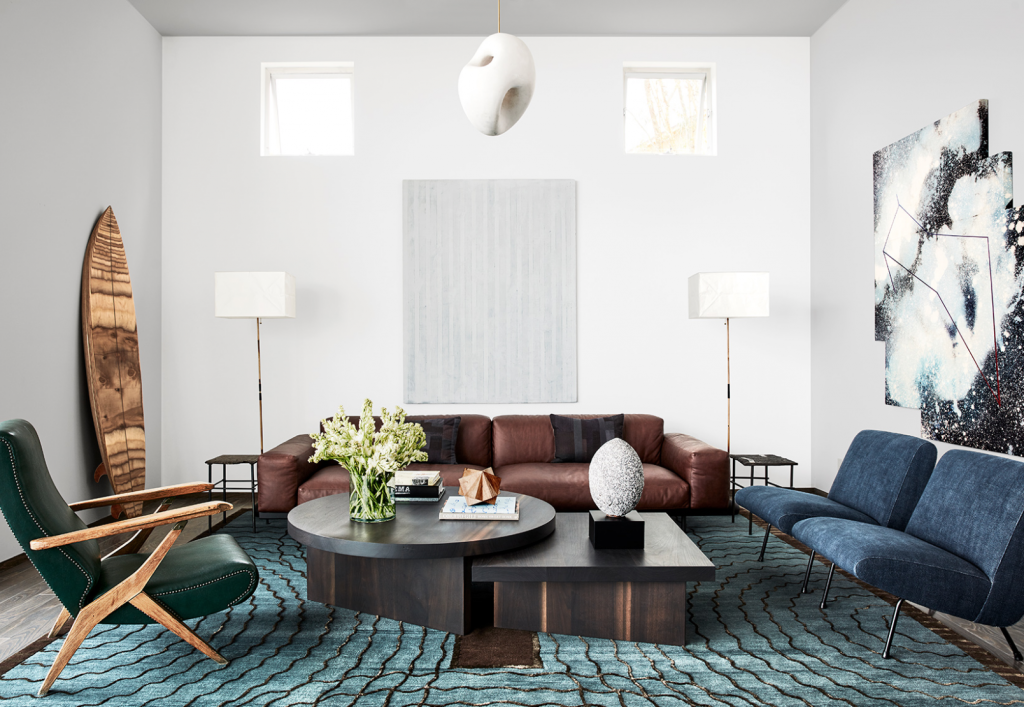 Photo by Joe Schmelzer | Design by Oliver M. Furth
When I came across this beautiful room in photographer Joe Schmelzer's stunning portfolio, it struck me. At first glance, it's a clean-lined, minimal room, but look a little deeper and you'll see it's full of life, layers and warmth. That just goes to show that a room without all the "extras" can still be as inviting as the holiday den you might still be mourning.
…But Make it Apt2B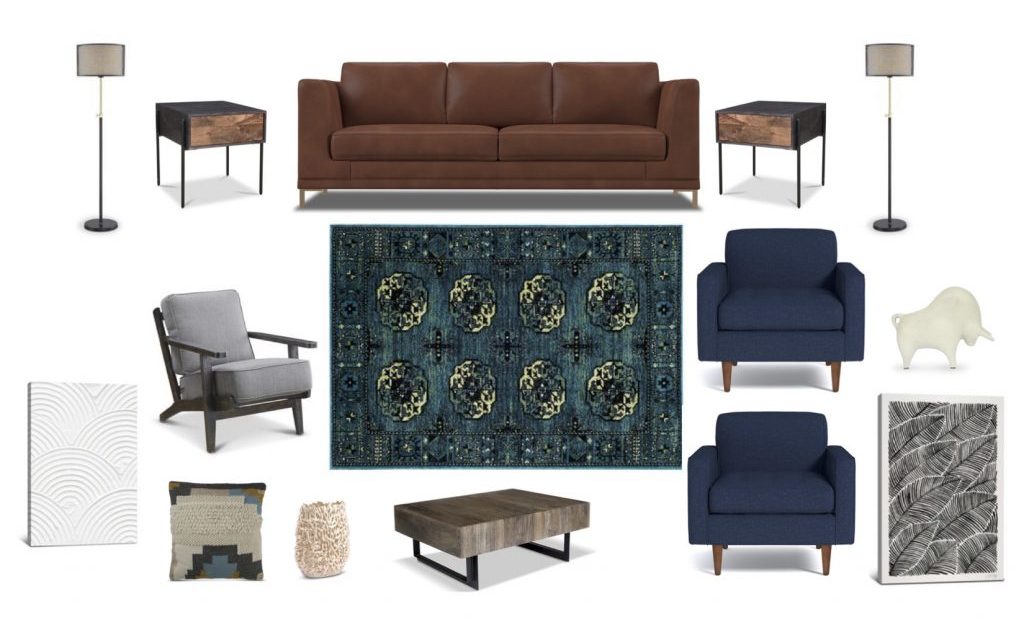 Click the "shopping cart" icon in the above photo to instantly browse the collection. Or click here to visit the main collection page!
Champagne Tastes, (Craft) Beer Budget
Anchoring the space with the Dylan Leather Sofa makes a fairly sterile room immediately cozy. Leather can get a bad rap for being "cold," but in a rich Chestnut, you get instant warmth. I also love the idea of having a bold floor moment like the Berna Area Rug in a white room. It's a great tip for renters who might not have the freedom to paint their walls. You can really inject a bright color or pattern into the room without making your landlord drop a swift "per your lease agreement..." into your inbox. I also want to note how this space keeps all the furniture fairly low to accentuate the high ceilings. This is another great trick in design because contrast = visual interest.
The mix of textures between the leather sofa paired with the combination of the wood Bodie Storage Coffee Table and the wood-and-steel Rhyolite Side Tables helps to layer the room, and if I haven't said it yet, layers = warmth, which is particularly important in a white space with minimal architectural interest. One more thing to elevate the design? The differing chair shapes, which create a collected feel to keep your eye moving around the room. I went with a duo of the cushy Monroe Chair in Baltic (these are great because they're relatively compact which works well for a smaller floor plan), and the laid-back Ryder Accent Chair because every room needs something a bit more chill to give you that "throw your shoes off" comfort level.
Small Pieces, Big (Style) Wins
Because of the white gallery-like walls, it also makes any art you put on your walls immediately intentional and interesting. The room we're using here as our muse has an overscale abstract print, but you can get a similar vibe with some monochrome graphic canvases like the quietly impactful Nana's Ceiling by Honeymoon Hotel and textural Cat Coquillette TROPICAL LEAVES I. Then it's just about filling in with decor pieces and textiles to add a little character.
The Living Room Protagonists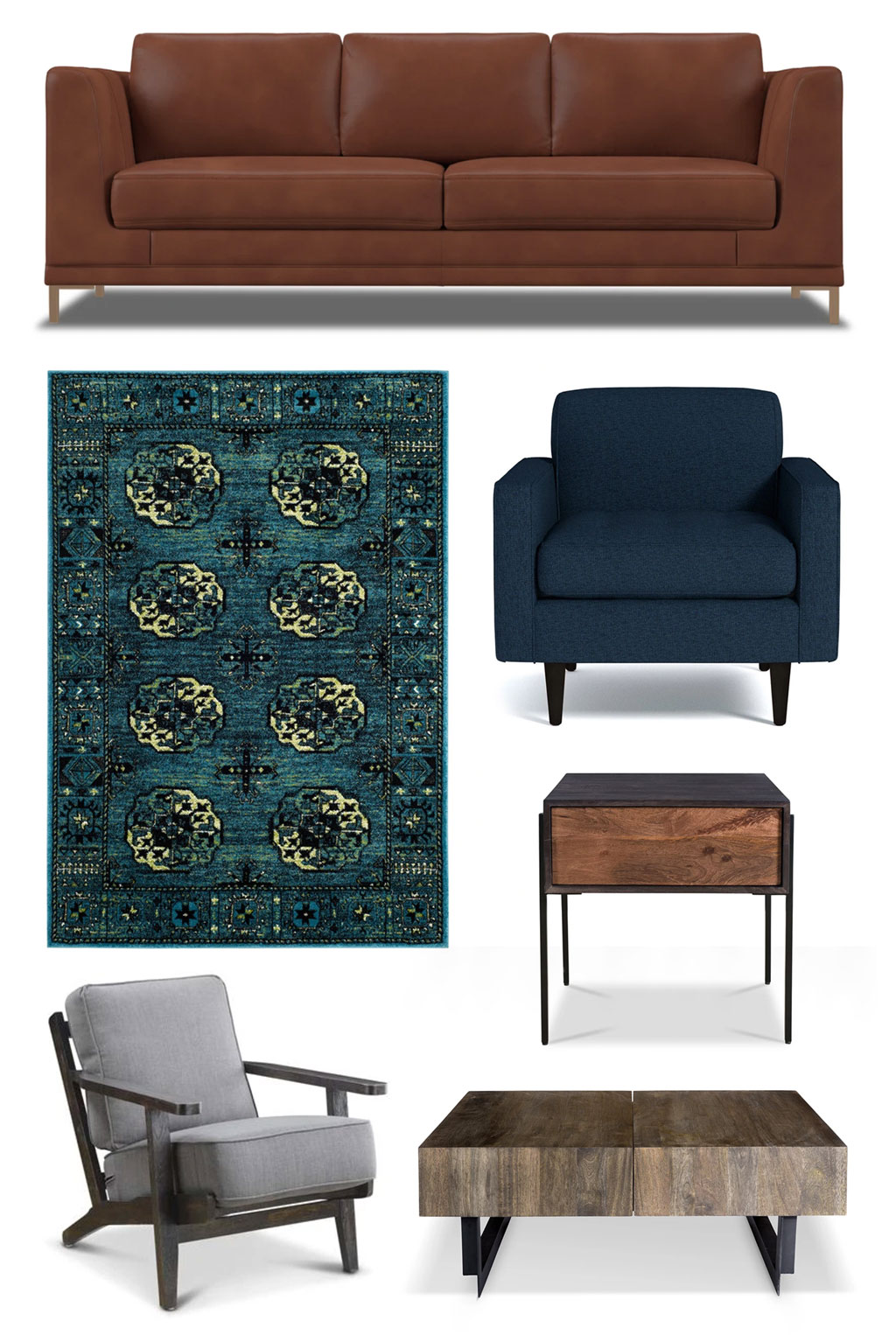 Dylan Sofa in CHESTNUT w/ BRASS Legs | Berna Area Rug | Monroe Chair in BALTIC w/ ESPRESSO Legs | Rhyolite Side Table | Ryder Accent Chair DARK OAK WOOD in CLIFF GRAY | Bodie Storage Coffee Table
The Supporting Accents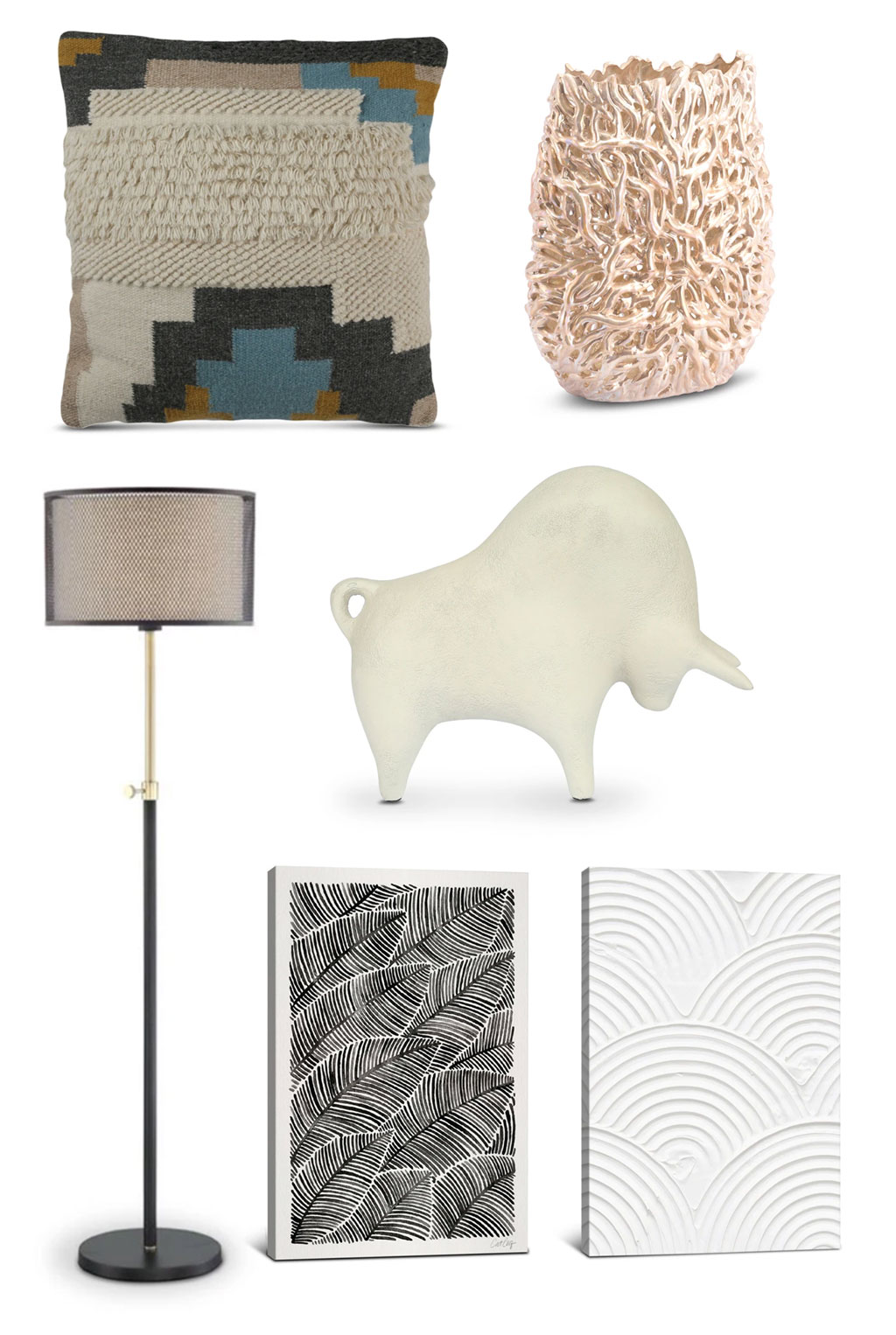 Kalinda Toss Pillow | Coral Vase Pearlescent Orange SMALL | Torro Sculpture | Faraday Floor Lamp | Cat Coquillette TROPICAL LEAVES I | Nana's Ceiling by Honeymoon Hotel
Overall, we can learn a lot from this beautiful space. It proves that less can be more without sacrificing comfort or personality, and we can do it at a fraction of the price.
Want even more Room Goals? Check out the other posts in the series!
---