Kyle Schuneman is Apt2B's resident designer. Shop his Ireland-inspired collection now! 
With its dramatic bluffs that go straight down into a rough ocean current and a wide-open sky above, the area around the Cliffs of Moher on the west coast of Ireland is one of the most beautiful places I've ever been. I had such a feeling of peace there; it's easy to be mesmerized by this dramatic natural landscape.
Whenever I'm in a place where joy really takes over my emotions, whether inside or out, natural or created, I like to study my surroundings to figure out why. Maybe it's an interesting color palette, dramatic textures, or even unexpectedly contrasting scales. All these things can lend themselves to shaking you out of complacency and rousing up feelings of excitement or bliss. But don't just leave it there. Take those elements and translate them into your home's design because obviously, there's something good there for you.
Setting the Foundation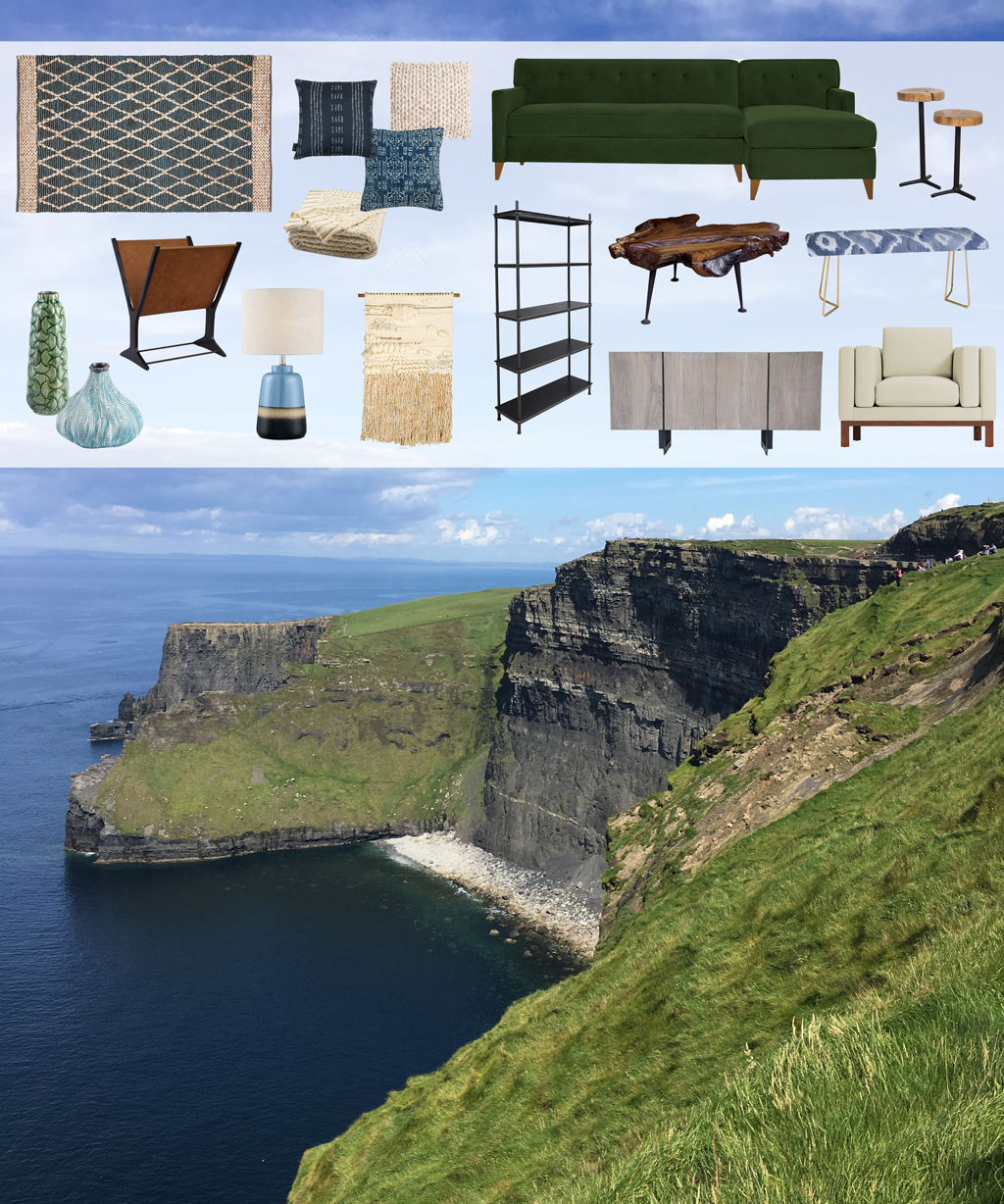 Being in Ireland, it's hard to not notice just how green everything is. The grasses are these punchy and fresh shades of green that I haven't seen anywhere else. So pulling inspiration from that, I chose the Harrison 2pc Sectional Sofa in Evergreen Velvet to anchor this space and bring in the vibe of the soft long grass that grows at the top of the cliffs. The natural beach sliding into the deep blue ocean waters also really struck me. I was inspired to choose the Manali Jute Area Rug DEEP BLUE to lay on the floor below.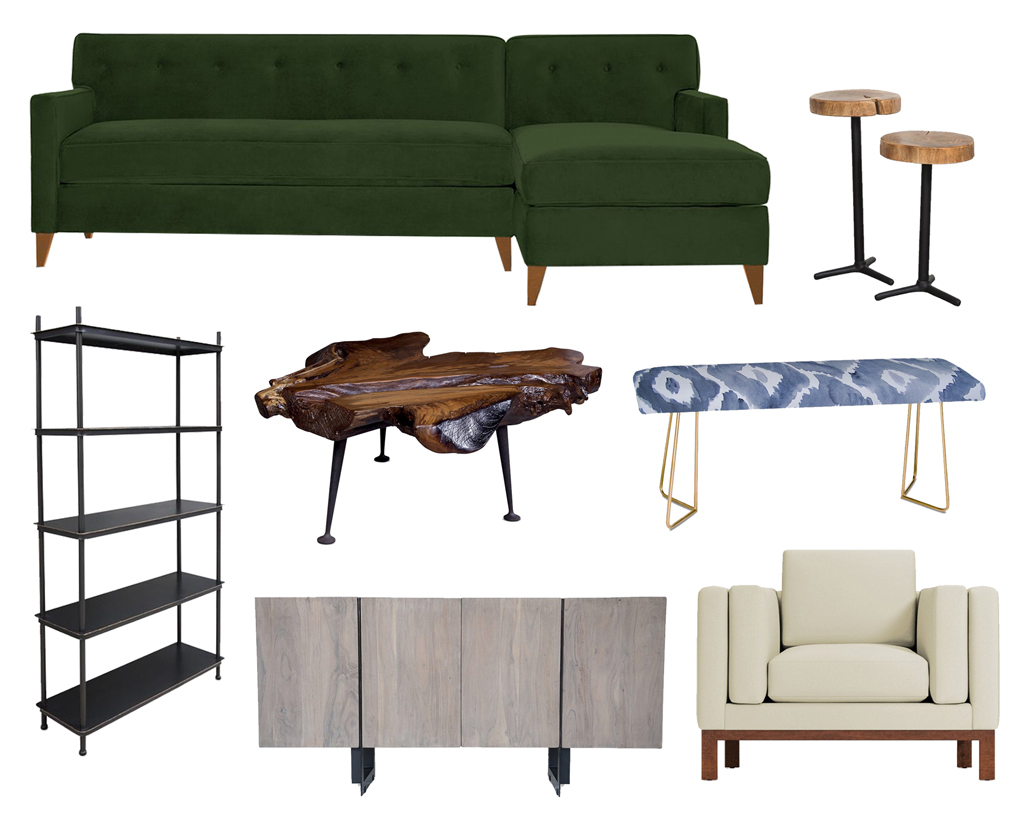 ***click the shopping cart on the image to shop these pieces***
GET THE LOOK: Harrison 2pc Sectional Sofa in EVERGREEN VELVET | Angeles Crest Live Edge Martini Tables NATURAL – SET OF 2 | Willa Bookshelf | Vitus Coffee Table | PAINTERLY IKAT IN INDIGO Bench by Natalie Baca | Bodie Small Sideboard MIST GREY | Walton Chair in BUCKWHEAT
The most famous part about the Cliffs is the dramatic jagged rock walls that shoot down the side. I think every room needs some drama so I chose the Vitus Coffee Table to be that quirky star. The natural edge, coupled with a pair of organic side tables—in this case, the Angeles Crest Live Edge Martini Tables—really helps to spread that elemental texture around the room.
Do Sweat the Small Stuff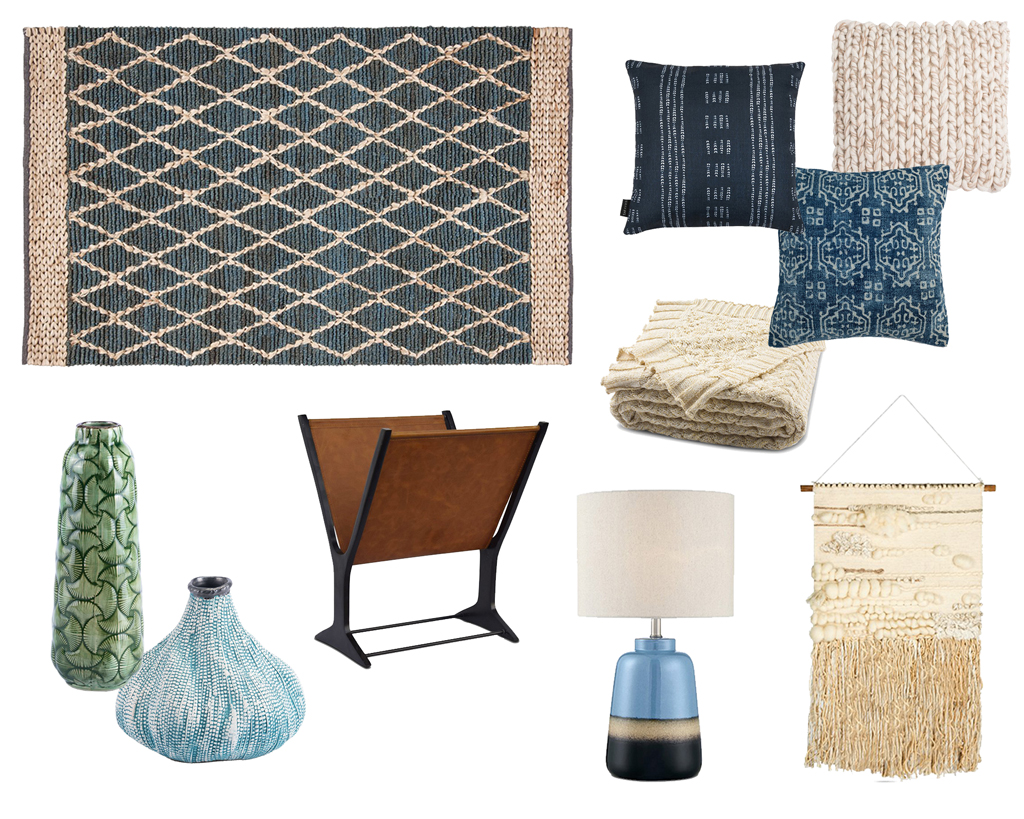 ***click the shopping cart on the image to shop these pieces***
GET THE LOOK: Manali Jute Area Rug DEEP BLUE | Yochana Toss Pillow | Mattea Toss Pillow | Giardia Toss Pillow | Yorkshire Knit Throw | Anika Vase | Alaria Vase SMALL | Zion Magazine Holder | Hurley Table Lamp | Mysen Macrame Wall Hanging
Once the foundation is in place with the big items, I can get to the fun stuff. My favorite part of designing is layering the space with soft goods and decor to flush out the color palette. Again, using the photo of the Cliffs of Moher as my muse, I wanted to make sure we had blues in different textures sprinkled throughout this room's moodboard to speak to the big open sky and ocean below. These great pillows, with their heritage-like patterns, add some history to the space. A knitted wool throw automatically brings to mind the cable knit sweaters that are sold everywhere you look in Ireland.
That same sandy color is also brought in via the Mysen Macrame Wall Hanging and Walton Chair in Buckwheat to balance the palette. Throwing in a third dominant hue could make things too competitive visually, and the key is to keep things peaceful. Competition = stress, not joy (well, for most, at least).
Vary Your Textures
The final step to this room recipe is folding in different textures. The thin metal Willa Bookshelf, ceramic Hurley Table Lamp, and nubby Anika and Alaria Vases create a collected look that mimics the contrasting textures of Ireland's west coast scenery.
Here's the whole room pulled together: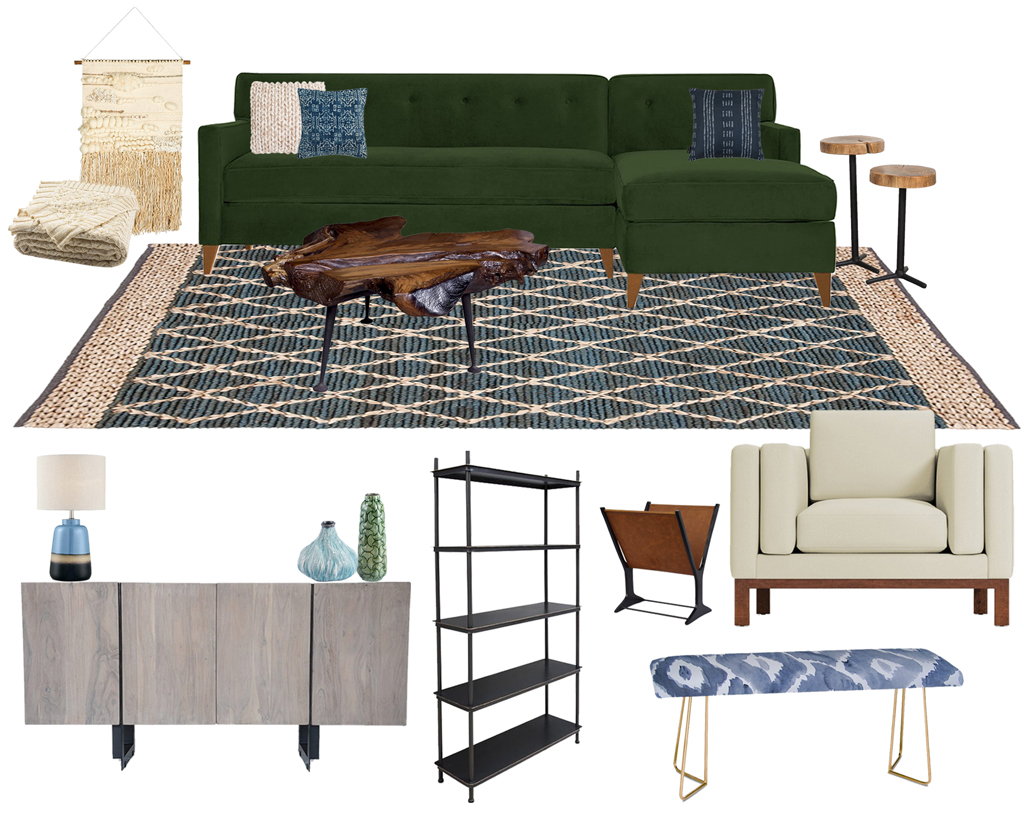 As you can see, it doesn't scream IRELAND, necessarily. What it is is a warm, well-balanced room that evokes the same calm yet visually impactful sense as the photo from my trip, proving that a great interior space can be inspired by a great natural exterior space. By pulling ideas from these beautiful landscapes, we can all create harmonious spaces on the inside that still reflect our own point of view.
For those out there consumed by wanderlust (our people!), more virtual travel inspo this way –>
---