As much fun as it is to sit at the kids' table during the holidays, it's very satisfying to feel like you finally belong at the adult table. Don't let that feeling end! Bring it into your own home every time you sit down for dinner. Follow this dining room style guide and you'll be able to whip up a dining room that will make you feel like you're truly the master of your domain. Apt2B resident designer, Kyle Schuneman, shows you how to design a dining room for fit for adults.
No time to read the whole article? Shop the full collection here!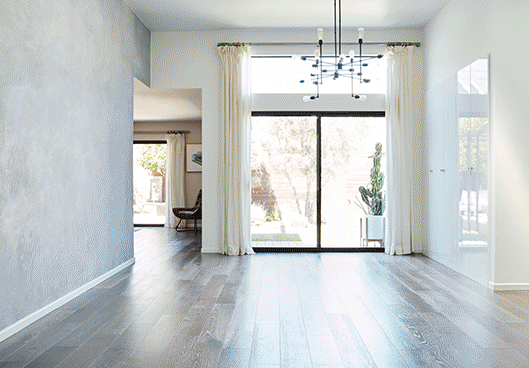 Blank Space
It's always helpful to start with a blank slate. Start the design process by moving as many pieces of furniture out of your dining room as possible. This step will make it clear just how big or small your dining space truly is. Maybe you actually can choose a larger table! Or maybe you need to cut down on the total number of pieces in your space. Start with a blank space and see!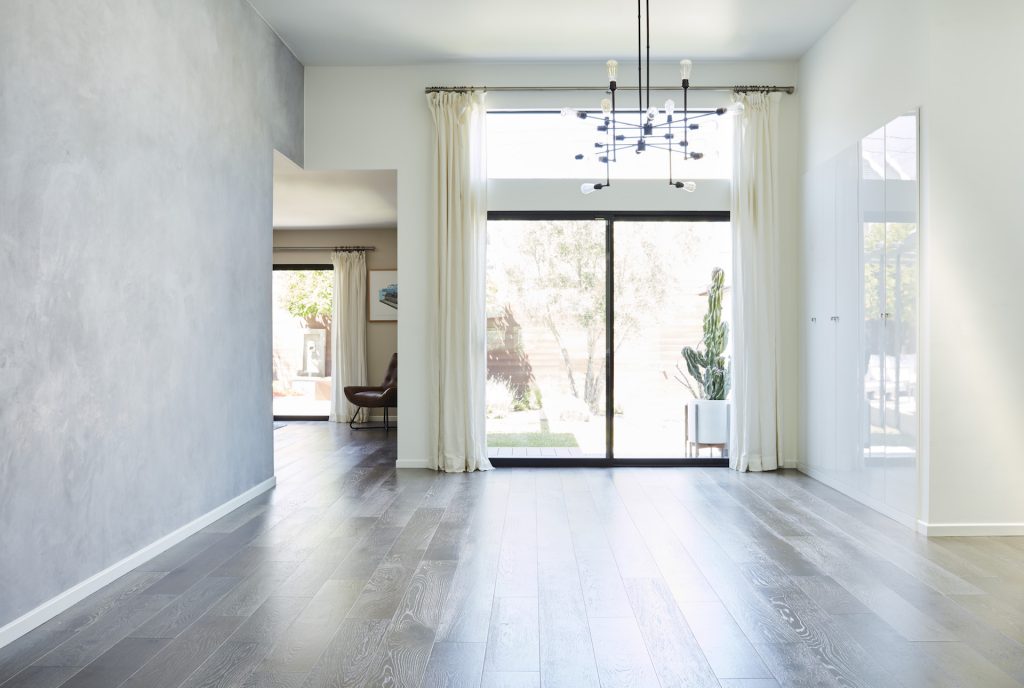 This is a sizable dining room, but it does have its own tricky design dilemmas. There are several thoroughfares that need to be maintained. And the lighting fixture's placement is limiting. What features do you need to consider in your own space?
The Fifth Wall
An area rug makes every space feel cozier and more complete. Yes, even the dining room! A rug under the dining table creates a sense of thoughtful design and will really warm up the room. If you're on a tight budget you can skip the rug, but if you want to really give your dining room a glow up then an area rug is a great place to start.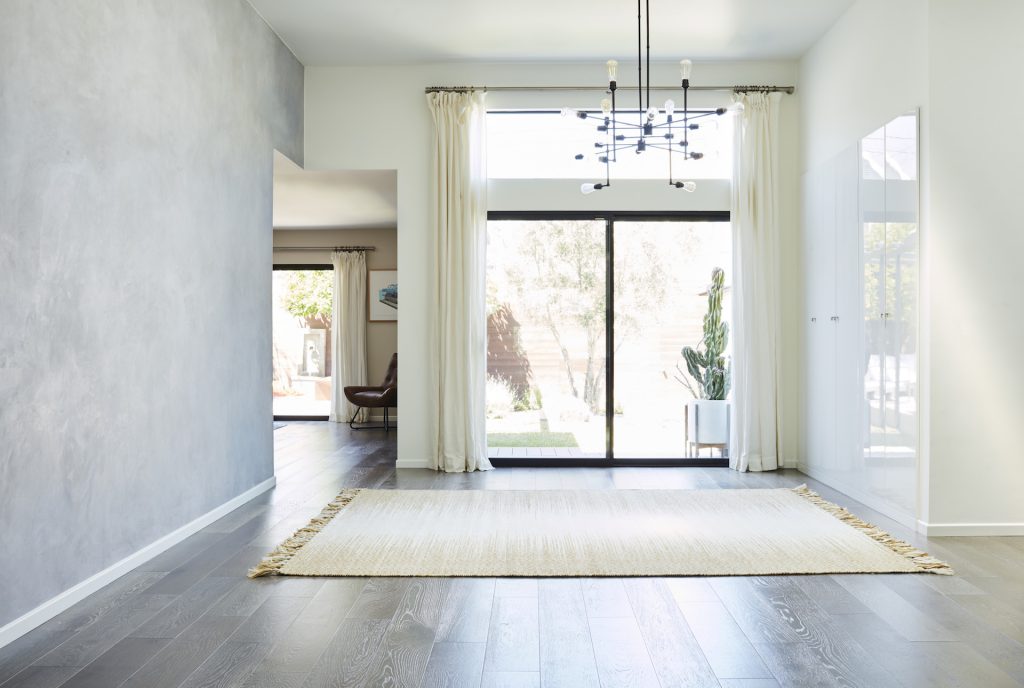 Make sure you choose a rug that's larger than the table to create the right effect!
Mendes Area Rug COPPER/WHITE
The Heavy Hitters
The two biggest pieces of furniture that you're likely to have in your dining room are your dining table and a buffet, sideboard, or credenza. Kyle selected our Desmond Dining Table for this room due to its simple, industrial elegance. It's also a stylistic match to the chandelier. The Preston Sideboard adds a dramatic wood texture and some flashy details. But more importantly, it stores a large number of dining supplies, which makes it an incredibly valuable addition to the space. When possible, choose form and function, especially in the dining room.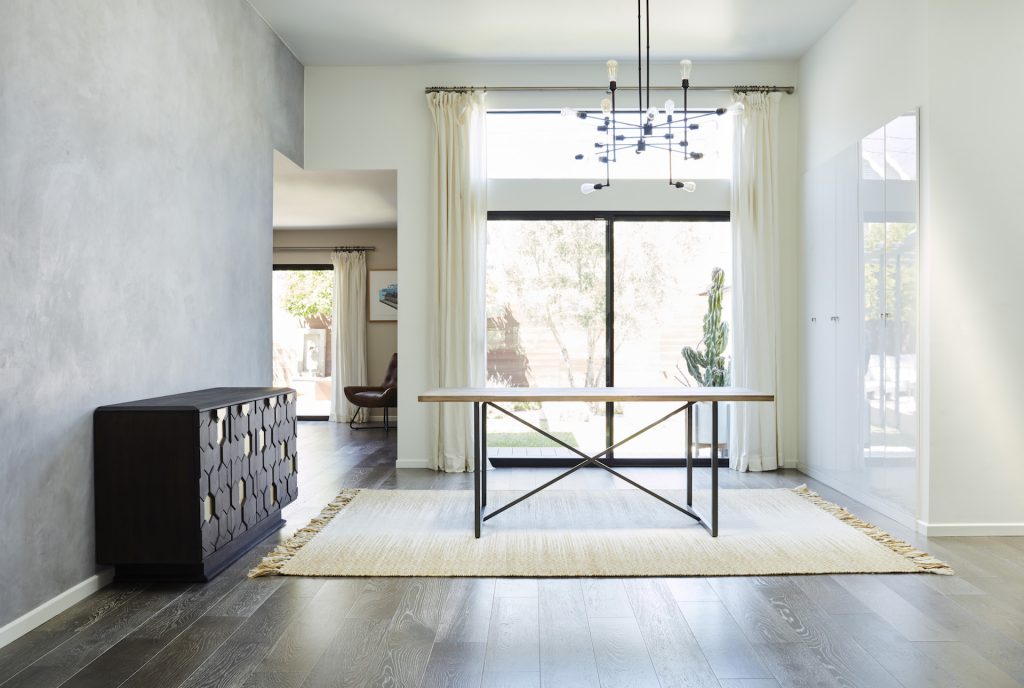 A larger table would block access to the storage on the right and would constrict the passageway on the left.
Desmond Dining Table | Preston Sideboard
The Chair Choice
Chairs are arguably the most important element of the dining room. Don't let an uncomfortable chair diminish your dining experience! Your chair choice will also be determined by space. In this room, Kyle chose thinner dining chairs since he did not want to obstruct the walkways between rooms. A nice leather really pops against the stark walls. Don't be afraid to let your chairs function as an accent or as a splash of color in the space. The Earl Side Chairs match the decor, but also elevate the style with their color and texture.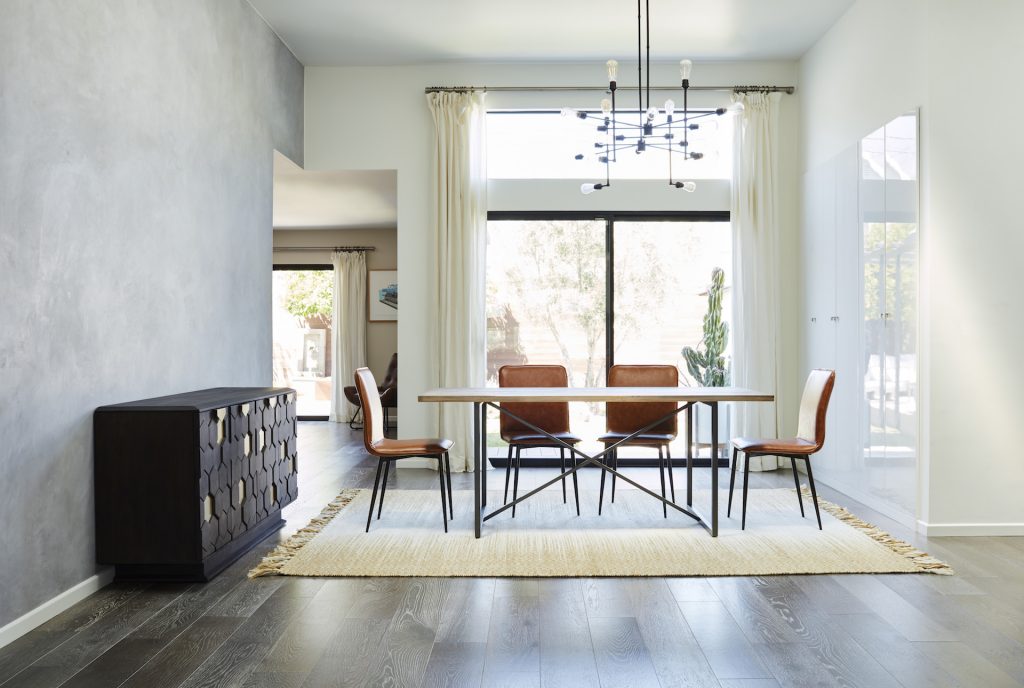 Thin chairs are perfect for the thin elements of the table base and the chandelier.
Earl Side Chairs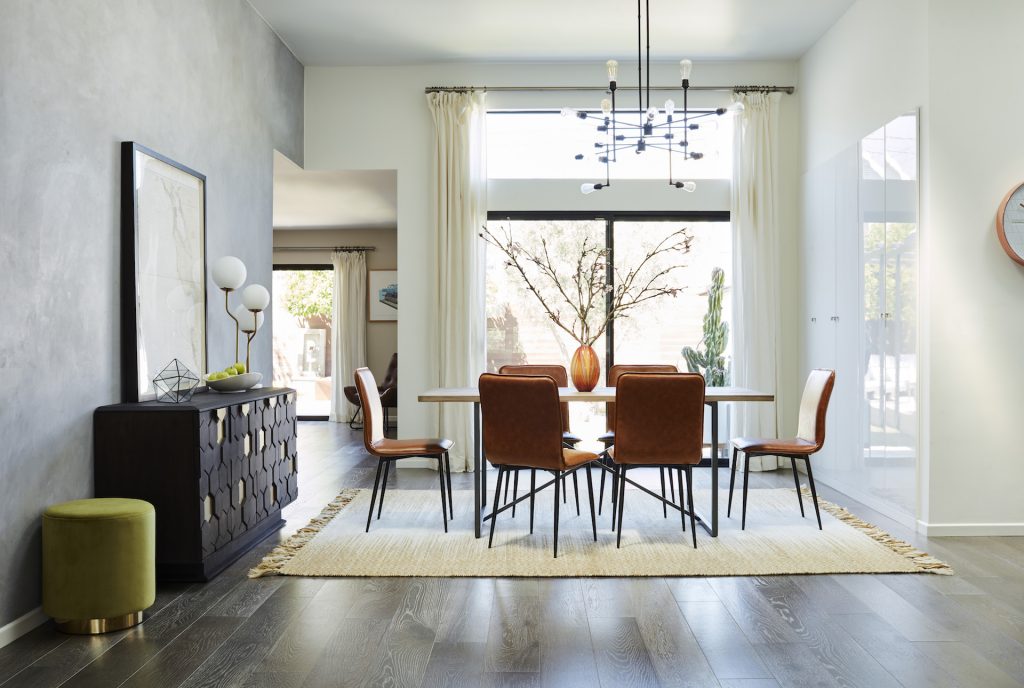 ---