Living in a small space does not mean sacrificing big style. Whether you live in an apartment, a condo, the back house, the room above the garage, or a tiny home, there's plenty of design trends and decor ideas to transform your home from "cramped" to "cozy". Here are some of the top trends for small space design and decor that you can take advantage of!
Low Profile Sofas
Sofas are a big deal. They're an even bigger deal in a smaller space. Right now low profile sofas are the trend designers are flocking to in order to open up your space. This trend is right on the money. Keeping your sofa lower to the ground will free up more vertical space and make everything feel cozier. Low profile sofas also happen to look incredibly chic. In fact, keeping all your furniture shorter will create more room to breathe.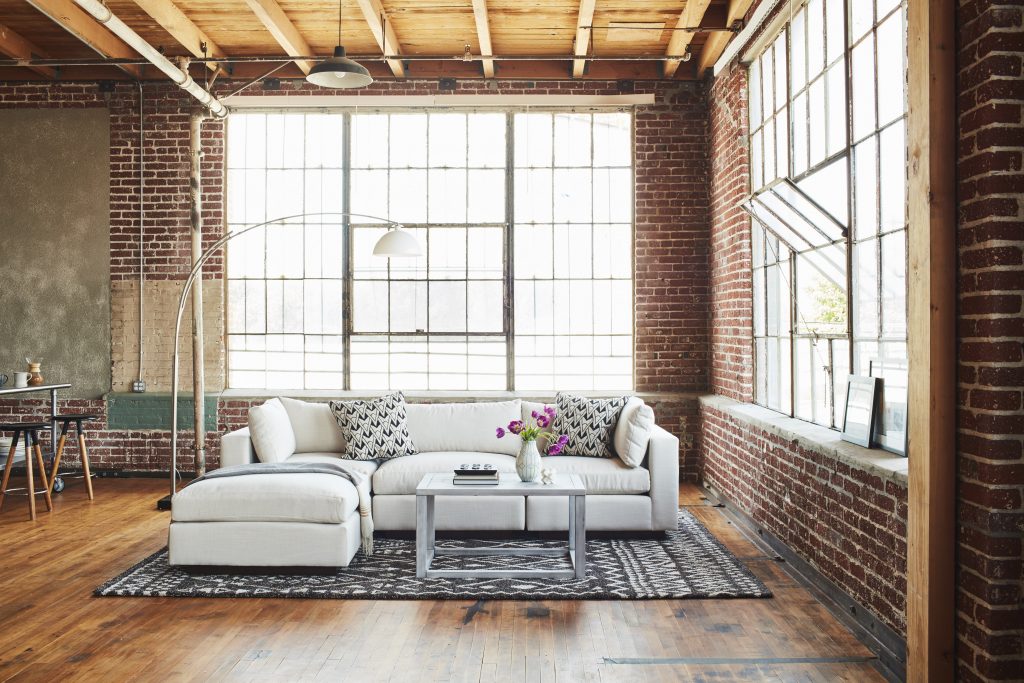 Our Taylor Plush Modular Sectional (pictured in the large loft above) can grow with your space – it has a low profile and the pieces can be ordered a la carte, which is perfect for a smaller home with bigger ambitions.
Double Duty Furniture
If you're tight on space then it's always wise to have your furniture pull double duty. Two-in-one furniture can sometimes feel tacky, but the modern small space trends and designs are better than ever. One trend we love is using a dresser as a TV stand. It looks amazing and it frees up lots of room in your bedroom. Plus it offers all the media storage you might need!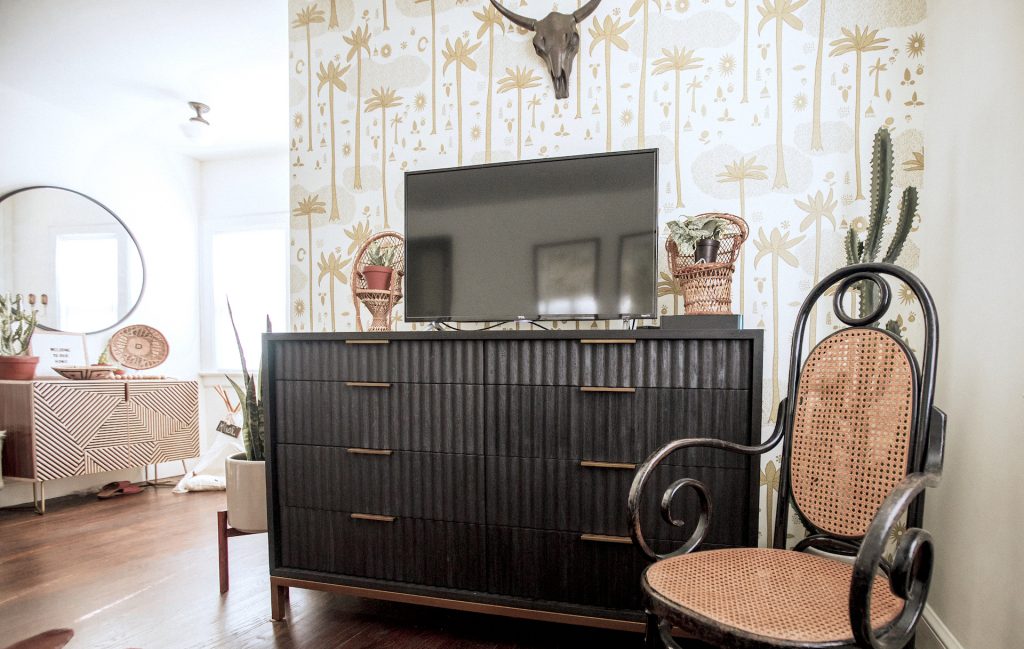 The Westmont Dresser works incredibly well as a stylish media stand. Photo courtesy of @sarahbelleelizabeth
Mirrors
We've said it before and we'll say it again. Mirrors are a wonderful way to open up and brighten a small space. But slapping a big mirror on your wall isn't exactly savvy. There are some really fun new mirror trends that are perfect for your smaller space! Mirrors that double as artwork are the hot new look. Utilizing a mirror that doubles as artwork also means that you won't need to spend additional money on art (turns out art is expensive!).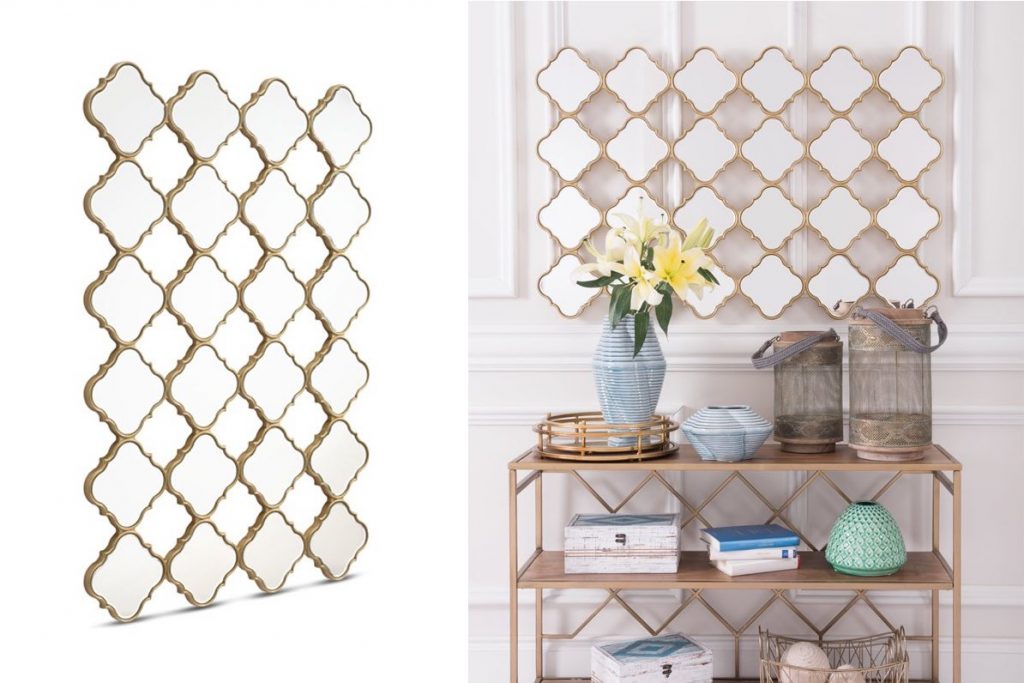 Our Alhambra Mirror is a fun way to add light and drama to your space! Check out our full mirror collection to see the coolest new trends.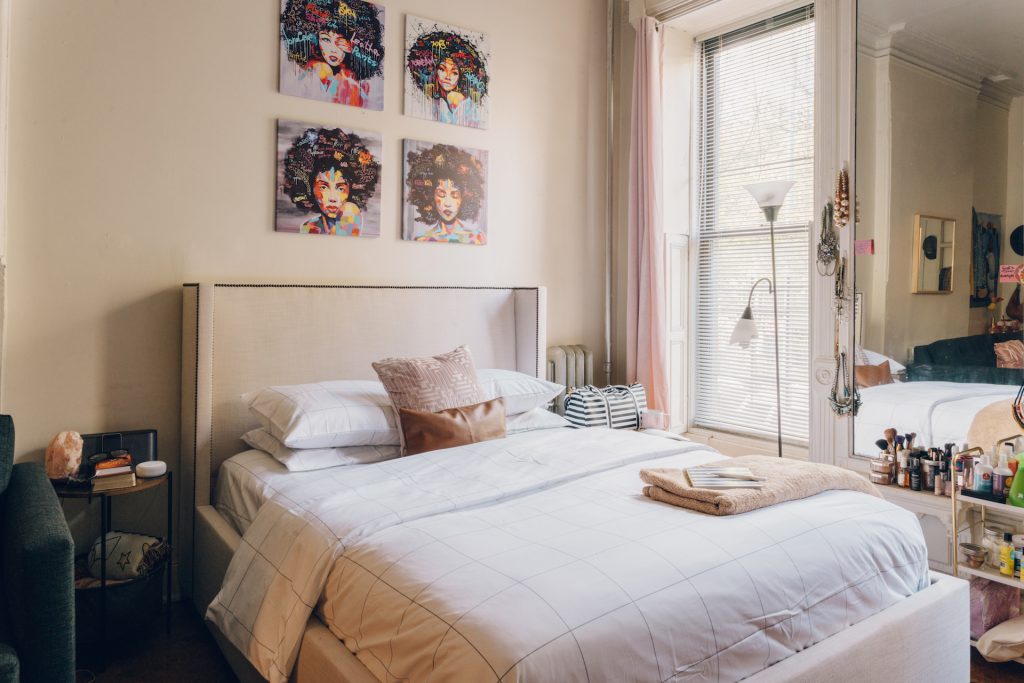 The large mirror on the right helps open up this smaller space apartment. Note that the nightstand doubles as a side table for the Logan Apartment Size Sofa and the Everett Upholstered Bed. Photo courtesy of Albie Knows Design
Keep It Light
In the past few years designers have been urging everyone to paint everything in their homes a darker, more dramatic color. Floors, walls, ceilings, furniture… you get the picture. At a certain point you have to wonder if designers are simply tired of telling people that light, white spaces are a fantastic idea, especially for small apartments. Because that's the truth! Lighter spaces will feel more open and airy no matter what. We're finally starting to see the trend revert to this simplistic styling and we couldn't be happier.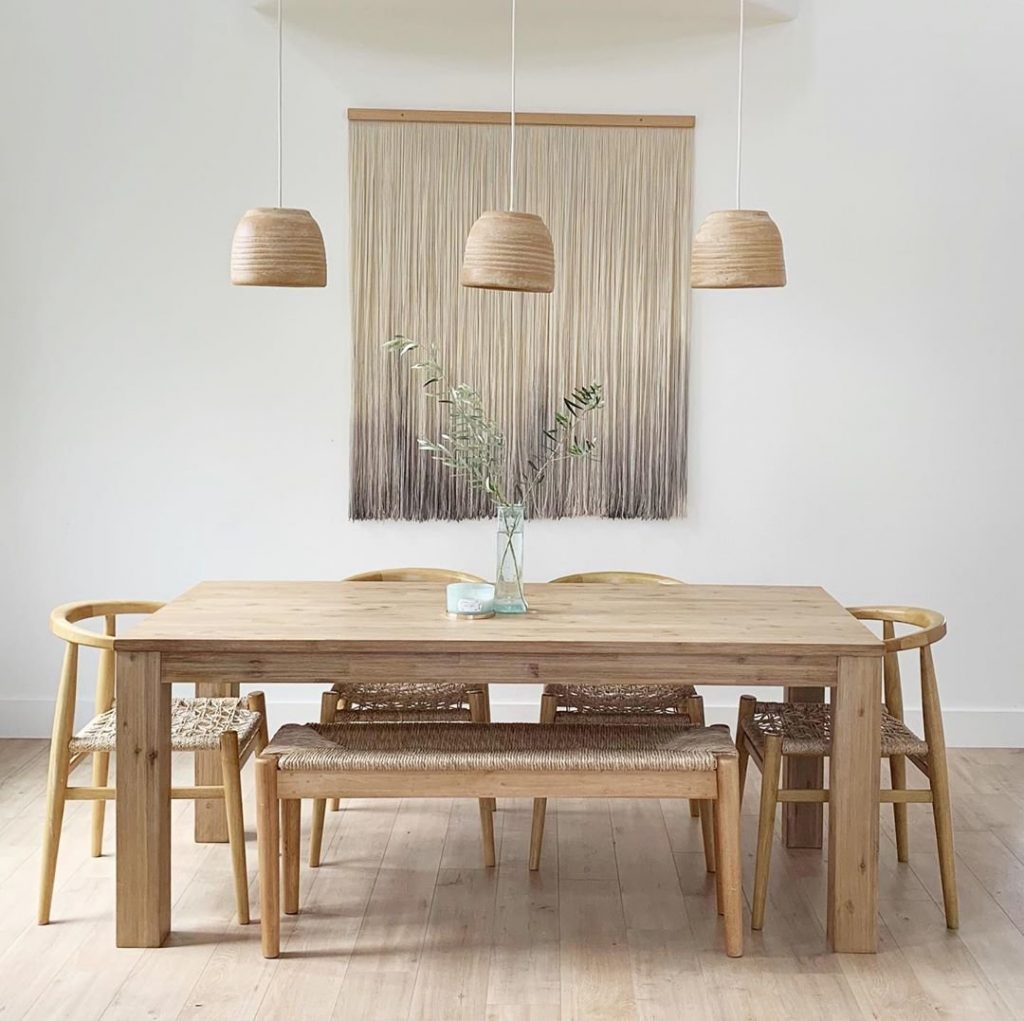 Just look how clean this is! Simple, sophisticated, and uncluttered. Perfect for small spaces. Featuring our Lancaster Dining Table. 
Keep It Lit
Noticing a theme? Designers are finally starting to crawl out of the "dark ages" and allowing more light into rooms. If you live in a small space then it's likely you don't have a ton of natural light either. Large light fixtures are trending right now, which is great news for small space dwellers. If you're tight on space then you won't need a ton of individual lamps. Try using one dramatic lamp that draws the eye, keeps the room bright, and can – again – double as its own type of artwork!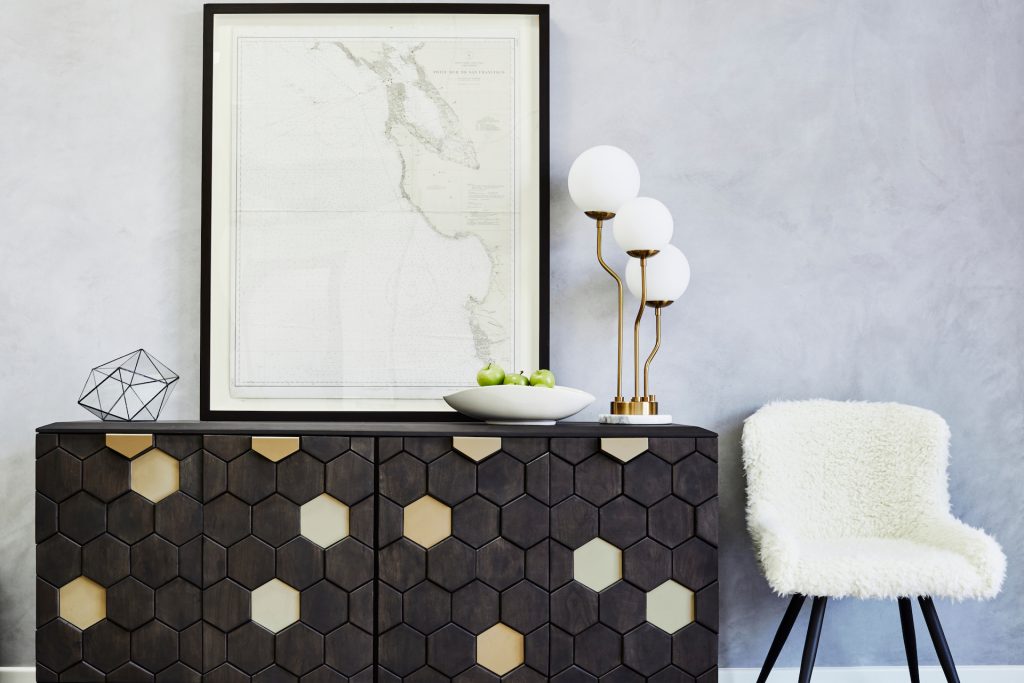 The Bardot Table Lamp draws the eye, functions as a stylish piece of artwork, and produces plenty of light! Pictured with our Preston Sideboard.
Final Thoughts
When it comes to living in smaller spaces, the key to success is really using every piece you own to create an impact. There isn't enough space to own pieces that aren't pulling their weight, be it in terms of form or be it in terms of function. And, seriously, keep things light whenever you can! Take advantage of these small space trends and your home will look amazing.
Want more tips? Check out some of our other blogs!
How To Style An Instagram Worthy Room
---