Our Color Combo of the Month series is back just in time for summer! This month we're looking at the playful and bold combination of Turmeric and Princess Blue. Pantone's Spring/Summer 2019 Color Trend Report features both of these unapologetically-strong hues, which means they're bound to be BIG this season. We absolutely love this combination. Here are all the reasons why we think you'll love it, too!
Turmeric
Turmeric is a flowering plant that's part of the ginger family. It has a distinctive, vibrant, rust coloring, which makes it impossible to mistake. Many Southeast Asian dishes use Turmeric for its mustard-like aromatics and bitter flavoring – notably yellow curry. Its bright orange coloring is also used as a dye for a variety of other foods and even fabrics (including the robes worn by Buddhist monks!). Turmeric is about as orange as any orange can be. Pantone describes it as, "an enlivening orange that infuses a hint of pungency into the palette." We couldn't agree more!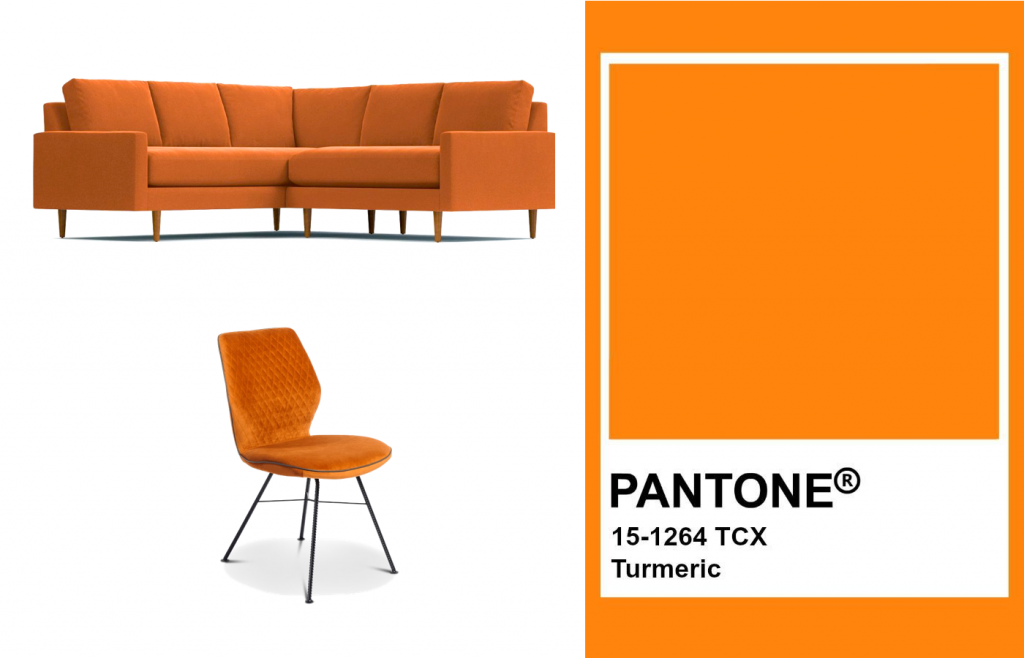 Scott 2pc L-Sectional in Clementine with Pecan Legs | Lois Side Chair (Set of 2)
Princess Blue
Princess Blue gets its name from a source that Disney won't legally allow us (or Pantone) to say. But we think you get the idea. Pantone declares that Princess Blue is, "a majestic royal blue hue [that] glistens and gleams". Many popular blue colors are currently dark, moody, and a bit inky. Princess Blue is the opposite. It's bright, energetic, and fun! It's a dazzling pop of blue that's certain to add personality to any space. You know how people say they've got a case of the blues? Princess Blue is the cure.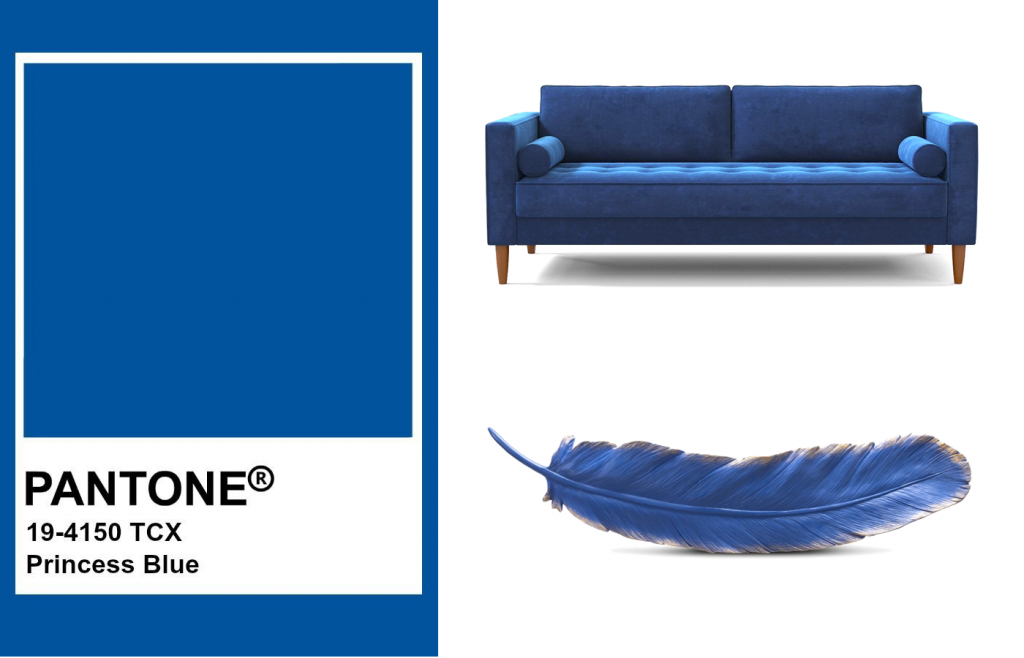 Delilah Sofa in Blueberry with Pecan Legs | Bluebird Wall Sculpture LARGE
Turmeric + Princess Blue
The color combo of Turmeric and Princess Blue is extremely eye-catching. And there's a scientific reason why! Orange and blue are considered complementary colors, which means they are on the exact opposite side of the color wheel from one another. When paired, they create a real punch of color that commands attention. Hollywood movie posters are often orange and blue for this exact reason! This same idea applies to home decor. A dash of orange in an otherwise blue room will amplify the contrast and create visual interest. Both of these colors are powerful on their own so it's not recommended that you have equal amounts of each color in a space. Too much contrast and you'll exhaust your senses. Try bringing this color combo together using artwork, decor, and smaller accent pieces. A little of each color will go a long way!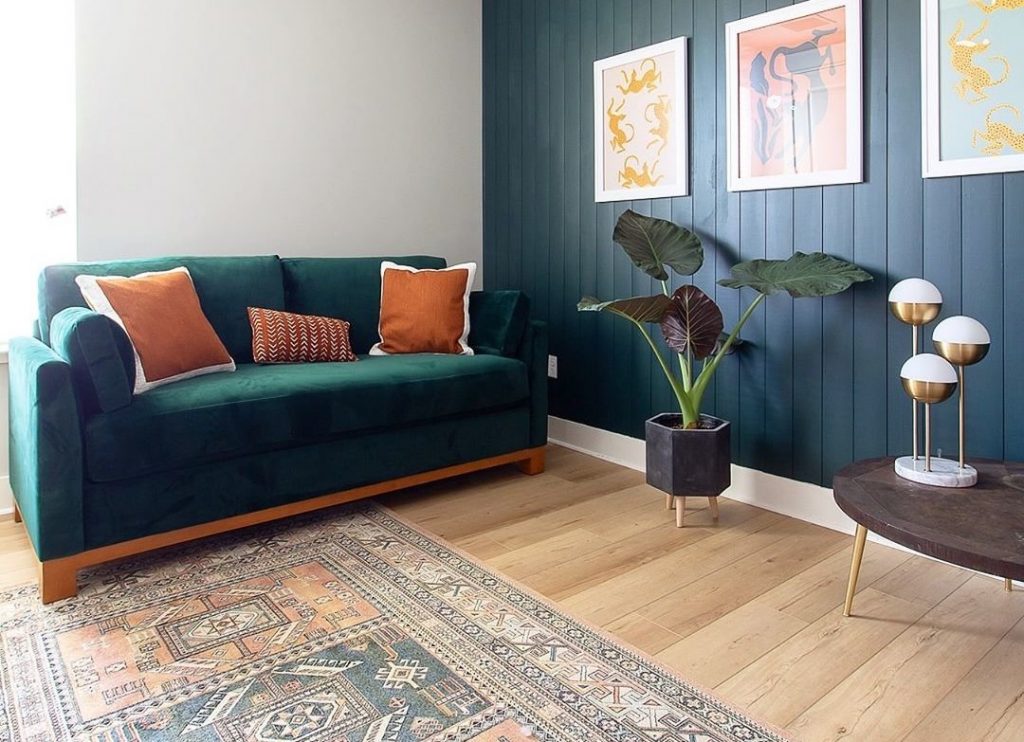 Avalon Apartment Size Sofa in EVERGREEN VELVET | Luanda Area Rug
Materials As Color
When thinking about color combos it's easy to think that color can only be achieved with specific items. For instance, if you want to add orange to your space you might think you need a new orange toss pillow. But if you look at the photo above you can see that orange colors are achieved in multiple ways: the wood tone of the floor, the wood tone of the base of the sofa, and the brass metal on the lamp (and yes, the orange toss pillows). While these aren't necessarily Turmeric, they all combine to create an aura of orange in the space (an "aurange" if you will). This coloring is then balanced with the addition of blue elements like the wall, the accent color in the rug, and the artwork. This is a great example of how to combine blue and orange in a space without the combination feeling overwhelming.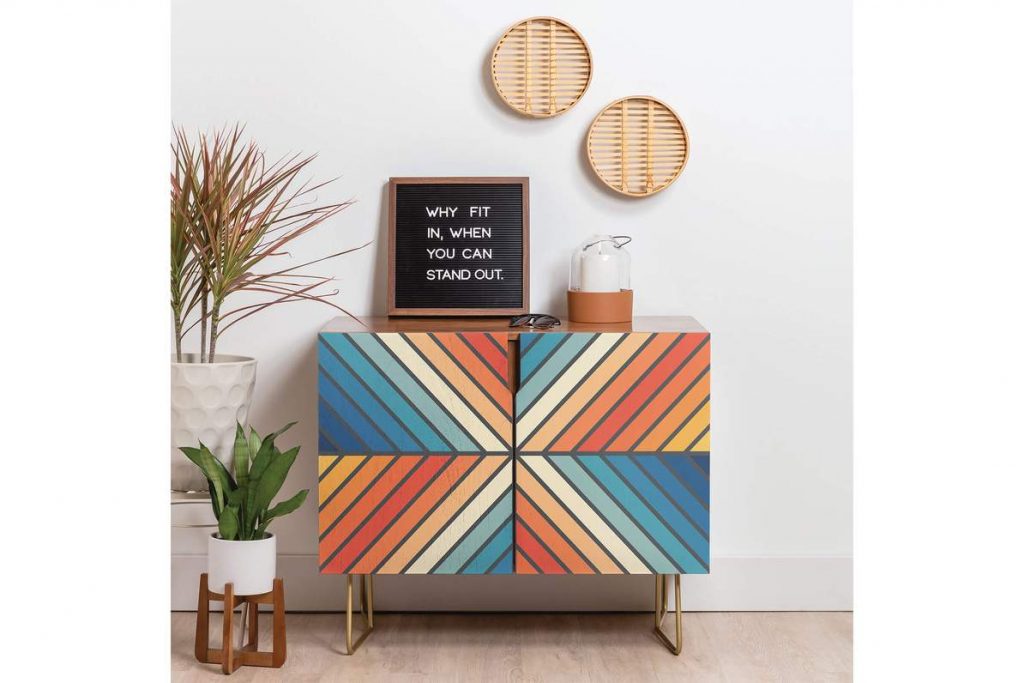 Credenza by Fimbis CELEBRATION
Shop This Color Combo!
Love the combination of Turmeric and Princess Blue? Check out the entire Color Combo Collection! You're sure to find some new pieces that inspire your inner designer. Want even more color combos? Check out these other blog posts!
Summer Color Combo | Poolside & Pink Lemonade
Color Combo of the Month | Scarlet & Spruce
---