So you ordered our free swatches to help you decide on color and texture in your sofa purchasing journey. Congrats! Whether they've graced your mailbox yet or not, you might be thinking all you have to do is give them a quick once-over, pick which shade you're drawn to most, and hit "order." Sure, it could be that simple, but if you want to make the most educated decision for you and your home lifestyle, we've got some tips to share with you courtesy of Rashida Banks for what you should be doing with your swatches when they come in the mail. Let's go ahead and call this one "Swatch School" because we love a good alliteration over here at Apt2B.
Firstly, a quick intro to Rashida. She's a decor and women's lifestyle blogger from Washington, D.C. (you can check her out on Instagram and also her website). We worked with the design enthusiast earlier this year to outfit her living room with the Goliath 4-Piece Modular Sectional Sofa. Let's take a short recess to oooh and ahhh over her space: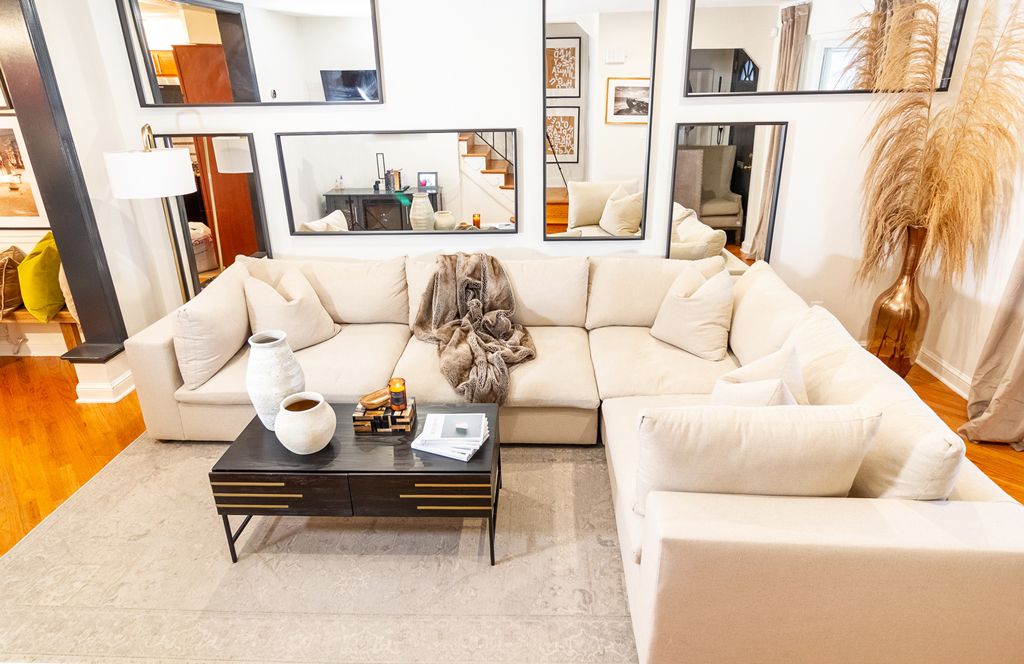 Featured Sofa (Photo by Rashida Banks): Goliath 4-Piece Modular Sectional Sofa in LS HEMP
Okay, class, let's get back to our lesson for the day. Watch the below video to see Rashida walk you through the things to do with your swatches that you might not have thought of, and then read on for a detailed step-by-step you can easily reference back to.
3 Things To Do When You Receive Your Fabric Swatches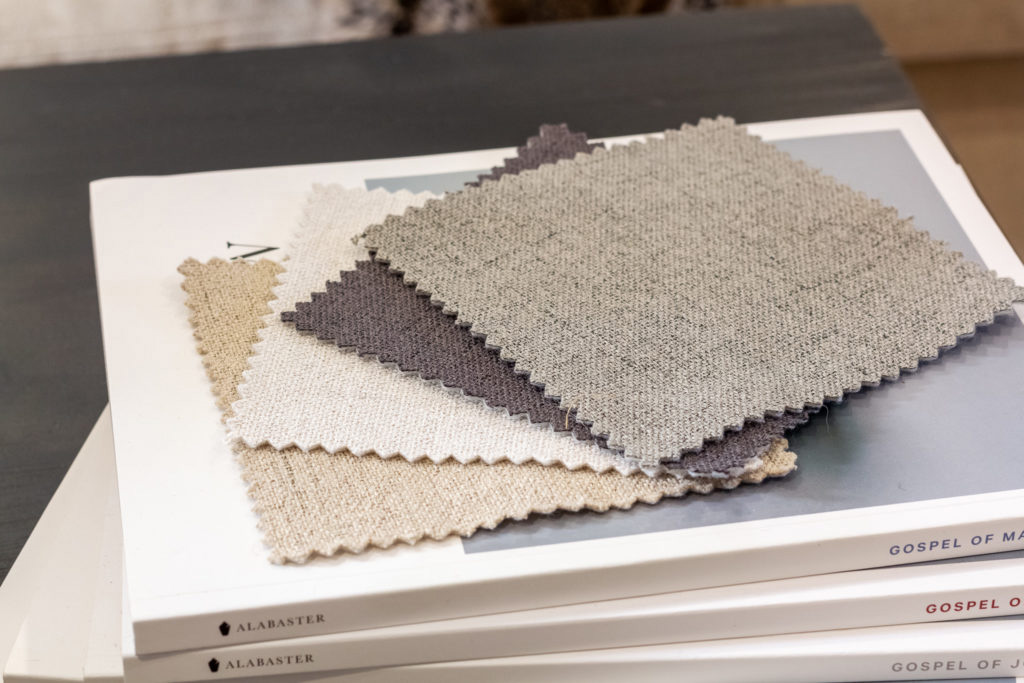 Photo by Rashida Banks
Tip 1: Compare the swatches to each other.
This one might be a no brainer, but don't overlook it. For instance, if you picked a handful of shades of a specific color (like a range of greys), lay them on top of each other overlapped so you can clearly see their varying tones. Greys can have undertones that vary greatly, from blue to green to brown. Pitting them against each other can make it clear which one is the tone you prefer for your room's design.
Also, aside from color, compare the texture on each. Rub them against your face or arm, for instance, to see how it feels against the skin. Is it scratchy (don't be silly, none of our fabrics are scratchy!) or just right? It's also important to note that different fabric textures can alter the way a swatch looks in different light (natural sunlight, incandescent, etc.). The threading could also be made up of a singular color or varying hues, so take a look closely to make sure the weave is what you're after.
Tip 2: Compare the fabric to other textiles and decor in your room.
This step will look a little different depending on what stage of decorating you're in. If your room is already decorated and you're simply getting a new sofa, put the swatches up against your rug, your wall paint, your curtains, your other furniture, even your floors. If you're in the staging plan, put together a moodboard with samples of what you're considering. Make sure you like how the colors play together. If you want something higher contrast, avoid getting a fabric that's too close in tone to your rug or walls, or go all-in with a monotone vibe! There's no wrong answer, just be sure you love it. With dozens of fabric options for our custom upholstery pieces, there's no need to compromise.
Tip 3: Put the swatches to the test.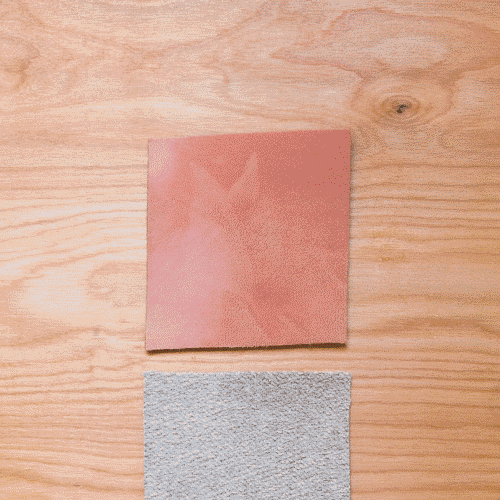 Here's where the real fun starts. Do not be afraid to attempt the destruction of those swatches. After all, you want to know how your sofa, chair or bed fabric will put up with your lifestyle. Spill things on them—some ideas: red wine, juice, ketchup, marinara sauce, frosting, melted chocolate, berry smoothie, popcorn grease—and see how it holds up during the cleaning process. Wipe it down and evaluate how easy it is. Are you happy with the result after you clean it up? Are there any watermarks left over after it dries?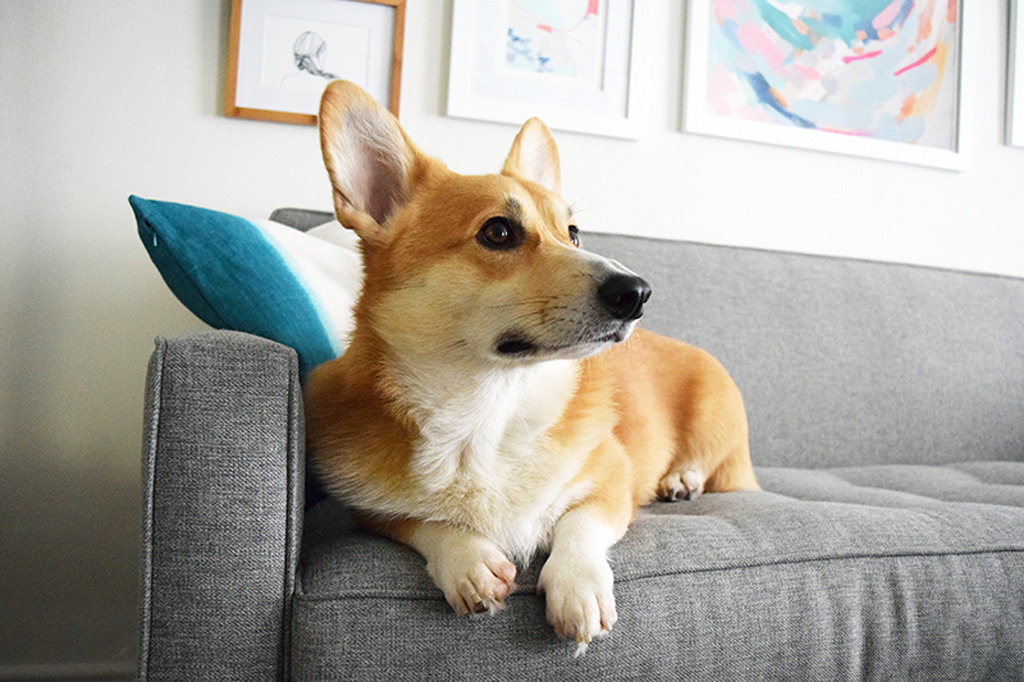 Photo by Melyssa Griffin
Another idea if you have pets is to rub those swatches right on their bodies. How does their fur look on the fabric? Is your black lab's fur super visible on that light beige linen you're looking at? How much does it bug you? This is the time to be honest with yourself. You'll also want to see how easily you can clean the fur off, maybe even how your dog or cat's nails snag the fabric. A tighter weave like a velvet or microfiber will be the best option for you if you've got a "digger" or scratcher on your hands.
Put those fabric samples through the wringer (hey, they're free!). Your sofa is an investment, and it should be able to hold up to how you live in your home and still look good for the long haul.
Friendly reminder: Apt2B offers up to 10 free swatches to help you in your furniture decision making. And if you need any recommendations or help along the way, be sure to reach out to our ridiculously helpful and friendly furniture rockstars via chat, email or phone. They're always happy to answer any of your questions. Happy swatching (that's a thing, right?)!
Want more fabric tips? More to read here:
---