Whether you're changing apartments or changing moods, a reversible chaise sofa will always be a perfect match. These versatile sofas provide the comfort of a chaise sectional without having to choose a side. They're an ideal choice if you want to quickly refresh your space, if you're planning on moving, or if you don't have enough room for a large sectional. In other words, they have all the form and even more function. Talk about a win-win!
How Does A Reversible Chaise Sofa Work?
At first glance, it can be tricky to understand what makes a reversible chaise sofa, y'know, reversible. But it's quite simple once you know how it works! The basic idea is that these shape-shifting sofas allow you change the placement of the long chaise cushion. It can go on either the right hand side or the left hand side depending on your preference. The long chaise cushion extends out over a standalone ottoman platform. Need to switch sides? Simply take the chaise cushion off, move the ottoman to the other side of the sofa, and place the seat cushions in their new positions. Voila!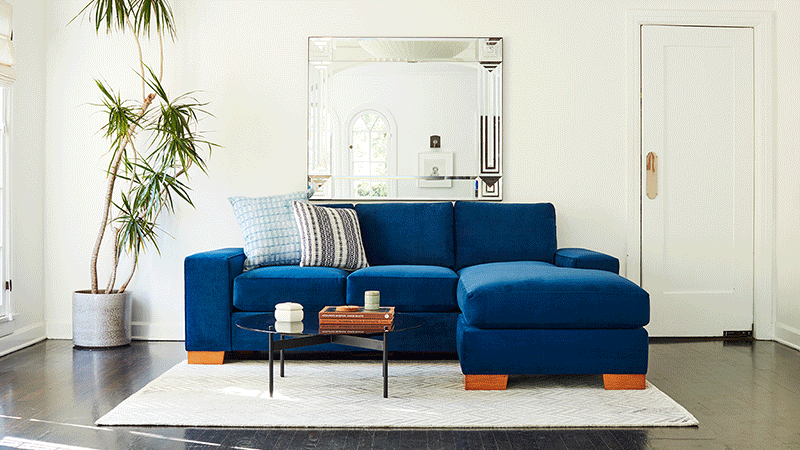 Melrose Reversible Chaise Sofa in COBALT VELVET w/ Pecan Legs
Reversible Chaise Sleeper Sofas
Want even more functionality? Many of our reversible sofas can be upgraded to sleeper sofas! Simply move the standalone ottoman out of the way, remove the seat cushions, and then unfold the built-in sleeper mattress and mechanism. Easy! One of the huge benefits of a reversible chaise sleeper sofa is that the mattress can be as wide as the entire sofa. This means that all of our reversible sofa beds feature a Queen Size mattress! Even though our 2 piece sectional sofas are bigger in size, some of them can only fit a Full Size mattress. That's because the chaise portion cannot be moved out of the way. Score another point for reversibles!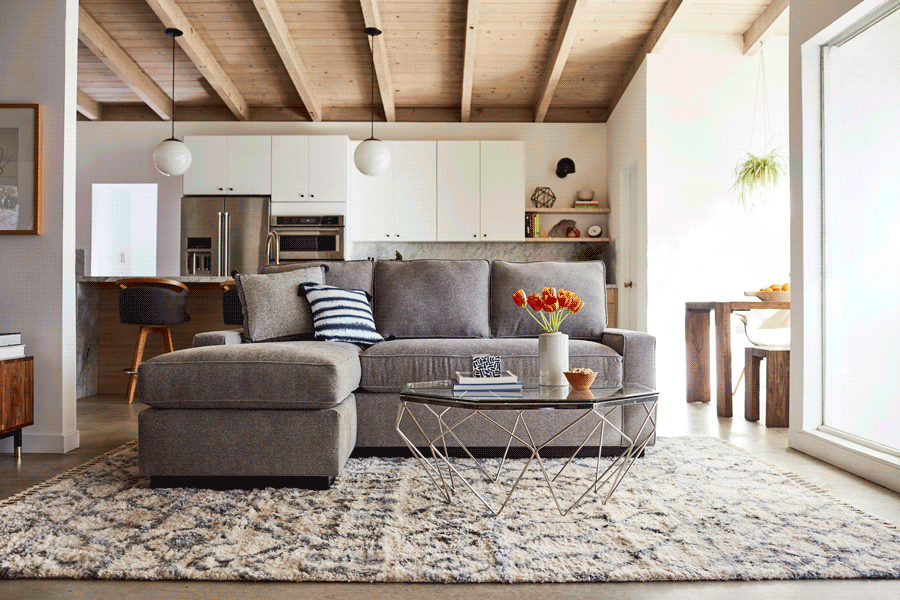 Harper Reversible Chaise Sleeper Sofa
Reversible Chaise vs 2 Piece Sectional
They might look similar on your screen, but there are several key differences between a reversible chaise couch and a 2 piece sectional sofa. The biggest difference between the two is that a reversible sofa has two standard sofa arms. In theory, you could replace the long chaise cushion on your reversible with a regular couch cushion and you'd have a perfectly functional, standard sofa! A 2-piece sectional really requires both sections to feel like a complete sofa. If you remove the chaise from a 2-piece sectional, you're left with a one-arm sofa, which just looks odd. Notably, the opened mattress of a 2 piece sleeper sectional will be right next to the chaise. On a reversible, the chaise is removed so that you can extend the mattress.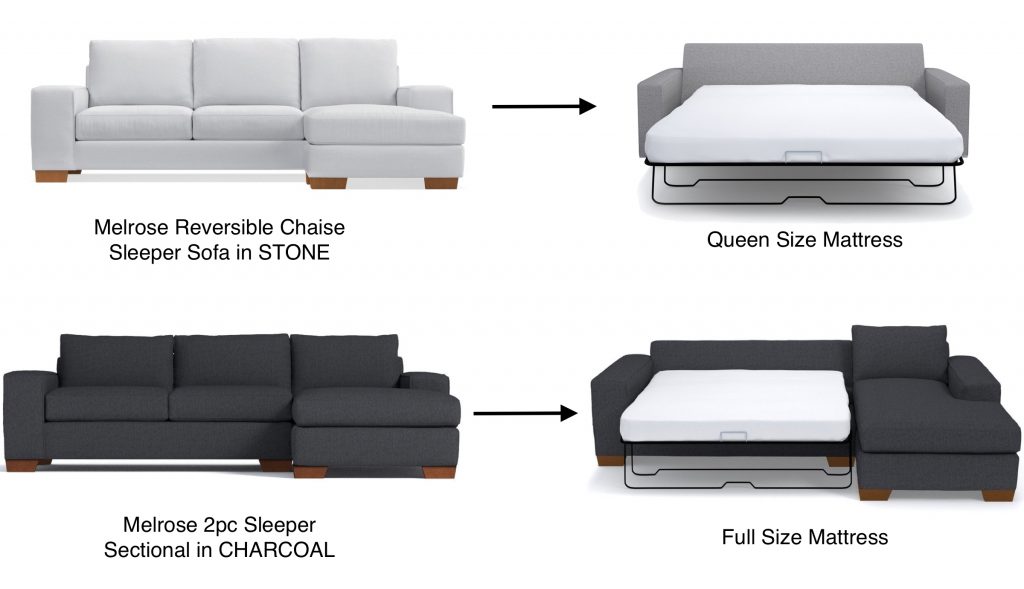 Final Thoughts
Reversible chaise sofas are functional, versatile, and convenient. They're basically the Swiss Army Knife of sofas. You can also choose the sofa bed version for even more options! Reversibles offer an incredible value, especially if you're working in a small space. Check out all of our great reversible chaise couches here! Need more info on sleeper sofas? Check out our Ultimate Sleeper Sofa Guide!
---