What size sofa do I need? How big should my coffee table be? These sound like simple questions, don't they? But once you start factoring in all the different variables you'll realize that it's not as straightforward as it seems. Thankfully there are several tried-and-true rules that can help you determine the proper size and scale of the furniture for your home, apartment, or small space!
Maintain Proper Proportions
Try saying "proper proportions" 10 times fast! Now consider what this phrase actually means. Maintaining proper proportions means that no single piece of furniture should feel bigger than the others. This point falls into the "common sense" category, but it's still the starting point for determining furniture size and scale. Small space? Keep all the furniture on the same smaller scale. Big family room? Maximize the space with a big modular sectional sofa!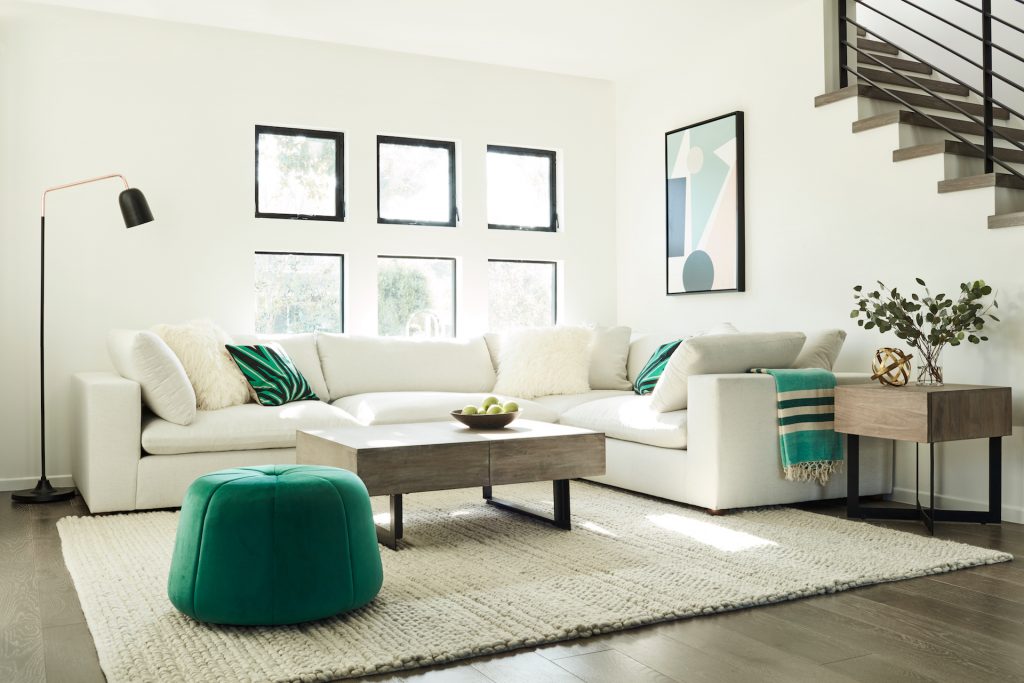 Goliath 4pc Modular Sectional in LS Natural | Malcolm Swivel Ottoman | Bodie Storage Coffee Table MIST GREY | Mines Area Rug IVORY | Angler Floor Lamp
Consider Visual Weight
When we say a piece of furniture "feels big" we're referring to its visual weight. Don't rely exclusively on dimensions to determine the size of your furniture. How big or small a piece feels can also impact its proportions in your space. A perfect example is our Logan Sofa versus our Logan Drive Sofa. The only difference between the two is a solid wood base. But this change makes the Logan Drive feel like a bigger sofa. For a small space it might be better to choose the standard Logan Sofa since it has more "breathing room" underneath! Color also greatly impacts visual weight. Dark colors feel heavier than lighter colors. Want a space to feel bigger? Try a light-colored sofa!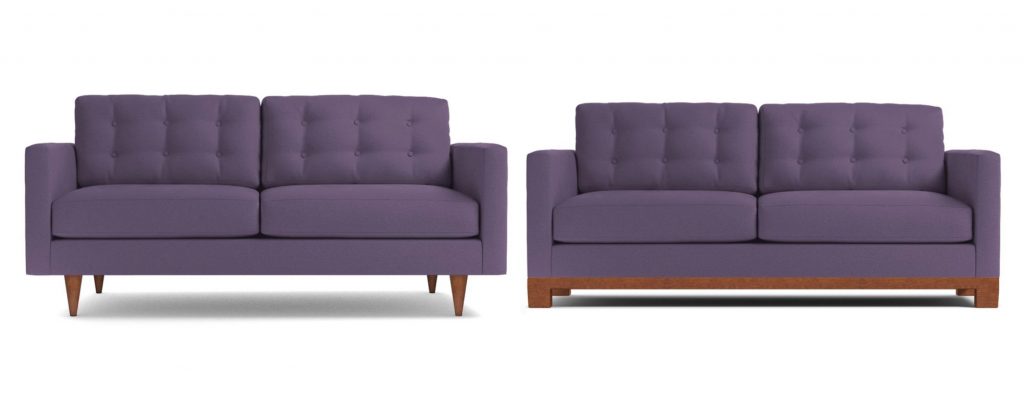 Left: Logan Sofa in Lavender Velvet | Right: Logan Drive Sofa in Lavender Velvet
Let Your Furniture Breathe
You always want to have a little breathing room between each piece of furniture in your space. You might have a 10-foot long wall, but that doesn't mean you can put a 6-foot sofa and two 2-feet wide side tables against it. This is a recipe for disaster. Cramming your furniture together will actually make your space feel smaller and more claustrophobic. Breathing room makes a space feel lighter and larger. If you absolutely love your antique side tables then consider a smaller loveseat for the space. Or, if you can ditch the side tables, you can upgrade to a larger sofa (check out our 70-inch sofas). Not sure what coffee table to go for? Check out our coffee table size guide to find the best coffee table to maximize your space.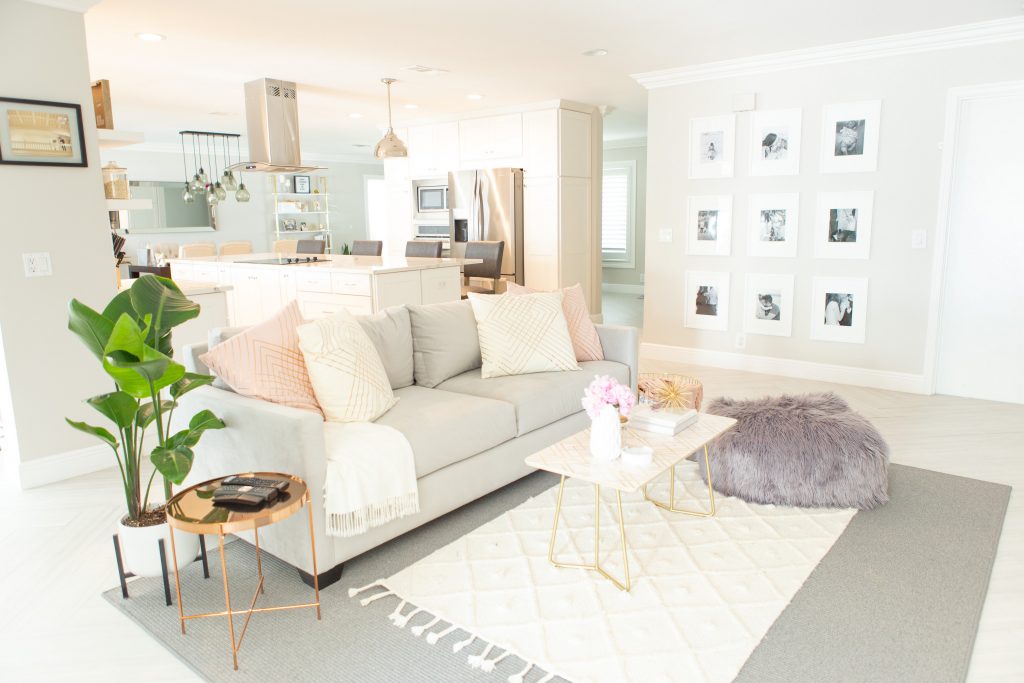 This room is perfectly proportioned with plenty of breathing room!
Tuxedo Sofa in Stone | Golden Geo Coffee Table by Elizabeth Fredriksson
Photo by @celebrationstylist
Furniture Size and Sofa Size Calculator
Measuring tapes are so 2018. Virtual reality and 3D imaging are the future! At Apt2B we have a nifty "Compare Size + Scale" feature that allows you to see our furniture in a virtual space or even in your own home! If a product shows the "See This In My Room" button then you can actually take a photo of your living room (or use a preset virtual space) to see how big the product will look in your actual home. This is the perfect tool for determining the size of sofa for your space!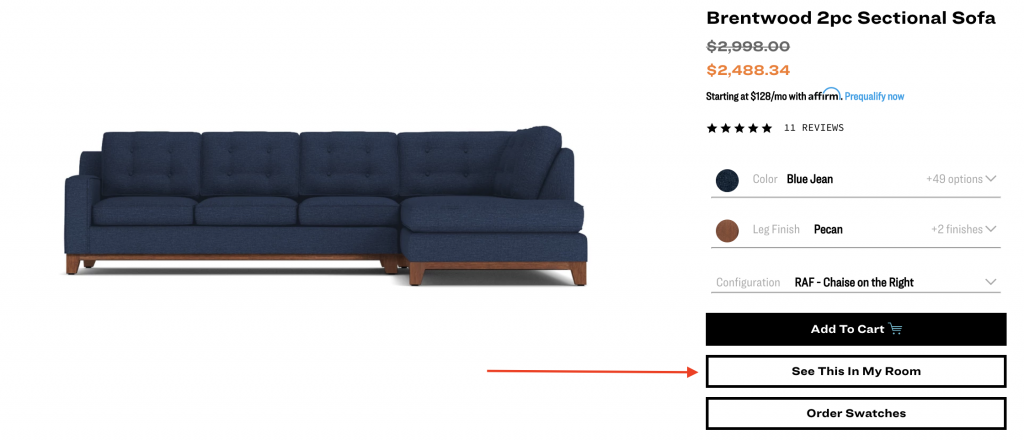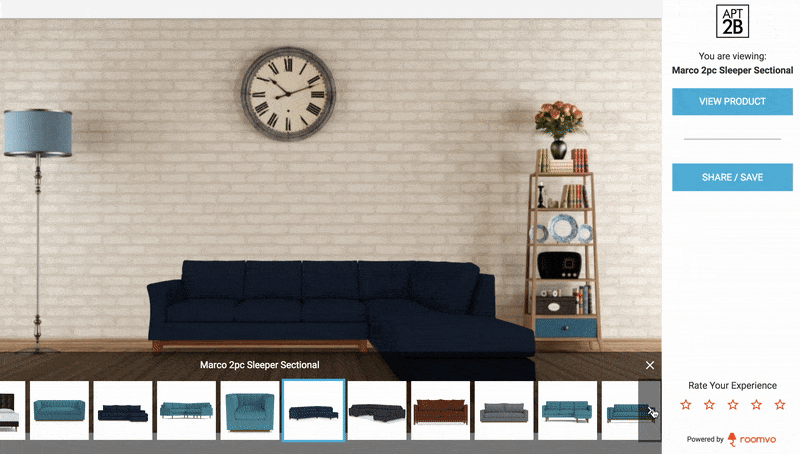 Brentwood 2pc Sectional RAF in Blue Jean
Final Thoughts
Need more help determining the size of your sofa or other furniture? Consult one of our helpful customer service team members! They're always available via Live Chat or by e-mail at hello@apt2b.com! We're always happy to help you create the perfect home.
---