We love sofas at Apt2B. But every great sofa needs a great coffee table. They just go together like, well, coffee and cream. But how do you find the right size coffee table for your living room? This can be a difficult question, especially if you're trying to find a coffee table for your small space. Our ultimate coffee table size guide will help you find the perfect coffee table size for your home (and for your sofa)!
Height
Your coffee table should be about 1-2 inches shorter than the height of your sofa's seat cushions. This is especially important if you like to kick up your feet! It also helps create a proper, unobstructed eye-line when you're sitting on the sofa. In general this is the most important measurement when choosing the right size table.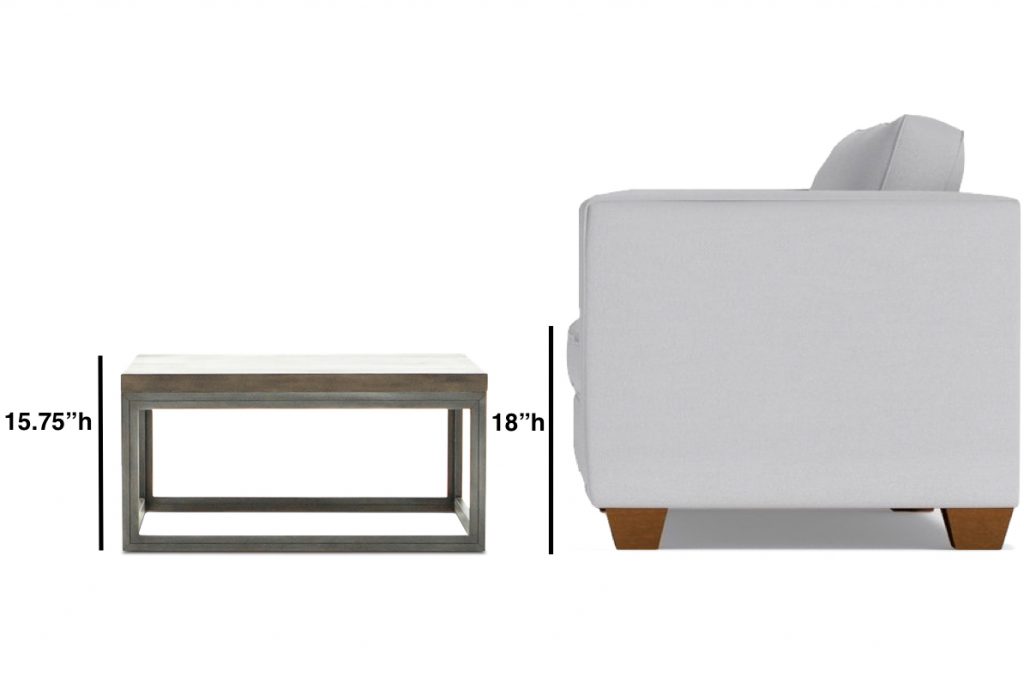 Catalina Sofa in Stone | Holden Coffee Table
Width
The ideal coffee table is 2/3rds the width of your sofa. If you have a sectional with a chaise, then the table should be 2/3rds the size of the sofa portion only. When centered with the sofa, there should be equal space on each side of the table. This also guarantees you'll be able to move around the table without having to do a side shuffle!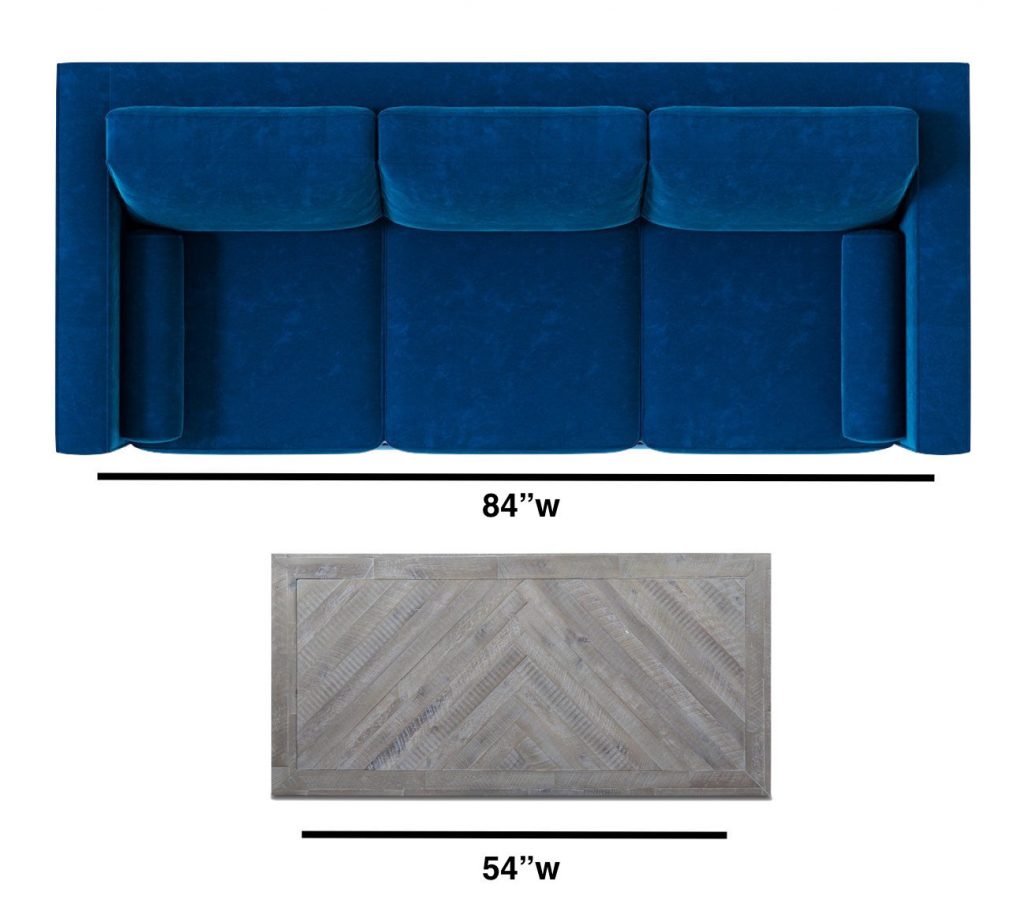 Samson Sofa in Cobalt Velvet | Allister Coffee Table
Distance To Sofa
The distance from the front of the sofa to the coffee table should be between 12 and 18 inches. 15 inches is usually a very good distance that is very comfortable for walking and for sitting. Any closer and it can start to feel tight.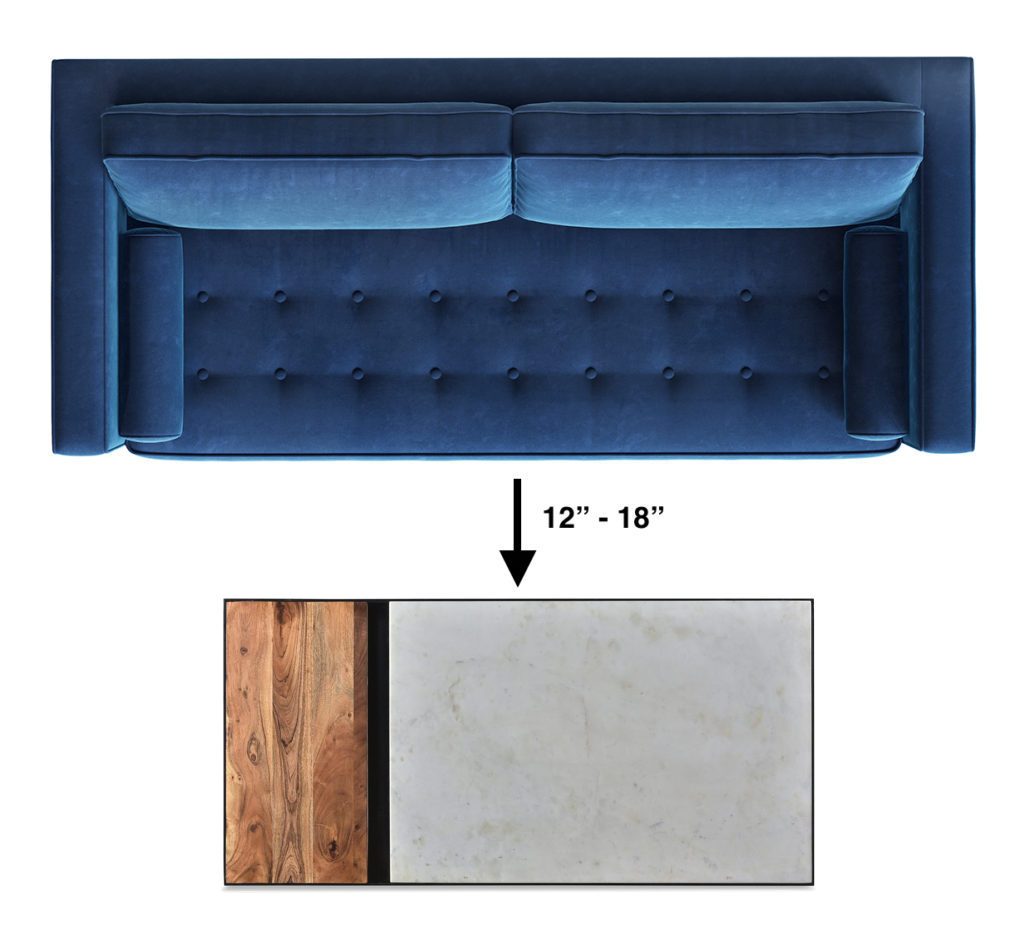 Delilah Sofa in Blueberry | Banswara Coffee Table
Depth
If you have a sectional sofa with a chaise then it's recommended that the coffee table does not stick out into the room farther than the chaise. Otherwise the general rule of thumb is that the size of the room determines the depth of the coffee table. If you have a narrow room then choose a table that is not very deep. If you have a larger living room then you can choose a larger, square table or even a circular table.
See our full collection of coffee tables and find one that's perfect for your living room or small space!
Want more blog articles like this?
How Your Coffee Table Sets the Blueprint For Your Living Room
Watch How To Style A Coffee Table From A Design Pro | #MakeItHome
---