Welcome back to Home School, our newest series where we're tapping into the minds of design professionals for the expert knowledge you need to transform your home into the best version of itself. 
This week, it's all about coffee tables—what shapes and sizes go with what sofas because it's not always so obvious. Interior Designer Angela Belt is on tap to lay the foundation so your living room is comfortable and functional. Let's do this.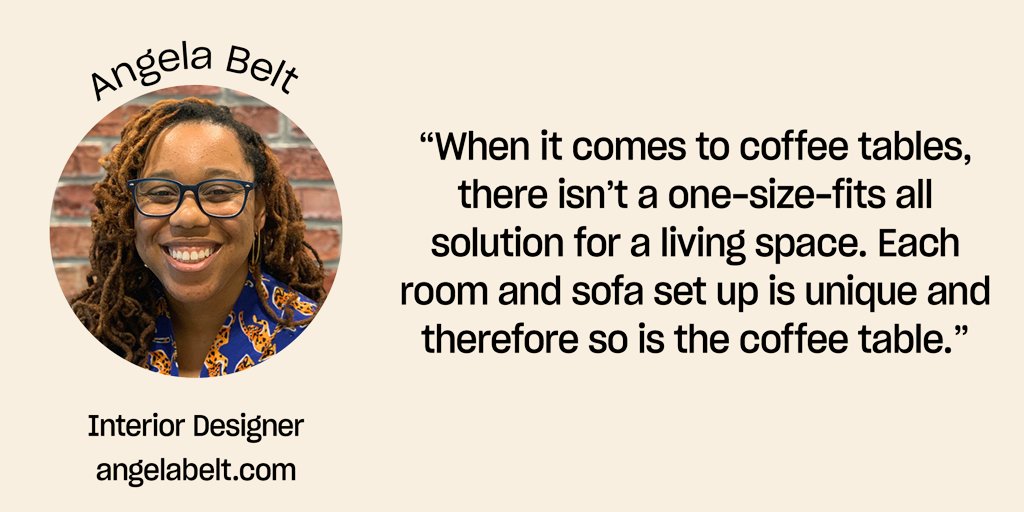 First off, it's important to know that, like Angela says, there isn't a one-size, go-to table for all rooms; there is, however, a golden ratio to observe when picking out a table to make sure your scale is spot-on:
The max width of your coffee table, regardless of shape, should be about 1/2 to 2/3 the length of your sofa seat, not the entire sofa, which comes in handy on sectionals and chaise sofas, specifically. 
"There is nothing worse than having the knee-knocking situation because the coffee table is WAY too close or, on the flip side, it's on an island because it's so far away," notes Angela. "You know what I'm talking about: you try to be polite and bend over to put down your mug, but you're so far away you finally just get up off the sofa after a moment of embarrassment and just place it down on the table." Been there, lived that. The best rooms don't just look good, they also function properly, and the size of your coffee table plays a big role in your living room with regards to how the space functions.

Sofa Sizes: 54" to 74"
Best Table Shape: Smaller rectangle (36"-42″x20"), small & round (~32" or smaller), small & doubled up
Tip: Try two 12"-24" side tables next to each other, or nesting tables that can be mixed around based on your entertaining needs.
Take a look at the Coram Coffee Table, Quinn Coffee Table and our side tables, which work great with smaller sofa sizes.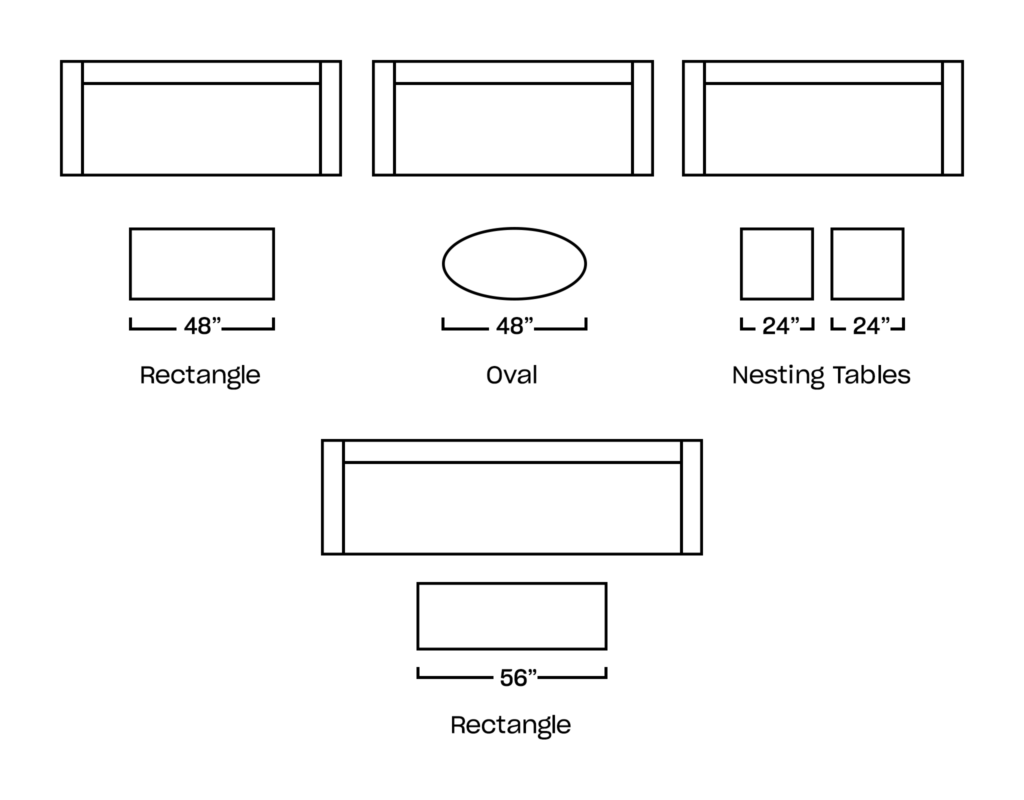 Sofa Sizes: 72" to 96"
Best Table Shape: Rectangle (the most common size is 48"x24"), oval or nesting tables to create an elongated shape
Tip: If your sofa is larger, go up to 56"x20" to fill out your space. Just be sure to let the golden 1/2-2/3 length rule guide you!
If you have a standard-size sofa, you have lots of great options. Some of our favorites: the Glenstone Coffee Table, Cloverdale Coffee Table, Aiken Coffee Table and Bannack Coffee Table.
"A coffee table with a more organic, amoeba-like shape works with a variety of sofa silhouettes and gives your room more personality." — Angela Belt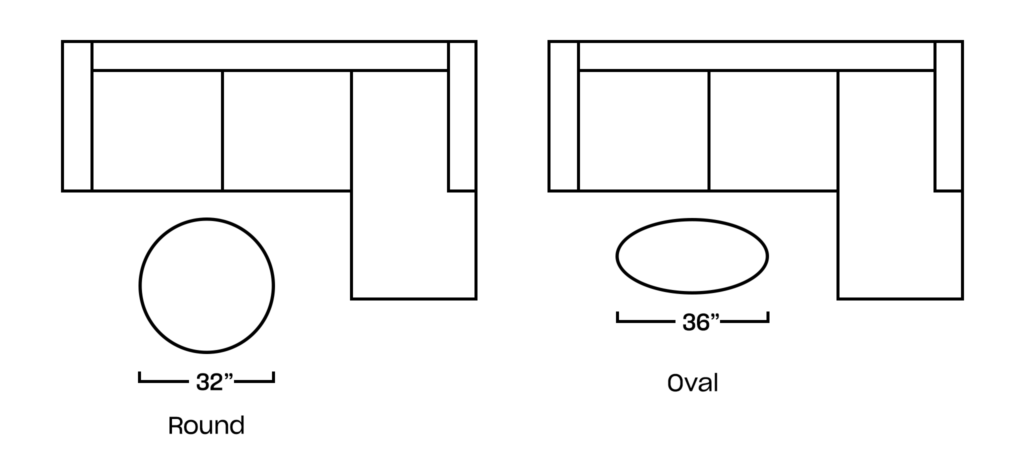 Sofa Sizes: 90" to 115"
Best Table Shape: Round (32″-36" round are Angela's picks!), oval
Tip: You want something that creates easy flow around the chaise, though a rectangular table also works well for extra wide chaise sectionals.
Check out these top-rated round and oval tables: the Solara Storage Coffee Table, San Pedro Coffee table and Octavia Coffee Table.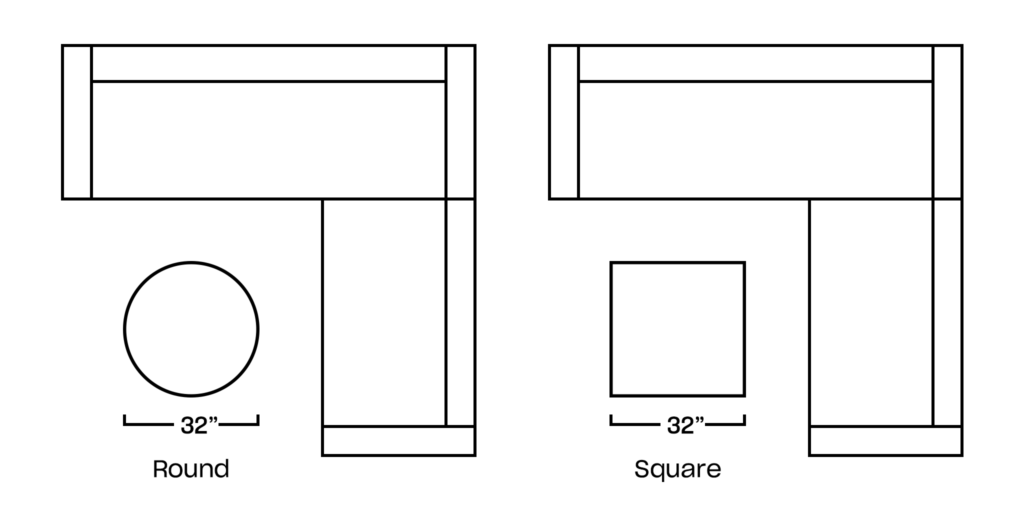 Sofa Sizes: 85" to 115"+
Tip: L-shaped sectionals vary greatly in size but sticking to symmetrical shapes to match the sofa silhouette is key.
Shop some of our best selling round and square coffee tables, like the Washington Round Coffee Table, Kings Road Sq. Coffee Table WHITE/CHROME and Clifton Coffee Table GRAPHITE.
Looking for more tips & guides to help you decorate your home? Take a stroll through our TIPS section of the blog, packaged with tons of useful design hacks and how-tos.
---