So, you're WFH (working from home if you're not hip to the lingo yet, though something tells us you are). We're WFH. A LOT of us are WFH. Unless you already had a home office set up, chances are you scrambled to set up shop on any open table in your abode.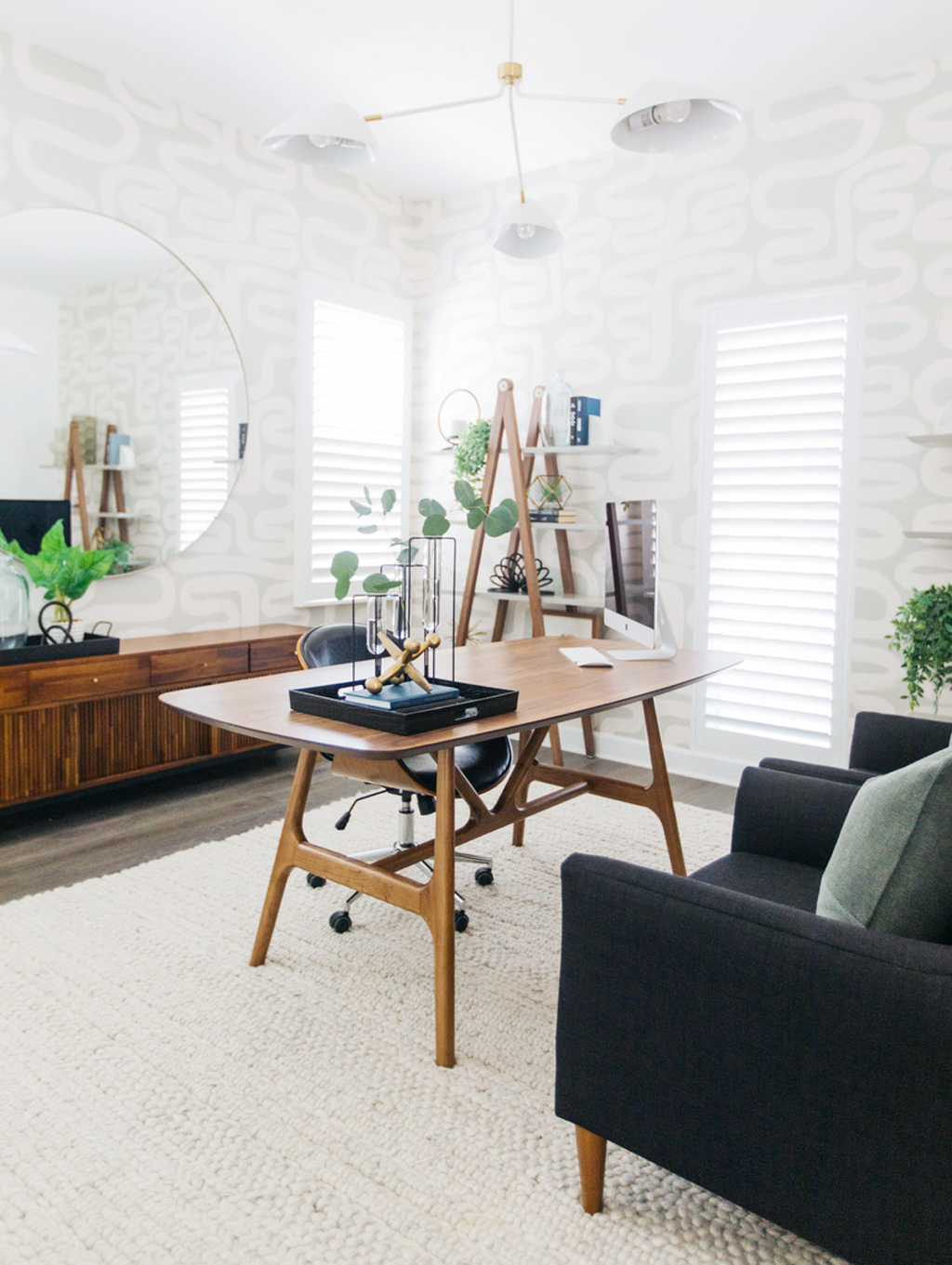 Design by Realm Design Co Interior Design, Photo by Halli Makennah
Worse still: You're working from your lap or coffee table, and sure, maybe it's fine (in the way that this is fine) but if you're looking to get back to a desk set up (you know, with a desk chair and maybe even a bookcase), we've got you. After all, maybe your bed or sofa aren't the most productive spot to perch for 8+ hours, hm? If you're ready to level up your WFH situation and finally not be ashamed to turn on that camera during your video conference calls, keep reading.
Desks for that hustle…main or side.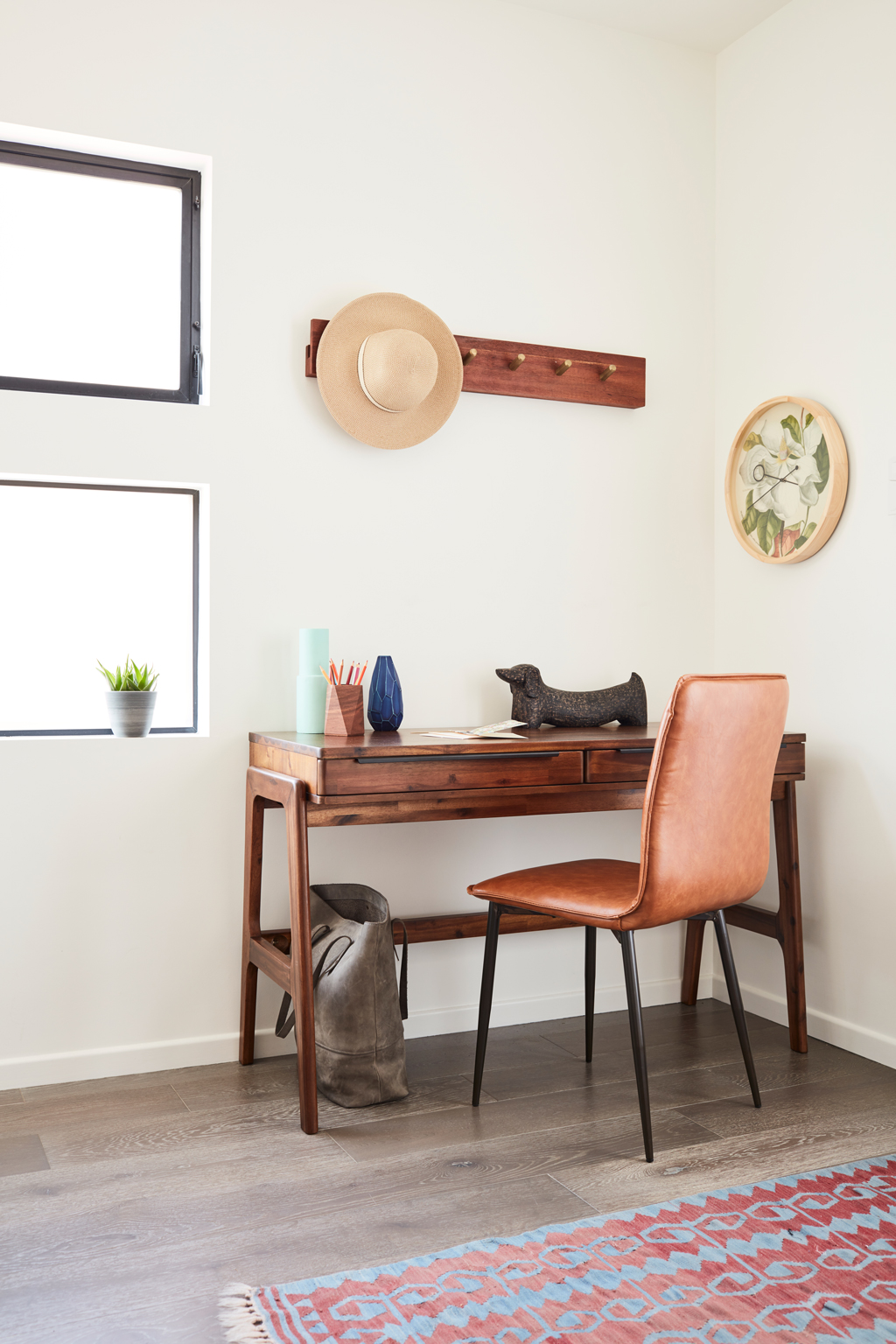 Aiken Writing Desk | Photo by Joe Schmelzer
The desk…the main attraction here. Before getting to the shopping portion of this post, you know, the fun stuff, let's walk through more lingo, because not all work surfaces are created equal. You might come across certain terminology while on the hunt, so we want to clear things up for you and make sure you're armed with the information you need to make the best purchase for your work style. Let's get into it:
Writing Desks
This is much of what you'll come across on home furnishings websites (like Apt2B!). Writing desks are smaller, more manageable pieces (as opposed to executive desks, which we'll get to). They are open with minimal storage. They're great for putting against a wall or in the middle of a home office floor plan since they usually look great from all angles. Great for laptop users who need minimal cords.
Great for: laptop users who need minimal cords.
Secretary Desks
Ah, a personal favorite. Secretary desks are free-standing pieces of furniture that fit really well into a living space. They have a roll-down or fold down mechanism to hide away papers and any sign of work, though obviously likely won't work very well for anyone who has a desktop or large monitor.
Great for: laptop users who want a desk by day but a case good by night (behold the transformation!), or someone looking for somewhere to jot down notes, grocery lists, etc.
Corner Desks
Exactly how it sounds...a desk made to nook perfectly into a corner. You'll typically find these in more "office furniture-esque" styles, less decorative, though highly functional.
Great for: someone with limited space that wants to maximize work area, and doesn't mind a more commercial vibe.
Computer Desks
A rather vague term, but you'll find computer desks tend to include a keyboard tray, lots of storage (for large CPUs), cable management options and some drawers.
Great for: anyone who has a large desktop set up. 
Credenza Desks
If you lived in a suburban home growing up, chances are someone (maybe you!) had a credenza desk. This is a desk built into a large bookcase unit, with or without drawers, with an open area above it, framed and flanked by molding or shelving. This is essentially a dual purpose BIG OL' piece of cabinetry.
Executive Desks
The big boss of fancy office desks. These stately desks usually have A LOT of drawers for all your important files (maybe even a hidden compartment or two so you can feel very presidential), a large surface area, traditionally partially covered with something called a "blotter," and just generally very grand.
Great for: VIPs, people with tons of papers or supplies to store, and anyone with hefty amounts of square footage to cover (and a budget as big as the desk they're looking for). 
OKAY, got that? Apt2B sells mostly what would be classified as "writing desks" but don't be fooled by the name. These are great, sturdy pieces that can handle most computers—laptop or desktop—as well as monitors, and, depending on the piece, enough storage for all your WFH supply essentials. Here are some of our current best-sellers (but check them all out here):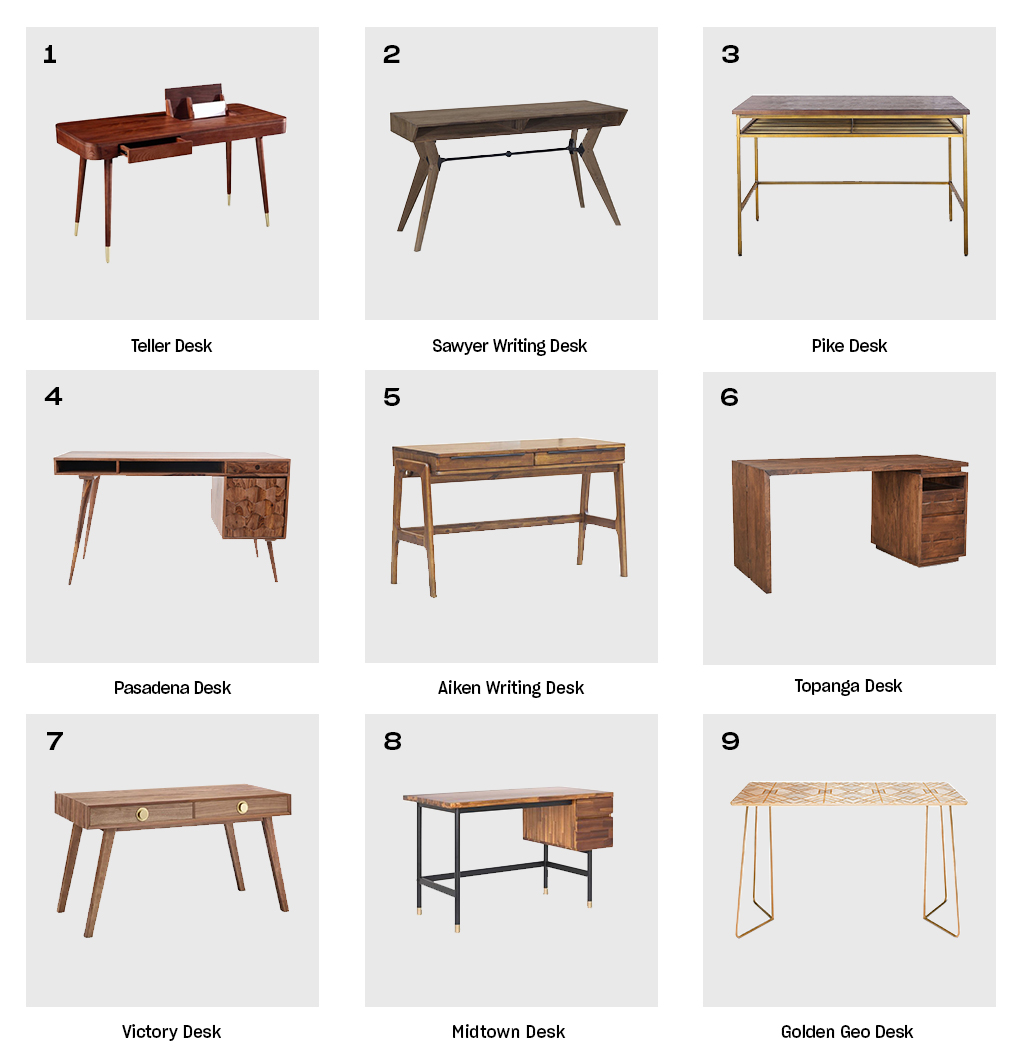 1. Teller Desk | 2. Sawyer Writing Desk | 3. Pike Desk | 4. Pasadena Desk | 5. Aiken Writing Desk | 6. Topanga Desk | 7. Victory Desk | 8. Midtown Desk | 9. Golden Geo Desk
—> SHOP ALL APT2B DESKS <—
Chairs…because standing desks aren't for everyone.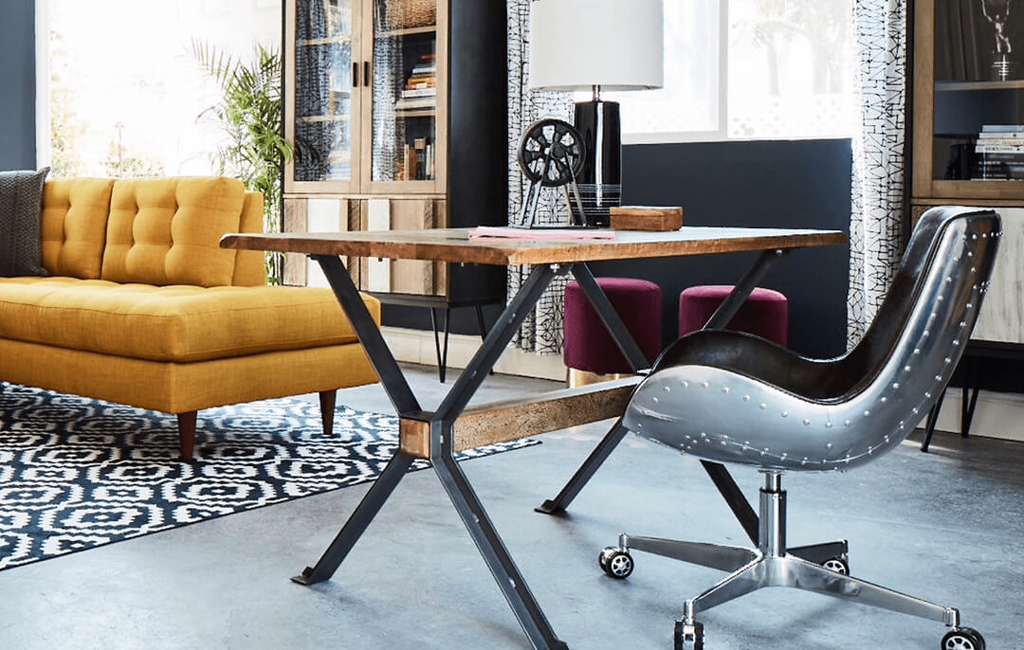 Cabrini Office Chair | Photo by Joe Schmelzer
We're awfully sure the header here says it all, but yes, if you have a regular sit-down desk, you're gonna need a chair. Well, did you know that the typical office worker spends at the very least half their day seated, so…let's make sure that chair is not just comfortable but also ergonomic. Our office chairs check both those boxes but also look really good while doing it.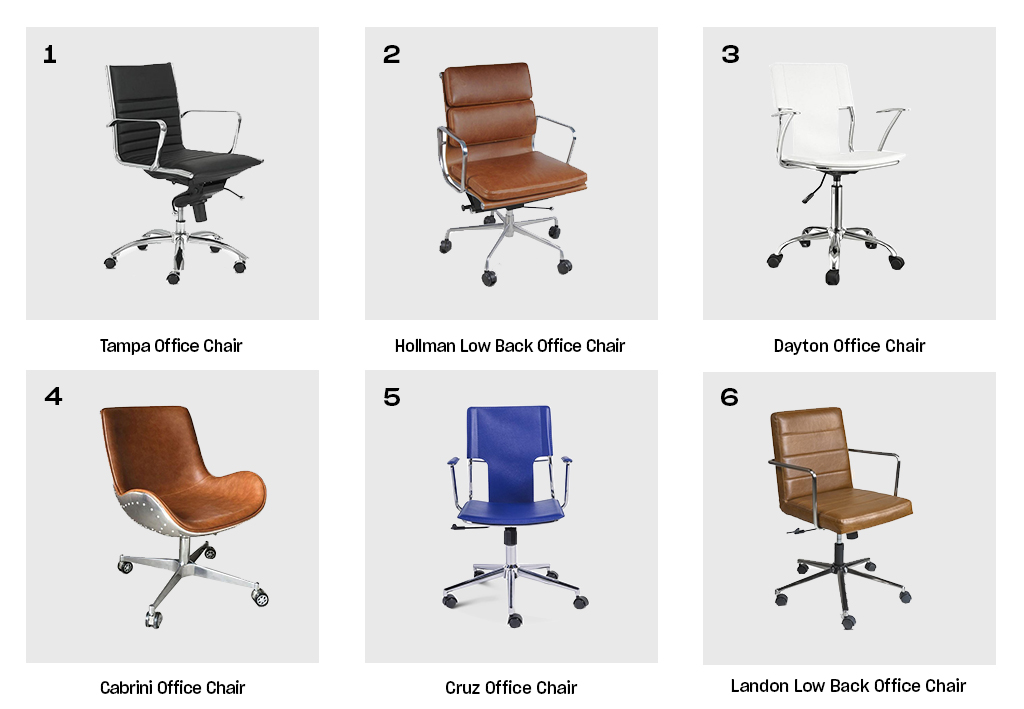 1. Tampa Office Chair | 2. Hollman Low Back Office Chair | 3. Dayton Office Chair | 4. Cabrini Office Chair | 5. Cruz Ofice Chair | 6. Landon Low Back Office Chair
—> SHOP ALL APT2B OFFICE CHAIRS <—
We'll handle the bookcase, you master the #shelfie.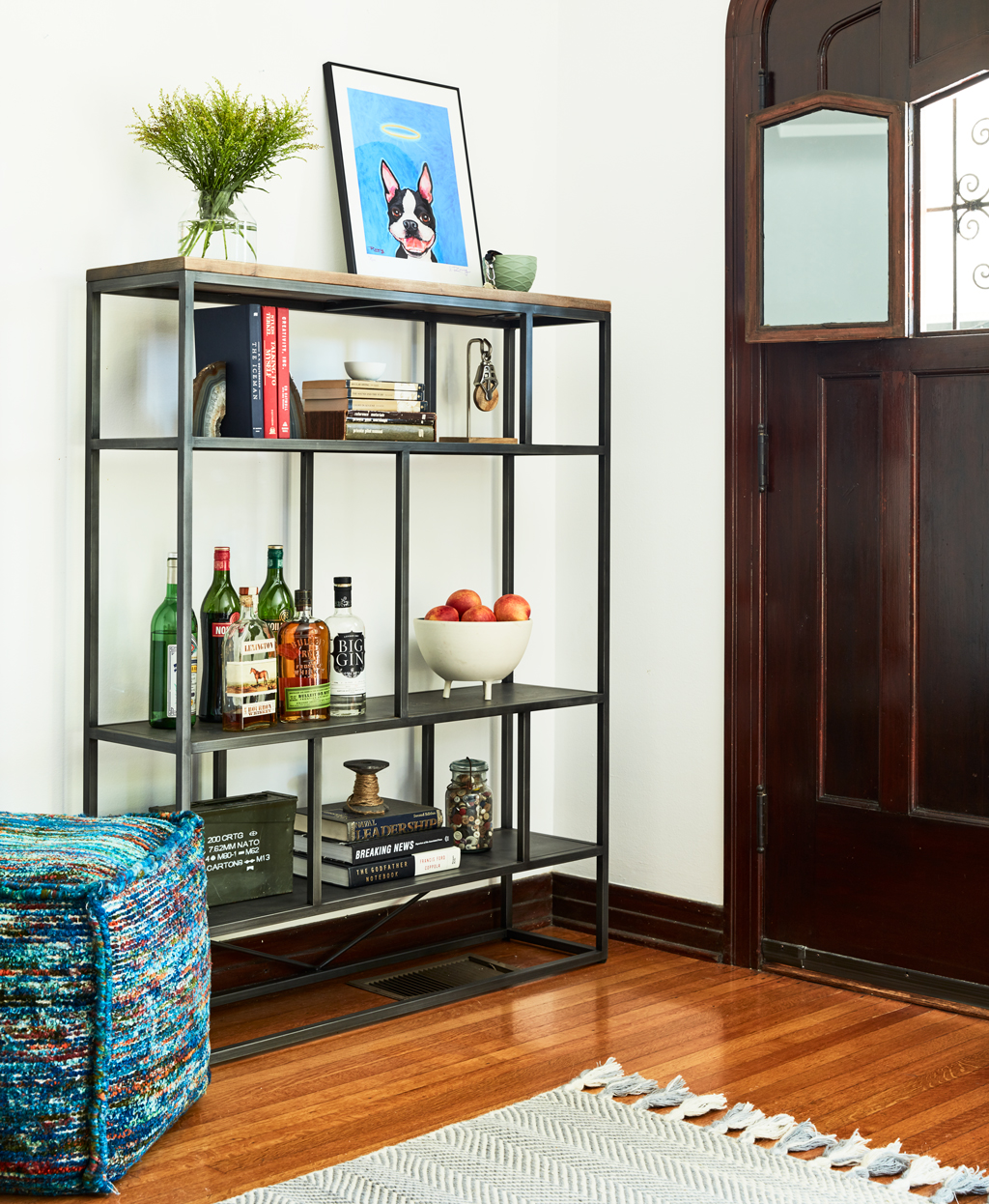 Once you have the working basics covered (desk, chair), you might find that you need somewhere to store things like books, decor (no shame in making things looking good), maybe even a printer or speaker. Enter: the bookcase. High or low, wood or metal, slim or wide, Apt2B's got your storage needs covered.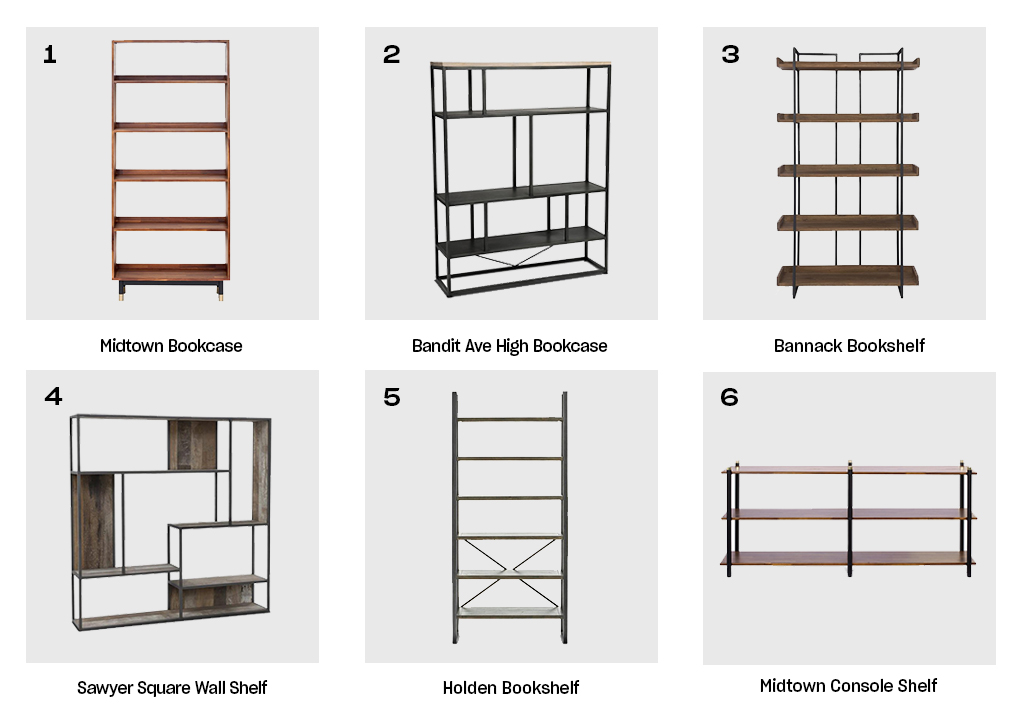 1. Midtown Bookcase | 2. Bandit Ave High Bookcase | 3. Bannack Bookshelf | 4. Sawyer Square Wall Shelf | 5. Holden Bookshelf | 6. Midtown Console Shelf
—> SHOP ALL APT2B BOOKCASES <—
MORE TO READ:
---