Want to lead a more environmentally friendly lifestyle? Of course you do! And we can help. Apt2B is proud to support Arhaus and American Forests in a shared goal to make every home in America more environmentally friendly. Transitioning to an eco-friendly home is easier than you might think! Read on to learn about all the simple and effective ways you can make your home (and your life) more environmentally friendly. Because, at the end of the day, choosing a more eco-friendly lifestyle isn't simply a choice – it's an obligation to our planet.
Check out this tremendous infographic from our friends at Arhaus! With these tips you'll be living an environmentally friendly lifestyle in no time.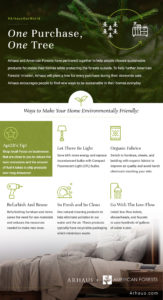 Shop Local
Did you know that cargo shipping accounts for 13% of sulphur oxide emissions, 15% of global NOx emissions, and 3% of total CO2 emissions worldwide every year? This is an unfortunate side effect of the ever-increasing global marketplace (and our insatiable need for cheap foreign goods). Thankfully there's a simple solution – shop local! You'll cut down a significant amount of carbon emissions (and sulfur emissions) by purchasing products made in the USA. You're also helping to support the American economy and American workers. It's a win-win-win. Apt2B builds all of our sofas, sectionals, sleeper sofas, and several of our upholstered beds right here in downtown Los Angeles. Shopping local is a smart and easy way to help the environment and help ease your conscience (so that you can actually relax on your sofa).
Lighten Your Carbon Footprint
What's small, a symbol for coming up with an idea, and creates 2,000 pounds of CO2 per household per year? Incandescent light bulbs! It's absolutely stunning how much energy it takes to light a household when you really start to crunch the numbers. The average household uses the equivalent of burning 100 gallons of gasoline to provide the energy for indoor lighting alone. Those incandescent light bulbs might be cheap at the store, but they're costing a pretty penny in energy costs at home. Here's an idea – replace your home lighting with CFLs or LEDs! This is one of the absolute easiest ways to make your home more environmentally friendly. CFL and LED bulbs will reduce your home's energy use by up to 75%. How many homeowners does it take to screw in a CFL light bulb and significantly lower a carbon footprint? Just one.
Go Organic
Going organic doesn't have to be limited to the food that you eat. Organic options exist in almost every consumer market. The same is true for furniture and fabrics! Choose home furnishings and fabrics that are organically-created to help keep the air quality in your home fresh and clean. Switching to organic fabrics won't necessarily benefit the overall carbon footprint on the planet, but it will help the immediate environment of your home. Apt2B features sofas that do not have any added chemicals (like formaldehyde), flame retardants, or protective sprays. Your home's air quality and your skin will thank you! Apt2B also features organic options like our Faribault Eco-Woven throw blankets, which are not only made from organic cotton, but also made in the USA – environmental double whammy!
To help further American Forest's mission, Arhaus will plant a tree for every purchase during their storewide sale and continue to make earth friendly products, like their green-friendly tables and chairs, with sustainability in mind.
---