We love sofas at Apt2B. They're our favorite part of the living room. But here's the thing about sofas – once you're sitting on them you can't really admire them anymore. You can appreciate the comfort, sure, but you're not getting a chance to take in their beauty. You know what you do see when sitting on your sofa (besides the TV)? The coffee table. It's always there. Right in front of the sofa. If you really break it down, you probably spend far more time seeing your coffee table than you do seeing your sofa. See what we're getting at? Choosing the right coffee table is absolutely critical for maximizing your enjoyment of the living room experience. That's why the coffee table is integral when creating the blueprint of your living room.
The Shape
The first thing to consider when choosing the right coffee table is its basic shape. Coffee tables are traditionally either round or rectangular. Most people know right away whether they're a rectangle or a round coffee table type. Others might have to take a 10 minute Facebook quiz to figure it out. The key to determining the shape is considering the rest of your home's decor style. If you're into a rustic, industrial, or Scandinavian style then a rectangular coffee table is likely your best bet. Round coffee tables are best-suited for contemporary homes, Space Age retro rooms, and for people who want to be constantly reminded of "When Harry Met Sally" (are we dating ourselves with that reference?). You also want your coffee table to match the shape of your sofa. Have a sharp, straight-lined sofa? Go for a rectangular table. Have a sofa with rolled arms and curves? Choose a circle.
Ezra Square Coffee Table
Bossier Round Coffee Table
Dakota Coffee Table
Octavia Coffee Table
Dakota Coffee Table | Bossier Round Coffee Table | Ezra Square Coffee Table | Octavia Coffee Table
The Use
We know that most people end up using their coffee tables as a drop zone for junk mail, magazines, and candles their mother-in-law gifted them 3 years ago. But there are so many different types of tables and so many different types of uses for them. If you're a book or magazine lover then consider a coffee table with a lower shelf. Hate having your remotes scattered all over your table? Choose a table with drawers to keep things hidden away. Are you constantly freezing no matter the temperature of the room? Try using storage ottomans or trunks where you can keep extra throw blankets in lieu of a traditional coffee table. While we're on the subject of ottomans, a really clever trick is to use a large ottoman with a serving tray on top to do double duty as a table and as extra seating. Consider the use of your coffee table and you'll be able to quickly narrow down your search.
Solara Coffee Table
Waldorf Storage Trunk Coffee Table BURNISHED BROWN
Rosewood Coffee Table
Elliott Round Ottoman DIAMOND BLUE
Solara | Rosewood | Waldorf Storage Trunk Coffee Table BURNISHED BROWN | Elliott Round Ottoman DIAMOND BLUE
The Size
Your coffee table should be the same height as the seat height of your sofa or about 1-2 inches shorter. For instance, a sofa with a seat height of 18"h (like our Delilah Sofa) is best suited to a coffee table between 16"h and 18"h. Any higher and it will start to obstruct your eye line. Any lower and you're going to be leaning all the way over to pick up your coffee.
Your coffee table should be two thirds the width of your sofa. When centered this will provide an equal amount of space on either side of the coffee table in relation to the sofa. This allows easy access to the sofa without needing to do any lunges. A sofa that's 84"w (hey, just like our Delilah!) deserves a coffee table that's anywhere between 46"w to 56"w. This leaves around a foot and a half of breathing room on each side of the table.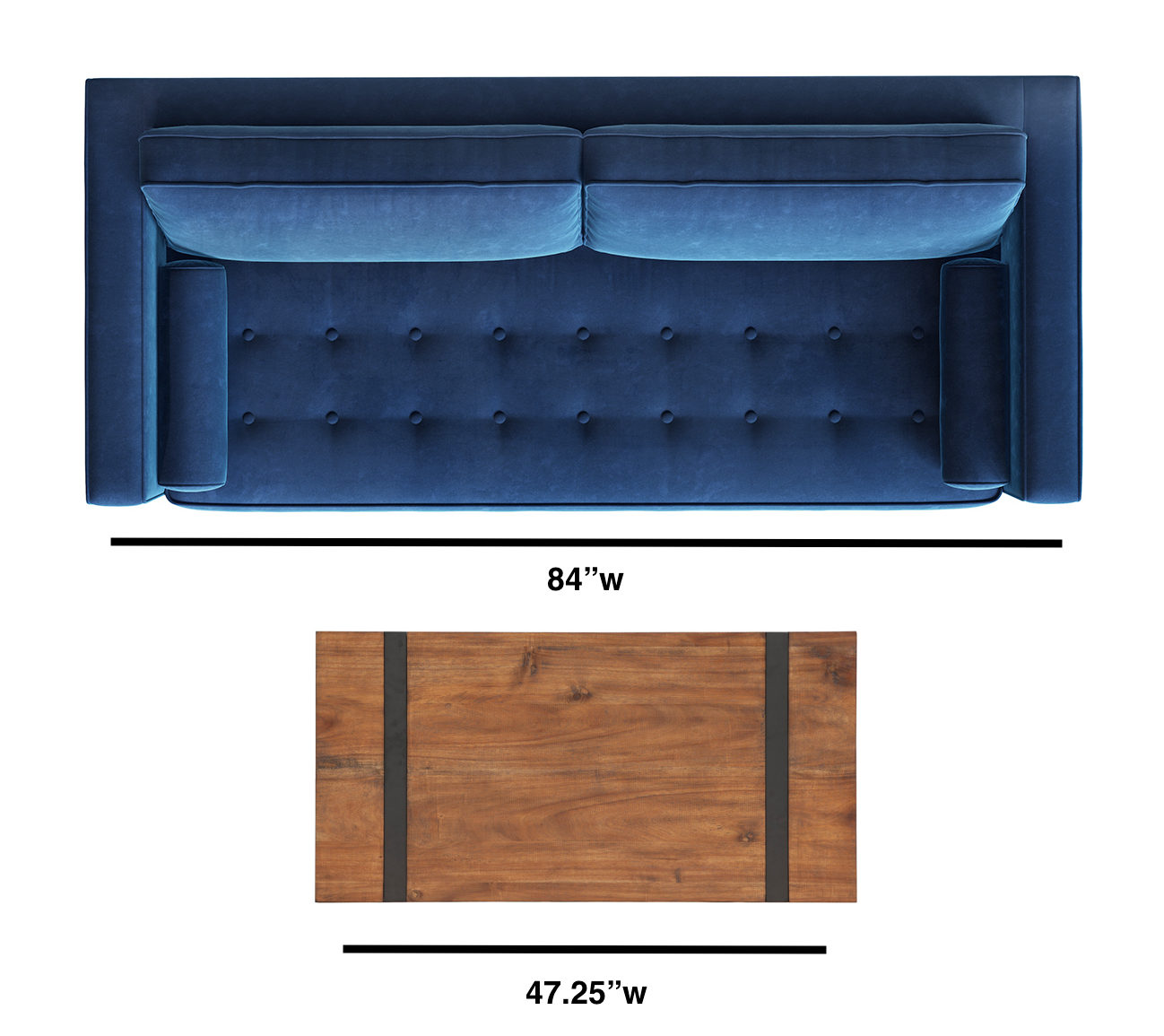 Delilah Sofa in Blueberry | Williamsburg Coffee Table
The depth of the coffee table isn't terribly important as long as it's not obstructing other walking paths. If you have a 2 piece sectional sofa (like our... Brentwood 2pc Sectional) then you might want a deeper coffee table so folks on the end of the chaise can use it, too!
Coffee Table Positioning
Your coffee table should be about 12" to 18" away from any part of the sofa. This includes the chaise. You'll want the same amount of space between the chaise and the coffee table so that you have a clear pathway to any area of the sofa. Pressing the coffee table up against the chaise? Bad idea. This rule is especially important for setups with conversation sofas that are facing one another.
Portia Glass Coffee Table ONYX MARBLE
It's also important to keep the table about 24" to 30" away from your media stand, credenza, and TV. The same logic applies in this case. You'll want unimpeded pathways between the TV and the table. Otherwise the space will feel incredibly cramped and crowded. It's a total feng shui killer.
The Blueprint
Starting to see the importance of the coffee table? It's not just a surface to spill your coffee on – it's also responsible for dictating flow of movement, creating proper scale, and fulfilling multiple versatile roles. Good coffee tables that are doing their jobs well often go unnoticed; bad coffee tables ruin a room. Take this advice and you'll be good.
Want even more advice? Check out this video where Apt2B resident designer Kyle Schuneman teaches you how to style your table.
Need a coffee table right now? Apt2B has got you covered. Check out our entire collection of coffee tables!
---