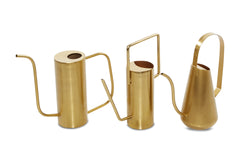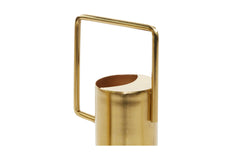 Dimensions
Features
Overview
Shipping & Returns
Overall Dimensions
Small watering can: 3.9"w x 12.35"d x 10.75"h
Medium watering can: 3.55"w x 10.15"d x 11.95"h
Large watering can: 4.8"w x 9.55"d x 12"h
Overall Dimensions
Small watering can: 3.9"w x 12.35"d x 10.75"h
Medium watering can: 3.55"w x 10.15"d x 11.95"h
Large watering can: 4.8"w x 9.55"d x 12"h
Made from 100% iron
Polished gold finish
Set includes 1 small, 1 medium + 1 large
Suitable for indoor or outdoor use
This unique set of three functions as watering cans, accent pieces or decorative planters (choose your own adventure!). Each can in the Philo Watering Can Set is shaped a little differently, but they all have the same eye-catching polished gold finish. The Philo Watering Can is the perfect choice for those who want to add a little glam to their indoor greenery. This set does not include drainage holes. 

Shipping: Apt2B offers completely FREE delivery on every order! Our free entryway delivery includes placing items inside your home or apartment unit. Certain items may be eligible for our white glove delivery service option which includes room of choice placement, assembly and packaging removal for only $149!
Returns: Apt2B offers a hassle free 100 day return policy on all orders. We truly want to ensure that every customer is satisfied with their purchase! We offer 100 days to experience our products in person and great service to address any concerns or issues along the way.
For more info on the above, please visit our Shipping and Returns page
Overall Dimensions

Small watering can: 3.9"w x 12.35"d x 10.75"h
Medium watering can: 3.55"w x 10.15"d x 11.95"h
Large watering can: 4.8"w x 9.55"d x 12"h

Made from 100% iron
Polished gold finish
Set includes 1 small, 1 medium + 1 large
Suitable for indoor or outdoor use

This unique set of three functions as watering cans, accent pieces or decorative planters (choose your own adventure!). Each can in the Philo Watering Can Set is shaped a little differently, but they all have the same eye-catching polished gold finish. The Philo Watering Can is the perfect choice for those who want to add a little glam to their indoor greenery. This set does not include drainage holes. 


Shipping: Apt2B offers completely FREE delivery on every order! Our free entryway delivery includes placing items inside your home or apartment unit. Certain items may be eligible for our white glove delivery service option which includes room of choice placement, assembly and packaging removal for only $149!

Returns: Apt2B offers a hassle free 100 day return policy on all orders. We truly want to ensure that every customer is satisfied with their purchase! We offer 100 days to experience our products in person and great service to address any concerns or issues along the way.

For more info on the above, please visit our Shipping and Returns page