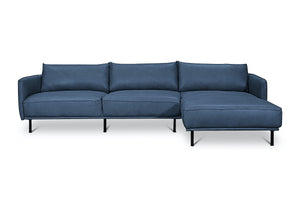 On Sale from $1,348.00 Regular price $2,468.00 Only 7 left!
As low as $34.19/month*

---
Ezra Leather Sofas & Accent Chairs with Free Shipping
Ezra Modern Leather Furniture Collection
Sometimes, even when you're buying a new sofa, you want it to look like it's always been a part of your home. The Ezra series of custom leather furniture combines modern styling and construction with elements of traditional, rustic and vintage décor, allowing it to settle right in. The name Ezra means to help, aid or protect — and this furniture will certainly help you feel comfortable and aid your living room's style.
Each piece in this modern leather sofa collection is upholstered in fine Italian leather. Instead of the standard black and "bright brown" of most leather furniture, we offer the Ezra in coffee bean brown, nutmeg brown and Luna dark blue — three colors with natural finishes that are great at blending in. With slim arms and generously-sized seat and back cushions, Ezra will wrap you in protective comfort for movies, TV show binges and sporting events.
Genuine Leather Modern Furniture
Choose the Ezra when you want the premium durability, dry comfort and fine aging of leather furniture in a supporting cast role. The two-piece leather sectional with an RAF or LAF chaise is the ultimate living room lounger that comfortably seats three. For apartments and condos, the 78-inch Ezra modern leather sofa still allows stretching out thanks to those slender arms and a generous 28-inch seat depth. A leather accent chair is also a must when Mom or Dad wants a seat to themselves. Ezra ready-to-ship furniture is made with a solid wood frame and removable metal legs. You'll also receive a 100-day satisfaction guarantee from Apt2B.
Show More