Fabrics are as diverse and unique as our customers. There's no single fabric that is best suited to all people in all situations. That's why it's important to understand your own needs when it comes to our vast array of fabric choices. Once you've identified your own needs you can more effectively choose a fabric that perfectly suits your lifestyle. And that's always our goal – helping you furnish your home with pieces that are built-to-order just for you and your family. Read on to learn everything you need to know about our lineup of durable, stain resistant, and easy-to-clean fabrics. And order a free swatch (or 10) while you're at it!
Durability: Or 'What The Heck is Double Rub Count?'
Perhaps the single most important quality of a fabric is its durability. We only offer fabrics that are "heavy duty" or "commercial grade" at Apt2B. But how do we determine how durable a fabric is? We use a metric called "double rub count". Also known as the Martindale test, double rub count is essentially the number of times a fabric can be rubbed back and forth between your fingers before there's any sign of noticeable wear. Yes, it's actually based on rubbing the fabric between fingers; upholstery is definitely an old-world art. We now use machines to determine a fabric's double rub count so you don't need to worry about some poor employee's finger tips. A "commercial grade fabric" is anything over 15,000 double rubs. We offer fabrics that go all the way up to 100,000 double rubs. Now that's durable.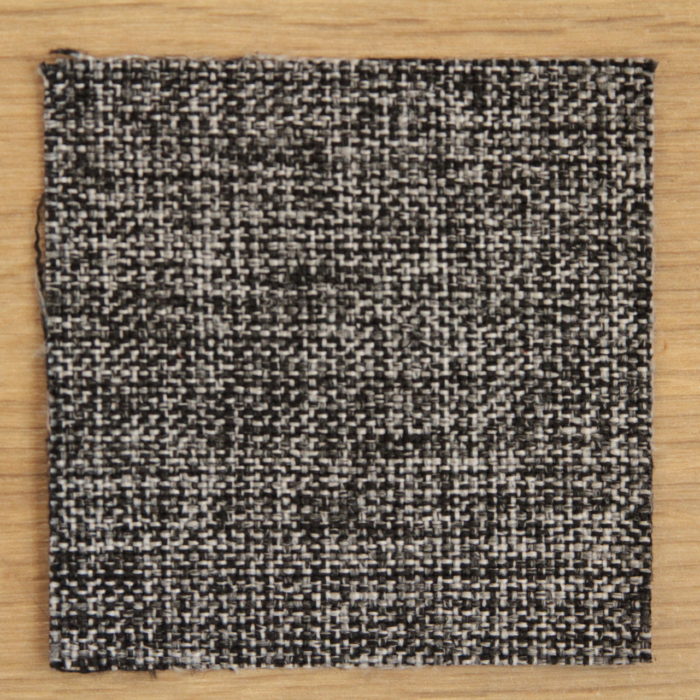 Smoke has a 100,000 double rub count
Fabric Materials
Natural materials like cotton, linen, and silk might sound like good options for upholstery, but the truth is that they do not have the durability needed for the modern home. That's why we use materials like Polyester for our upholstered pieces. Polyester is extremely tough, it's very easy to clean, and it's available in many different textures. The majority of our fabrics are 100% Polyester, but we do also offer several variations that make for more unique textures and qualities. Our Poly-Nylon fabrics feature 5% Nylon, which adds a little bit of stretch to the fabric. This material is perfect for our sofas with tight-backs (no back cushions) and button-tufting. Our line of Notion fabrics are 52% Polyester and 48% Acrylic. The Acrylic adds some extremely vibrant color to the fabric and also provides a more tactile experience. This material is perfect for recreating that Mid-Century Modern look and feel.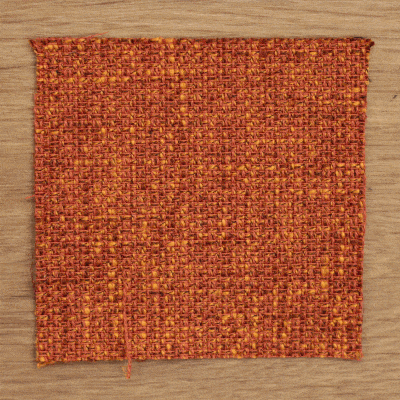 High Pile? Flat Pile?
"Pile" is a word that's used in the upholstery world to describe how much texture a fabric has. If something has a "high pile" then it means you're going to feel the texture when you move your hand across the surface. If a fabric has a "flat pile" it means that it's going to be smoother and not have as much raised texture. Fabrics with high piles can be just as durable as fabrics with flat piles. This aspect of a fabric really comes down to personal preference. Some people love feeling texture, whether it's a suede-like microfiber or a nubby basket-weave. Other people prefer not to have a textured feeling when sitting on their furniture. Our Microfiber, Plush Velvet, Poly-Woven, Plush-Woven, and Notion fabrics all have a high pile. Our Taylor, Tess, Poly-Nylon, and Pauline fabrics all have a flat pile. Check them all out on our fabric page!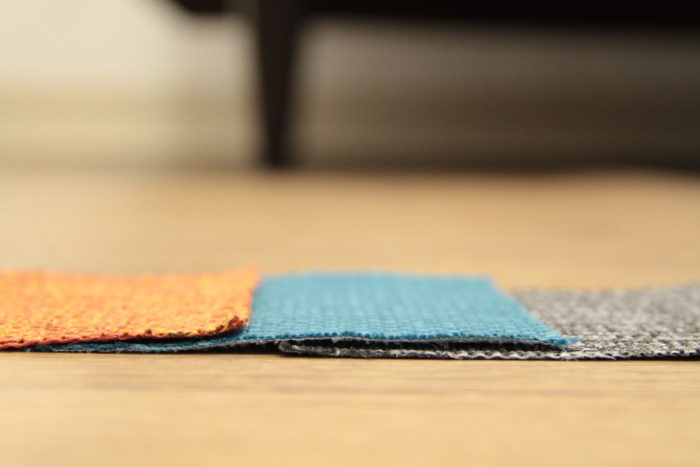 Pets & Kids
The number one question we get at Apt2B is, "what is the best fabric for households with pets and kids?" We encourage customers to eliminate any of our fabrics under a 100,000 double rub count. You'll want the highest durability possible. Our top recommendations are our line of Microfibers, Plush Velvets, Taylor fabrics, and our fabrics named Smoke and Charcoal. Yes, I said Microfiber and Plush Velvet. These fabrics are extremely soft, but they're also incredibly durable and easy to clean. They're also amazing for pets. Cats tend not to scratch this fabric and pet hair can be brushed right off. We jokingly refer to Charcoal as "bulletproof". Seriously, it can hold up against anything. Our Poly-Nylon fabrics are also good against pet hair, though a feisty cat that uses sofas as scratching posts could pose a threat. Performance Fabrics are specifically engineered to resist liquid staining (and they're unbelievably good at it), but pet hair can be a bit tricky to remove from them. Order some swatches and test them out in your home! Yes, our customers rub the swatches against their pets – and you should, too!
The Apt2B Glossary Of Fabric
We use lots of words to describe our fabrics to customers. Here are some words to think about when considering fabrics!
Basket Weave:  Threads go up, over, and under each other in a perpendicular pattern. This also creates squares in the pattern. This is a durable design, but pets with claws might be able to pull threads loose.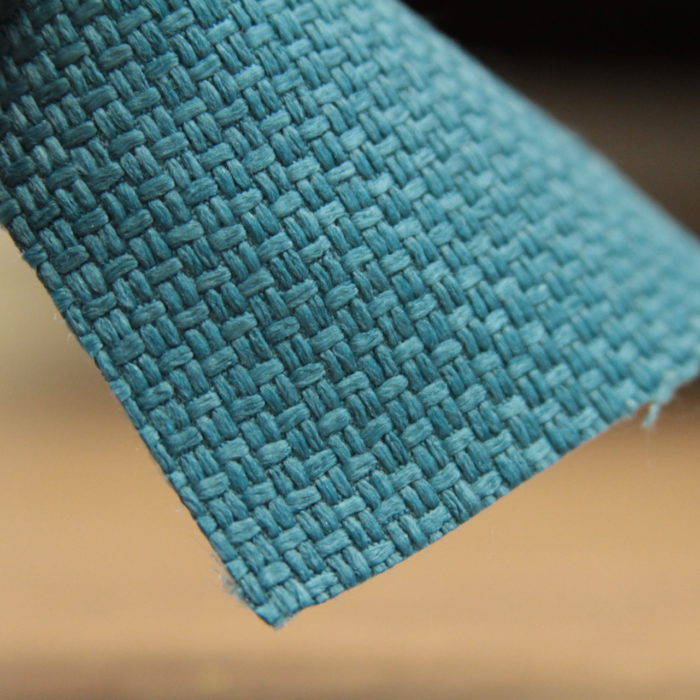 Ocean Blue has a clear basket weave
Nubby: This refers to fabrics with a basket weave and a very high pile. You'll really be able to feel the individual, raised "pockets" made from the weave. This is most notable on our Notion fabrics.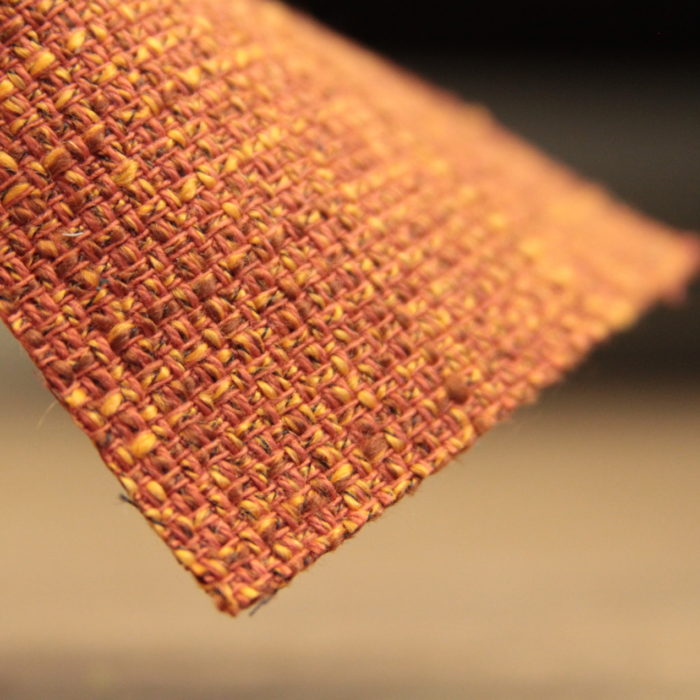 Pumpkin has thick, woven threads that create a raised, three-dimensional feel
Microfiber/Velvet: This is a very soft material with a high pile that's smooth to the touch. It's also a "single cell" fabric, which means that it's not woven with individual threads. It's hard for pet hair to penetrate this type of fabric. It is the type of fabric that can be "brushed" one direction or another, which results in different coloring.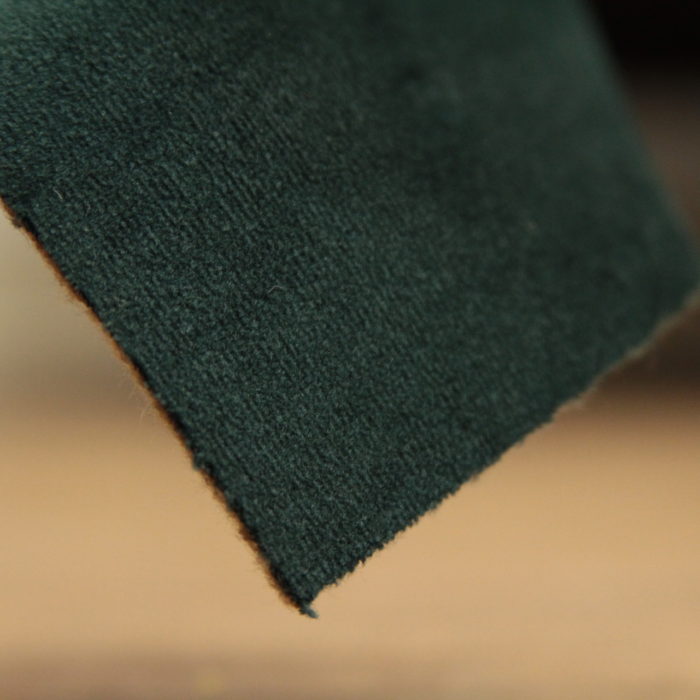 Evergreen Velvet is very soft, smooth, and extremely plush
Tight Weave: The threads of the fabric are extremely dense and/or very closely situated. This makes it hard for dirt and liquids to penetrate the fabric. You won't be able to notice the individual threads of the fabric unless you're closely examining it. A very standard fabric style used in most upholstery. Seen on our Poly-Woven fabrics.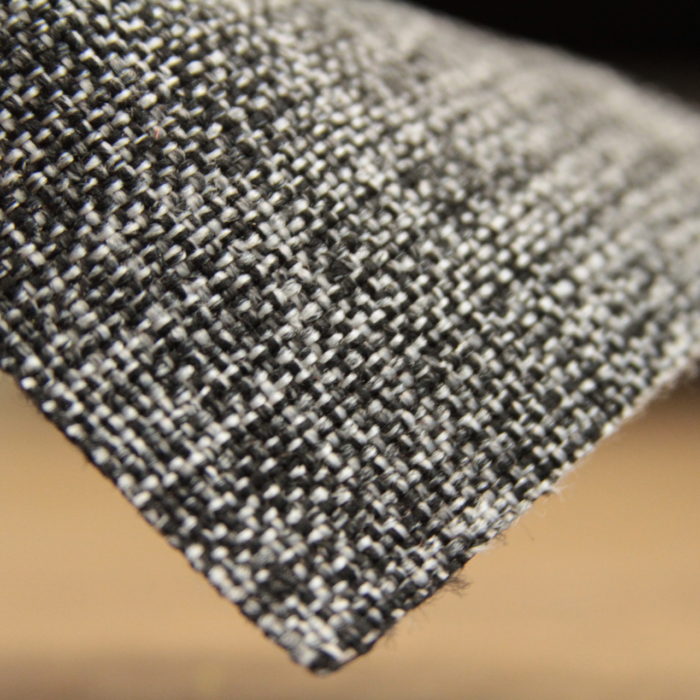 Smoke is a very tight weave, which makes it very durable
Double Rub Count: (See above). Measure of a fabric's durability against wear. The higher the double rub count the more durable the fabric.
The Moral
All of our fabrics are Apt2B are durable, stain resistant, and easy to clean. But everyone has their own preferences. Be sure to order some free fabric samples before making a decision. It's also extremely beneficial to chat with a member of our Product Specialist Team so you can get the scoop on the best fabric for your situation. You can reach them on our Live Chat system, via e-mail at hello@apt2b.com, or via phone.
Find your favorite fabric so that you can Make It Home.
---