Speed dating is a weekly series with some of our favorite brand evangelists. Today in the hot seat is Traci Stumpf, an LA-based TV host, stand-up comedian, and actress.
Traci Stumpf (@tracistumpf) is one of the most versatile, charming, spontaneous, and downright funny stand up comics and TV hosts on the air today.  Traci can be seen bringing her comedic charm on networks like ClevverTV, MTV, and so many more.  Sadly, Traci's talents do not carry over into the design world.  So, she enlisted the help of Apt2B and Interior Designer Joy Lofton of threesixnine to give her living room a much needed makeover.  Now that her room is complete, it's time for her to dish the dirt!

Round 1:
Lightning Round
Red or White?
Red
What show are you currently binging?
7 Seconds on Netflix
If you could sing a duet with anyone, who would it be?
Taylor Swift
Favorite Color?
Black
Least favorite color?
Beige
Lucky number?
11

Round 2:
Favorites…
Bitcoin or Fitbit?
I bought my Fitbit with Bitcoin
What do you collect, if anything?
Nothing, I still haven't recovered from the promise of Beanie Babies
What's the most embarrassing song we could find saved on your phone?
The entire Aladdin Soundtrack
What's your favorite ice cream?
Vodka
What is your life's motto?
You never look stupid when you're having fun
What's your "walk-on" song?
Wonderwall
Round 3:
Don't Even Go There…
If you could be on one reality show which one would it be?
Laguna Beach
Springsteen or Jay-Z?
Jay-Z
Stripes or solids?
Solids
Popcorn or candy?
Kettle Corn
What's your hidden talent?
I can go 9 days without washing my hair
Who is your style icon?
Allison Williams
Round 4:
Sinner or Saint?
Who is the most famous person you follow on Twitter or instagram?
RuPaul
Who is the most famous person that follows you on Twitter or instagram?
Montell Williams
If you could have drinks with any 3 people, living or dead, who would they be?
Ellen Degeneres, Diane Keaton, and my Mom's Mom
What is your favorite smell?
Success
What is your biggest pet-peeve?
When people talk about how blessed they are on social media AND when people don't wear socks at an airport
What is your hometown?
Encinitas, CA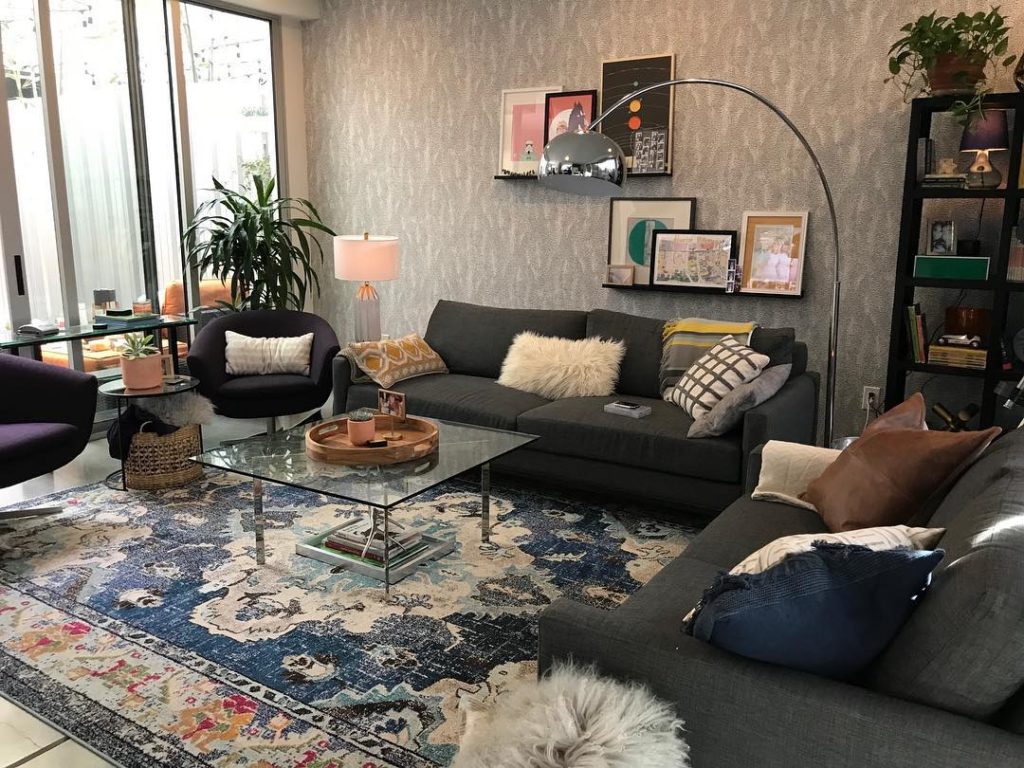 Apt2B Products Featured: Luanda Area Rug | Canoga Table Lamp | Techno Table Lamp BLUE | Redondo Striped Throw | Jazzberry Blue SOLAR SYSTEM | Florent Bodart MINI – MR. BEAN'S | Burke Toss Pillow CHESTNUT | Eloise Woven Throw TAN |  Gayley Woven Throw CREAM | Leonis Toss Pillow NAVY | Chical Toss Pillow OCHRE
Crushing on Traci?  Be sure to follow her on social media!  Love her style?  Check out her full Living Room Makeover here!
Instagram: @tracistumpf
Twitter: @tracistumpf
Facebook: @TraciFans
Website: www.tracistumpf.com
YouTube: @TraciJoyS
Instagram: @threesixnine
---