If you live in a major city like we do then you're probably no stranger to the infamous curb couch. These used, abused, and abandoned couches litter the neighborhood streets like crumpled paper cups after the LA marathon. It's sad to imagine the life that each of these sofas once lived – the movie nights, the naps, the pillow fights. Now the curb couch sits alone, defunct and derelict, counting the days until it's hauled away to that great family room in the sky.
The Curb Couch Life Cycle
To be fair, there's a reason why a sofa becomes a curb couch. Curb couches typically aren't paragons of quality and craftsmanship. You know the type of couch we're talking about; it's made out of packed sawdust, cobbled together with shoddy hardware, and angrily-assembled by someone who can't (or doesn't care to) decipher the Swedish instruction manual. With shoddy quality like this, no one will blame you when you kick your couch to the curb. It's simply the inevitable and final step in the bittersweet life cycle of the curb couch.
The Apt2B Difference
At Apt2B, our sofas have a slightly different life cycle – one of abundance, love, joy, and... yeah, comfort. That's because we make and manufacture all of our sofas, sleeper sofas, and sectionals right here in Downtown LA with high-quality materials and an emphasis on craftsmanship. In other words, the exact opposite of a curb couch. Our sofa frames are made from solid, kiln-dried alder wood. The sinuous spring system is made from 8 gauge steel. Our cushions are a satisfyingly-comfortable and long-lasting 2.0 high density foam. 
We also put our money where our mouth is – our sofas have a lifetime warranty on the hardwood frame, the spring system, and all of the factory workmanship. An Apt2B sofa has a life cycle that lasts an actual lifetime. As it should be.
Hailey & Olivia
This summer we're excited to announce the next generation of Apt2B sofas – new designs, new fabrics, and made with the same outstanding quality. Our new Olivia and Hailey collections are on the cutting edge of style with their knife-edge cushions and modern profiles. They look incredible in any of our durable, pet-friendly fabric options, but they're absolutely killer in our plush velvet fabrics. Trust us, this is going to be the style.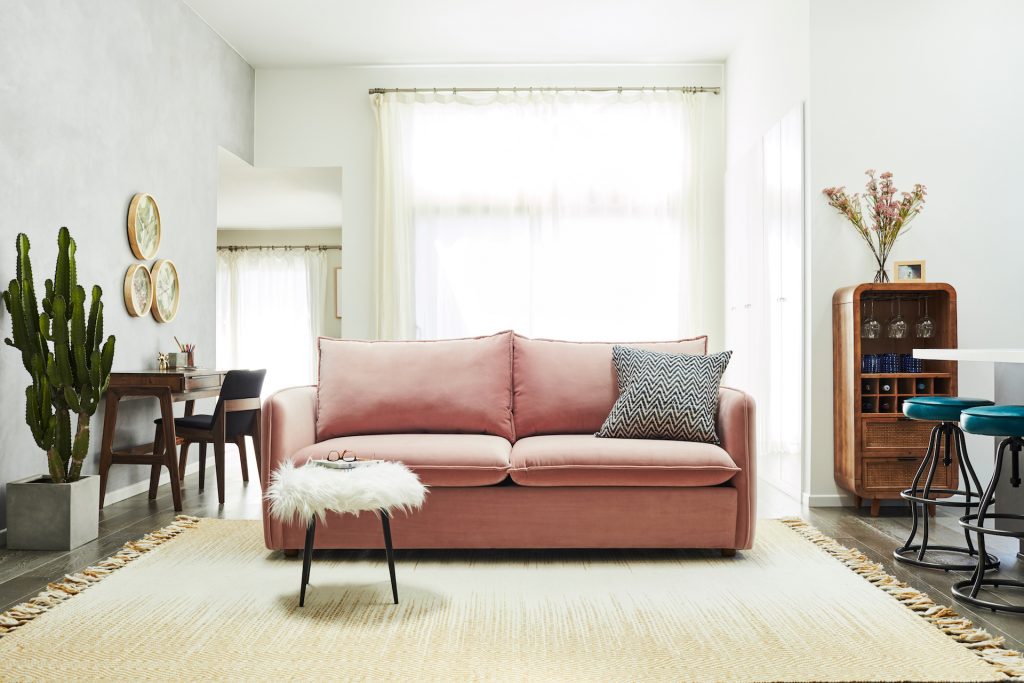 The Dylan
Or saddle up with our new Dylan Sofa. The Dylan is our first sofa that features a choice of three distinguished metal leg finishes: Brass, Chrome, and Gunmetal. It's also available in 4 exclusive fabrics. It's details like these that make the Dylan one of our most unique and stylish sofas to date.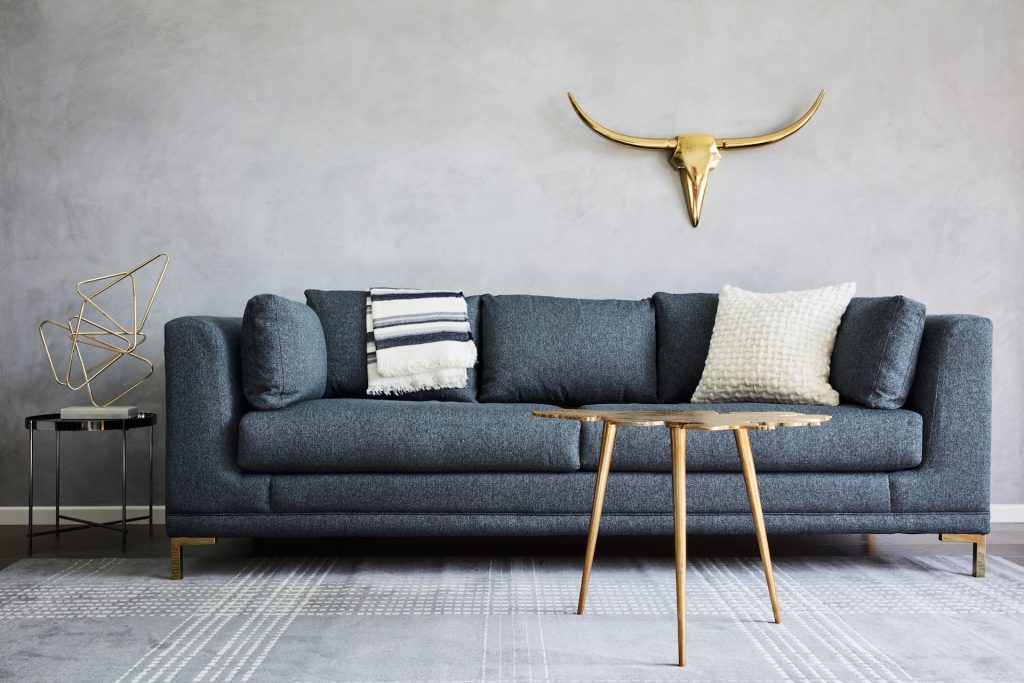 Dylan Sofa in LS Battleship with Brass Legs
The Goliath
We're also making a BIG splash this summer with our brand new Goliath Modular Sectional. Customizable and comfortable as hell, the Goliath is designed to conform to your needs (and the shape of your body). Down cushions and oversized pillows make this our most luxurious sofa ever. Its modular design means it can move to any new home with you and always find a way to work with the space. We'd call it the Rolls Royce but that name was already taken.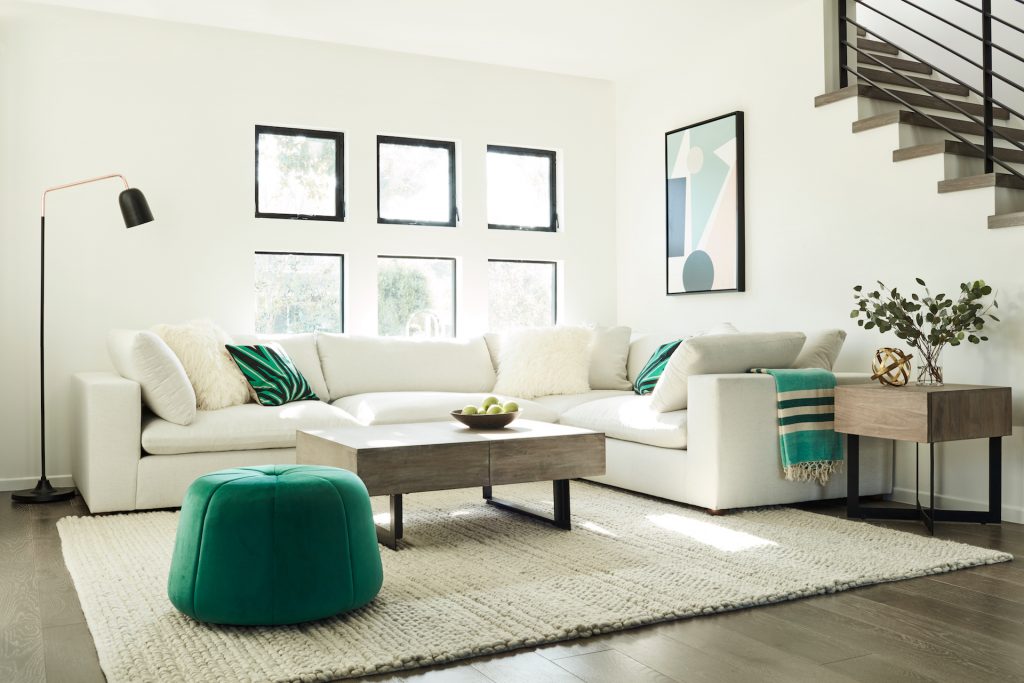 Goliath 4pc Modular Sectional in LS Natural
So kick that current couch to the curb and come kick it with the Apt2B family. We build our sofas for the home, not for the curb.
Donate Your Curb Couch Now For $250 OFF An Apt2B Sofa!
Are you living with a curb couch? Don't ditch it, donate it! Take advantage of our Apt2B Sofa Donation Discount Program and get $250 off a new Apt2B sofa! Ready to donate? Here's an easy breakdown of the steps you'll need to take to receive this huge discount:
Donate your current couch to the local charity of your choice (see a list of charity & donation options below!)
Take a photo of your donation receipt
E-mail the photo to hello@apt2b.com. Use the subject line "Curb Couch Donation"
We'll send you a discount code to take $250 OFF your new Apt2B sofa order!*
*Promotion valid on orders over $999. Cannot be combined with other discount codes or offers and cannot be applied to an order that's already been placed. Promotion valid now through 10/31/2019
Here are some great ways to donate your curb couch!
Find a local Furniture Bank
Find a local pickup
Donate your sofa to the Vietnam Veterans of America
Donate to Salvation Army
In Los Angeles? Donate to the National Council of Jewish Women's Thrift Shops
---