Taking off your shoes after a long day of work. The smell of fresh ground coffee. Getting  your brand new sofa delivered. These are a few of the best feelings in the world. And wouldn't it be amazing if those feelings could last a lifetime? We can't help you with the shoes or the coffee, but we can help you make sure that your sofa looks and feels as good as new for years and years to come. All you have to do is follow these couch care tips!
Flip & Rearrange Your Couch Cushions Regularly
Did you know that the majority of our sofas feature fully detached, flippable couch cushions?The benefit to flippable and detachable cushions is that you can keep your sofa feeling fresh and comfortable forever. As humans, we love sitting in the exact same seat whenever possible. This means that one of your sofa cushions ends up doing the majority of the work. Instead of switching the side of the sofa you sit on, just flip or switch the cushions! Doing this simple task allows our 2.0 high-density foam cushioning to rest and expand back to its full comfort levels. Flip and rearrange your cushions once a month and your sofa will always feel fantastic.
Bonus! You can even flip our button-tufted cushions! Unlike other brands, our sofas feature tufting on both sides of the cushion.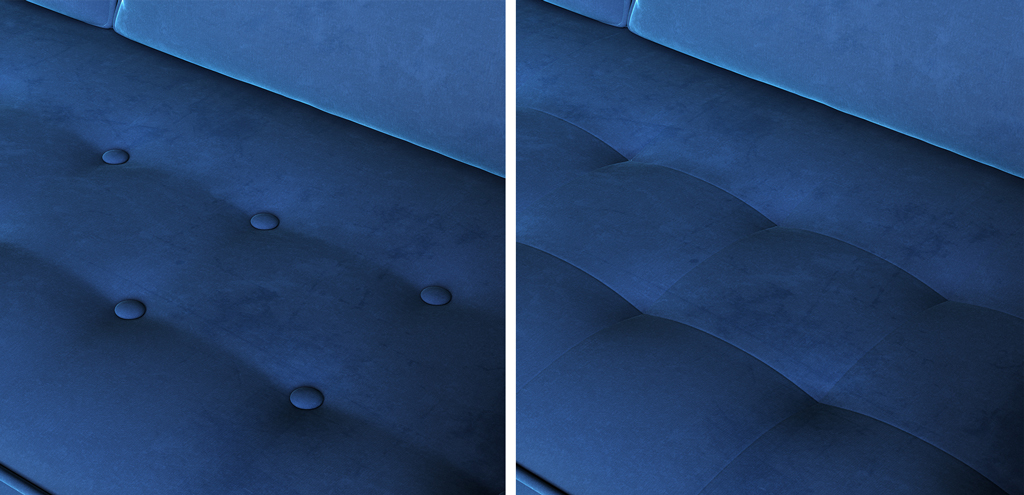 Our Delilah Sofa features button tufting on one side of the cushion and tufted pulls on the other. Great for flipping! Pictured in our Blueberry fabric.
Vacuum Your Fabric At Least Once Per Month
Whether your sofa is in a household full of kids and pets or it's in a sitting room where no one actually sits, it's still wise to vacuum your sofa once per month (or more). Think about how much dust gets on the other surfaces in your home – your sofa is no different! For best results, use the upholstery attachment on your vacuum to get the dust and soil off of your cushions. Vacuum the cushions at least once per month. Vacuum the frame and the arms every third month or so. And don't forget about the area beneath the cushions! If your TV remote can get stuck down there, think about what else there might be.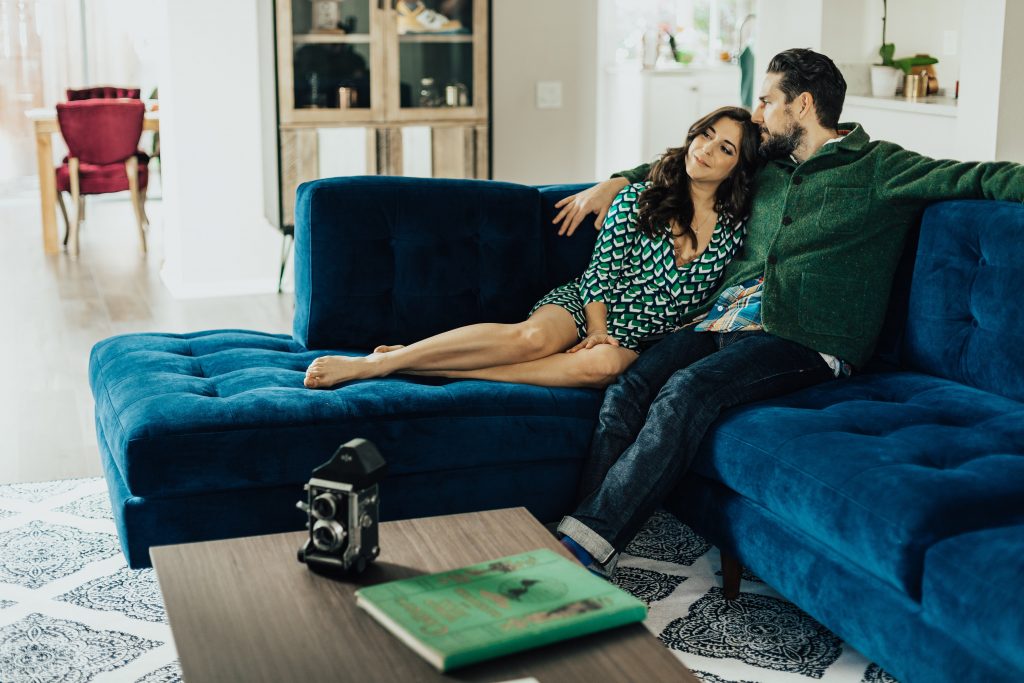 Lexington 2pc Sectional Sofa in BLUEBERRY
Photo by: @outlinedcloth
Clean Spills ASAP
Earlier we mentioned how good it feels when you receive your brand new sofa. But one of the worst feelings in the world is when you accidentally spill something on your sofa. We're here to help minimize your panic! If you spill something, follow these steps to clean it up:
Use paper towels to soak up any standing liquid. If applicable, unzip the cushion cover and remove it.
Dampen a microfiber cloth with household rubbing alcohol (70% Isopropyl Rubbing Alcohol is a good choice. Commercial chemical cleaning products are not recommended).
Gently rub the affected area with the microfiber cloth. Pat dry with a second cloth or more paper towels.
Repeat this process until the liquid and/or stain has fully lifted. Voila!
The above process works 99% of the time. If you have a very serious stain that won't come out, our recommendation is to take the cushion cover to a dry cleaner! They are able to professionally clean the cushion cover for you. Even in the worst case scenario, we can always replace individual cushion covers. Reach out to our support team at hello@apt2b.com for more info!
Pet Hair? No Problem
We love pets. But we don't love cleaning up their hair. That's why we only upholster our sofas with fabrics that are designed to be easy to clean, especially when it comes to pet hair. If you know that pet hair is going to be a major concern, we strongly recommend choosing one of our Plush Velvet or Microfiber fabrics! Pet hair wipes right off of this material. Don't love the feel of velvet or microfiber? No problem! A pet hair removal brush is inexpensive and so easy to use without damaging your fabric. This is a great tool for any of our other fabrics. Use it as needed and your sofa will look phenomenal!
Bonus! Order free fabric swatches now and test them out against pet hair!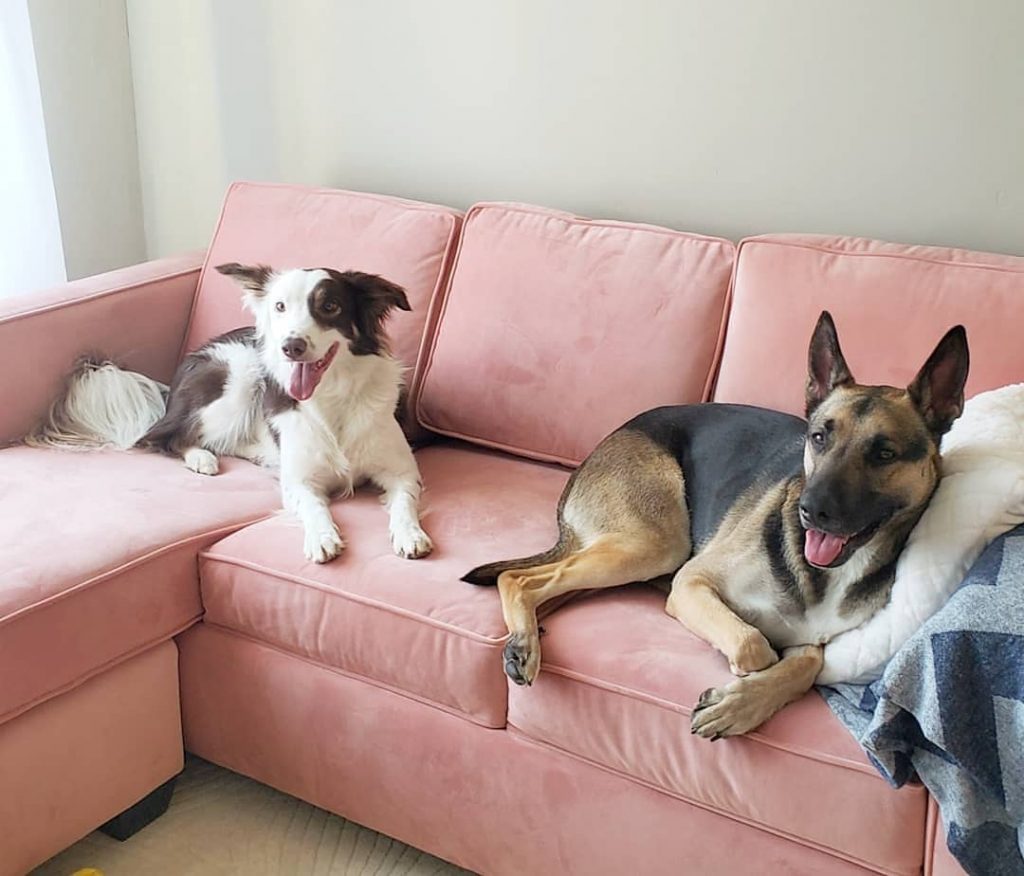 Catalina Reversible Chaise Sofa in BLUSH VELVET
Photo by @jin.and.whiskie
Shave Your Fabric
Our fabrics are all extremely durable and designed to last for years and years of continued use. But it's possible that your fabric will experience "pilling" over time. And that's perfectly fine! A little pilling is not indicative of poor fabric or a decrease in performance. It does not mean that your sofa's life is over. In fact, cleaning up a pilling fabric is extremely simple! And all you have to do to get rid of pilling is to shave your fabric. Yep, you heard that right. You can use a manual shaver or an electric fabric shaver. Both options work great! Just shave the affected area and your sofa will look like new again. Truly.
Bonus! You can also use a fabric shaver on your clothes, bedsheets, or any other fabric items you might own. They can add years of life to your favorite fabric items!
Final Thoughts
Sofas are the workhorse of your home furniture. No matter what, your sofa is going to need some basic upkeep and maintenance. It doesn't have to be a big chore if you take care of the basics on a regular schedule. A little bit goes a long way! Follow these sofa care tips and you won't have to buy a new sofa for a very long time – unless you want to, of course ;)
Featured Photo by: @tori_deal
Need further sofa care and cleaning tips? More to read:
---