Let's be honest – everyone wants an instagrammable living room. And one of the key elements for that Instagram-ready living room is a curated and decorated coffee table. It gives a true sense of completion to the space and really makes it seem like you've got your life put together (even if the rest of it is in shambles). Styling a coffee table is quick, easy, and can usually be achieved with the items that you already own. Resident Apt2B designer Kyle Schuneman shows you just how easy it is to make style your coffee table. But you'll have to choose the right Instagram filter on your own.
Tip 1: Create Zones For Your Round Coffee Table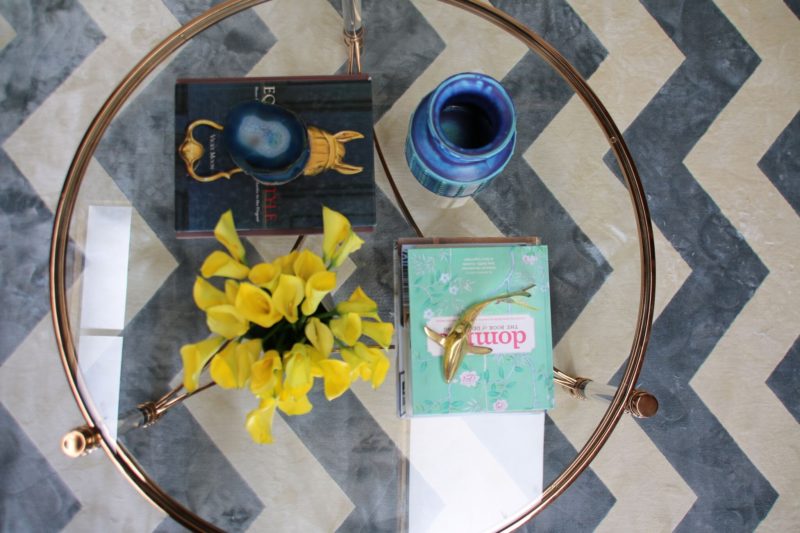 Whether you have a round coffee table or a rectangular coffee table, the first step toward styling it is to divide it up into zones. Let's start with a round coffee table like the Bossier Coffee Table. You'll want to create 4 distinct, equal zones.
Zone 1: Greenery. Place a vase with flowers, a plant, or other types of colorful greenery in this zone to give the coffee table a sense of life and freshness. Plants are also easy to swap out depending on the season so that your coffee table never looks stale.
Zone 2: Sculpture. Have a spare sculpture lying around your house? The coffee table is the place to put it. The sculpture can be a variety of items like a bust of your favorite president, an old film camera, or something as simple as a candlestick.
Zone 3: A stack of books. Choose large, flat books for this zone. These are the true coffee table books. The ones that you consider buying at the book store until you notice they're $75. Those ones. 2 or 3 is perfect for this zone.
Zone 4: Another stack of books. For this stack, you'll want to take about 4 or 5 standard-sized books and create a stack out of them. This will help create some nice height variation and let your guests know how well-read you are.
Tip 2: Vary the Height and Textures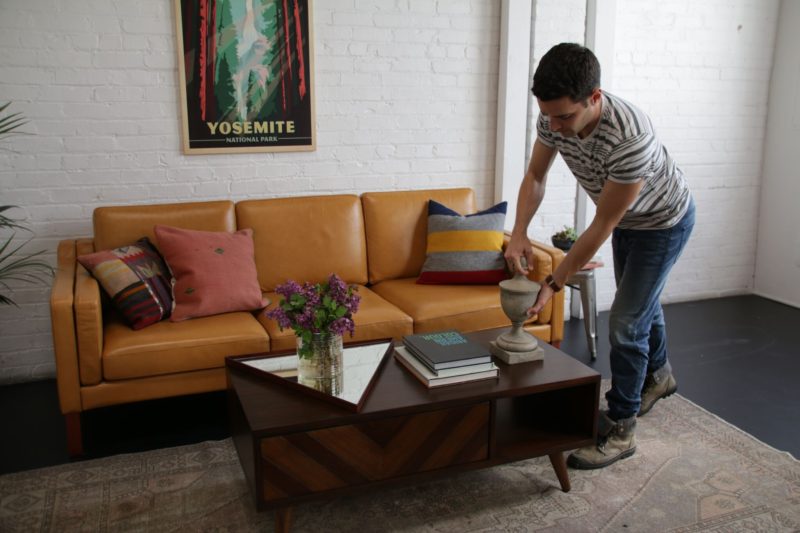 When curating your coffee table you'll want to use a variety of heights and textures between the zones. If your stacks of books are the same height as your sculpture then the table is going to feel cluttered as opposed to crafted. A sense of contrast between glossy items and matte items will also help distinguish between the zones. Contrast is an important component in almost all areas of style and the coffee table is no different.
Tip 3: Create Zones For Your Rectangular Coffee Table
Have a rectangular coffee table like the Vanowen Coffee Table? The same rules for a round coffee table apply here. The only difference is that you'll want to divide your coffee table into 3 zones as opposed to 4. Did you guess which zone we're getting rid of? If you guessed Zone 4 then you're right! Who needs two stacks of books when you only need one? Follow "Tip 1" and stop as soon as you finish with Zone 3.
Tip 4: Add Decorative Items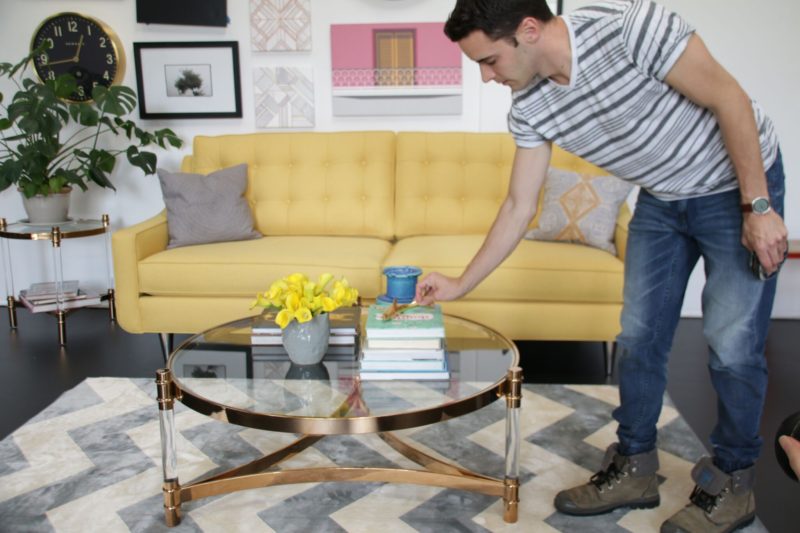 Now that you've got all of your coffee table basics laid out into zones you're ready for the finishing touches. Add a few of your favorite, small decorative items to give your coffee table some personality and some pops of color. These last bits of decoration will help make your coffee table feel unique and can be great conversation starters. Have a trinket from a recent trip? Put it on your coffee table! Have something that you can't figure out where to put? Put it on your coffee table!
Extra Tip:
Valencia is a great Instagram filter that is perfect for taking style photos of your home and your coffee table.
Be sure to take pictures of your finished furniture and send it to us at Apt2B using #myApt2B! We can't wait to see what you come up with!
If you want some more tips and inspiration, check out our other #MakeItHome posts:
DIY Chalkboard Racing Stripe Chair | #MakeItHome
How to Style A Bookcase | #MakeItHome
For 15+ beautiful cheap DIY coffee table ideas check out this article by Homesthetics.
---