When it comes to choosing the right sofa bed, there's one factor that trumps the rest: comfort. A good sleeper sofa needs to be comfortable when guests are sleeping on it, as well as being comfortable for everyday use. But it can be very difficult to find a convertible sofa bed that's comfortable and stylish. That's where we come in! We'll answer all your most frequently asked sleeper sofa comfort questions. That way you can sleep easy knowing you made the best choice possible!
What's The Best Sleeper Sofa Mattress?
Not all sofa bed mattresses are created equal. The good news is that both of the sleeper sofa mattresses that we offer are top-of-the-line! We offer a 5.5″ thick Deluxe Innerspring Mattress with Pillow Top as the standard option in all of our sofa beds. This mattress is perfect for people who only plan to use their sleeper sofas a couple times per year. It's a nice thick mattress with an added layer of comfort on top. Have extended-stay guests or frequent visitors? Upgrade to our Memory Foam Mattress! Memory foam sleepers hold their shape incredibly well, which means day in and day out comfort for your guests.
Deluxe Innerspring Mattress: Soft and comfy. Perfect for people who only plan on using their sleeper mattress sparingly for the occasional guest.
Memory Foam Mattress: Firm and extra durable. Great for people who will use their sleeper sofas frequently or who intend to have long-term guests.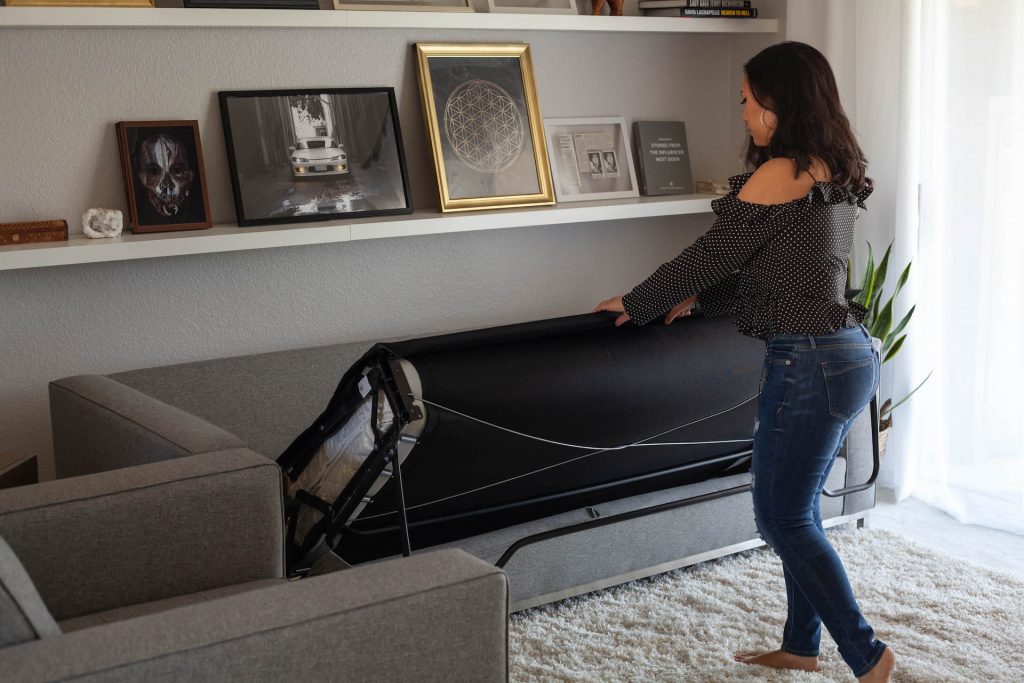 Fillmore Queen Size Pull Out Couch in MOUNTAIN GREY
Photo by @theballeronabudget
Read more about choosing the right size sleeper sofa mattress!
How Can I Make My Sofa Bed Mattress Better?
Want to really go the extra mile with your sleeper sofa's comfort? If you want to guarantee a comfortable pull out couch experience, then you need to pull out all the stops. The first thing to do is make sure that you have great sheets for your convertible sofa. A nice comforter, real pillows, and cozy sheets go a long way toward improving the sofa bed experience. You can also invest in a memory foam topper. Even with our memory foam sleepers, an added layer of memory foam can be a real comfort upgrade.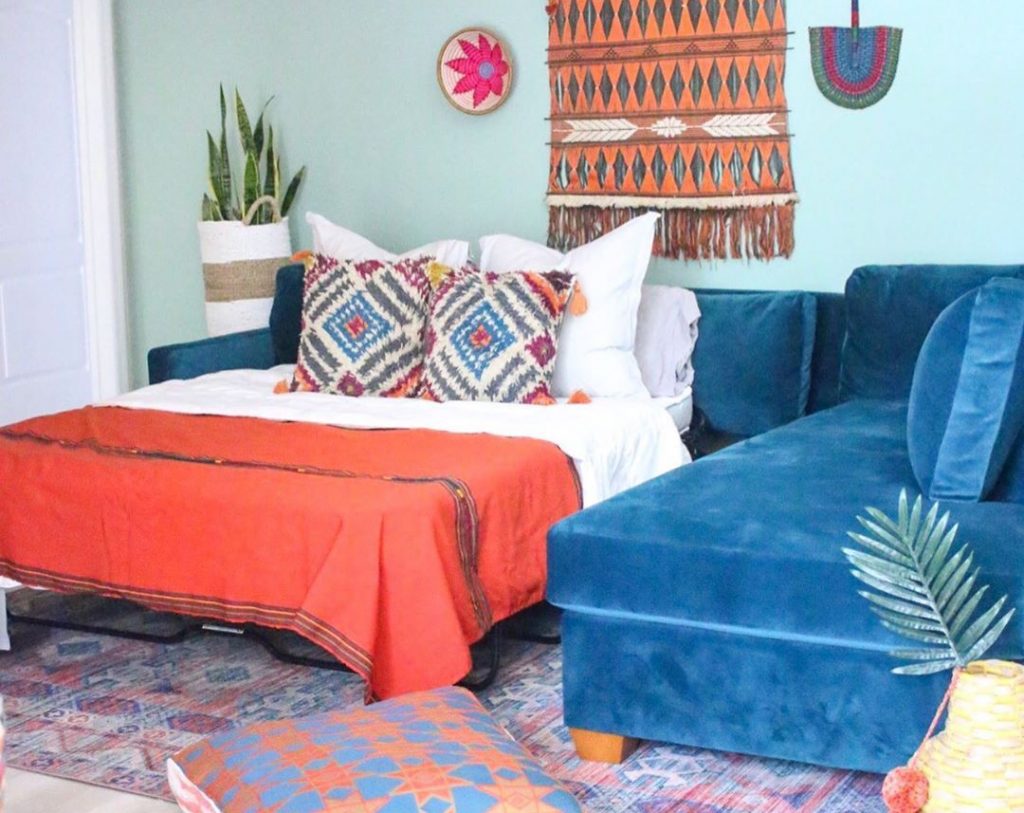 Tuxedo 2pc Sleeper Sectional RAF in PEACOCK VELVET
Photo by @mango_manor
Are Sleeper Sofas Comfortable To Sit On?
Short answer: yes! Long answer: absolutely! All of our pull out couches feature the same incredibly durable, comfortable seat cushions that are found on all of our sofas. The construction of a sofa bed is slightly different than a standard sofa since we have to fit an entire mattress and mechanism inside. This makes our sofa beds are marginally firmer than our traditional sofa offerings. But thanks to our 2.0 high density foam cushions you'd never know that you were sitting on a sleeper sofa! Truth be told, you won't be sacrificing comfort when you choose one of our Made in the USA sofa beds.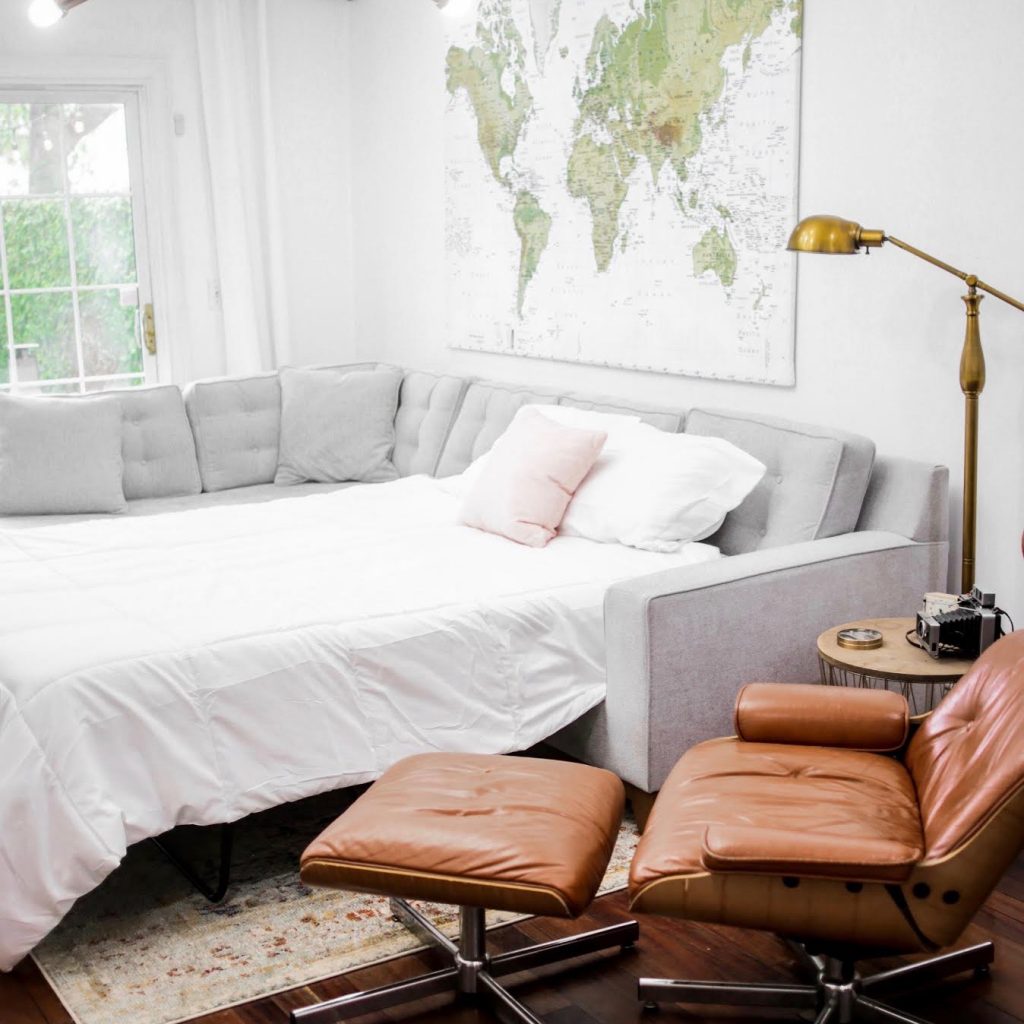 Read more about choosing the best sleeper sofa details!
Final Thoughts
If you want the most comfortable sleepers then you've come to the right place. Our high quality Made in the USA construction, top-of-the-line mattresses, and stylish selection are unbeatable. Check out our full collection of comfortable sleeper sofas now! Need more answers to sofa bed questions? Check out our Ultimate Sleeper Sofa Guide!
Header Photo by @theballeronabudge
---