UPDATE: After our inboxes were flooded with 1,000+ nominations (and several tears cried on behalf of our own team while reading through), we're announcing the sofa recipients. Get ready to meet these healthcare heroes and read their beautiful nominations from friends and loved ones.
Today is Pay It Forward Day and, in this current crisis, there's no one else we thought worthy enough to receive a little good news and good favor than our heroes in healthcare. We put out a call for nominations earlier this month and you guys CAME THROUGH. 1,063 names were sent our way (some multiple times by numerous people) with stories that would make a concrete wall tear up with emotion and gratitude.
Before revealing our recipients, we wanted to give a sincere thank you: to those who nominated, to those being nominated for their work, and to all the unnamed healthcare heroes making immense sacrifices. Thank you. In an effort to continue to show our gratitude, we are extending free White-Glove Delivery to any first responder and healthcare worker who makes a purchase by May 31, 2020. Just reach out to our helpful furniture rockstars who can walk you through the process.
Okay, enough blubbering from us. Let's meet our amazing recipients!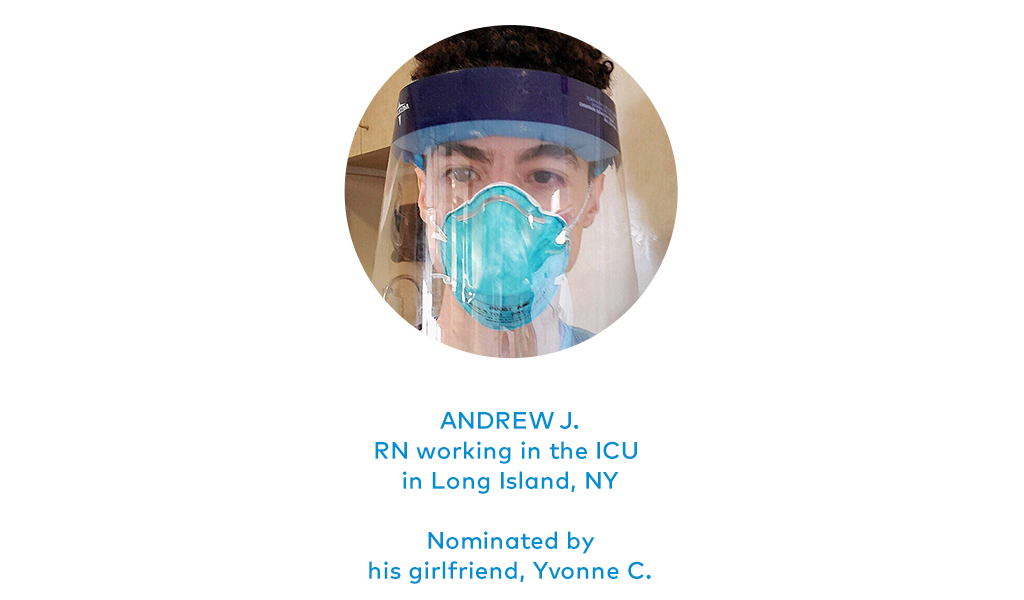 "Andrew and I are college sweethearts and we both graduated from nursing school in 2013. I graduated with my master's degree just before the pandemic hit. Unfortunately, my new job fell through due to the pandemic. Andrew has worked endlessly to support me through school and now during this pandemic. Financially, life has not been easy these past few years and we believed our sacrifices would have all been worth it this year. However, with coronavirus, that simply has not been the case. We planned a wedding for this year, which of course, has been de-railed. And now we are spending the next 2 months apart (the longest we will have ever spent apart) as Andrew has left our home in NC to go help out in NY. He is caring for the COVID patients in the ICU at NYU Winthrop. He comes home mentally and physically exhausted. He goes through his 12-hr shifts hungry and dehydrated because it's too time-consuming to don and doff all the PPE just for a drink of water or a snack. He has told me he goes through a shift without even one sip of water. The constant handwashing has left his hands raw, red, and tender. Even though he is staying with family in NY, he is isolated and cannot interact with them for fear of spreading coronavirus. While many of us sit in the comfort of our homes, he is hard at work, sacrificing his health and risking his life for others. He is so humble and selfless that he never asks for help or anything in return. He has the true heart of a nurse and it would be amazing if he won an Apt2B sofa. He deserves to sink into a comfy couch and kick his legs up more than anyone I know. We have been trying to save money for years now for a cozy couch but it just hasn't been possible. I know this would be the most amazing gift for him and he would be so appreciative."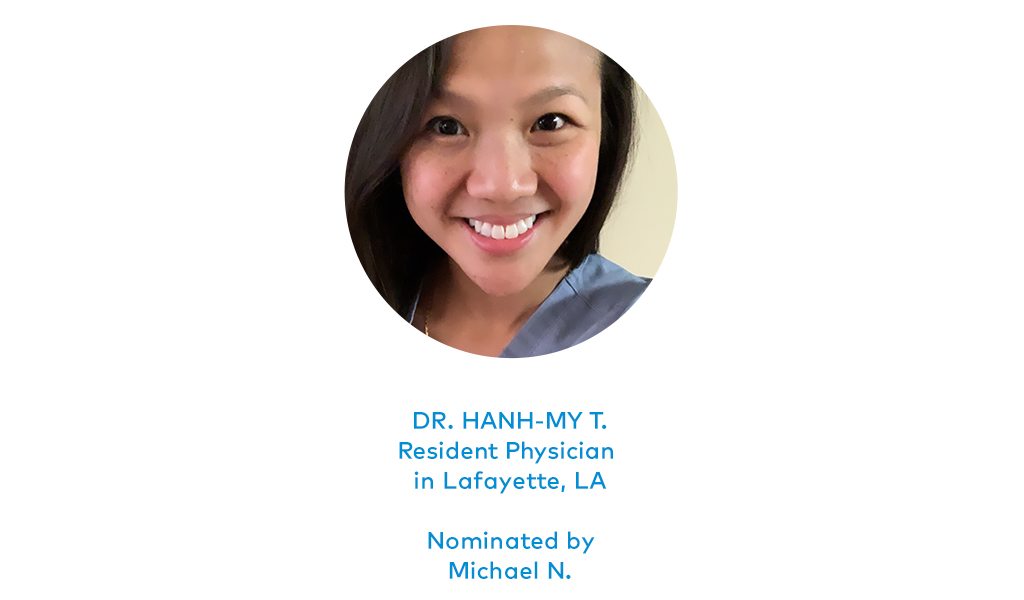 "Thank you for joining the effort to give back to heroes and spreading happiness in a time like this. Your action will make a world of a difference to someone, and I am grateful for this opportunity to share with you my nomination. She is an awesome human all around and deserves to win a new Apt2B sofa. As a resident physician, she already works an average of 80 hours a week. It amazes me that she does it all without ever complaining. On top of that, she has an autoimmune disease and still volunteers to work the ICU shifts without any hesitation during this pandemic. Her sofa is practically her bed 80% of the time because she crashes on it almost after every shift. I wish I could attach pictures of her sofa because it is beyond worn down. Please consider her for a free sofa from Apt2B. I would love for her to be delivered good news. Thank you for your time."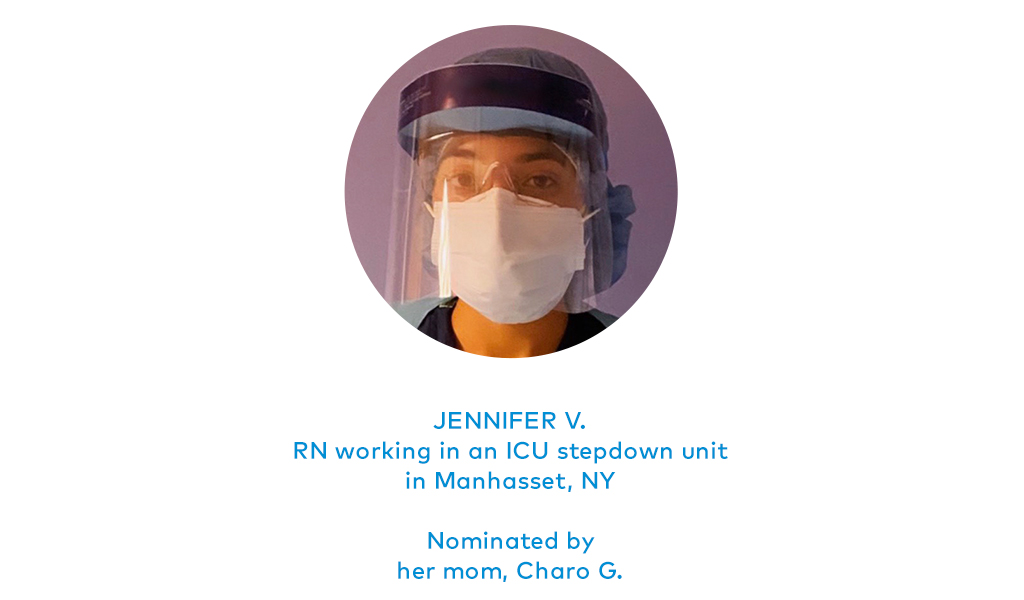 "My daughter is a registered nurse in Long Island, New York. She is currently working tireless hours in an all COVID-19 hospital, in an ICU stepdown unit. She is on the frontline helping the sickest of the sick. My daughter gets up every day on her workdays and nervously prepares for not only being there for her patients and giving them exceptional care during this difficult time but also for the possibility that she can get the deadly virus from a patient and bring it home to our family. She's especially always worried about getting my 87-year-old mother who lives with us sick. My daughter is only 24 years old and is the only one working at home right now. She has been supporting and holding it down in the house. I see the tiredness, overwhelm, and anxiousness in her face. She is mentally and emotionally drained but she never complains because she loves her career and knows that these patients need her now more than ever. She is not only a hero at work but she is MY hero. My daughter wanted to buy new couches for the house since ours are damaged after all of this is over and if she wins this, she will be so happy and will save some much-needed money for all the nonstop bills. I would love to support her a little extra by brightening up her rough days so she can see how loved and appreciated she is by so many people for everything that she is doing."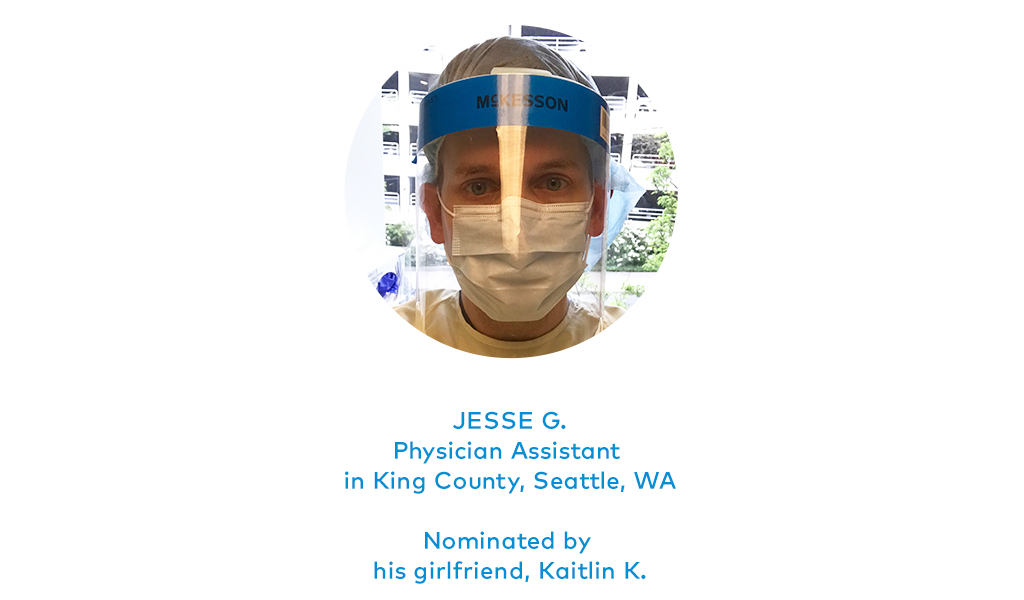 "King County was the first place to get hit with COVID-19 in the US. Jesse works in primary care, and I am in urgent care. We have both also been working in the COVID testing clinics and the community COVID respiratory clinics. We have the same sofa that we've had since we were living together when we were students, and with the recent wear and tear from taking turns sleeping on the couch, it is literally starting to fall apart. Jesse is so selfless in every aspect of his life. He is treating COVID patients, and also always offering to sleep on the couch so we can try to keep from exposing each other in our studio apartment. I know he would be absolutely thrilled to win a new sofa!"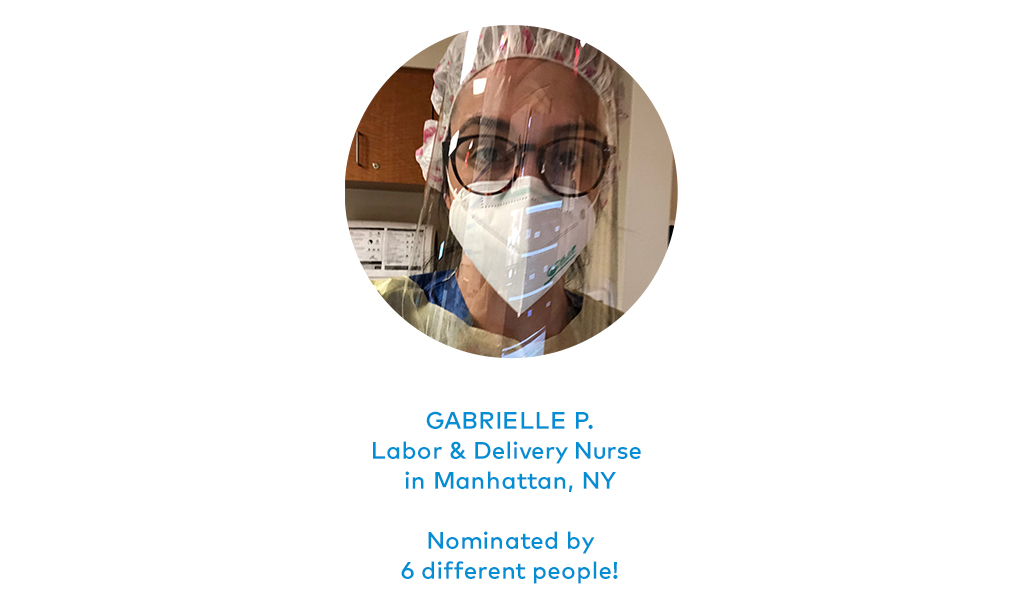 "I would like to nominate my daughter. Gabrielle works as a full-time labor and delivery nurse at one of the busiest hospitals in NYC. Over half of her patients are COVID positive. She leaves her own, sweet son, just 13 months old, to help other moms give birth in the middle of this pandemic. She provides comfort and a sense of safety to birthing moms. She helps the moms find the joy they so deserve, even as she herself is scared and sad. Gabrielle is on the "front lines." both she and her baby are at risk. Gabrielle never lets her patients know her fears and shows up for them, day after day, as a committed healthcare provider. Gabrielle lives in a small home with just one old couch which is shared with her husband, 70lb hairy dog, and her baby. She is not able to purchase a new couch for herself, due to overwhelming student loan debt, which she took on to do the job she loves, unfortunately, this job now threatens her health and well being. It would be so wonderful if Gabrielle could come home after a day of helping others and snuggle up on a new couch with her own beautiful baby. This opportunity would help to recharge her as she gets ready to do it all again!" – Mary P.
"This has been one extraordinary year for my cousin Gabrielle. She had her first baby, bought her first home, and earned her nurse practitioner license all while working full-time as a labor and delivery nurse. What amazes me about my cousin is that she is facing the COVID-19 pandemic with the same grace and commitment to service that she had during these joyous times. I would love for you to chose my selfless cousin to receive a New Apt2B Sofa so she can have a special place to recharge her spirit and reflect on the blessings in her life as she continues to serve the women and babies in her care." – Gabrielle's cousin (no name provided)
"Gabi is a labor and delivery nurse at Mt Sinai Hospital. She leaves her husband and 13-month-old baby 36-40 hours a week to treat COVID patients. She is often given the incorrect mask to handle these patients and has been so so stressed about carrying this disease home to her sweet boy and husband. She can no longer have her mother over while she cares for these patients until there is a cure. And her mother is her best friend. She could use a beautiful couch like yours to come home to, put up her feet, and rest." – Michelle
"Gabi is selflessly going into work every day at Mt Sinai where she is under-protected and overexposed to COVID. She does this knowing full well the risks that it poses to herself, her husband, and her baby. She loves each patient." – Dustin
"I'd like to nominate Gabrielle P. for the work she does as a nurse. She takes care of so many who need help and continues to go to work on a regular basis." – Nicole
"Gabrielle is not only a dedicated labor and delivery nurse at Mount Sinai in Manhattan but she's also a loving wife and new mom of a one-year-old son. She lives in the suburbs in order to raise her son close to family and commutes to Manhattan to, along with her husband, provide for her family. Since the COVID-19 pandemic outbreak began, Gabi has been working 12-hour shifts, commuting 3-4 hours each day and living in fear of contaminating her son when she finally gets home. It would be so nice to know Gabi, her husband and son would be able to cuddle together on a new sofa at the end of her grueling shifts. Thank you for your consideration." – Anne S.
BUT WAIT, THERE'S MORE!
We also received a few nominations not just for individuals but also for hospitals themselves, specifically lounges: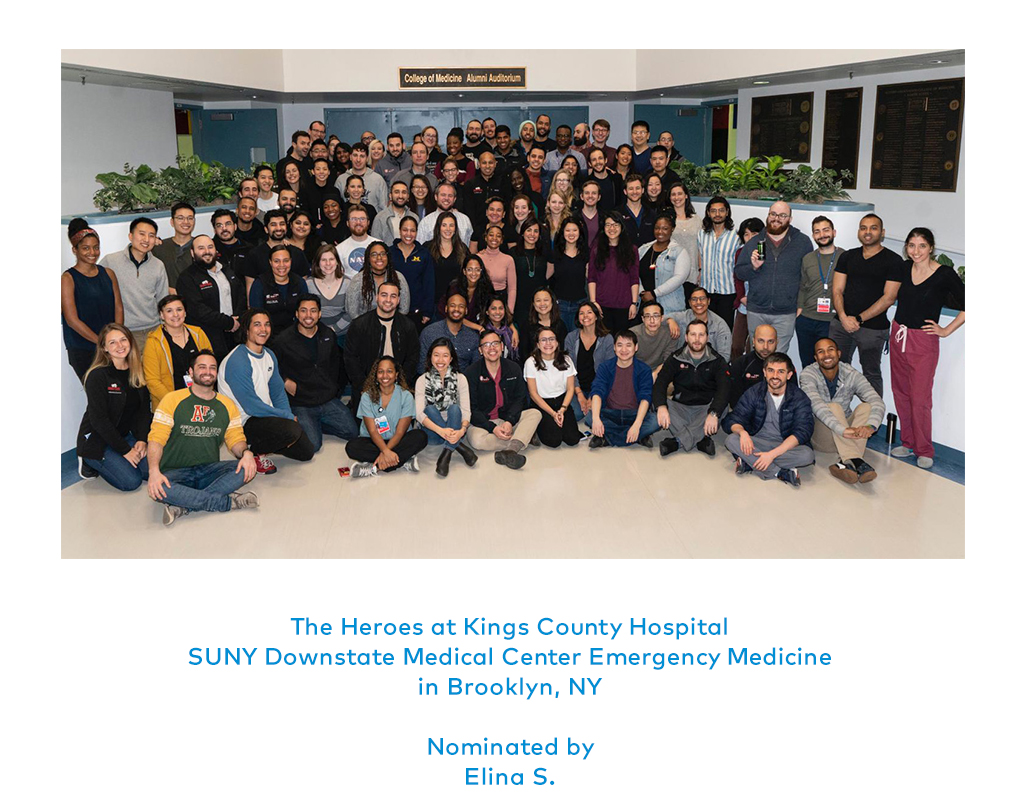 "I'm Tiffany and I'm an emergency medicine resident physician in NYC. My hospital, Weill Cornell Lincoln Medical Center, has been one of the hardest hit in the city by COVID, as we're the busiest emergency department hands down in all of NYC! We've made headlines in the New York Times and New Yorker for our efforts in COVID. That being said, WE NEED A COUCH! We are a county hospital and are serving the underserved populations of the South Bronx. We don't have a fancy name like Mount Sinai or NYU, but we see the most patients in NYC per year. This is our resident lounge right now. It's so sad. There are 50 of us, yet we've got like five chairs for all of us. We would love a real couch! Please consider us little guys and help our resident area be more comfortable!"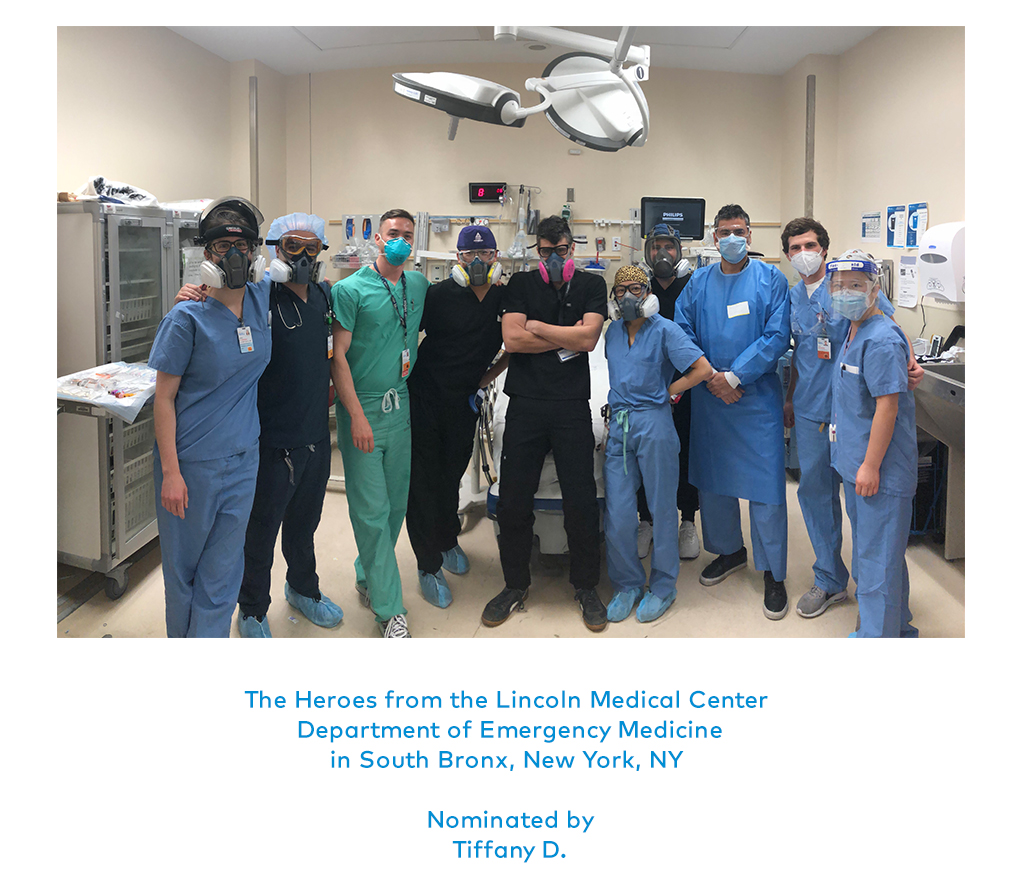 "My name is Elina and I'm an Emergency Medicine Doctor in Brooklyn, NY. I saw your post with your very generous offer to donate a sofa to healthcare workers. I am part of a large emergency medicine residency program in Brooklyn, NY, currently at the epicenter of the COVID pandemic. Our program has 100 residents and as many attendings working tirelessly to help our patients. I wanted to nominate our residency for your consideration. We have a resident lounge that our residents use for mental health brakes and food breaks, which is sadly very outdated in its decor and furniture. I would love to be able to spruce it up and make it more comfortable for our hardworking residents. I realize that your post said to nominate one person, but I'm hoping you will consider our program as a whole, as your gift of one sofa can stretch so much further and bring joy to over 100 hardworking physicians."
Again, thank you to everyone who nominated, all of those who were nominated for their selfless work, and, of course, everyone in healthcare keeping us safe and cared for. We can't wait to share more stories and photos from when our recipients receive their sofas so stay tuned.
---
04.13.2020
Like the sunlight cutting through the fog that is this COVID-19 pandemic, there's been a lot of good happening around us in spite of it all. Every day, we wake up with immense gratitude for those out there on the front lines of this thing, fighting the good fight. Putting themselves in harm's way for the sake of our welfare. Man, that's some good stuff, folks. Seeing all the social stories of cities and towns giving nightly applause from open windows to healthcare workers coming home is enough to keep you going when things feel rough.
This dose of happy is palpable and putting us in the mood to join the efforts of all those giving back right now. Furniture is what we do best here at Apt2B, so furniture is how we're inspired to lend support to those deserving of it in these times, but we need YOUR help.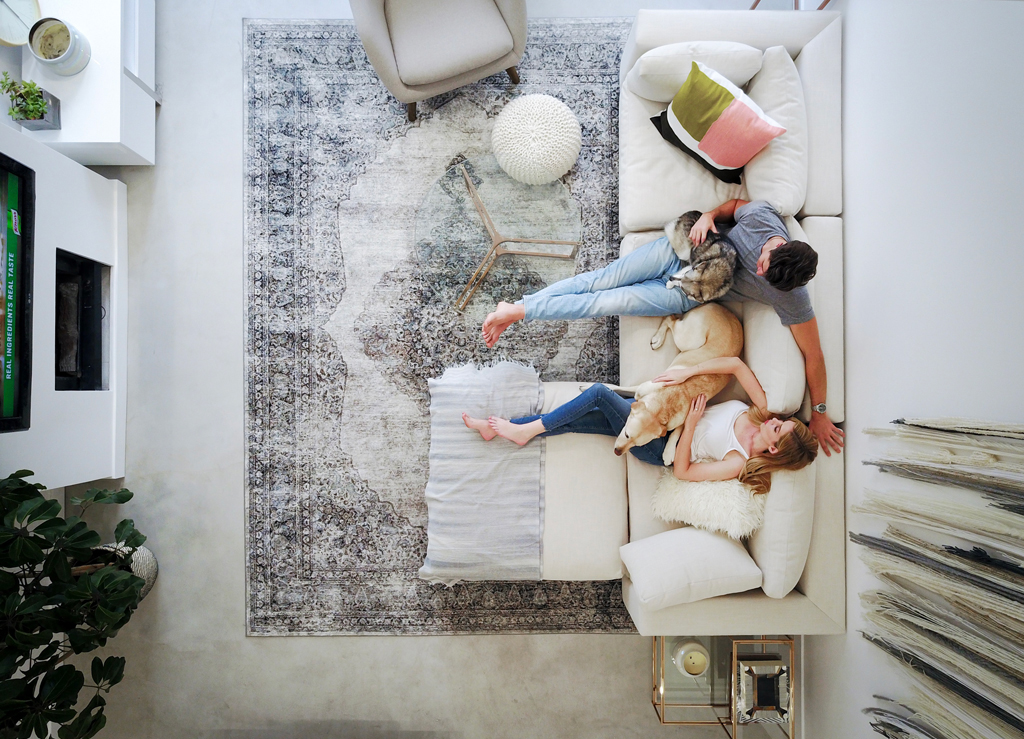 photo courtesy @parkeryorksmith
Home Care for Healthcare Nomination Event
Know a healthcare worker (doctors, nurses, techs, hospital janitorial...they all count in our book) who could use some good news right now in the form of a free sofa? Well, we're giving away five (valued at up to $1,600 each) in the name of home care for healthcare. But we need nominations! That's where you come in. From now until Wednesday, April 22, send us an email to nominate@apt2b.com with the person's full name, home address and email address you want to nominate along with a few sentences on why you think they're awesome and deserve to win a new Apt2B sofa of their choice. We'll hand-select five donees to be announced on Tuesday, April 28 in celebration of Pay It Forward Day.
We can't wait to hear all about these amazing people doing amazing work during these trying times. See you in our inbox! 
*Apt2B reserves the right to select donees for the Home Care for Healthcare event, with a donation value of up to $1,600 plus taxes and delivery. Open to legal U.S. residents who reside in the contiguous United States. Must be 18 years of age or older to qualify. Enter by email submission at nominate@apt2b.com during the Event Nomination Period 4/10/20 – 4/22/20 by nominating an individual that you believe needs and deserves a new sofa. On or about 4/23/20, Apt2B will select five nominees to receive a new Apt2B sofa, each with a value of up to $1,600. 
---