Seat height? Seat depth? Pillow height? There are lots of dimensions to consider when choosing the best sofa for your home, apartment, or small space.
But how do a sofa's dimensions translate to personal comfort?
The good news is that there are only a couple of key dimensions to take into account when picking the perfect sofa. Watch as designer Kyle Schuneman explains what each and every sofa dimension means and how it determines your personal comfort! That way you can rest easy knowing that you made the right sofa choice.
The Breakdown
Not able to watch the video because you're currently at work? No problem. Here's a breakdown of the sofa dimensions that matter!
Seat Height
Seat Height is the measurement from the floor to the top of the seat cushion where you'll be sitting. This dimension is taken with the legs (or base) of the sofa included. In many ways, a sofa's seat height should be similar to the length of your legs from the bottom of your feet to the back of your knees. For maximum comfort, your legs should be able to rest squarely on the floor when you're sitting on the sofa. A sofa with a tall seat height is ideal for people with longer legs. If you have shorter legs then it's wise to search for sofas that have a shorter seat height. The lowest seat height we offer is 15″h on our Hillandale Collection. Our tallest seat height is at 20″h, which can be seen on our Lexington Collection.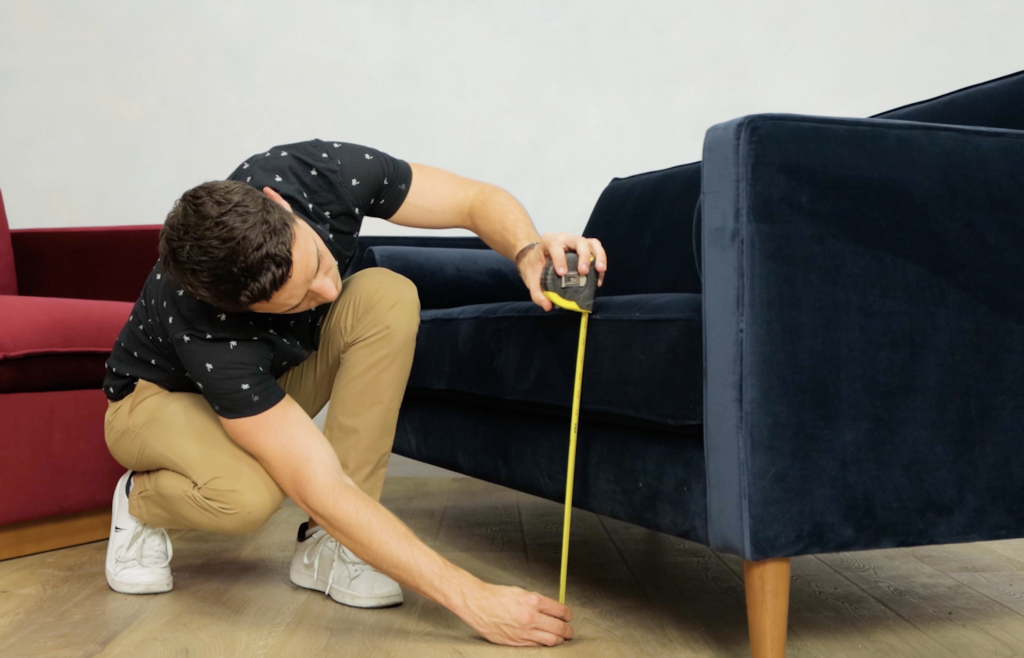 The Delilah Sofa in ECLIPSE VELVET has a seat height of 18″h, which is average for sofas
Seat Depth
Seat depth is the measurement from the front of the seat cushion (where your knee will be bending) to the front of the back cushion (where your back will be resting). If you're on the shorter side, consider a shallow seat depth so that you knees can bend while sitting. It's important to note that you can always shorten your seat depth by adding toss pillows, whereas you can never increase your seat depth. This means you can still choose a deeper sofa if you like the option of a bigger seating area, even if you're not a tall person. Deeper seats are great for lounging while shallower seats are good for more formal spaces like an office or study. A shallow seat depth is about 22″d like our Delilah Collection. Our Olivia Collection has a 25″ seat depth, which is on the deeper end of the spectrum. If you're on the fence, go for a slightly deeper sofa so that you can make adjustments using toss pillows.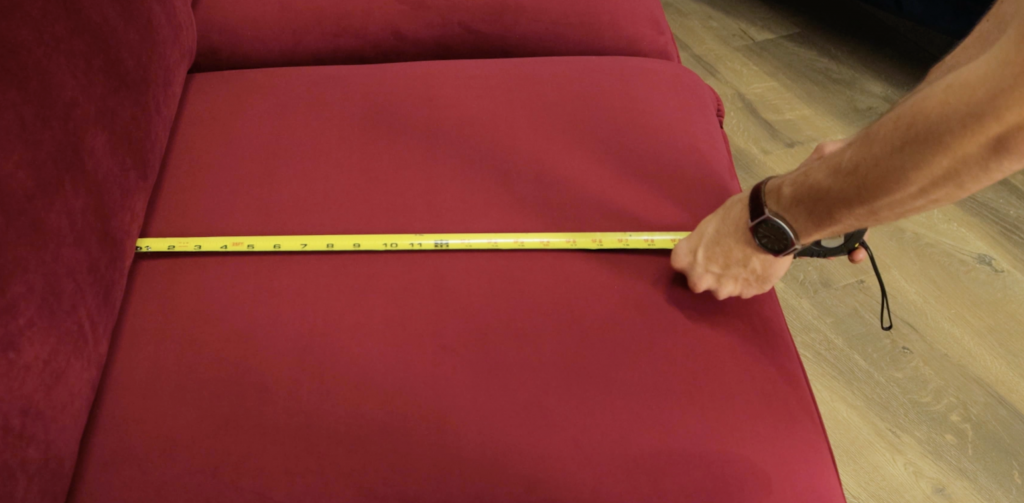 The Olivia Sofa in WINE VELVET has a seat depth of 25″h, which is deeper than the average
Pillow Height
Pillow height is the dimension from the floor to the top of the back cushions. This dimension determines how much back support you'll receive from the back cushions. Taller pillow heights will be able to support you all the way up to your neck while sitting. Shorter pillow heights might only provide support halfway up your back. And some sofas have a tight back, which means that they don't have loose back pillows at all. If you like resting your arm along the back of your sofa then consider a sofa with a shorter pillow height. If you like feeling completely supported then go with a pillow height on the taller side. The Bannister Collection has very tall pillow heights at 38″h. The Delilah Collection has shorter pillow heights at 33″h. And if you don't see a pillow height dimension listed then that means the sofa you're looking at has a tight back instead of loose back cushions.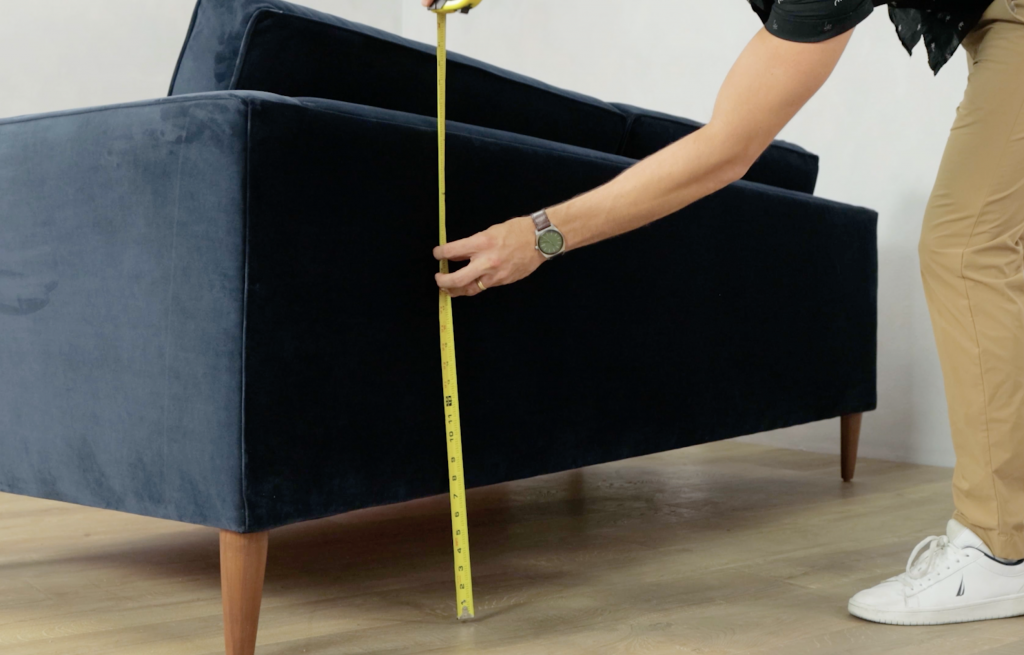 Pillow Height is measured from the floor to the top of the back cushions
The Takeaway
15″h to 17″h seat height is best for shorter individuals.
18″h to 20″h seat height is best for taller individuals.
21″d to 23″d seat depth is best for shorter individuals or people who like an upright sitting style.
23″d to 25″d seat depth is best for taller individuals or people who like a "loungey" sitting style.
Pillow height is more of a personal preference. Shorter pillow heights result in a more upright sitting experience. Taller pillow heights allow you to recline and still feel supported.
Check out all of our Furniture Fundamentals videos so that you can pick the best sofa for your small space, apartment, or home!
---