Sleeper sofas are the must-have piece of furniture for the modern home. That's because a dual-purpose sofa is the best way to maximize your space, whether you have a small space apartment or an entire townhouse. But that's not the only reason! Let's take a look at the three main reasons why everyone is falling for sleeper sofas.
Value
If there's one truth in the world it's that everyone loves a good value. And great value is exactly what sleeper sofas offer. Rather than spending money on a sofa solution and a bed solution, a sleeper sofa combines both into one affordable package. Forget having to deck out a whole guest bedroom! Read a book, watch TV, or kick back on the sofa during the day. Then transform the sofa into a bed when it's time to sleep. If you want the best bang for your buck then a new sofa bed is the budget-friendly answer.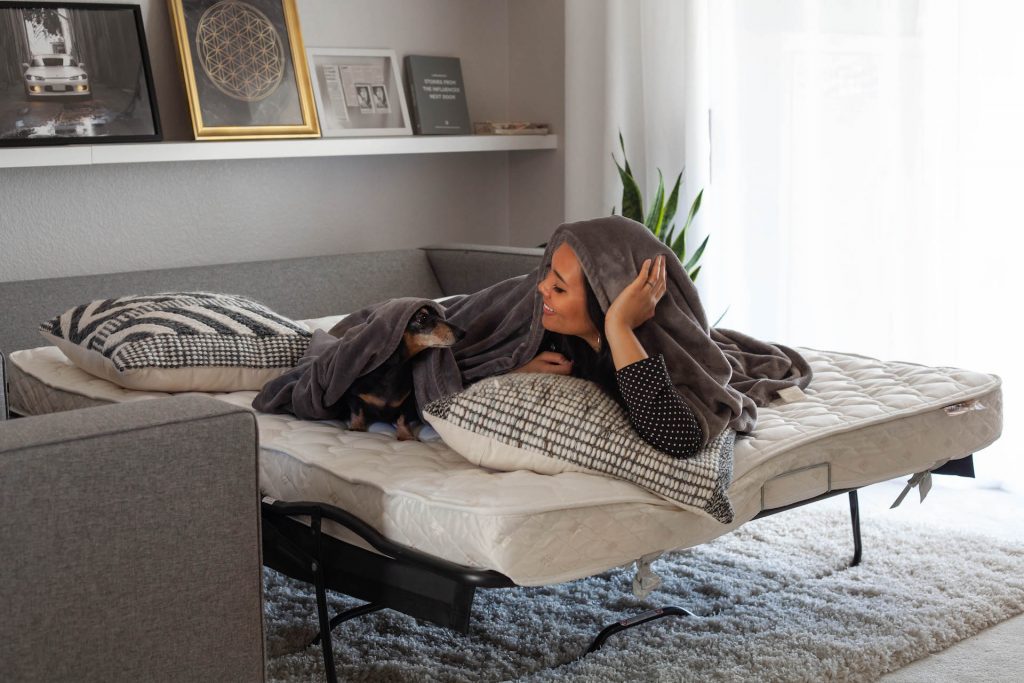 Fillmore Queen Size Sleeper Sofa in Mountain Grey
Photo by @theballeronabudget
Form And Function
A sofa bed is not only the best of both worlds when it comes to value, it's also the perfect blend of form and function. You used to have to make a choice between comfort and style when choosing a sleeper sofa. You'd always end up sacrificing one for the other. Not anymore! We've taken our most popular sofa styles and added a top-of-the-line sleeper mattress and mechanism. Choose either our 5.5″ thick deluxe innerspring mattress with pillow-top or upgrade to our memory foam mattress! Whichever you choose, you and your guests will have a comfortable night's sleep. Plus, you'll get the benefit of having one of our beautiful, built-to-order, Made in the USA sofas to look at during the day. No more trade-off!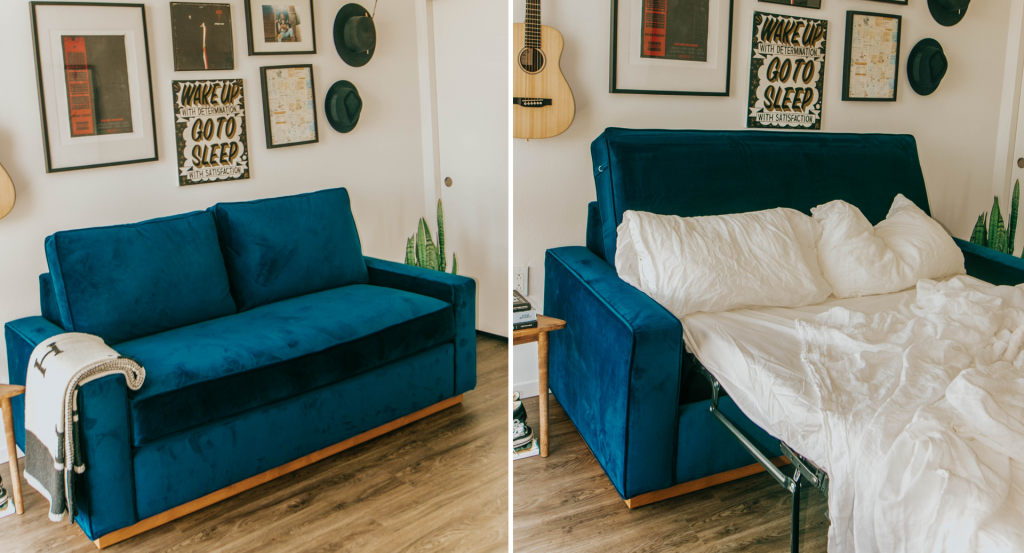 Harper Apartment Size Sleeper Sofa in Cobalt Velvet (with instagram filter)
Photos by @ajadang
Maximize Your Space
Sleeper sofas are the ultimate space-saving solution. No guest bedroom? No problem. No space for an air mattress? No big deal! Everyone needs a sofa, so why not have it fold out into a bed, too? A sofa bed allows you to transform any space into a bedroom in an instant. If you have a small space then there's no better way to accommodate overnight guests. Even if you have a larger home, you never know when you might need another bed. Buying a sleeper sofa is simply a no-brainer at this point.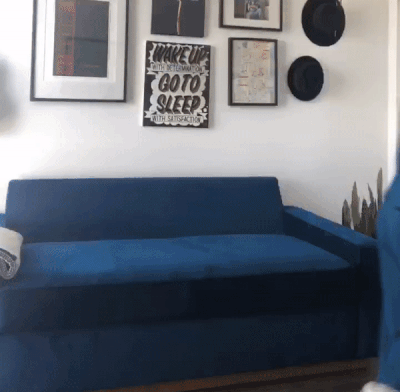 Harper Apartment Size Sleeper Sofa in Cobalt Velvet
Video by @ajadang
Choose Your Favorite
We have dozens of sleeper sofa options to choose from, all available in your choice of fabrics and shipped out with free delivery. Check out all of our sleeper sofas and sleeper sectionals! We even have Twin Size Sleepers and Full Size Sleepers for those small space apartments or other tight spaces. We custom build all of our sofa beds in our downtown Los Angeles factory (Made in the USA!) and even provide a limited lifetime warranty. Find your favorite now!
---