What do dresser drawers and the inside of your purse have in common? They can both easily become black holes of disorganization. That great new lipstick you got from Sephora? The second it goes into your purse, the chances of you ever finding it again have exponentially decreased. The same is true for dresser drawers. Sometimes you just want to find that one shirt that perfectly complements your neckline. You know it's buried somewhere deep in the recesses of your dresser, but good luck finding it without scattering all the contents of your dresser around your room. Thankfully our Apt2B resident designer, Kyle Schuneman, has some really clever, simple solutions for maximizing the organization of your dresser.
Watch the video to see all three of these creative dresser organization tips:
Featured in this video: Hampstead Dresser (no longer available)
Trick #1: The Desk-in-a-Drawer
Jewelry boxes are beautiful, but let's be honest, this day and age most people need a jewelry chest to store all of their accessories. Kyle has a great solution for this that will fit right in your drawers. You can use a utensil organizer as a convenient tool to help you store all of your jewelry! This trick is also a clever way to store an entire desk's worth of supplies. Let's face it, most office supplies are pretty ugly. Keep pencils, highlights, staplers, etc., tucked away and organized in a dresser drawer so that they're easily accessible but out of sight. This organization trick is especially great for dressers that have smaller top drawers like our Westmont Dresser.
Use a utensil organizer to wrangle desk supplies.
Trick #2: Clothing Cubbies
Having a place to store all your jewelry and desk supplies is great, but dressers are generally used for storing your clothes. Kyle has a really smart and unique solution for organizing your clothing, too. Most people stack all of their clothes on top of one another. This is fine if you want to spend every morning rooting around in your drawers like you're hunting for truffles. Wouldn't it be better if you could see all of the individual items that you're storing in each drawer? Now you can! Save your cardboard boxes (wine boxes with dividers are perfect) and line up the boxes in your drawer. Now each piece of clothing has its own space. You'll be able to see all of your clothing without needing to do any digging.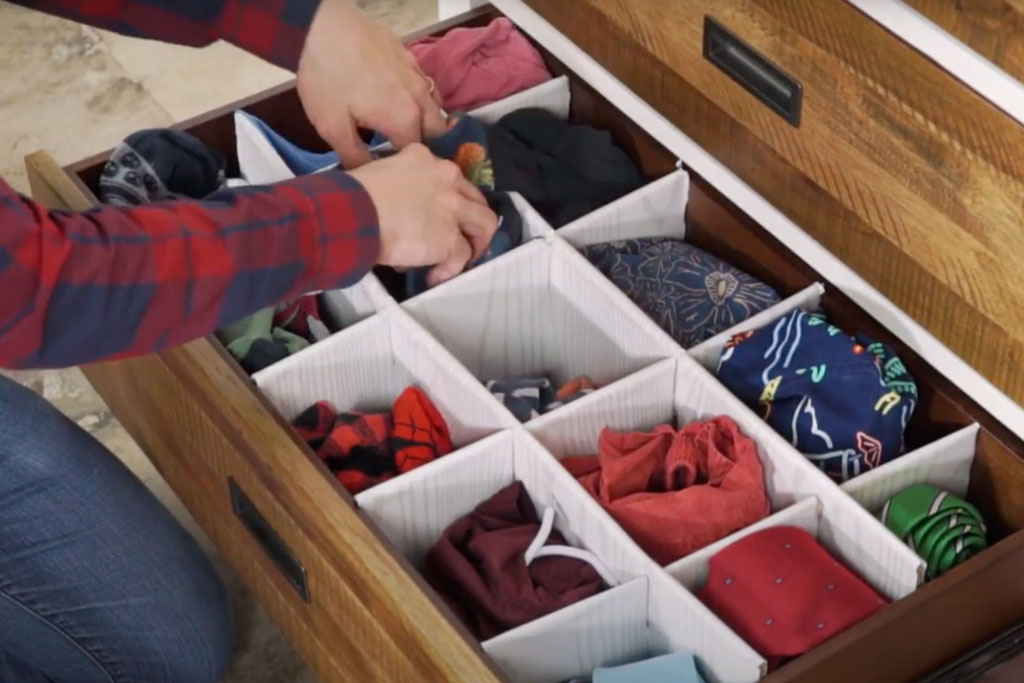 Trick #3: The Cable Wrangler
The average person now has an entire menagerie of electronics that they have to keep organized in their homes. And, naturally, each of these handy electronics has its own power supplies, USB cables, and headphones. Before you know it your bedroom is littered with loose cables that have a tendency to get all twisted and knotted in ways that simply defy the basic principles of physics. Luckily Kyle has another clever trick up his sleeve. Using toilet paper rolls Kyle is able to keep all of his cables, wires, and headphones wrapped up and stored conveniently. No more twisted mass of cables. He uses a little bit of washi tape for a touch of style. You'll get bonus points for completely wrapping the toilet paper rolls in washi tape.
Closing Thoughts
Need an upgrade to your bedroom's dressers? Then take a look at Apt2B's entire collection of bedroom dressers and chests!
Have a creatively-organized dresser? We want to see it! Share your pics with us @apt2b on Instagram.
Want more home decorating tips from Kyle? Check out these previous posts:
---