Want the recipe for adding more culture to your home's counters? It's a very simple recipe. In fact, it only has two ingredients: a stylish counter stool and the cocktail that perfectly complements it. We've got plenty of gorgeous counter stools and bar stools on tap for you to choose from. And, while we can't provide the alcohol, we've complied a list of recipes to help you mix a cocktail that will pair exquisitely with your new stools!
Pair The Draven Stools With A Manhattan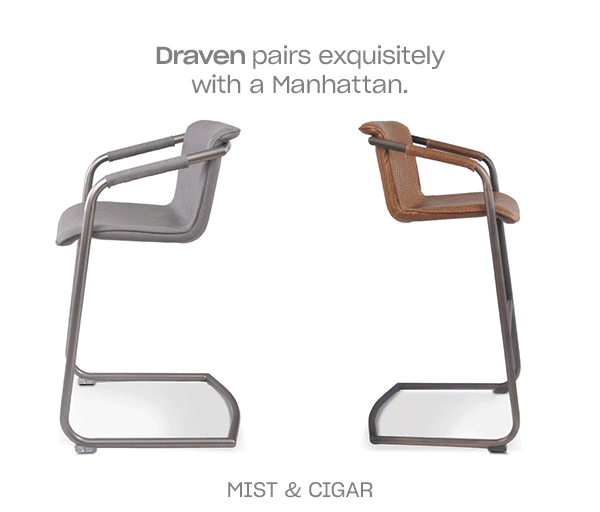 The Draven Counter and Bar Stools are handsome, have a bit of a rugged industrial edge, and have a decidedly timeless design. Sound like a place you know? New York City! There's no other cocktail that pairs better with the Draven than a Manhattan. Here's the recipe:
2 oz Rye Whiskey
1/2 oz Sweet Vermouth
1 dash Angostura Bitters
1 cup ice cubes
Maraschino Cherry
Add the Rye, Vermouth, and the Angostura Bitters to a cocktail mixing glass
Add ice to the mixing glass and stir until chilled
Strain into a chilled cocktail glass (a Martini glass or highball glass work well)
Garnish with a Maraschino Cherry
The Lula Chairs Are So Cosmo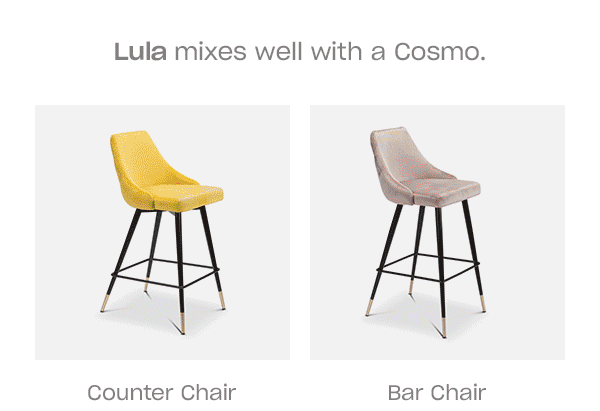 The Lula Counter Chairs and Bar Chairs are flirty, fun, and colorful. They also have a splash of sophistication. That means they're a match made in heaven with a Cosmo. I mean, it's hard not to imagine the cast of Sex And The City sipping Cosmos while sitting in these Lula Stools. Velvet upholstery and gold-capped pencil legs make the Lulas an eye-catching choice.
1/4 oz Triple Sec
1.5 oz Vodka
1/4 oz Lime Juice
1/4 oz Cranberry Juice
1 cup ice cubes
1 lime wedge for garnish
Combine the Vodka, lime juice, Triple Sec, and cranberry juice in a cocktail shaker
Add the ice, cover, and shake until chilled
Strain into a chilled cocktail glass (use a Martini glass)
Garnish with a lime wedge
The Daphne Swivel Counter Stools Demand A French 75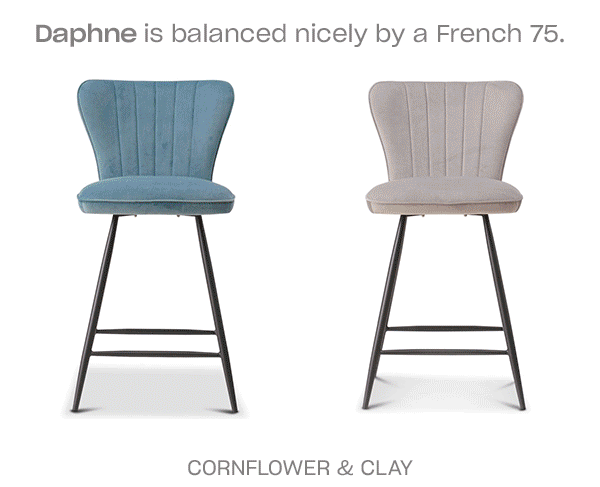 The Daphne Swivel Counter Stools feature velvet upholstery and a refined, tufted, channel-back. They are elegant yet informal. They have the upscale and simultaneously aloof attitude of a Parisian. That's why the Daphne pairs perfectly with the chic and boozy French 75 cocktail. Champagne plus gin? Oui, monsieur!
2 oz Gin
5 oz Brut Champagne, chilled
1/2 oz Lemon Juice
1 tsp Simple Syrup
Cracked ice
Chill a cocktail shaker and a champagne flute in the freezer
Add ice to the cocktail shaker and pour in the Gin, simple syrup, and lemon juice. Shake well!
Fill half of the chilled champagne flute with cracked ice
Strain the shaken cocktail into the champagne flute
Garnish with a lemon wedge
Affix The Levett Adjustable Bar Stools With A Sidecar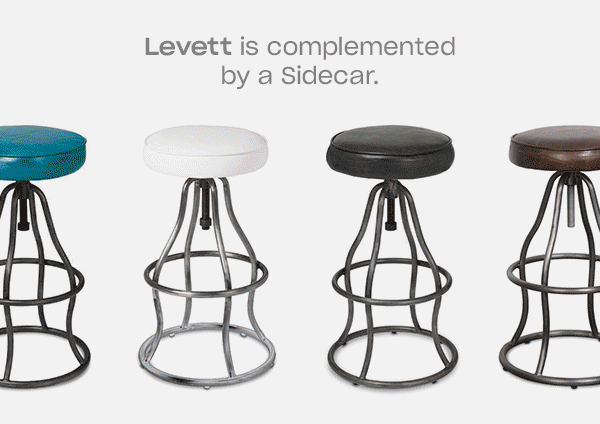 The Levett Adjustable Bar Stools have a simple design that's both classic and surprisingly contemporary. A curvaceous base and a colorful seat are all this stool needs to stand out in a crowded bar. It isn't as flashy as some of our other choices, but it's a refreshing style that always gets the job done. This is reminiscent of the Sidecar, an old faithful cocktail that never disappoints.
2 oz Cognac
1 oz Cointreau (or other orange-flavored liqueur)
1/2 oz Lemon Juice
1 tsp white sugar
1 cup ice cubes
Sprinkle the white sugar onto a small plate or saucer
Dampen the rim of a coupe glass with a moistened paper towel
Dip the rim of the coupe glass into the sugar and place the glass in the refrigerator
Combine the Cognac, Cointreau, and lemon juice, and ice in a cocktail shaker. Shake until chilled
Strain the chilled cocktail into the sugar-rimmed coupe glass
Add a lemon wedge garnish
Shop All Our Top Shelf Stools
Don't settle for a well drink when you can choose from the top shelf. All of our counter stools and bar stools are high end, comfortable, and durable. We've curated the perfect selection so that you never make the wrong choice, whether ordering a set or a la carte. So don't wait until 5:00 to choose your favorite new counter stool and cocktail!
---