Finding the right media center, heck, the right any-kind-of furniture, can sometimes feel like an overwhelming task. When you're spending a certain about of $$$, not everyone finds it easy to pull the trigger on a decision. But mastery of a few tips and tricks can help get you there faster. Media centers are available in tons of shapes and sizes, so whether you're working with a small apartment or a larger home, this buying guide will help you feel confident about your purchase.
Figuring Out What Works in Your Home
Block out your space.
The first thing to do when beginning your search for a media center is to architect your in-home space both logistically and creatively. Start by putting together a lookbook of styles and finishes that work well with your decor, and take accurate measurements of your space. Using painter's tape to block out your area or other temporary fixtures such as boxes to imitate height and depth will help you get a feel for the size, bulk, or minimalism that you need.
Take an accurate measurement of your TV.
It's critical that you measure your TV for the actual size. Never depend on the dimensions printed on the box because this does not provide an accurate measurement. Make sure to measure both length and depth, even if you have a flat-screen TV. For instance, screen sizes are measured on the diagonal, and depending on the frame of the television, the width of the whole unit can be less or more than you think. Always measure! The last thing you want is a TV that is larger than the unit beneath it. You're looking for something at the very least 6 inches wider on each side (though ideally 10-12 inches or more).
Follow recommended distancing guidelines.
Most manufacturers recommend an 8ft viewing distance and a 30-degree viewing angle, but this also depends on the size of your TV. Make sure to integrate the recommended manufacturer or THX guidelines into your measurements and overall space architecture.
Consider your cable management needs.
Depending on your space, cables might be more or less distracting. Plotting out needs for cable management before shopping will help you figure out your media center requirements. Different types of media centers have very different cable management capabilities. Knowing what your needs are in this area beforehand will help to avoid frustration.
Make a list of what will be stored in your media center.
This one goes hand in hand with the previous tip about cable management. If you own quite a bit of mixed media equipment, you'll want to consider what you want easy access to. For instance, if you own multiple streaming boxes, media players, movies, games, and audio equipment, an entertainment center might be a better fit for you if space allows. If you have just one DVD player or gaming console, then a media stand or console might work well if you have a small space.
Don't forget about electrical, lighting, and other hazards.
As you block out your space, you'll need to make sure that it's near a reliable power source. Something else to look out for: other hazards like fireplaces and heaters that might mess with your tech. Media centers should also be close to your cable or ethernet connection if needed.
It's Important to Know What's What
The next step in the buying process is understanding how to articulate exactly what you need. Knowing the difference between an entertainment center, media console, and media stand will help you to find what you're looking for.
Entertainment center: Entertainment centers are often larger pieces of furniture that contain multiple shelves, cabinets, spaces for VCRs, DVD/Blu-ray Players, and even stereo equipment. Shelves and storage spaces are often at the bottom of the media center and along the sides.
Media stand/cabinet: Media stands (also called media cabinets) are not as large as entertainment centers. They have closed storage and spaces for entertainment items such as DVDs, cable management, and spaces for DVD/Blu-ray players. These are standalone all-in-one units with no extra side shelving or cabinets like larger entertainment centers.
Media console: A media console is a table-like stand that levels the television at a comfortable height for viewers. Media stands are entirely open and have no cabinets or cable management system. Entertainment items such as DVD/Blu-ray players or other systems can be stored at the bottom interior base.
Here Are a Few Ideas If You're Still Lost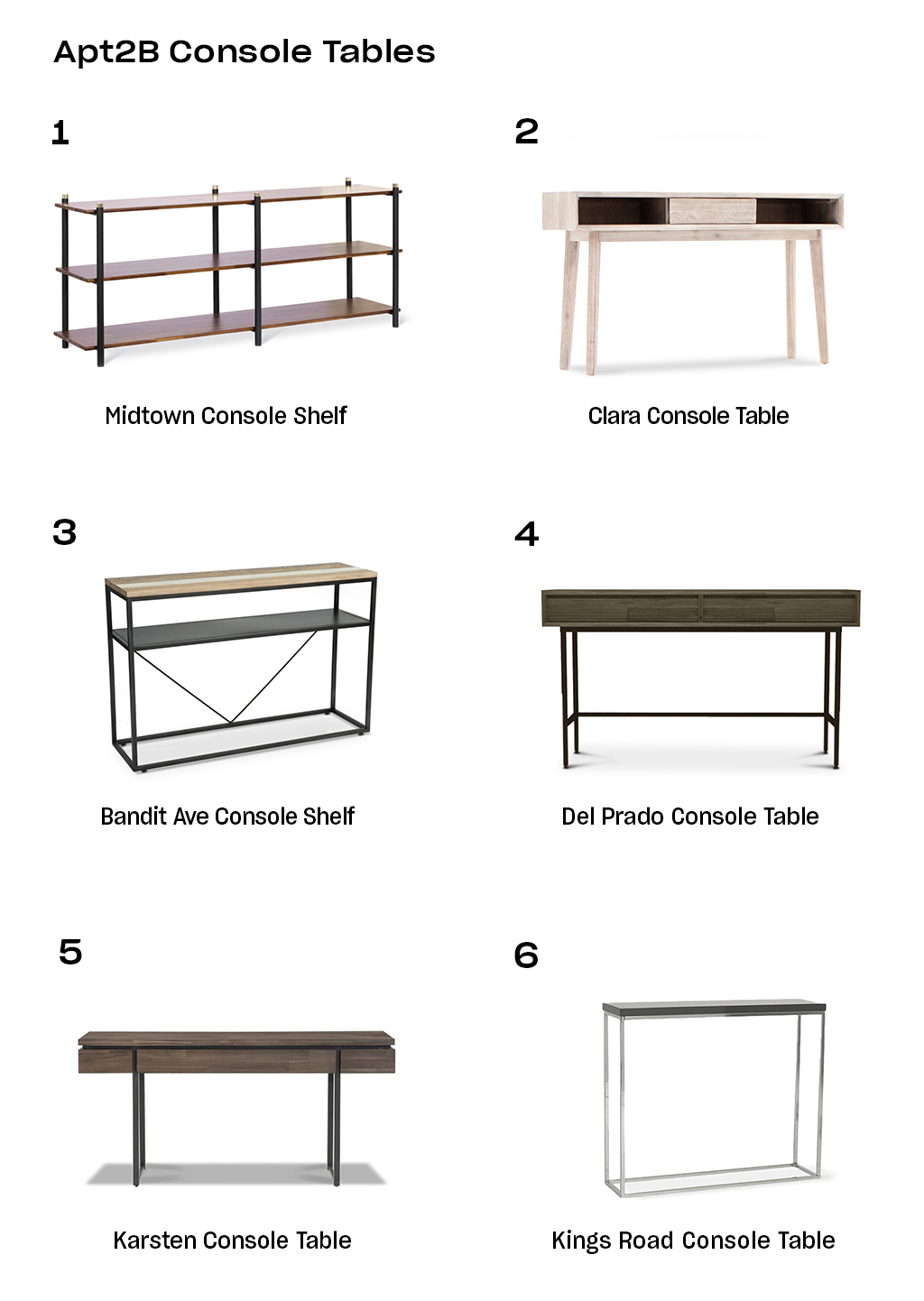 1. Midtown Console Shelf | 2. Clara Console Table | 3. Bandit Ave Console Shelf | 4. Del Prado Console Table | 5. Karsten Console Table | 6. Kings Road Console Table GRAY/CHROME
The minimalist look: If you know that you have limited space and are going for a minimalist look, this Vanowen High Media Stand in Smoke is the perfect fit for smaller spaces and has a modern, streamlined look. It also has two cabinets that can neatly hold media accessories, games, or DVDs. If you want an even more minimal look, the Del Prado Console Table has a sleek vibe with just enough storage.

1. Midtown Deluxe Media Cabinet | 2. Clovis Media Stand | 3. Topanga Media Stand | 4. Vanowen High Media Stand SMOKE | 5. Chloe Low Media Stand | 6. Del Prado Small Media Stand | 7. Bodie Media Stand | 8. Midtown High Media Stand | 9. Rhyolite Media Stand | 10. Chloe High Media Stand | 11. Whitaker Media Stand | 12. Midtown Media Cabinet 
Something in-between: The Bodie Media Stand is the perfect fit if you need a little more storage, but are not quite ready to commit to a full entertainment center. Its sizable design manages cables but leaves plenty of room for a more comprehensive media space.
Choosing a media center is equal parts form and function. It should look good, but also work well for your needs. For more help, reach out to Apt2B's furniture rockstars who are here to guide you to your furniture soulmates. Head to our contact page for how to email, chat or call us. Happy viewing (and shopping!).
Thank you to writer Megan Glenn for contributing to this article. 
---