Gambling. Playboy bunnies. Tom Jones. The Strip. Wedding Chapels. The King. Las Vegas is known for many things, but did you know that twice per year Las Vegas transforms into the furniture capitol of the world?  The Las Vegas Market is a massive furniture trade show that spans more than 5,000,000 square feet of showroom in the downtown Las Vegas World Market Center. Furniture designers and manufacturers from all over the world descend on the World Market Center to provide a glimpse into the future of home decor trends. Think of it as Fashion Week – except the runway models are sofas.
Apt2B Co-Founder, designer, and all-around furniture guru, Mat Herman, took the trip to Vegas for this summer's Las Vegas Market. He got a chance to see the hottest new trends in store for this coming year. Some of the trends hit the jackpot. Others were a total bust. Here are Mat's thoughts on the 5 trends to keep an eye on this year.
Naturals and Neutrals
Sure, you could say that naturals and neutrals are a trend every year. And you'd be totally right. But the colors and styles that we consider neutral are constantly changing. Fifteen years ago the obvious choices for your living room were beige and taupe. These days gray, white, gold, and glass are the kings of the neutral zone. "Natural" furniture was also one of the biggest buzzwords at the show this year. Think of "natural furniture" as what would happen if Whole Foods opened a furniture division. There were all sorts of chemical-free, all-natural, and untreated pieces on display (three qualities you won't find anywhere else in Vegas). Get ready for your living room to go green this year.



Agate
It's hard to get more natural than using rocks to inspire your home decor pieces. That's where Agate comes in. You might remember agate from the tchotchkes at your grandparent's house (I know I do). But it's back and looks better than ever. Agate is a variety of microcrystalline quartz (at least that's what Wikipedia told me). It forms when silica deposits in the groundwater fill the cavities of igneous rocks. But all you need to know about it is that it's gorgeous. It's the live-edge wood of the rock world. Agate comes in a variety of beautiful colors and patterns that look incredible when paired with contemporary design. Put some gold legs on a slice of Agate and you have a breathtaking new table. Add it to a table lamp for a pop of glamour. The agate design also transfers to other pieces like area rugs to carry through the visual style in other aspects of your home's decor.


Furs, Faux Real
The shag, faux fur trend has been huge the past couple of years. And it doesn't show any signs of stopping. So far people have only been bold enough to use faux fur on their toss pillows and throw blankets. But get ready for the next step. That's right – faux fur is now taking over entire pieces of furniture. And you know what? It looks incredible. Plus, it's hard to deny how straight-up comfortable it is to sit on a soft, furry chair. It's like Cookie Monster hugging you.
Ophelia Shag Toss Pillow
Bancroft Faux Fur Accent Chair NAVY/GOLD
Velvet
Speaking of soft, velvet was another big player at this year's Las Vegas Market. Velvet's gone through some ups and downs over the years, but right now it's trending way up. Every single vendor and showroom at this year's show had at least one velvet item. It was one of the main, unifying trends throughout the entire showroom. Why not? It's soft to the touch, allows for vivid colors, and it's super durable. I think people have finally recovered from David Lynch's movie "Blue Velvet" and now they're ready to embrace it again. If you've been on the fence about velvet then it's time to get on board. This one trend isn't going away anytime soon.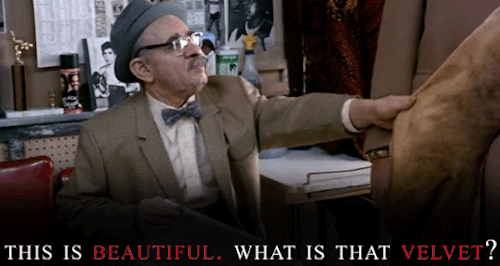 Celebrity Furniture Lines
If the Hulkster can have his own line of Cheeseburgers then why not celebrity-endorsed furniture lines, too? Supermodel and actress Kathy Ireland has had her hand in the furniture market for 13 years (13 also happens to be the number of Sports Illustrated Swimsuit Issues she was featured in). People even started using the term "modelpreneur" to describe her, but we hope people never actually say that out loud. Cindy Crawford has also thrown her hat into the celebrity furniture arena. More recently HGTV stars like Chip and Joanna Gaines have transitioned from remodeling homes to creating furniture lines that they personally endorse. The Scott Brothers (aka the Property Brothers, aka your 40-60 year-old mother's favorite young men) have also branched out into the celebrity-endorsed furniture world. And if all of them can have a furniture line, then why not Donny Osmond, too? This trend is picking up steam, so don't be surprised when you start seeing more and more furniture lines that are endorsed by your favorite celebrities.
Bonus Trend: Menswear In Furniture Design
This trend might take a little longer to pick up steam, but the fashions from men's clothing is starting to infiltrate the furniture design world. Herringbone, tweed, and plaid are all designs that have been popular in men's clothing for years. These patterns are now making their way to the world of furniture and upholstery. In fact, we just recently collaborated with  The Thread Experiment that exclusively sells bed sheets for men with design inspired by fashion trends. Don't be surprised when menswear styles start showing up in living rooms. It's a smart and sophisticated look that that adds class to any room.


The Crestmont Chair features some elegant, male fashion design trends

Love these new design trends? Hate them? Let us know what you think by hitting us up @apt2b on social media! And don't forget to check out Mat's collection of furniture inspired by the Las Vegas Market!
---