What's that they say about March? In like a lion, out like a lamb? Well, here's to hoping. In light of the times we are all living right now, it felt apropos to shift our focus if just for a moment and think about the positive. It's officially spring in the western hemisphere. And while for some, winter is still very present, let this be a reminder that it won't last forever. Nature will keep chugging on around us, onward, no matter how stagnant things feel, and thank goodness for that.
As a much-needed shot of cheer, we put together three rooms—living room, dining room, bedroom—slathered in that peppy spring spirit we all (and probably our homes) could really use right now. From pretty pastel velvets to nubby natural textiles, if a peppering of zest is what you're craving, Apt2B's got you covered.
Fresh-Picked Living Room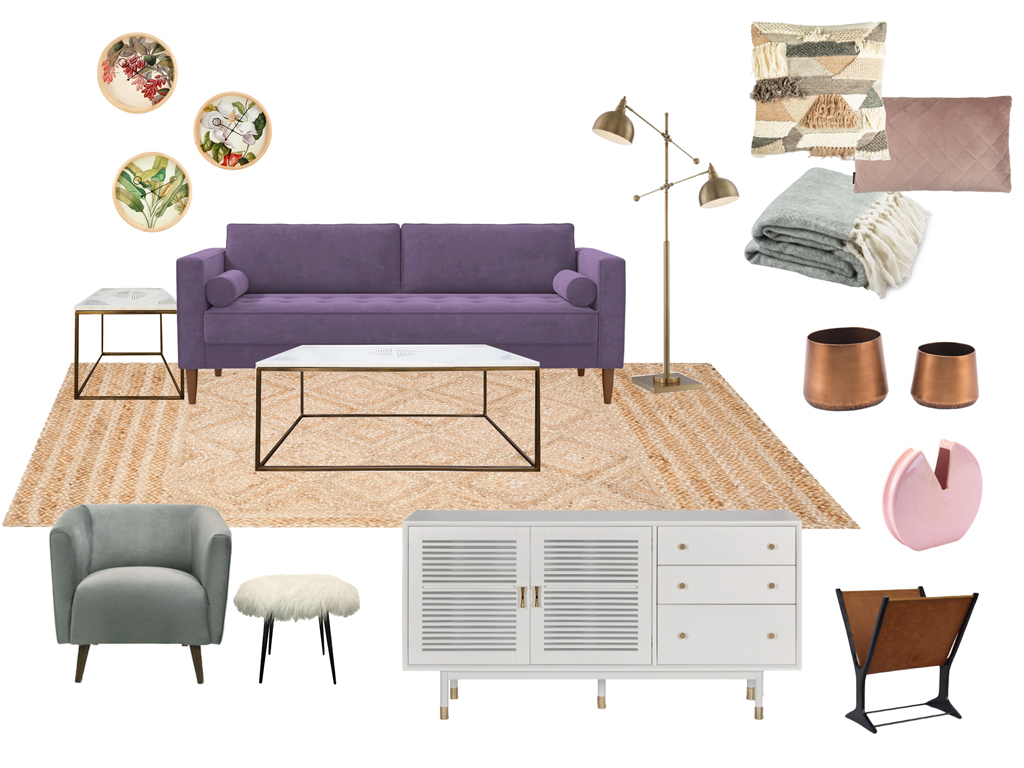 SHOP THE LOOK: Delilah Sofa Lavender Velvet/Pecan | Glenstone Side Table | Glenstone Coffee Table | Surat Jute Area Rug | Miles Chair | Fredrik Fur Stool | Chloe High Media Stand | Mauldin Floor Lamp | Botanical Wall Clock by Cloudnole Epine Vinette | Botanical Wall Clock by Cloudnola Magnolia | Botanical Wall Clock by Cloudnola Palm | Arwen Toss Pillow (fringe) | Wynna Lumbar Pillow (quilted blush) | Buxton Throw | Mica Planter Set of 2 | Milly Vase | Zion Magazine Holder
Let's start in the living room. After all, it's typically one of the first rooms you see in your home (if you enter from the front, that is; all bets are off if you're a rear door-entering family). Our Delilah Sofa is a fresh yet classic silhouette that works with just about any style. It's the perfect combo of modern and retro, and in a lavender velvet, an unexpected dose of delightfulness.
Because the sofa is sleek, we brought in the Miles chair for its softer shape, paired with a faux fur ottoman because who doesn't need a little faux fur to wiggle their toes through? Monsters, that's who. Round it out with lighter tables (check that really special brass inlay detail on the coffee table and side table), and pastel decor for a room that's easy on the eyes.
Blush-Worthy Dining Room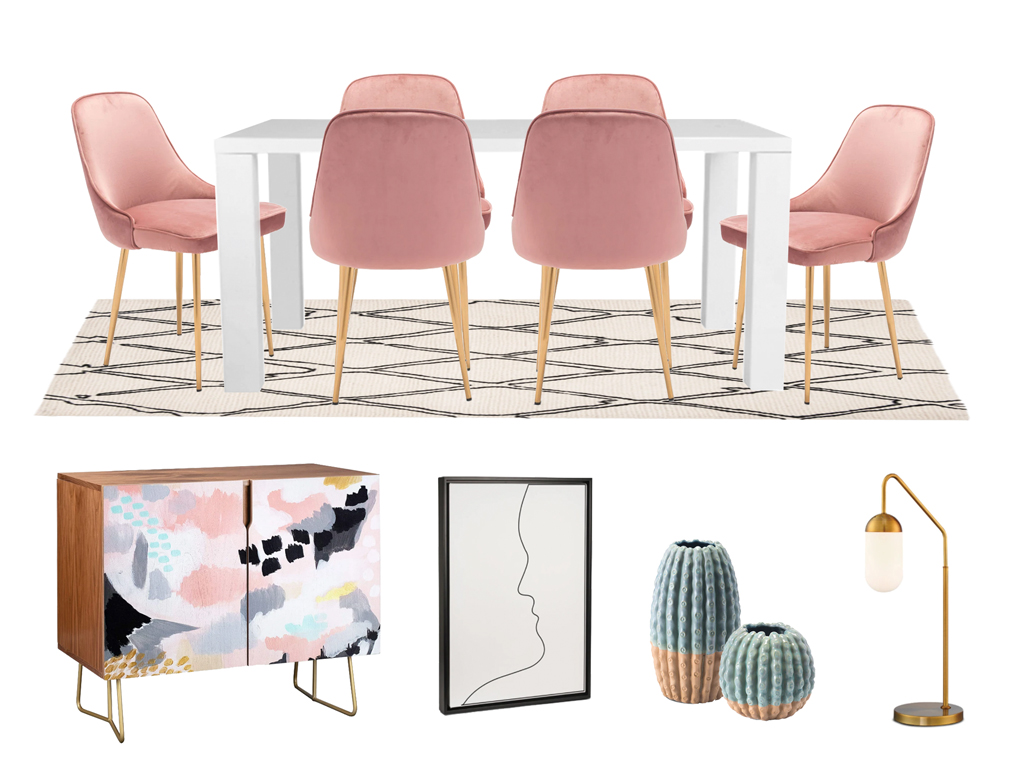 SHOP THE LOOK: Cloverdale Table White Lacquer | Morris Side Chair Pink Velvet | Concordia Area Rug | Credenza by Laura Fedorowicz Abstract | Perfect Pecks by Honeymoon Hotel Framed Canvas | Mojave Vase Medium | Mojave Vase Mini | Serenity Table Lamp Gold
Next up: the dining room—a space of many faces/purposes. Dining, homework, adult work, puzzling, game time…what can't this multi-threat room tackle? For its spring makeover, we went hard on the blush. Velvet dining chairs might look fancy, but truly, they're low-maintenance and easy to keep clean. Our graphic Concordia Rug brings in that bit of texture to ground the white lacquer dining table; keeping both those things on the neutral end ensures the painterly credenza (made to order in Colorado!) doesn't end up feeling too loud. Round out the whole thing with some simple line art, a coupling of interesting vases and one of our best-selling lamps.
Sunshine in a Bedroom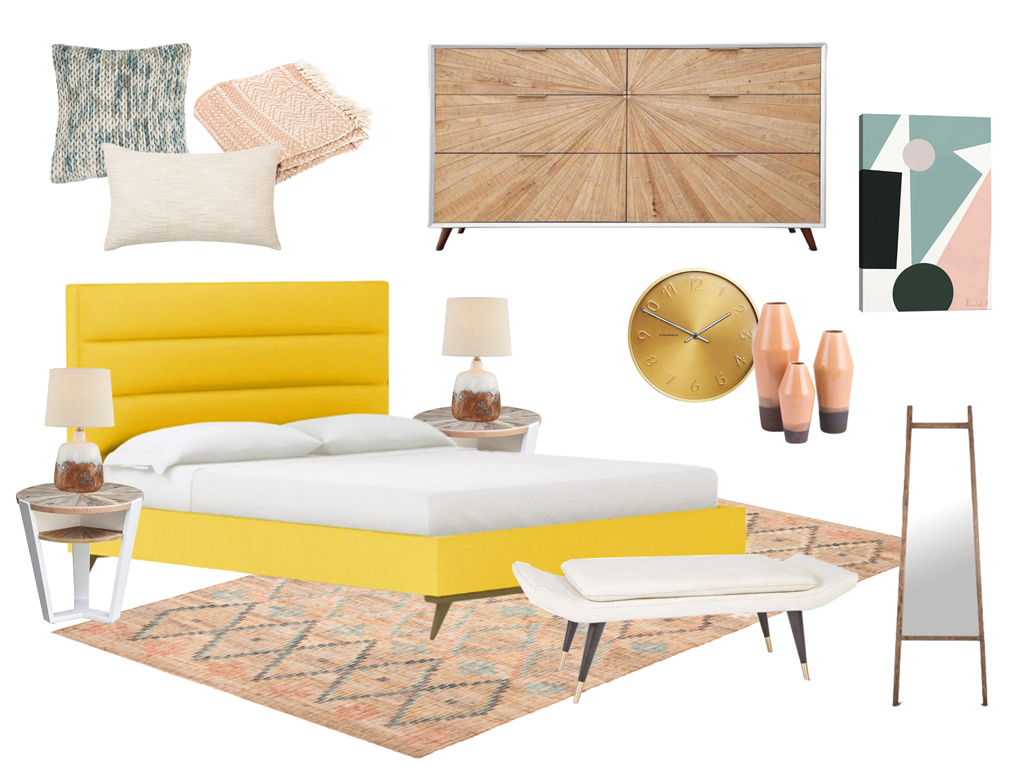 SHOP THE LOOK: Cooper Upholstered Bed Marigold Velvet | Solara Side Table | Yesenia Area Rug | Westwood Bench White | Solara 6-Drawer Dresser | Sawyer Floor Mirror | Brookite Table Lamp | Cordova Toss Pillow (knit blue) | Creeden Lumbar Pillow (cream) | Bearsden Fringe Throw | Trust Wall Clock by Cloudnold Gold | Pele Vase Large | Pele Vase Medium | Pele Vase Small | Calm I by Dan Hobday Canvas
We step away from the soft pastels in the bedroom with a bold, happy bed in our Marigold Velvet. It's so full of cheer, it should have its own Netflix docu-series. Now, when you have something as punchy as this, you have two choices: lean in ALL the way (with caution) and layer on the color OR pull back and let it be the protagonist. One guess as to what we did here. This is spring, not summer (that cacophonous minx), so we're keeping things a little more muted.
Our Yesenia rug is natural and neutral with just enough visual interest from the hues in the design. Don't feel like you need to be too matchy-matchy (meaning, your rug doesn't have to have yellow in it to go with the bed). Use it as a launchpad for the rest of the decor. Here, we plucked out soft corals and blues for the throw, pillows, art, and vases, rounded out with warm woods and linens via the bench, floor mirror, dresser and nightstands.
And just like that, a bubbly, springy home full of invigorating colors and interesting textures. Even just the addition of one or two new fresh picks can really shake the cobwebs out of a room. Take a second to look around and see where you could inject life into any rooms of that might feel a little stale.
---