/ Tempur-Pedic Cloud Hybrid Mattress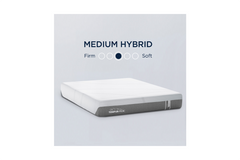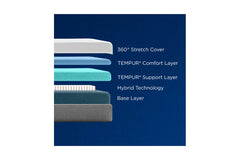 Tempur-Pedic Cloud Hybrid Mattress

Dimensions
Features
Overview
Shipping & Returns
Overall Dimensions
Twin:
38"w x 74"d x 10"h
Twin XL:
38"w x 80"d x 10"h
Full:
53"w x 74"d x 10"h
Queen:
60"w x 80"d x 10"h
King:
76"w x 80"d x 10"h
Cal King:
72"w x 84"d x 10"h
Overall Dimensions
Twin:
38"w x 74"d x 10"h
Twin XL:
38"w x 80"d x 10"h
Full:
53"w x 74"d x 10"h
Queen:
60"w x 80"d x 10"h
King:
76"w x 80"d x 10"h
Cal King:
72"w x 84"d x 10"h
Ideal for all sleep positions
Medium firmness memory foam
Up to 40% more pressure-relieving power than the competition

Proprietary TEMPUR-Material™ adapts to your body for truly personalized, supportive sleep

Arrives in a reusable canvas bag
360° STRETCH COVER - A premium, moisture wicking cover that is superior in breathability and air flow compared to other compressed mattress brands*
TEMPUR® COMFORT LAYER - An all-new formulation of TEMPUR® material, designed to be soft, responsive, and cushion every point of your body as you settle in.
TEMPUR® SUPPORT LAYER - A firmer support layer of TEMPUR® material that slowly adapts and conforms to you, delivering pressure-relieving power throughout the night.
HYBRID TECHNOLOGY – 1,000+ spring coils provide additional support and easier movement
BASE LAYER – A premium foam base layer providing all-night support and durability
The TEMPUR-Cloud® Mattress from Tempur-Pedic is a medium-firmness memory foam mattress that arrives rolled, in a reusable canvas bag. Ideal for all sleep positions including on your back, stomach or side, the TEMPUR-Cloud® comfort layer provides up to 40% more pressure-relieving power than the competition. Its proprietary TEMPUR-Material™ starts working, precisely adapting to your body for truly personalized and supportive sleep. Features include a 360° stretch cover that is moisture wicking with superior breathability and air flow. The TEMPUR® Comfort Layer is designed to be soft, responsive, and cushion every point of your body. The firmer TEMPUR® Support Layer slowly adapts and conforms to you, delivering pressure-relieving power throughout the night. The Hybrid technology adds 1,000+ spring coils for additional support and easier movement. Finally the base layer is a foam that provides all night support and durability.
Shipping: Apt2B offers completely FREE delivery on every order! Our free entryway delivery includes placing items inside your home or apartment unit. Certain items may be eligible for our white glove delivery service option which includes room of choice placement, assembly and packaging removal for only $149!
Returns: For TEMPUR-PEDIC, please contact the manufacturer directly at 800- 821-6621 or visit them at https://www.tempurpedic.com/warranties/ to file a claim.
For more info on the above, please visit our Shipping and Returns page
Overall Dimensions

Twin:
38"w x 74"d x 10"h
Twin XL:
38"w x 80"d x 10"h
Full:
53"w x 74"d x 10"h
Queen:
60"w x 80"d x 10"h
King:
76"w x 80"d x 10"h
Cal King:
72"w x 84"d x 10"h

Ideal for all sleep positions
Medium firmness memory foam
Up to 40% more pressure-relieving power than the competition

Proprietary TEMPUR-Material™ adapts to your body for truly personalized, supportive sleep

Arrives in a reusable canvas bag
360° STRETCH COVER - A premium, moisture wicking cover that is superior in breathability and air flow compared to other compressed mattress brands*
TEMPUR® COMFORT LAYER - An all-new formulation of TEMPUR® material, designed to be soft, responsive, and cushion every point of your body as you settle in.
TEMPUR® SUPPORT LAYER - A firmer support layer of TEMPUR® material that slowly adapts and conforms to you, delivering pressure-relieving power throughout the night.
HYBRID TECHNOLOGY – 1,000+ spring coils provide additional support and easier movement
BASE LAYER – A premium foam base layer providing all-night support and durability

The TEMPUR-Cloud® Mattress from Tempur-Pedic is a medium-firmness memory foam mattress that arrives rolled, in a reusable canvas bag. Ideal for all sleep positions including on your back, stomach or side, the TEMPUR-Cloud® comfort layer provides up to 40% more pressure-relieving power than the competition. Its proprietary TEMPUR-Material™ starts working, precisely adapting to your body for truly personalized and supportive sleep. Features include a 360° stretch cover that is moisture wicking with superior breathability and air flow. The TEMPUR® Comfort Layer is designed to be soft, responsive, and cushion every point of your body. The firmer TEMPUR® Support Layer slowly adapts and conforms to you, delivering pressure-relieving power throughout the night. The Hybrid technology adds 1,000+ spring coils for additional support and easier movement. Finally the base layer is a foam that provides all night support and durability.

Shipping: Apt2B offers completely FREE delivery on every order! Our free entryway delivery includes placing items inside your home or apartment unit. Certain items may be eligible for our white glove delivery service option which includes room of choice placement, assembly and packaging removal for only $149!

Returns: For TEMPUR-PEDIC, please contact the manufacturer directly at 800- 821-6621 or visit them at https://www.tempurpedic.com/warranties/ to file a claim.

For more info on the above, please visit our Shipping and Returns page