See this very special show featuring rarely seen Ansel Adams photographs of Los Angeles
See this very special show featuring rarely seen Ansel Adams photographs of Los Angeles
Castelli Framing would like to share their involvement in an exciting new show....
ANSEL ADAMS Los Angeles Photographs from the Los Angeles Public Library Ansel Adams Collection February 18 - March 17, 2012 Opening Reception Saturday, February 18, 2012 7-10pm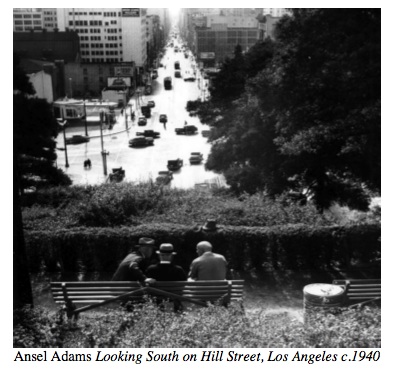 Ansel Adams
Los Angeles
is a show of rarely seen photographs that reveal the lost landscape and lifestyle of pre-war Los Angeles. These nostalgic images from the archives of the of The Los Angeles Public Library Photo Collection, represent Ansel Adams as a photojournalist on assignment for Fortune Magazine in 1940.  In 1940, Los Angeles had a population of 1.5 million. The cost of gas was 10 cents and a new car costed $700.  The U.S. began re-arming for World War II, and Ansel Adams was commissioned to photograph a series of images for an article covering the aviation industry in Los Angeles. For the project, Adams took over 200 black & white photographs showing everyday life, business, streets and more in Los Angeles. However,  when the article, City of Angels, appeared in the March 1941 issue, only a few of the images were actually included. In the early 1960s, Adams re-discovered the photographs among papers in his home in Carmel, and donated them to The Los Angeles Public Library. In a letter he wrote: "The weather was bad over a rather long period and none of the pictures were very good...i would imagine that they represent about $100.00 minimum value...At any event, I do not want them back." As many critics will agree, sometimes an artist is not always the best judge of their own work. Ansel Adams (1902-1984) created some of the most influential photographs ever made. HIs well known images portray a romanticized and unspoiled Western American landscape. But Ansel Adams  
Los Angeles
is a whole different body of work that is rarely discussed, let alone seen.
Castelli Art Framing has provided all of the framing for this exceptional new show presented by drkrm gallery.
drkrm, in assocaiation with EVFA, and with cooperation of The Los Angeles Public Library Photo Collection and the the Ansel Adams Publishing Trust, will create and exhibit new silver-gelatin prints made from the original negatives. These dramatic black and white limited-edition photographs, on display publicly for the first time, will be offered for purchase with a portion of the proceeds benefiting the LAPL.

-Castelli Art Framing-