Dreamy giant closets are among my favorite things to browse on Houzz. And of course I love to look for practical storage solutions I can use myself. It seems I'm on the same page as a lot of people: The favorite closet photos this quarter were a combination of practical built-ins and closets that could be mistaken for upscale boutiques. Here are a handful of the most popular 
new closet photos
 added to Houzz from April through June, measured by how many people added them to their 
ideabooks
. Since I know most of these are pure fantasy for the majority of us, I've included some takeaways that we can apply to our own modest-size closets.
1. Hidden storage
This pullout shoe cabinet keeps those beautiful high heels easily accessible and dust-free.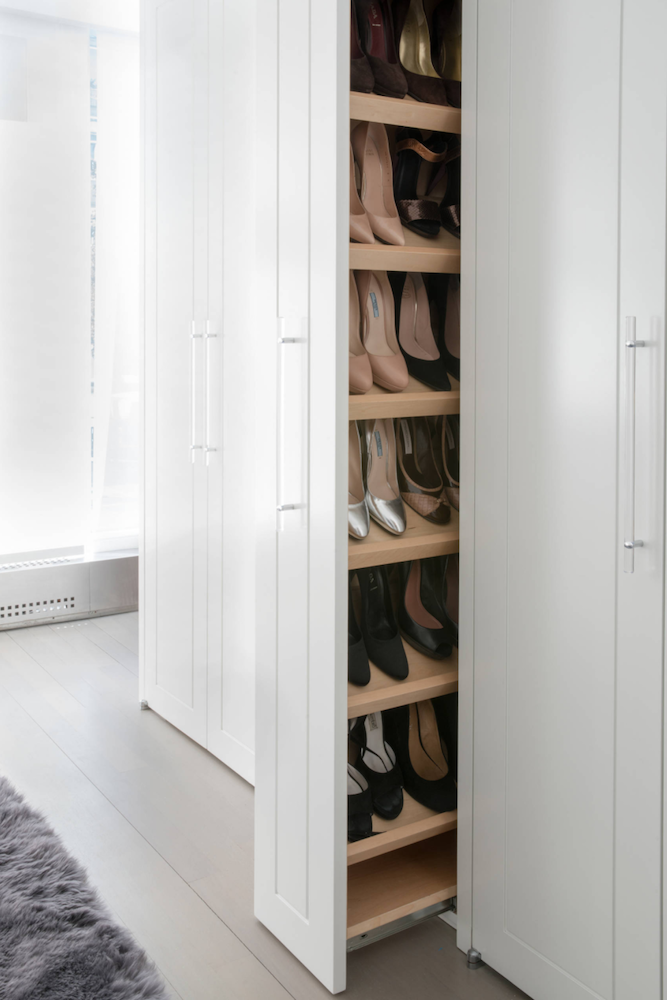 There's nothing more convenient than having your ironing station handy in the closet or laundry room, but it's not so convenient when you have to lug that big sucker out and unfold it. This clever cabinet includes room to easily stash the flip-down board, as well as space for the iron, an electrical outlet and even the starch.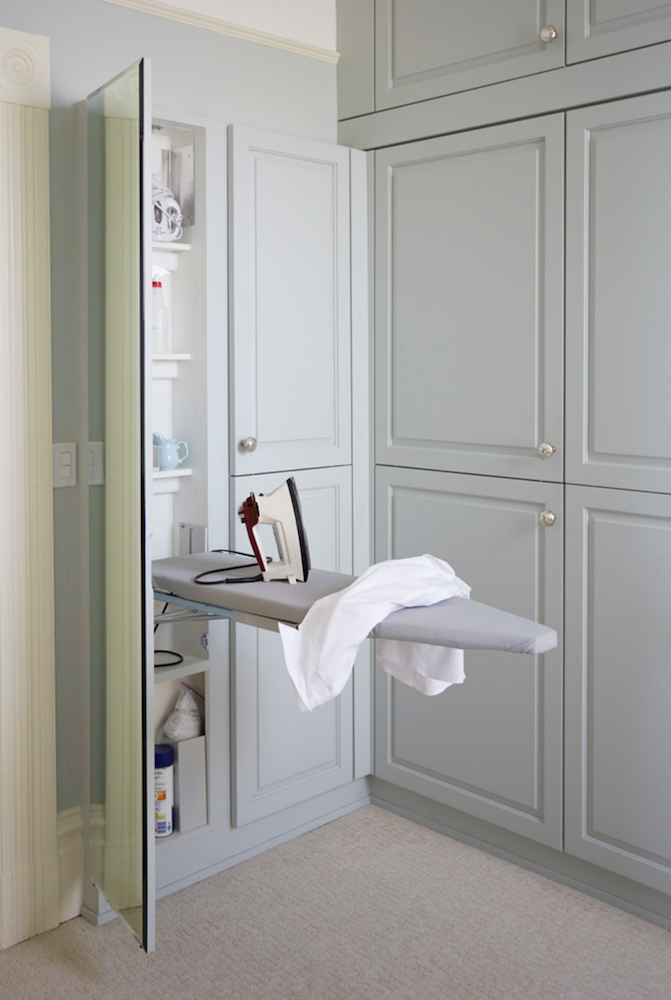 2. Floor-to-ceiling use
A library ladder provides access to those high-up cabinets — great storage for out-of-season or rarely used items. If you don't have room for a rolling ladder, using an ottoman or chair that can double as a step stool is an easy way to maintain access to items stored up high.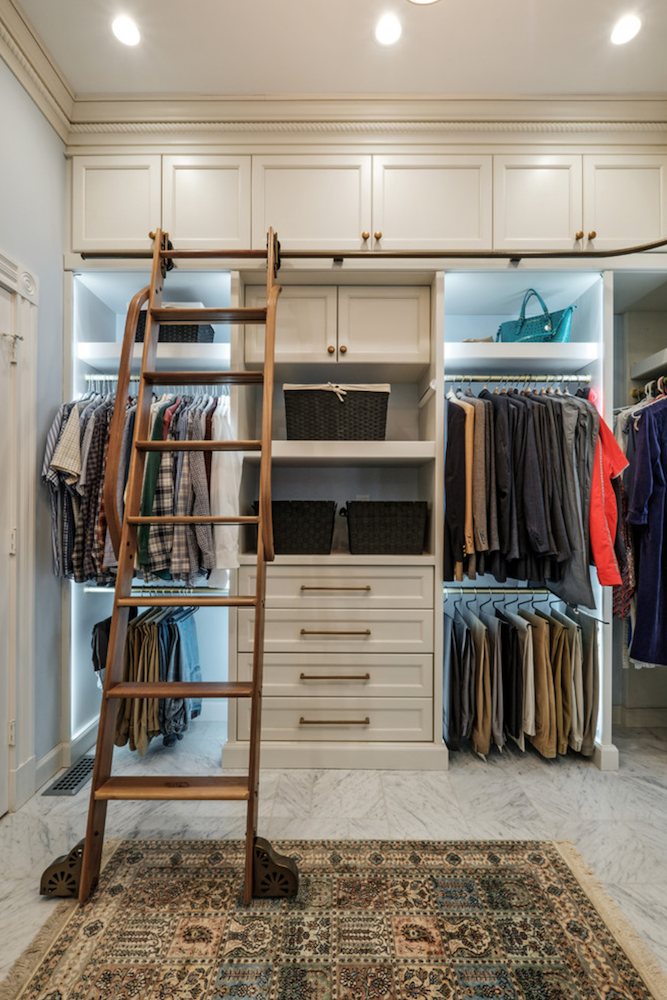 Takeaway:
 This idea can be applied to a small closet that's not a walk-in: Have seating nearby that's sturdy enough to be used for a boost.
3. The dressing room
Dressing areas incorporated into large closets are also trending right now. This turns a closet into a real room where you can linger and enjoy the space, which might include natural light, beautiful millwork, mirrors and dining-room-worthy light fixtures. One note about a closet with a window: Make sure to protect clothing and accessories from damage from direct sunlight.
Takeaway: Even if you don't have room in your closet, you can create a special dressing table area. Style a bedroom desk or table or a spot on the vanity that's just for makeup and jewelry. Sometimes it's as easy as adding a seat you love and a tabletop mirror.
4. The hidden closet.
This space is so smart: It's a light-filled hallway between the bedroom and bathroom in a master suite. Clothing and accessories are hidden and protected behind beautiful doors. There's a dressing table to the left and a large daybed for laying out outfits and sitting down to put on shoes. The rug and the light fixture finish off the sophisticated gallery-space feeling.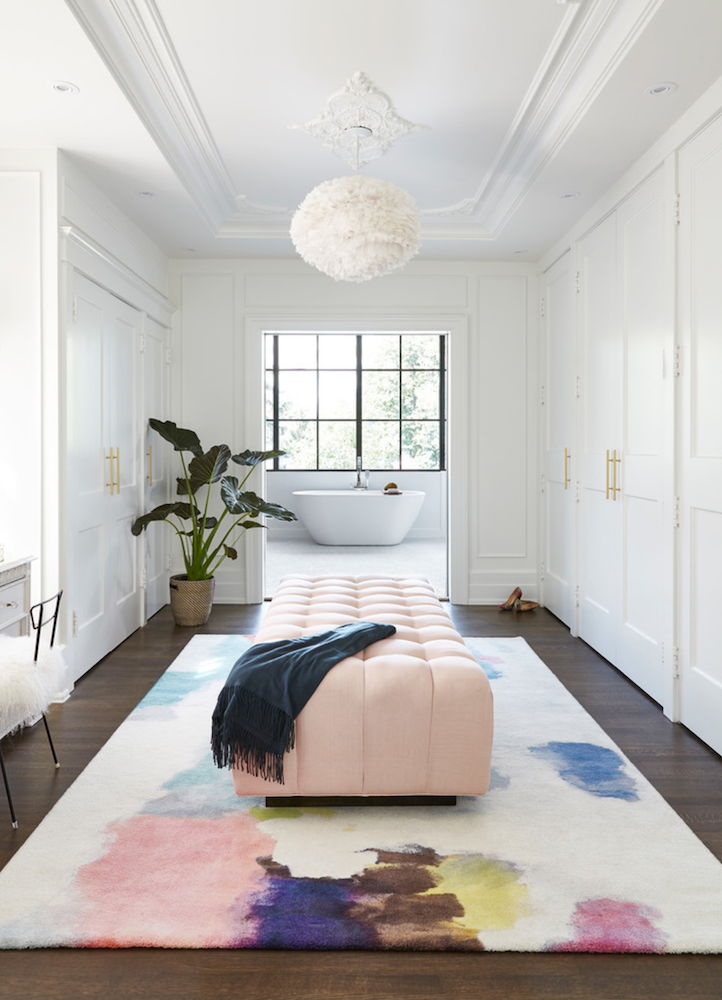 Takeaway:
 If you're short on storage, look to see if there's any potential for built-ins within the walls or in a wider hallway.  The dead end of a hallway is also a space you can make good use of. This one has enough room for a large chest of drawers. Lighting, an accent wall and artwork transform it into a compelling vignette.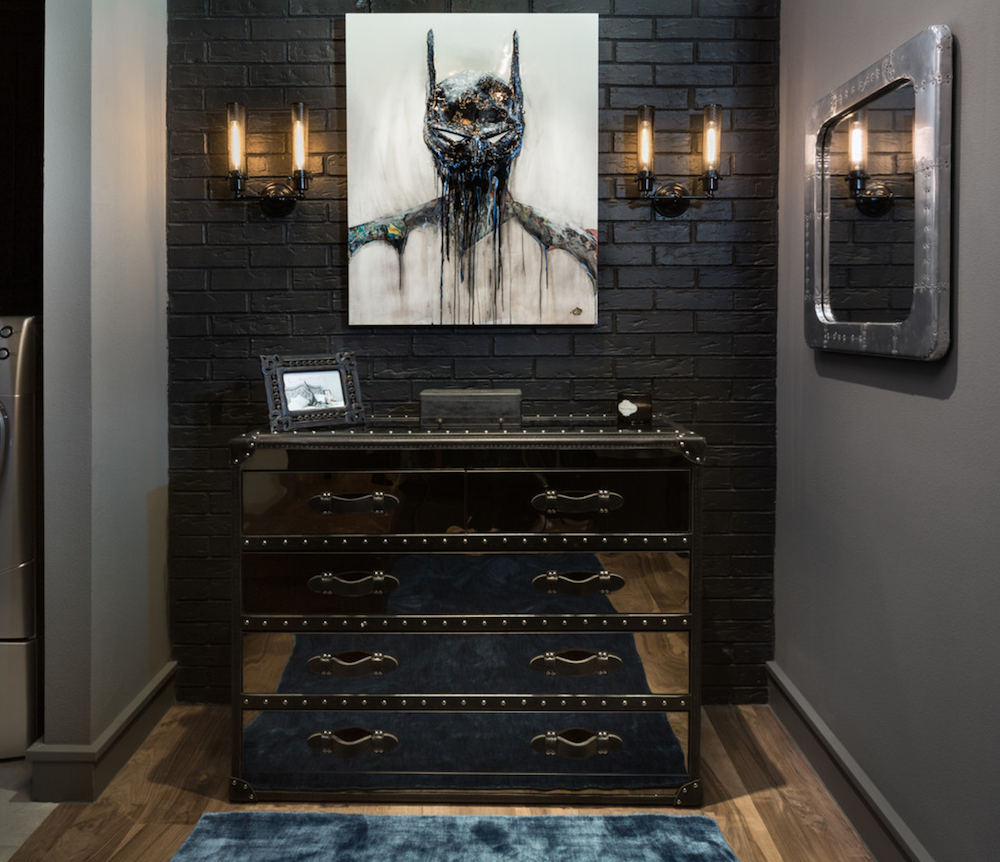 5. Upscale boutique style.
The Roman shades, animal-print carpeting, fringe chandelier and accessories island that doubles as a dresser make this closet look like a Beverly Hills store straight out of Pretty Woman.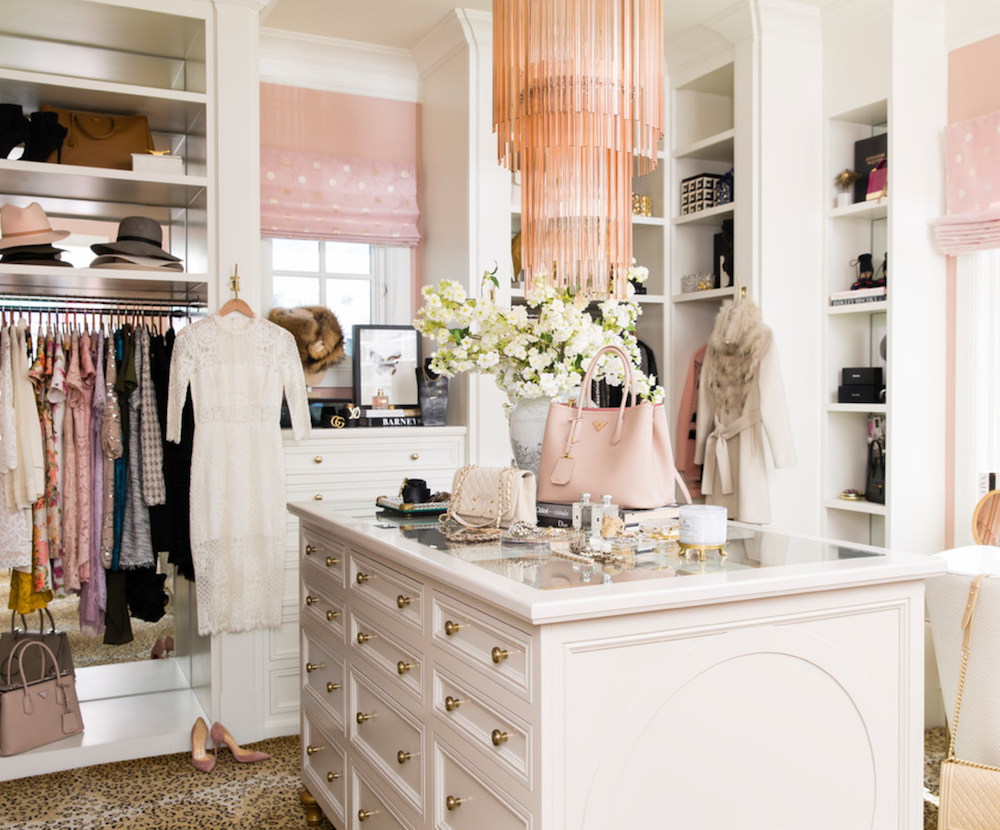 Takeaway: 
Consider backing the closet in something reflective like metal or mirrored glass, as was done here.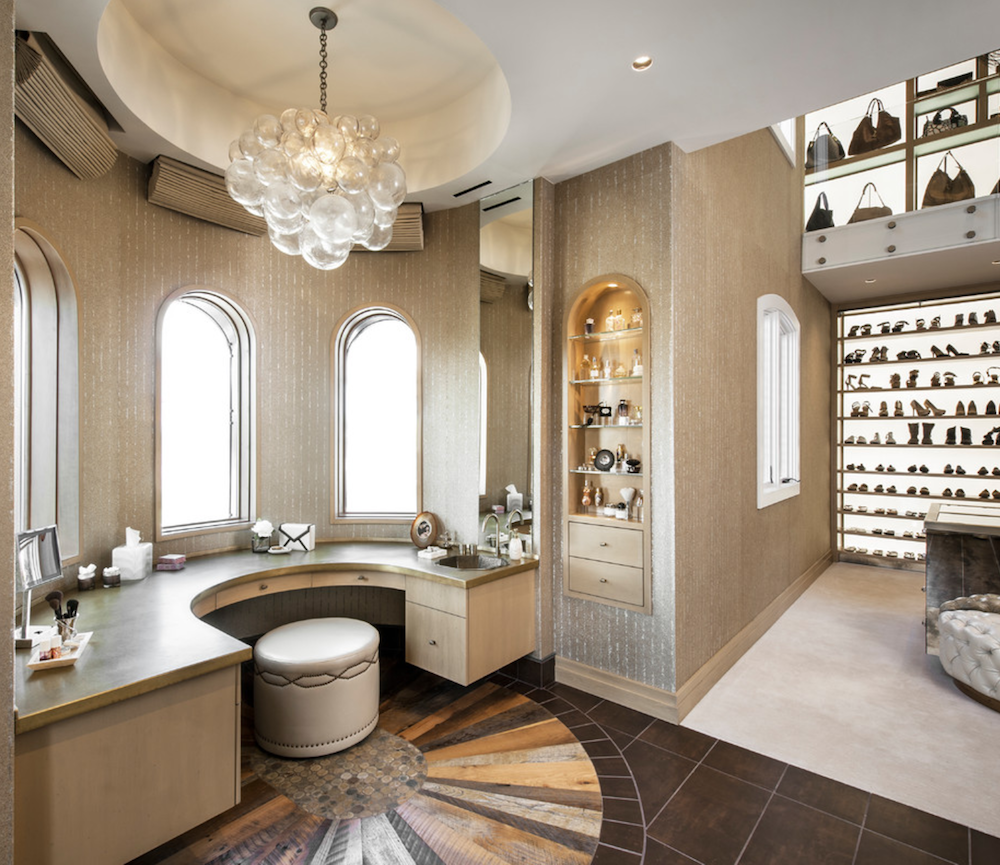 The incredible backlighting in this closet transforms the utilitarian shelves into a boutique display to admire. If it weren't for the dressing area in the foreground, I'd have guessed this was a Ferragamo store.
Takeaway: Do give even the tiniest of closets adequate lighting, whether it's overhead or built into the racks. It will prevent you from walking out of the house wearing one navy shoe and one black one on a dark morning. (I've done this — have you? Please share your wardrobe malfunctions in the Comments.)
6. The closet takeover. If you have an oddly placed, little-used closet somewhere in the house, you can transform it by simply removing the door. Here, cabinets and shelves backed by wallpaper turned a small closet into an elegant bar.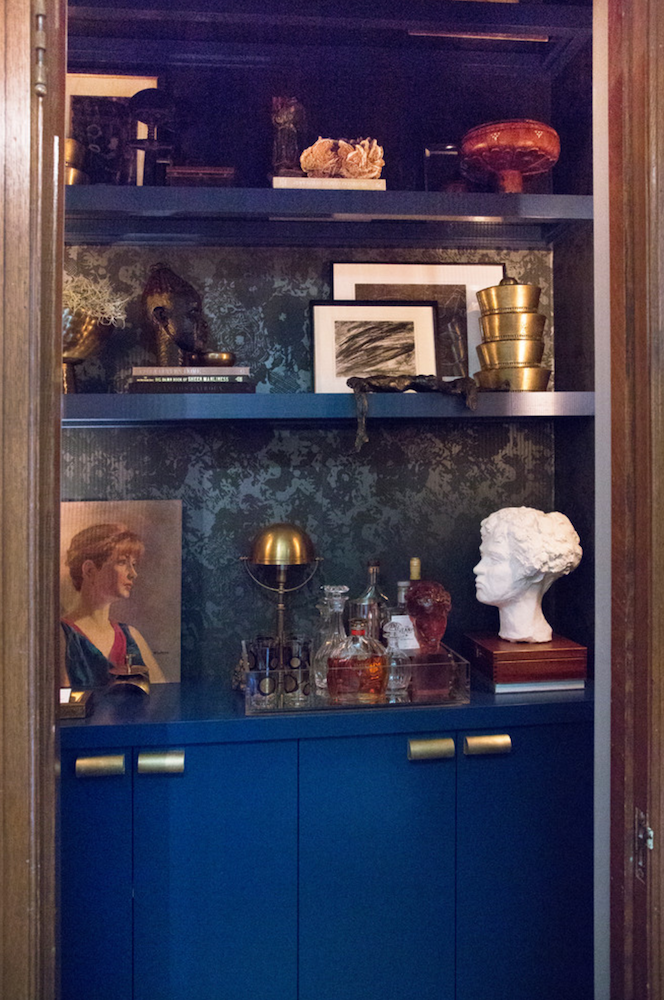 Depending on location, other uses could include a media cabinet complete with TV, a landing zone near an entry or a homework station.
Looking for more closet inspiration? 
---