The bed is the crown jewel of the bedroom. That should be obvious, but it's worth stating for the record. The bed is the anchor of your bedroom's design, which makes choosing the right bed frame an extremely critical interior design decision. But these days there are so many different styles to choose from! Traditional beds, platform beds, low profile beds, storage beds, metal beds, etc etc etc. It's hard to know what the difference is between all of these styles and which style will work the best in your own home. Need help deciding which bed frame will be right for your bedroom? We've got some tips to get you started!
Platform Bed vs. Traditional Bed
If you've done any bedroom furniture shopping in the last ten years then you've likely noticed that platform beds are kind of dominating the market. But what exactly is the difference between a platform bed and a traditional bed? The box spring, that's what! Traditional bed frames require a box spring to create a solid foundation for the mattress. Platform beds use a slat system, bunky board, or a combination of the two to create a platform on which the mattress can rest. No box spring needed. However, the nice thing about platform beds is that you can still use a box spring if you prefer to have your mattress a little higher off the ground. However, you cannot use a traditional bed frame without a box spring.
The Bandit Platform Bed is a barnyard chic bed frame that has a wooden slat system. This allows the Bandit Platform Bed to support a mattress without the need of a box spring.
The Colette Upholstered Bed is a more traditional bed that features a full footboard, headboard, and an overall larger profile. This bed requires a box spring or other foundation for the mattress.
Bandit Platform Bed | Colette Upholstered Bed | Rosewood Platform Bed
Low Profile
Remember the last paragraph when we mentioned that platform beds are becoming popular? Since platform beds don't require a box spring they can allow you to have your mattress much lower to the ground. Enter the low profile bed frame. A low profile bed frame is a dream for minimalists and for people who don't want to feel like their bed is swallowing up their entire bedroom. Low profile bed frames have a lower headboard, shorter legs, and typically do not have a footboard. This gives them a clean, uncluttered, inviting presence in the bedroom. It also means that you're not going to be able to store your suitcases, shoes, or treasure chests beneath your bed. Low profile bed frames definitely sacrifice storage space for style.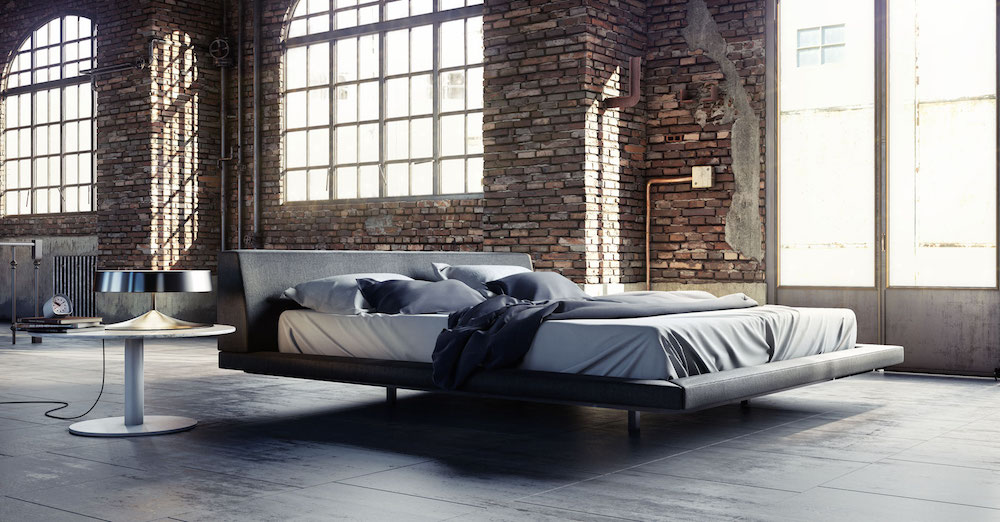 Storage Beds
Speaking of storage, a bed frame with storage is a great option for people who can never have too many drawers and cubbies. Storage beds are extremely practical for people who have limited space in their bedrooms. Some storage beds have 4 drawers total with two on each side of the frame. Others have 2 storage drawers at the foot of the bed. No matter the number, the convenience is clear. Storage beds can be used to store all of your bed's linens or can even replace a dresser. Storage beds are typically higher up off the ground in order to provide room for the drawers. This gives them an overall larger presence in the bedroom.
The Redondo Pier Storage Platform Bed has 4 convenient drawers in a rustic chic frame.
The Chalmers Storage Platform Bed has handsome wood paneling and 2 storage drawers in the footboard.
Redondo Pier Storage Bed | Chalmers Storage Bed | Meadowmere Platform Bed ESPRESSO PINE
Eastern King vs. California King
Let's get this out of the way right off the bat; an Eastern King bed is also known simply as a King Bed. Eastern King just sounds much fancier. Now the real question is whether or not you know what the difference is between an Eastern King and a California King. Most people think a California King is bigger, but this isn't exactly true. An Eastern King is 76" wide by 80" long. A California King is 72" wide by 84" long. This means that an Eastern King is wider than a California King, but a California King is longer than an Eastern King. Basically, if you're a tall person who's tired of your feet hanging off the mattress then you should get the California King. The Eastern King is the most popular bed frame size. However, if your bedroom is narrow then it might be wise to choose a California King instead.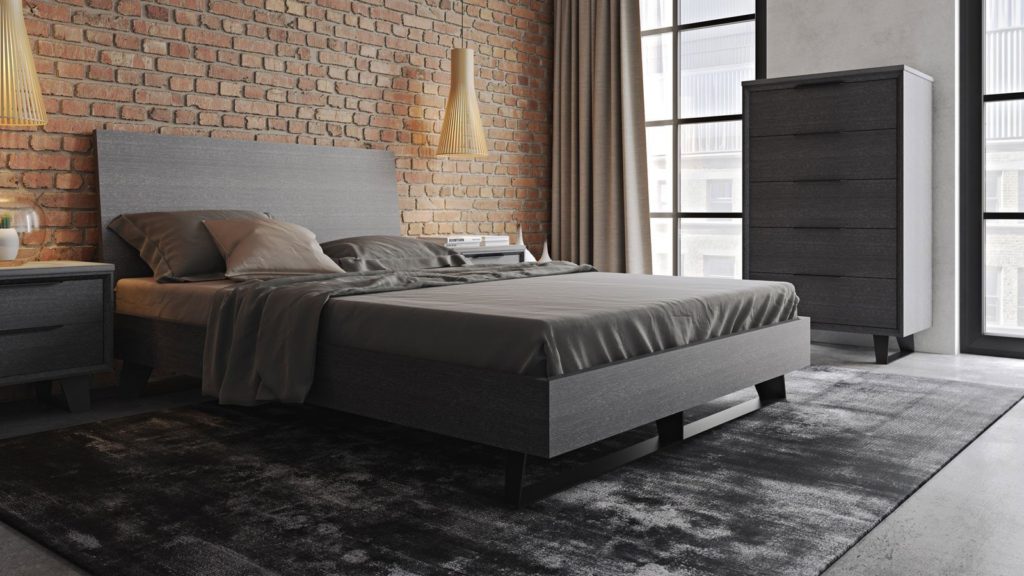 Metal Beds
Solid wood beds are beautiful but they're usually heavier than a horse. Upholstered beds are gorgeous but they can also appear to take up more space in a room than they truly do. Low profile beds are chic and contemporary but that might not everyone's trying to have their bedroom look like Tony Stark's bachelor pad. Metal Beds are the perfect middle ground between many of these options. They have a smaller footprint thanks to their open metal designs. They're easier to work with because they're not as heavy as their solid wood counterparts. And they also tend to work well in just about any bedroom setting. Another perk is that they're also more affordable! This makes a metal bed frame an ideal choice for a guest bedroom, a bonus bedroom, or even for a kid's first "grown-up bed". Most metal beds are traditional bed frames, which means that they will require a box spring to support the mattress.


Olympia Metal Bed | Gia Metal Bed
Final Thoughts
---