This summer is already sizzling but we're about to make it even hotter. The new Summer Camp Collection is the hottest look of the summer! So pack a day bag, a beach towel, and your sunscreen, because we're taking you back to camp with this unique indoor collection to make those cool summer nights feels as fresh and free as those hot summer days.
Where The Watermelons Roam
Summer Camp is a magical place. It's a place of exploration, imagination, and pure childhood bliss. People pine for the carefree days of camp. And that's what this new collection is all about – capturing that summertime magic. Whether you went to a lakeside summer camp, tennis camp at the country club, or even if you were an "indoor kid", there was always something fun happening at camp. You could go swimming, eat watermelon, sunbathe, cool off with a popsicle, play lawn games, or work on your favorite craft. But no matter what you were experiencing the magic of the summer. Find out how we at Apt2B have channeled that energy into our most fun collection yet.


The Samson is the Sofa of the Summer
The summer is the season for lounging: lounging around the house, lounging by the pool, or lounging on the deck. And we've designed a sofa that is perfect for lounging – the Samson Sofa Lounger! This gorgeous new sofa is not only the hottest style of the summer, but it's also available in two brand new Sunbrella fabrics. The Samson is part sofa, part chaise, and 100% comfortable. And with its durable indoor/outdoor Sunbrella fabrics you can keep it looking crisp, clean, and fresh, even with those inevitable summertime party fouls (we're looking at you, kid with the cherry popsicle). And because we love this Samson Sofa Lounger so much we've decided to offer it as a standard sofa, an Apartment Size Sofa, as a loveseat, and as a chair. Best. Summer. Ever.
"I love the Samson Sofa Lounger not only because it still has classic lines, but because of its bold stripes. They remind me of a beach cabana where I just want to lay out with a good book." – Kyle Schuneman, Apt2B Resident Designer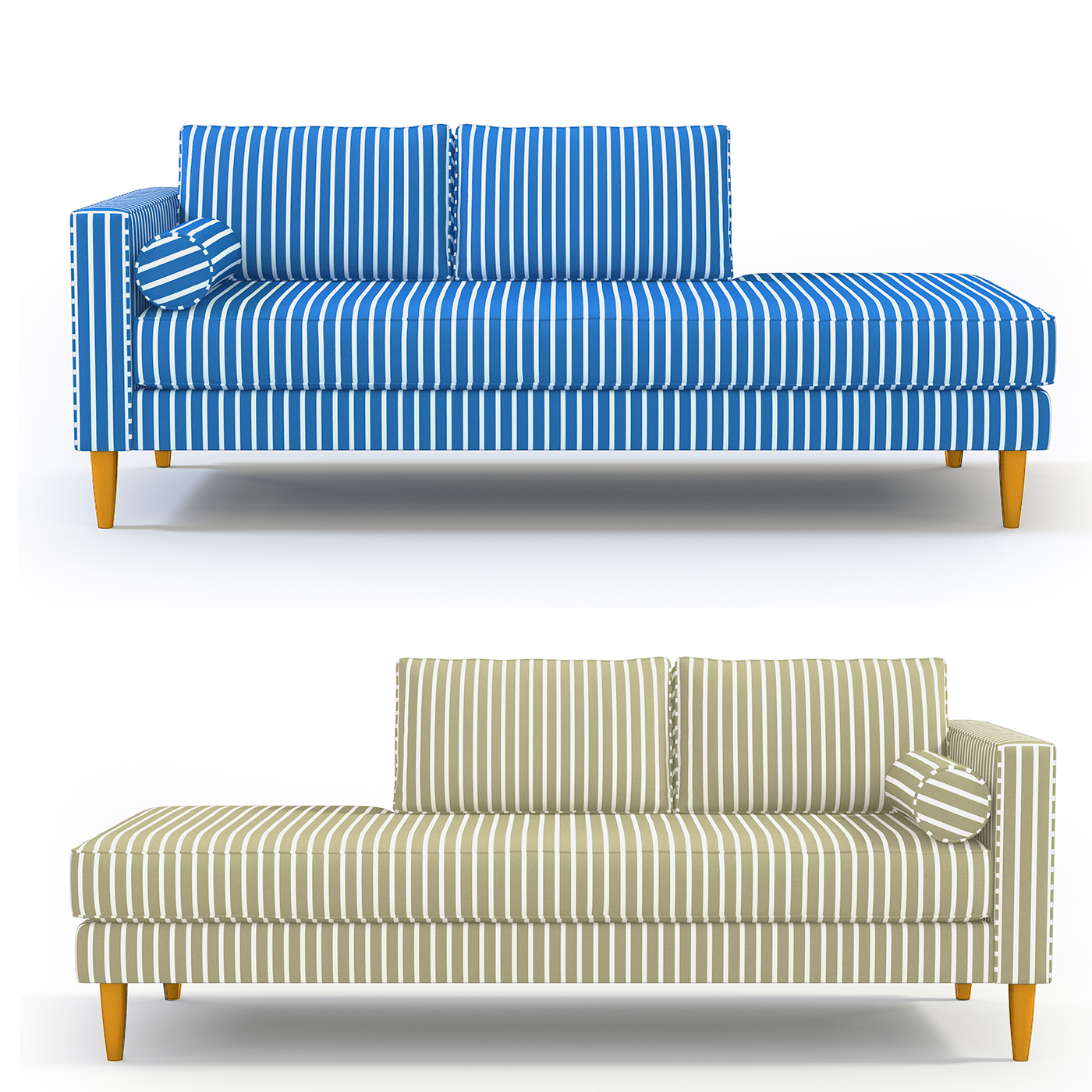 Samson Sofa Lounger in OCEAN STRIPE | Samson Sofa Lounger in BEACH STRIPE




Samson Sofa BEACH STRIPE | Samson Apartment Size Sofa OCEAN STRIPE | Samson Chair BEACH STRIPE
Who Needs Ice Cubes When You've Got A Cool Cube Ottoman?
The Samson Sofa Lounger is definitely the troupe leader of the Summer Camp Collection. But what's a troupe leader without his or her troupe? Just like your favorite summer camp friends, the Summer Camp Collection features some truly fun, quirky, and unique pieces! Our summer-patterned cube ottomans and summer-patterned toss pillows are the perfect complement to the collection. Featuring designs from Little Arrow Design Co, these ottomans and toss pillows are bursting at the seams with personality. They bring a splash of fun and color to any space. Choose from a fresh watermelon pattern, a cool popsicle pattern, or our special Pool color fabric.
"The cubes and pillows always make me smile. The popsicles and watermelons print give instant personality to any room but also are incredibly functional for extra guests when you're doing all that summer entertaining." – Kyle Schuneman




Summer Camp Cube Ottoman WATERMELON | Summer Camp Cube Ottoman POPSICLE | Summer Camp Toss Pillow WATERMELON | Summer Camp Toss Pillow POPSICLE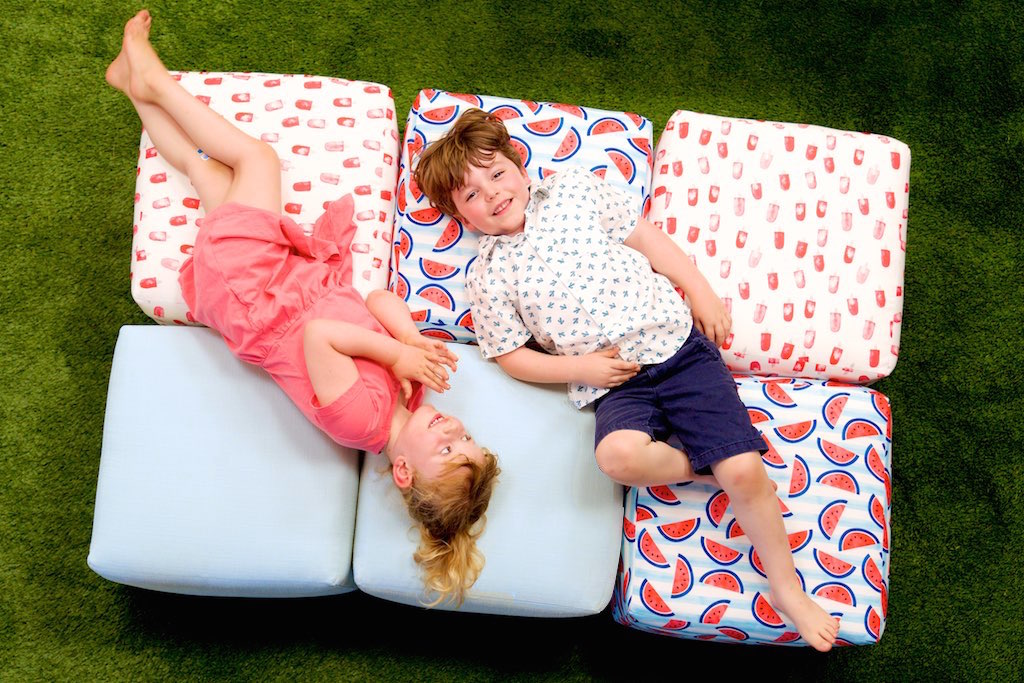 Endless Summer
The Summer Camp Collection is the collection that keeps on giving. If you really want to deck out your house for the summer then check out these other great additions to the collection! We've got a brand new credenza from Deny Designs that screams summer. This artistic print credenza is called the Portuguese Fishing Boat from artist Ingrid Beddoes. Because if you're going to have a sideboard you might as well make it a starboard, too. We also have a limited edition Pool Blue fabric that we're featuring on the ultra popular Sutton Chair – and it's never looked better. The concrete top Ezra Coffee Table ties it all together by providing that one-of-a-kind poolside vibe. And even though these pieces would look incredible in your yard or beside the pool, the Summer Camp Collection is intended for indoor use only.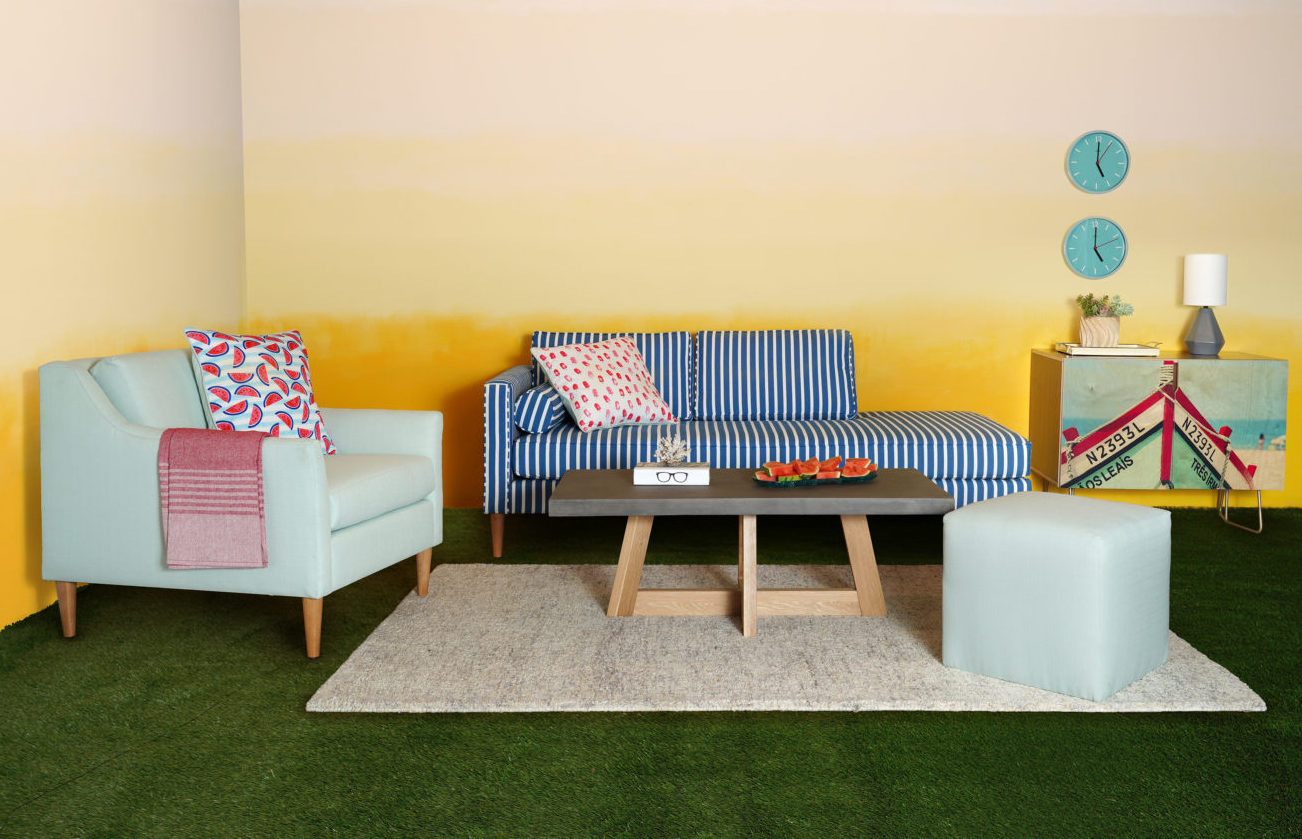 Sutton Chair in POOL BLUE | PORTUGUESE FISHING BOAT by Ingrid Beddoes | Ezra Coffee Table | Samson Sofa Lounger in OCEAN STRIPE | Summer Camp Cube Ottoman POOL BLUE




Summer Lovin'
Lovin' the new Summer Camp Collection? Then check it out exclusively at Apt2B!
---