Speed dating is a weekly series with some of our favorite brand evangelists. Today, our hot seat is big enough for two! We are thrilled to welcome Devin and Marlene of Outlined Cloth, a team of married fashion, travel, and lifestyle bloggers!
Outlined Cloth (@outlinedcloth) is Devin and Marlene: newlywed and ready for adventure.  They are fashion enthusiasts, photographers, tastemakers, and risk takers (well kind of; Devin's knees wouldn't stop shaking during a hot air balloon ride).  They like to laugh, love, and enjoy what this world has to offer.  We had them join us for our first couples round of Speed Dating!

Round 1:
Lightning Round
Red or White?
BOTH: Red
What show are you currently binging?
BOTH: Westworld
If you could sing a duet with anyone, who would it be?
DEVIN: Bruno Mars
MARLENE: Lady Gaga
Favorite Color?
BOTH: Blue
Least favorite color?
DEVIN: Red
MARLENE: Orange 
Lucky number?
BOTH: 7 (Jinks!)
Round 2:
Favorites…
Bitcoin or Fitbit?
DEVIN: Bitcoin
MARLENE: Fitcoin
What do you collect, if anything?
DEVIN: Baseball cards
MARLENE: Rocks
What's the most embarrassing song we could find saved on your phone?
MARLENE: Something of me singing
DEVIN: Britney Spears 
What's your favorite ice cream?
​BOTH: Rocky Road
What is your life's motto?
DEVIN: Attitude is everything
MARLENE: Love to the fullest 
What is your walk-on song?
DEVIN: Celebration by Kool and the Gang
MARLINE: Celine Dion It's All Coming Back to Me

Round 3:
Don't Even Go There…
If you could be on one reality show which one would it be?
MARLENE: Bar Rescue
DEVIN: Kardashian's 
Springsteen or Jay-Z?
BOTH: Jay-Z
Stripes or solids?
MARLENE: Stripes
DEVIN: Solids 
Popcorn or candy?
DEVIN: Candy
MARLENE: Popcorn 
What's your hidden talent?
DEVIN: Basketball
MARLENE: Voice inside my voice 
Who is your style icon?
DEVIN: Gosling
MARLENE: Jessica Alba 
Round 4:
Sinner or Saint?
Who is the most famous person you follow on Twitter or instagram?
MARLENE: Reese Witherspoon
DEVIN: Magic Johnson
Who is the most famous person that follows you on Twitter or Instagram?
MARLENE: Alba
DEVIN: Jessica Alba unless she unfollowed me 
If you could have drinks with any 3 people, living or dead, who would they be?
DEVIN: Magic Johnson, Abe Lincoln, Jesus
MARLENE: Obama, Beyoncé, Harriet Tubman 
What is your favorite smell?
MARLENE: Brownies
DEVIN: Pine needles  
What is your biggest pet-peeve?
MARLENE: People in traffic
DEVIN: Dumb people  
What is your hometown?
DEVIN: Boulder, CO
MARLENE: Brea, CA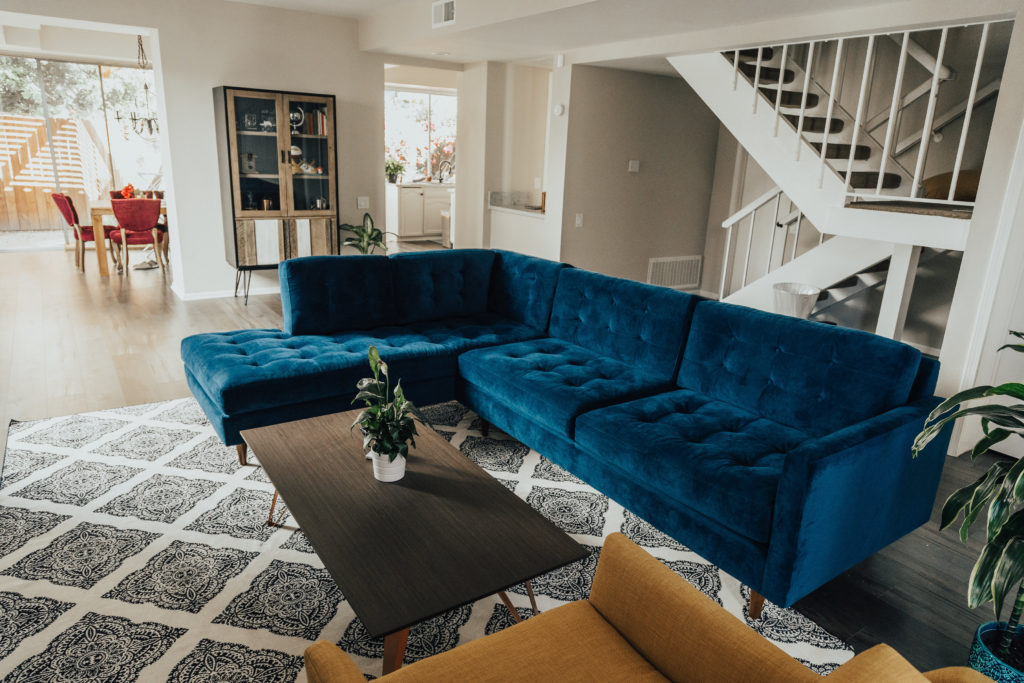 Apt2B Products Featured: Lomita Coffee Table | Sutton Chair in Mustard | Pascal Area Rug BLUE/IVORY | Bandit Display Cabinet | Lexington 2 Pc Sectional in Blueberry
Follow Devin and Marlene on their journey right here in sunny SoCal:
Instagram: @outlinedcloth
Twitter: @outlinedcloth
Facebook: @outlinedcloth
Website: www.outlinedcloth.com
Pinterest: @outlinedcloth
YouTube

---