"Room Goals" is a blog series where interior designer Kyle Schuneman shows you how to get magazine-worthy vibes using all Apt2B furniture and decor. Shop the look now!
I don't know about you, but living in a city during a pandemic has me craving open space and farmhouse vibes (just to name a few things!). The casual style, sunny window light, and collected design always make me excited to learn the stories that are inside. When I came across this photo in Joe Schmelzer's portfolio by designer Kishani Perera, I immediately wanted to jump in, grab a seat at the table and share a meal with friends and family.
Now, it's more modern than a traditional "farmhouse" per se but I think that's what I love about it. The architecture is clean and airy but the warm, eclectic furniture brings everything down a notch to create this perfect yin and yang that interior designers always strive toward.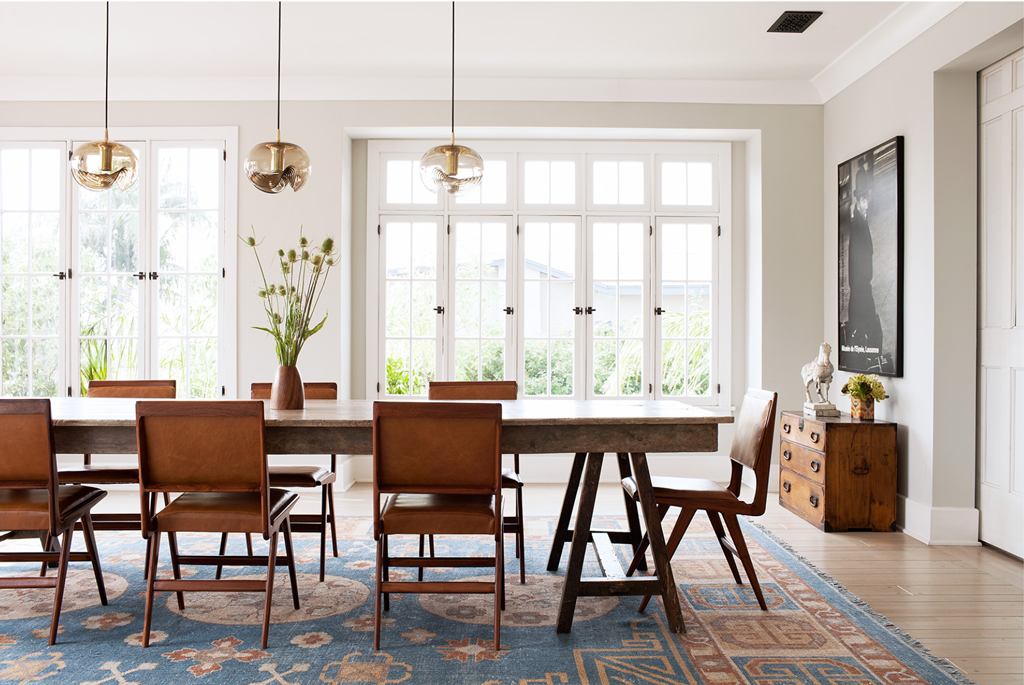 Design by Kishani Perera | Photo by Joe Schmelzer
I wanted to try and recreate this space with Apt2B pieces. I like the challenge of designing a room with new items but with the goal of still feeling collected.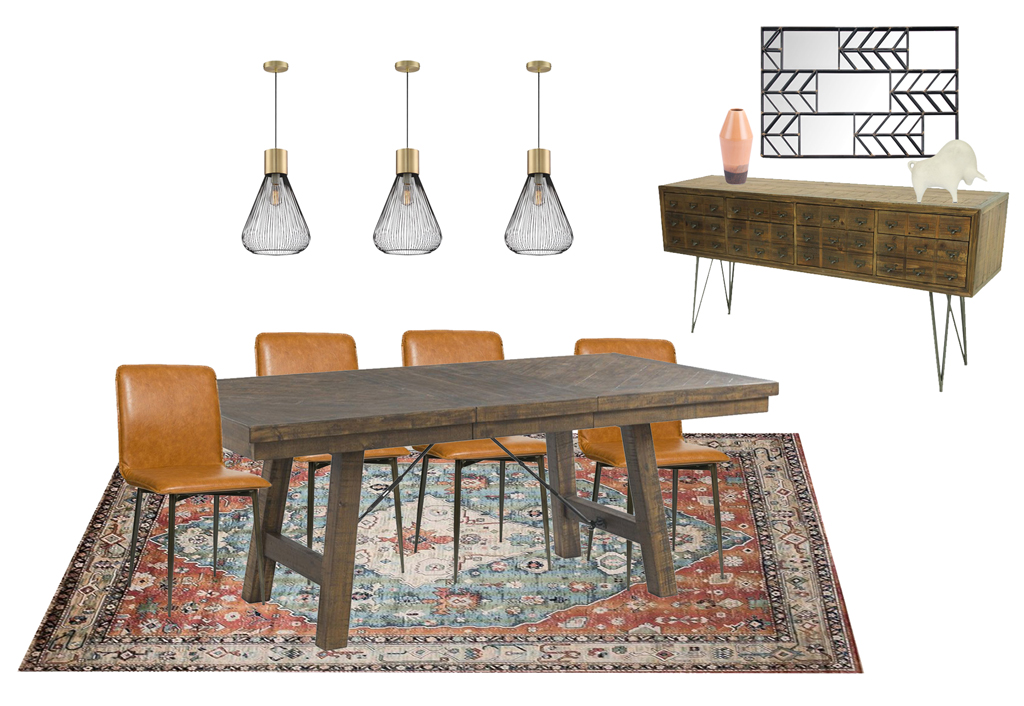 The Main Attraction
Since the original designer kept all the walls super simple and the windows bare, it's all about the furniture. The rug is especially important here, as it is the only pattern featured in the room. I found this great anchoring Kigali Area Rug from Apt2B and that is where I built the room from.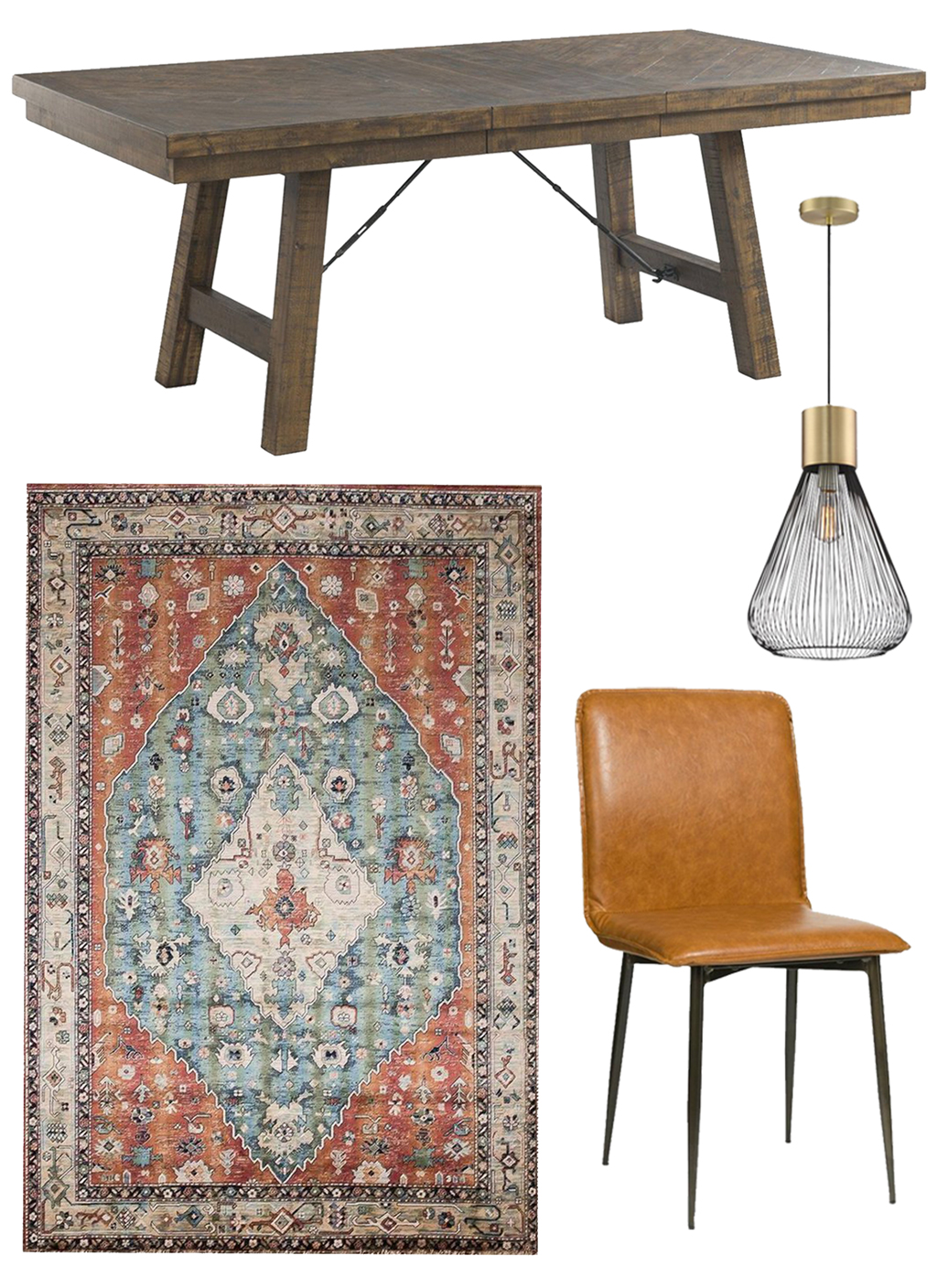 Shop the Look: Mariposa Extendable Dining Table WALNUT | Kigali Area Rug | Earl Side Chair LIGHT BROWN – SET OF 2 | Jensen Pendant Lamp
After I laid that foundation, a farmhouse table is key to make this design work. What's great about the Mariposa Table is that it's extendable so it really replicates the length of the inspiration table but at a fraction of the cost! Extendables are really great for dining rooms that might not have sprawling square footage but that see the occasional large meal or party (Thanksgiving? Christmas?). Keep it smaller for everyday use, extend it out for the few times a year you need it.
I also love the introduction of other textures in the space. Here, having leather chairs around a rough wood table really ups the cozy factor. The Earl Side Chairs—available in a set of two—have a really sleek frame, which I also think helps to balance the heavy table and keep this look squarely in "modern" farmhouse, not rustic farmhouse. Three simple but industrial Jensen Pendant Lamps over the dining table give a contemporary twist on the traditional chandelier.
The Side Piece (But in a Good Way)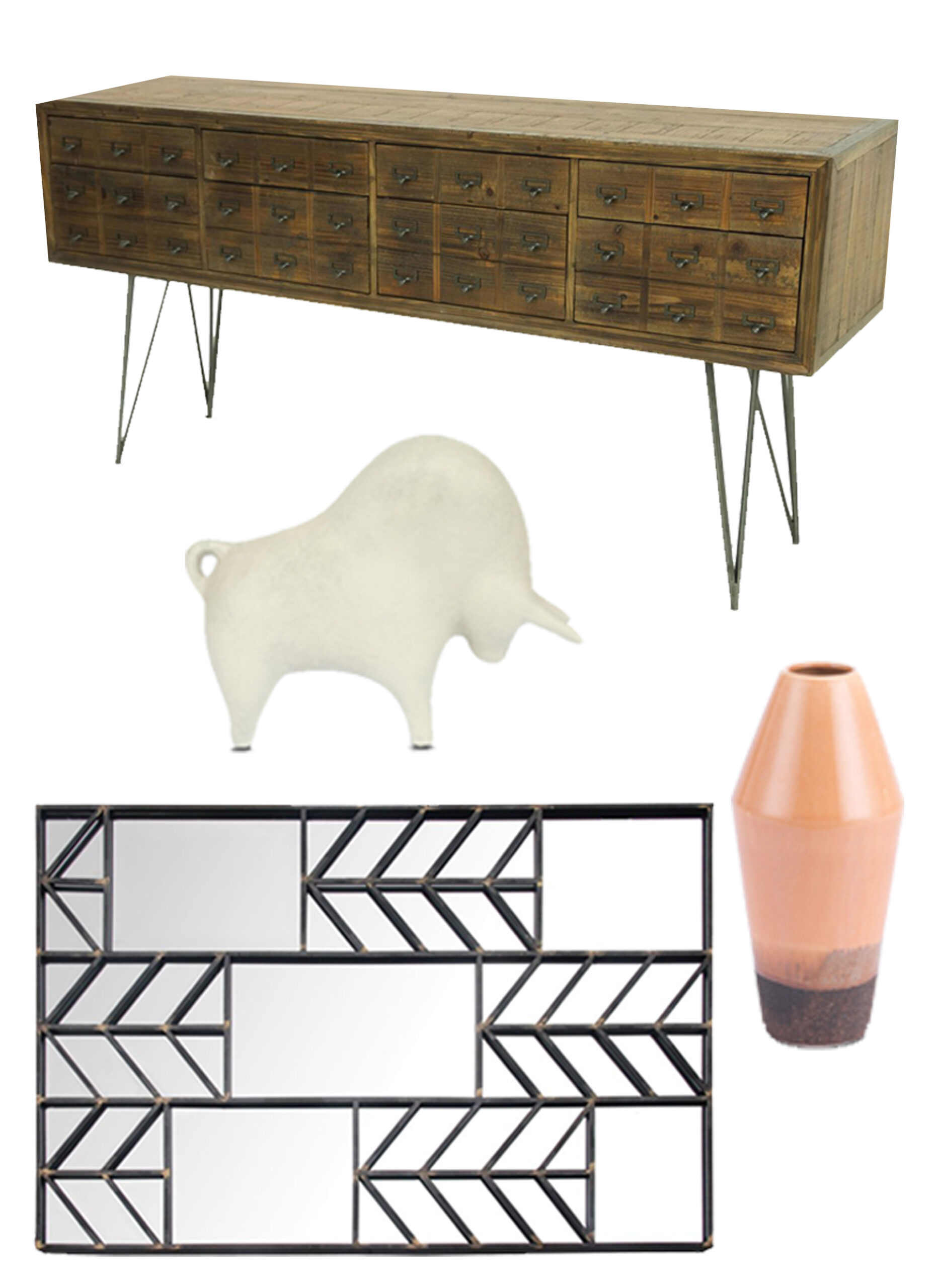 A great sideboard off to the side is key to display some decor items and fresh flowers. I went with the Pattaya Sideboard here because it's well-worn and eclectic…just the vibe we want. (It might look like it has a ton of tiny useless drawers, but it's actually just eight highly useful drawers!)
And while the inspiration has a black piece of art, I like the idea of doing a black metal mirror such as the Elisha to give some reflection and a little modern edge. (Tip: mirrors really help spread the light in a room, so if you have a darker space, or even a smaller space, a mirror can really help to brighten—and visually extend—a space.)
And voila! A chic farmhouse dining room at a fraction of the price and all from one source!
See more Room Goals:
---