What's better than a made-in-the-USA, built-to-order sofa that ships to your home with free delivery? How about speeding up the construction process so that it only takes 3-5 days to ship out from the factory? Yeah, we thought that sounded like a good idea, too. That's why we're happy to introduce our new collection of Quick Ship furniture! Same great Apt2B furniture now shipping out at lightning speed. What's not to love?

Ships Out In 3-5 Days. For Real.
We've always been faster than the competition when it comes to "lead time" (the amount of time it takes to construct a piece of furniture). Our average is 2-3 weeks from date of order to the day your piece ships out from our factory. Our competition averages 8-10 weeks! But who has time for that? We live in the age of Amazon, Postmates, and Netflix. 2-3 weeks (let alone 8-10) feels like an eternity compared to our new, on-demand expectations. That's why the introduction of Quick Ship is more important than ever. Our factory can now construct our same great furniture in a fraction of the time. Once you place your Quick Ship order your piece will be finished at the factory in only 3-5 days. Now that's fast.
72 Quick Ship Styles
You read that right. Seventy-two. That's how many Quick Ship sofas, sleeper sofas, sectionals, and upholstered beds we're now offering. And these aren't bargain-bin models. These are some of our best-selling, most-popular products on our website. We've just made them better than ever. We also didn't limit our selection to small sofas. You can get a Melrose 3pc Sleeper Sectional constructed and sent out for shipping in only 3-5 days. Let that sink in. Whether you need a loveseat, a chair, a sleeper, or a sectional, we've got you covered for all your on-demand needs.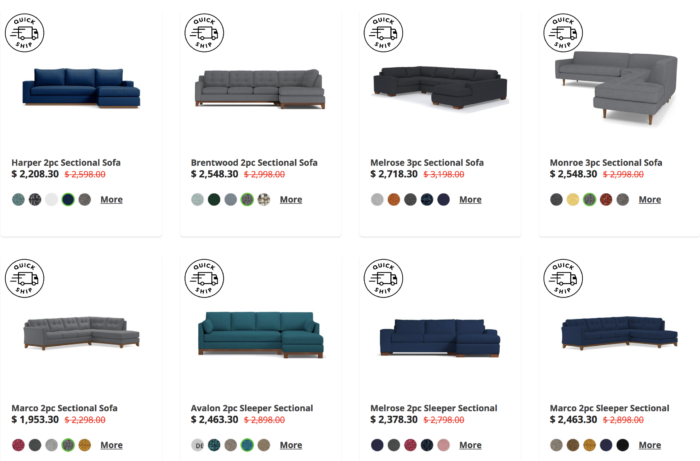 Four Fabulous Fabrics
We wanted to make our Quick Ship options as attractive as possible. That's why we chose four of our most popular fabrics for all of our Quick Ship pieces!  Gray has become the de-facto neutral for modern home decor. It was only natural that we should offer two of our best-selling gray fabrics as Quick Ship options. You can choose our super-durable Charcoal fabric for a dark gray option or our soft, medium gray fabric named Rhino. Looking for a little more color in your life? Blue is the most popular sofa color with our customers. Check out our Blue Jean or our Biloxi Blue if you want to add a pop of color to your home. The best part? Every single Quick Ship model is available in all four of these fantastic fabrics. Hell. Yes.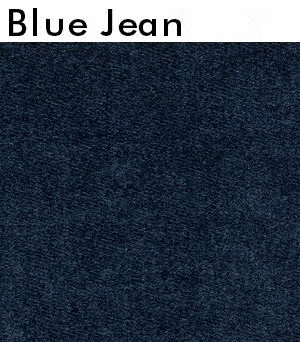 Don't Delay – We Won't
We are now the fastest, built-to-order, made-in-the-USA furniture manufacturer in the country. So what are you waiting for? Check out our entire line of Quick Ship furniture so that you can start enjoying your furniture – not just waiting for it to arrive.
---