Wall shelves are an oft-overlooked small space secret weapon. Think about what happens in jampacked cities like Manhattan…they don't build out, they build UP. Same notion applies here. You can exponentially increase your home's footprint by looking to your walls as a solution. Not just that, though. They can also be a strategic decor choice…form + function for the win.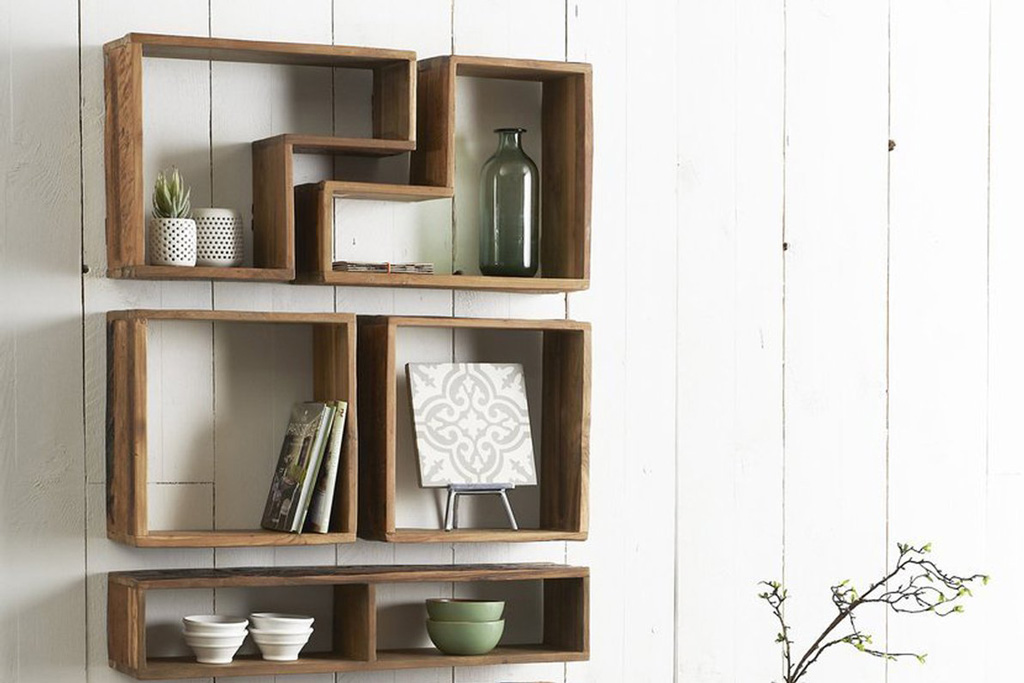 Sawyer L-Shaped Wall Box | Sawyer Square Wall Box
Wall Shelves 101
When we're talking on-the-wall storage, there are a few options you have for your home: traditional horizontal shelves with visible brackets, floating shelves (where the hanging mechanism is built into the shelf, and typically needs to be secured to your wall's studs), adjustable shelving—you'll see this type of system in closets or more "heavy use" spaces like retail environments, so…not really something to think about for say, your living room—and decorative shelves. That last part is why we're here today.
So what exactly is decorative shelving? Technically, everything outside the majorly industrial stuff is "decorative," sure, but to clarify further, we're talking cube shelves, corner shelving, anything in a design-forward silhouette (circles! honeycombs!). This category offers a one-two punch because the interesting shapes and materials can feel like art, while the compartments and surface area open up room to store or display your dust collectors books and small decor. Mount them over furniture, in small awkward nooks, on a spare kitchen wall, even in your bathroom.
Here at Apt2B, we carry a handful of solid wood decorative wall shelves that work on their own (small space friendly!) or together to create a larger storage system that's completely modular. Let's take a look.
Large-Scale Wall Shelving Units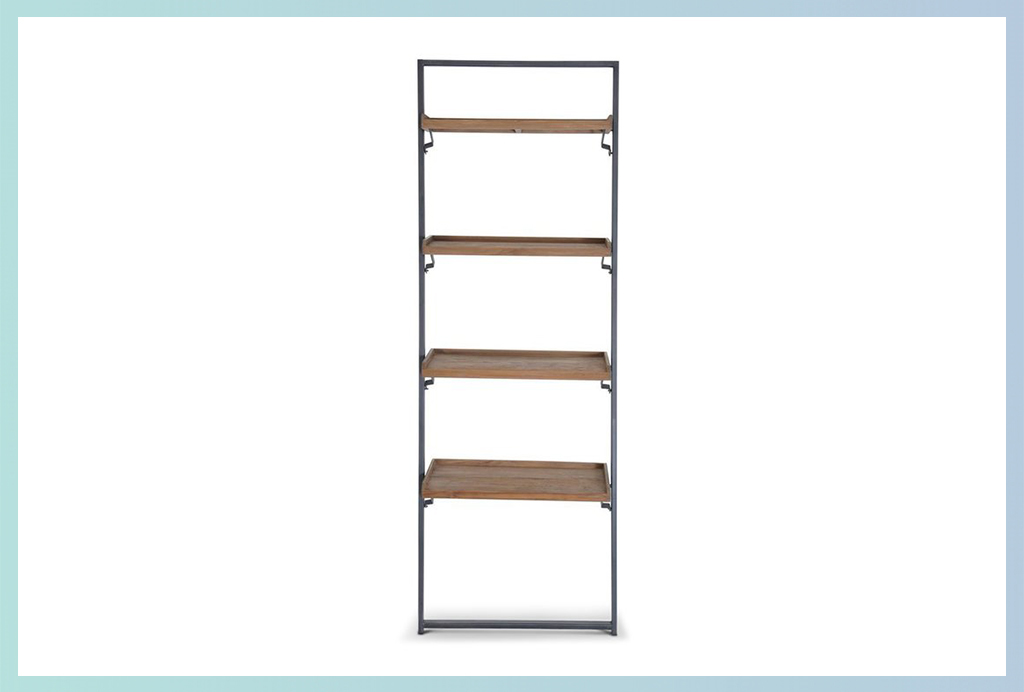 At over 6 feet in height, our Sawyer Wall Rack has tons of horizontal surface area to stash away your books, plants (try a drapey ivy!), a wireless speaker and plenty of decor to bring a mountain of visual interest to your room. Next to a sofa or bed, it can even stand in place of a side table. A double threat if we've ever seen one.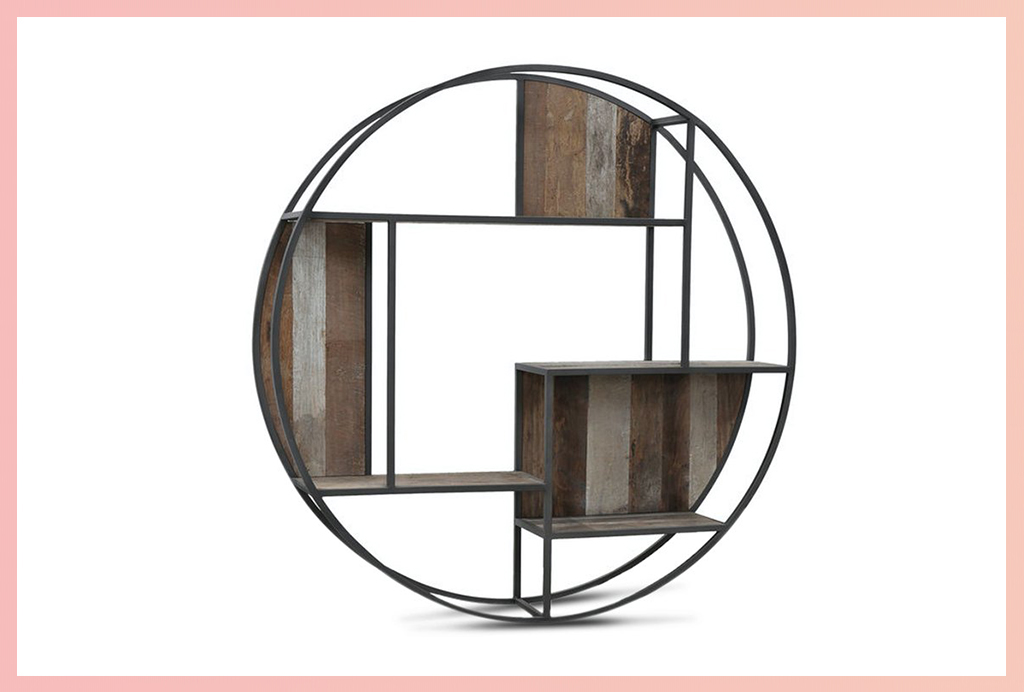 This round beaut' is one of Apt2B's most decorative wall shelves but it's not so much that it feels OTT. The size and shape would work great in a kitchen to stash spices (the left compartment is a perfect size for that fancy olive oil you bought off Instagram and now want to show off), in a reading corner with your paperbacks and a little bud vase or some potted succulents…you do you.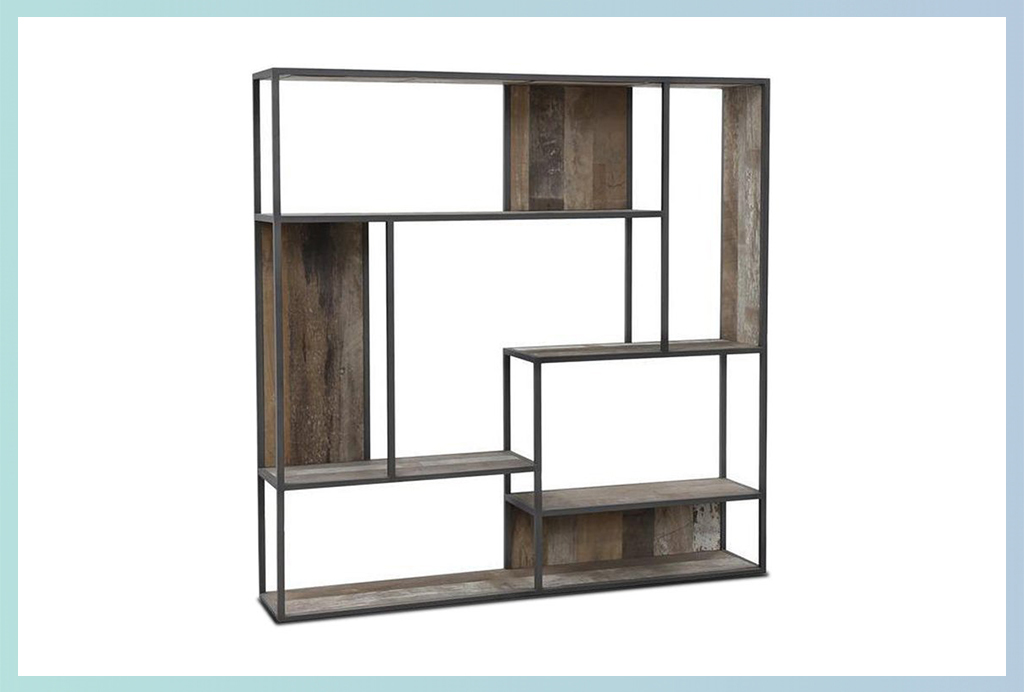 Like the last one, but for those who don't like to cut corners (see what we did there?). At 31.5″ by 31.5″, it could also work as a vertical bar over a small console table or credenza to hold decanters, wine bottles, glassware, bar tools, and your booze of choice. Happy hour at your place?
Sawyer Modular Wall Box System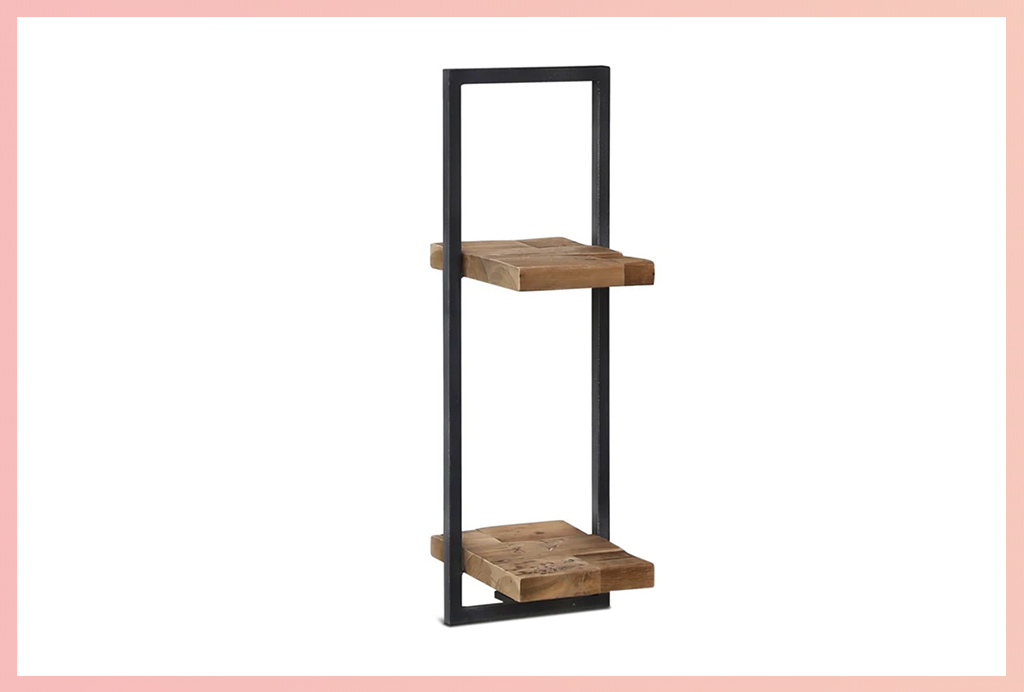 This shelf, as well as the next three, are so much fun because they can all be paired together as a "shelving system" but in a way that's super visually stimulating and customizable (it's what you see in the top image of this post…cool huh?). Hence the "modular" in the product name. This one is tall and slender with two shelves. We think it works great for plants (have we recommended plants ?enough here?) or a vase + a fun collected object.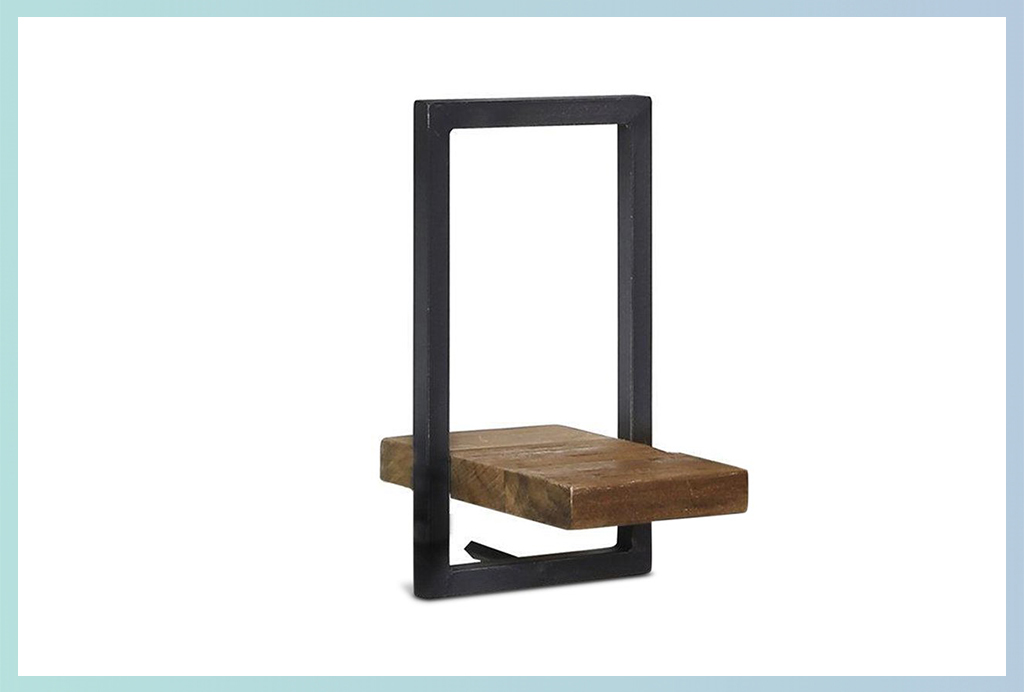 Small but mighty…like a pedestal for anything you deem worthy of being displayed here. That kickball league trophy, maybe? The exact replica of the Elder wand you proudly purchased on your last trip to Diagon Alley…whatever you choose, it's sure to be *magical*.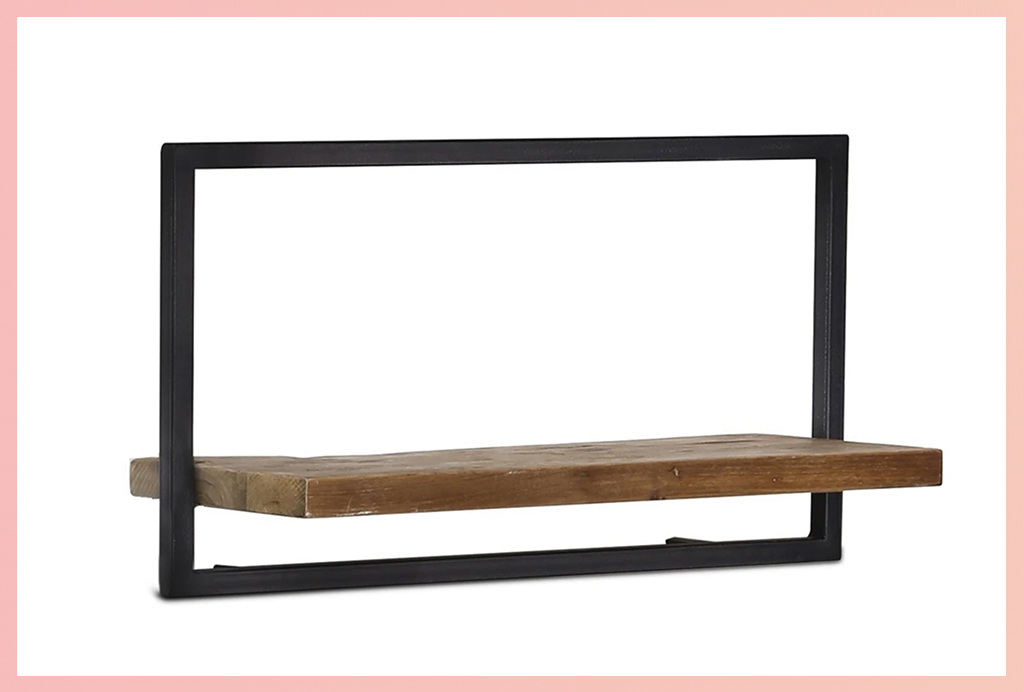 This one pairs really nicely with the slim box from above if you're leaning into the modularity of this shelf system (same height and depth), but would also be perfect on its own for shorter books, in a bathroom to hold apothecary jars, or stack three or more vertically in a kitchen to show off that earthenware collection.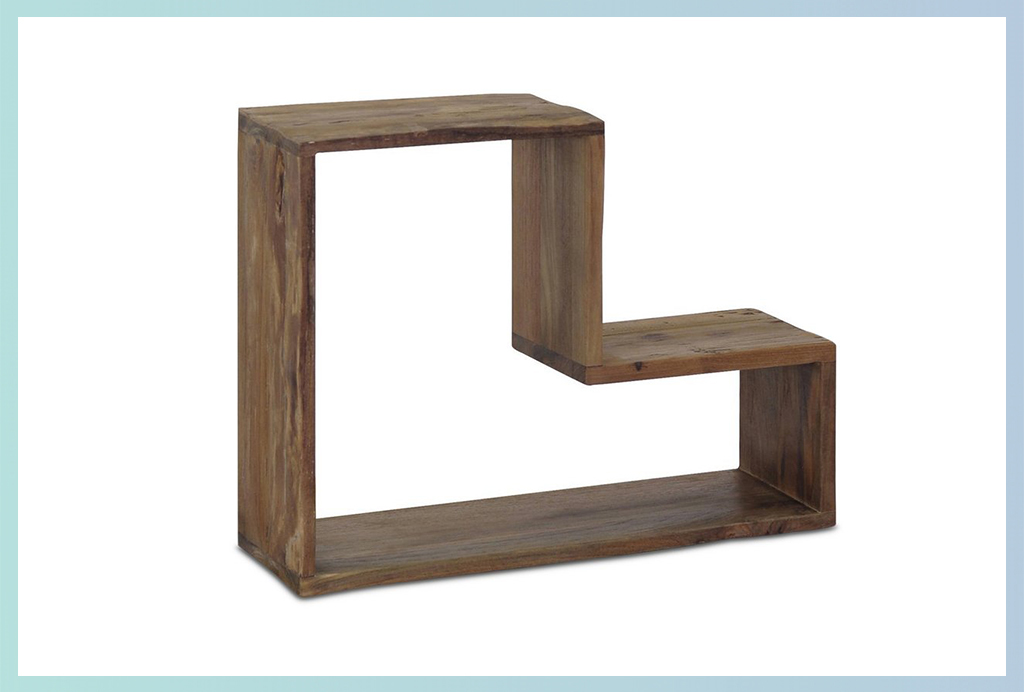 Wall boxes are great because they're typically pretty flexible in terms of hanging (depending on the notches on the back, of course). For instance, our L-Shaped Wall Box can be flipped, so if you're putting two next to each other, the L portions can nestle into each other. That said, remember you can use the space inside the box as well as the tops of the higher and lower portions. Versatility, folks!
Don't be afraid to mix and match all of our wall shelves. Made of the same recycled teak, they coordinate visually really seamlessly, so play around, have fun and create something that your guests will all comment on when they see it (trust us, they will…and validation feels good).
Check out more of our useful buying guides:
---