Fringe has always been, well, on the fringe of fashion and design. Fringes and tassels add a sense of class, visual appeal, and comfort to pillows and rugs. You see it all the time but it never seems to get the recognition it deserves. Not anymore. Fringe is now fashion forward whether it's on the runway or in the home. Find out why designers agree that fringe is in!
Fringe is Fun
Tassels and fringe are rarely a necessary element for pillows or rugs. And that's what makes them fun! They add personality and character to your home decor. Remember the magic carpet from Aladdin? I think we can all agree he would have been less fun without his tassels. There's a certain amount of charm that these details bring to decor. It's these details that make aspects of home decor more appealing, too. A toss pillow with tassels and fringes is simply more inviting than a plain toss pillow. Furry fringes also beg you to touch and interact with them. This level of playfulness and interactivity can only help bring energy and fun to your space.




Geneva Toss Pillow | Vanern Toss Pillow | Suraj Toss Pillow | Cami Toss Pillow
Fringe is Outside The Box
Rugs and pillows often have well-defined edges. The style gets boxed in by the edges. Fringes and tassels are outside the box! They're the extra element that helps the style extend out into the rest of the space from the pillow or rug. When artists paint on a canvas they will also paint the sides of the canvas. This is the same concept! It helps extend the work beyond the edges of the frame. It evokes the idea that there's more to be seen and more to be discovered. Tassels and fringes on pillows and rugs work the same way. They're outside the box, which is exactly what you want if you're looking to be fashion forward in the design world.




Keaton Area Rug | Rossen Area Rug | Mendes Area Rug COPPER/WHITE | Mendes Area Rug GRAY/WHITE
Fringe is Fashion Forward
Fashion designers and interior designers agree that fringes are the future. The fashion world can't get enough of this look for designer clothing. And what happens in the design world often mirrors what's happening in the interior design world. For clothing, fringes and tassels can serve to make a piece more glamorous (think of a Jazz Era flapper) or they can make a piece more BoHo Chic. Fringes are a bit unique in this dual role. They can make a garment look extremely regal and red-carpet worthy while, on another piece, make it appear flirty and fun and casual. This dual nature is also why interior designers are gravitating toward it for the home. It's a classy style that's also fun.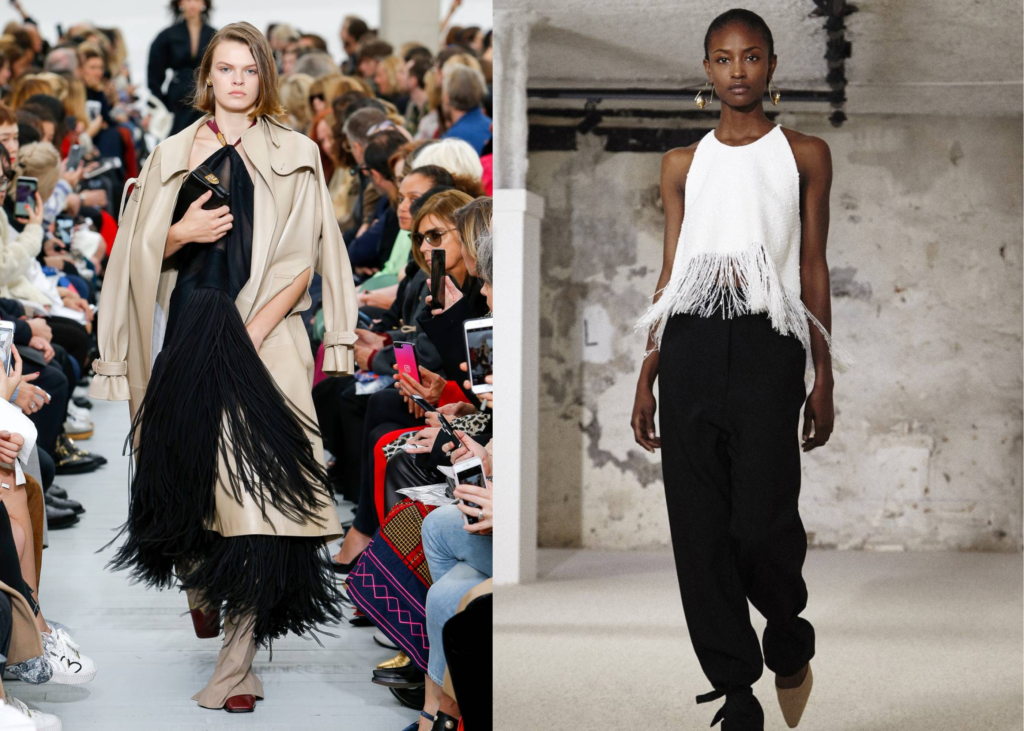 See more photos at Vogue.com
Find Your Own Fringe
Now that you know why fringes and tassels are the hottest decor and fashion trend it's time to find your own fringe-worthy pieces. We have tons of great options to choose from at Apt2B – check out our favorite fringe pieces in our new collection!
---