Purchasing large ticket items like a sofa or sectional online might seem crazy to some. Touching, feeling and sitting have long been a crucial part of the in-person furniture buying process. Unfortunately, some things that may come along with tactile testing include pushy salespeople and, even worse for your bottom line, inflated prices. Wait...why? Well, brick-and-mortar stores are expensive, and we mean that literally. The cost of rent and everything that comes along with a physical storefront typically gets passed on to the customer. This shows up inconspicuously in that sofa's price tag. Not feeling so comfortable now, hm?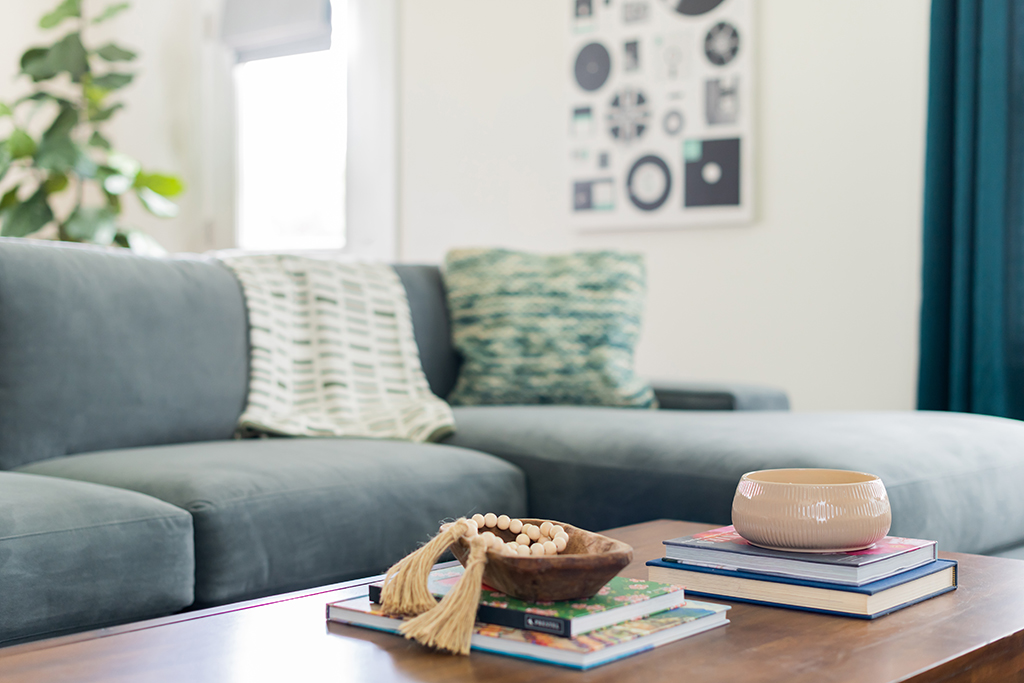 Not to mention, while the world is still very much dealing with the COVID-19 pandemic, in-person shopping looks quite different these days. E-commerce brands like us here at Apt2B have made it easy to update your home without actually ever having to leave it. Our motto? Stay inside, shop online (not our real motto, but one we stand by nonetheless).
So, if you've never purchased large furniture online (particularly upholstery), there are some things to know going in. These will help you come out the other side satisfied and fingers ready to tap out a 5-star review.
7 Useful Steps to Consider So You Have No Regrets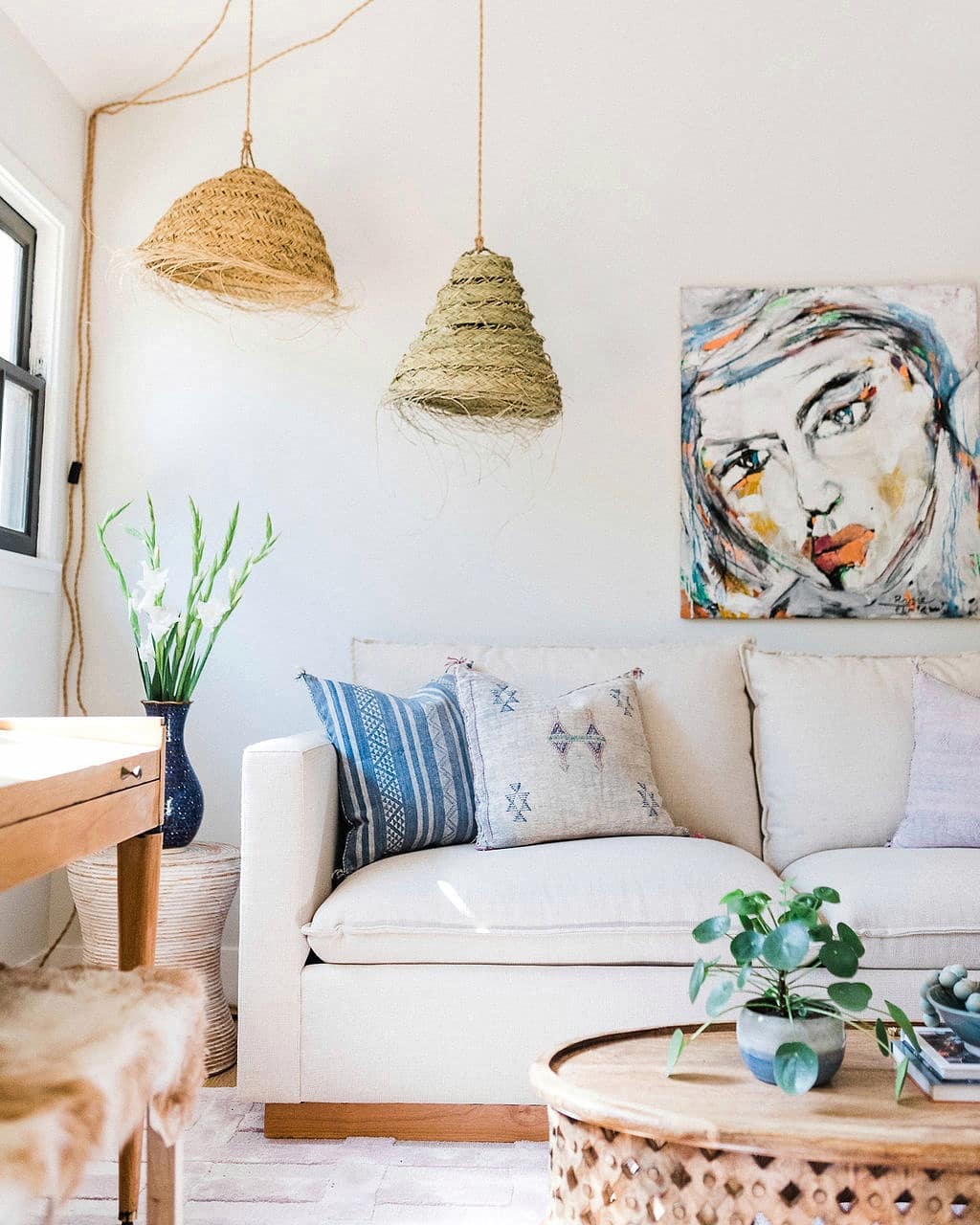 Shop the Piece: Olivia Queen Size Sleeper Sofa in Bisque/Natural
Photo: @jovanidemetrie | Design & Styling: @gillyspassions
Read all the reviews.
And not just on individual pieces themselves, but also for the company. Take note of what people say about the delivery process, dealing with customer service, and how problems that arise were handled. Some websites don't publish product reviews on-site (we're not naming names...), so be sure to do your due diligence with Google searches and see what people have to say.
Take note of dimensions & measure VERY carefully.
This is true even if you were buying furniture in person. Measure, measure, and measure again. Don't forget to measure the doors and passageways your piece will travel through in your home to get to its final spot. No sense in fitting in your living room if it can't get through the front hallway.
When in doubt, tape it out.
This is an interior designer trick we've seen work time and time again. Once you have your piece's dimensions (and don't be afraid to ask the brand if you're not seeing something you need listed, they can often dig for more), grab that trusty blue painter's tape and mark things out so you can begin to visualize how something might fit.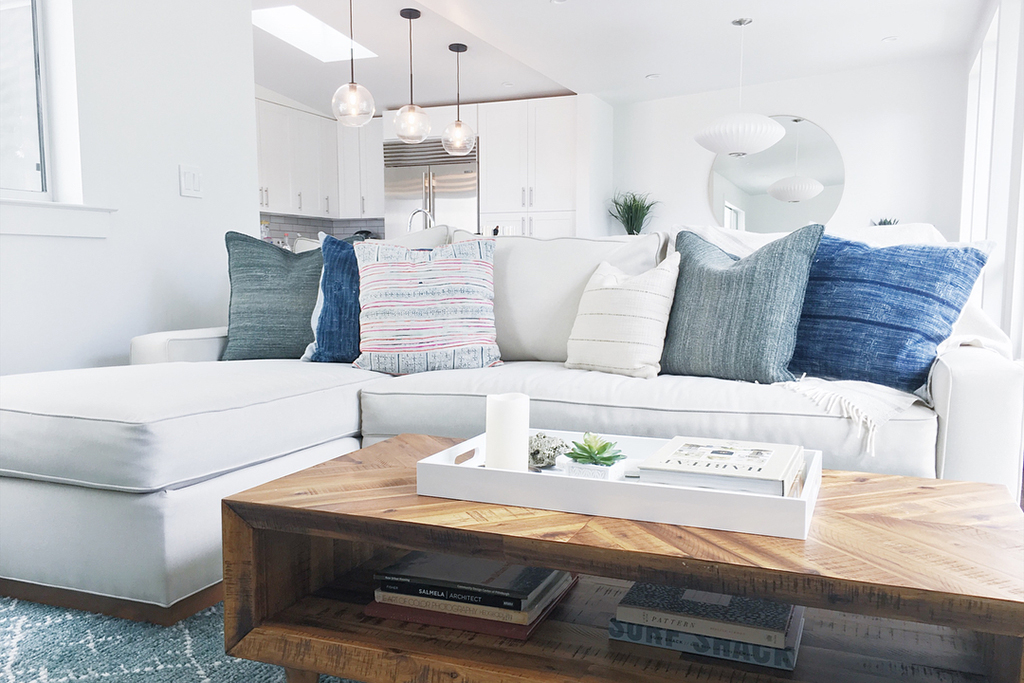 Shop the Piece: Harper 2pc Sectional LAF in White Velvet/Pecan
Photo: @sf_fixer_upper
Test measurements on existing furniture.
One of the most important details of a sofa, for instance, is seat depth. Nothing worse than a too-narrow or too-deep seat for your liking. Test things like seat depth and floor-to-seat height on seating you already have (or even at a brick-and-mortar store on a similar piece...just for research purposes, of course).
Know your terms.
Look for phrases like "solid wood" which denotes better quality and durability, ask about fabric double rub counts (25,000 is a great threshold for home upholstery), and find out about cushion filling. All-foam seat cushions are pretty low-maintenance and on bit on the firmer side, all-down is a bit high-maintenance but is super plush, and a combo is typically great for those looking for a happy medium.
Always, always, always order fabric swatches.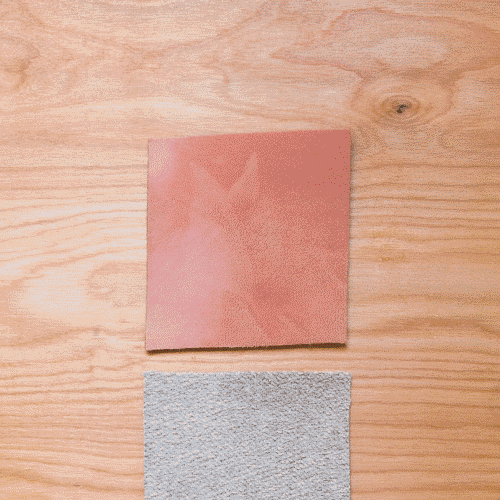 –> Read More: Swatch School: You're Probably Not Testing Your Swatches to the Max <–
(P.S. Ours are free!) This not only gives you an accurate look at color, but also how comfortable a fabric is against your skin, and how durable it will be to your lifestyle. Put those things through the wringer before committing. Spill everyday liquids and foods on the swatches and see how easily they clean up, test if they're scratchy or supple, even rub them on your pet's fur to check how easily that can be removed.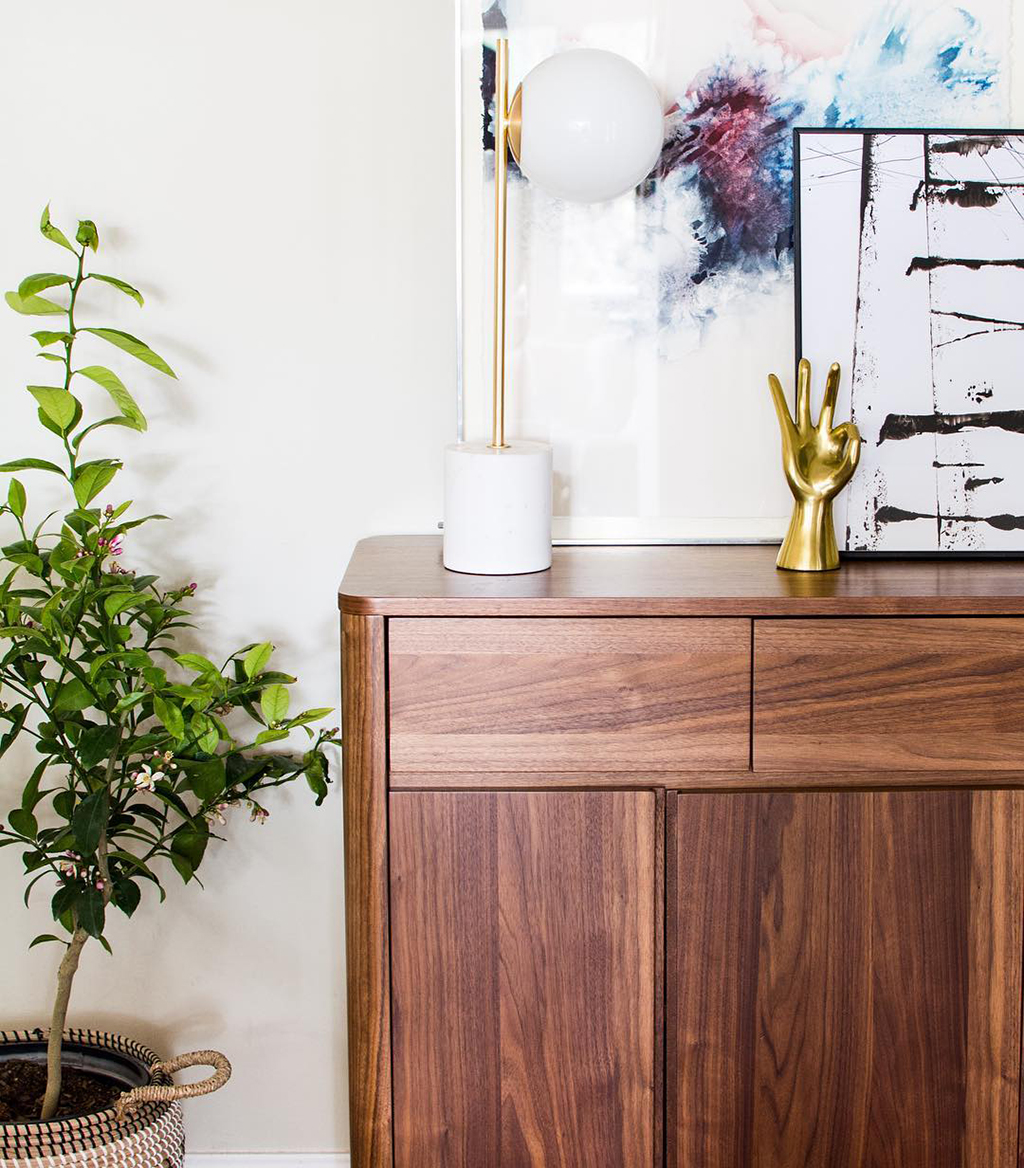 Photo: @flairdesignboise
Be comfortable and in-the-know about return policies.
Return policies vary from company to company, so don't assume just because one direct-to-consumer brand offers free, year-long returns that they all do. Read details thoroughly, ask customer service teams questions if things are unclear, and be sure you're comfortable with it all. The last thing you want is to order that $3,000 sectional, get it in your home, realize it was all a big mistake, and then you're stuck with a final-sale, no-returns-accepted item.
You're ready to stay inside and shop online now that you're armed with an arsenal of e-commerce know-how. If you're in the market for a new sofa, bed, dining set and beyond for your home, be sure to check out Apt2B.com for your decorating needs.
---